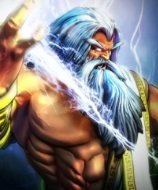 It was a funny old day…
First off, the electricity went on and off for 7 hours, or so - which is unusual.
It was a really hot day to... Just under 40 degree's Celsius, with no fan, aircon and zero wind.
It does not make it the most comfortable of environments.
After a few hours of frustration I decided to try and lie down for while, hoping to doze off….
.....Nope, not happening... I was just lying there, with my eyes shut and soaking the bed wet through .
'What to do?, what to do?'…..
....I decided to read a book while I was waiting for the power...
Bugger!
My books are in the other house, and so would've be a pain in the arse to go and get them.
I DID have one book though.
Just the one in fact.
The Bible.
A friend of mine had dropped one of months ago, after me asking him for it (I was researching on something).
Having actually never read it through, you know - properly,
I thought I'd better give it a go, to see what all the fuss was, yadyadya..
As I lay there on the bed reading , and sweating away, I came across a paragraph that said something along the lines of (don't quote me here) 'ask for whatever you want, and you shall receive'...or something to that effect.
With that in mind, I said, 'Well, a nice cool wind, right now, would be greatly appreciated'…
...and guess what?
...I shit you, not...
Within 3 seconds, an ICY blast of wing came straight through the window and lasted about 30 seconds-ish ( maybe a little longer).
It was 40 degrees Celsius.
There was no wind.
All day.
Not one tiny breeze. Nada.
Apart from that icy blast....
I'm talking 'air-con icy' here, not just a gust of wind.
Sweat turning cold on the skin, kind of icy...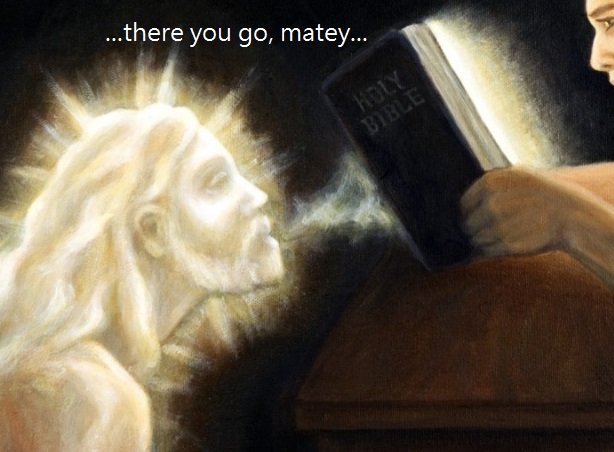 When God gives you blow job, it's time to take notice…
And so I did.
I read the first part - 130 pages or so - I can't even tell you which part/who wrote it, without going to look.
What I CAN tell you, is that I like it.
I'm not religious, nor was I brought up in a religious environment. (I've only been inside a church as an adult to attend other people's weddings).
But that doesn't change the experience that I had, now does it?
...I've read lots of bits of the bible over the years, but never read it and, you know what?
There's a lot of sense in those pages.
From a intellectual angle there's a lot that makes sense.
From atheist's angle – it makes no sense.
Atheist's don't make much sense anyway, I suppose, so that ok.
One thing I'm more certain of - than ever - is that the foundational teaching of the bible are pretty good foundations for society as a whole (i.e the ethical and moral teachings, not the bastardization of it via religious authorities).
And I can see why atheists hate it.
But that's okay, atheists are ugly. And boring.
Sooooooooooo boring.
No imagination, no sense of humor , no ….anything, really – except hate, envy, and jealousy.
It's no wonder a large proportion of atheists are leftists.
(yes, this is a facetious generalization and is not true 100%, ...I know this).
Even though I'm not 'religious' in the classic sense of the world, in regards to 'a higher power' - whatever that my be - I've always positioned myself as subservient to it..
What that 'higher power' is - I don't know.
Is it a sentient God/Odin/whatever – or a 'non sentient' mother nature kind of thing ?
Whatever 'it' is, I'm aware that man is NOT the be all and end all – that's more of a god complex delusion.... And that stems from fear.
I have no god complex, and I'm constantly aware of the fact there are greater powers than myself at work.
Greater powers than any other man or woman.
Hence, I'm not subservient to men who want to play at being god.
Childish games, motivated by fear, is about as attractive as a dose of gonorrhea.
I read the post by @ryzeonline , which was very good. https://peakd.com/hive-161155/@ryzeonline/freedom-censorship-and-you-the-ultimate-guide-emmas-dilemma-pt-1
(part 2 also).
It encapsulated perfectly the system that we have here on Hive.
It encapsulated the logic at work, here on hive.
I could find very little fault with the logic of the argument.
It's also 'kind of' gas lighting .
(not intentionally, maybe, but gas lighting nonetheless).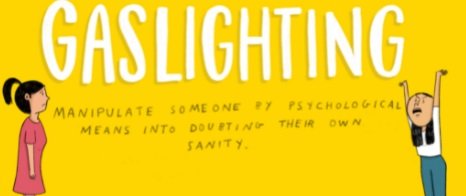 Let me explain.
Framing narratives...
The two part posts were written in the context of a parent talking to a daughter.
The daughter was complaining about a downvote, and the parent talking about the options left open to his daughter.
...It was talking from the perspective of 'the authority figure', talking to a subservient figure.
An adult to a child - one who is dependent on the adult in all facets of their life.
Ergo, it is framed as 'the wise one' talking to 'the pupil'.
As I say, taking it from this perspective – the 'authority figures' point of view - the arguments that were made were pretty water tight and logical.
The narrative was framed very well.
THE ENTIRE NARRATIVE IS BASED ON THE PREMISE OF THERE BEING A BENEVOLENT ADVISOR/AUTHORITY.
What the post does not address are the ethical / moral structures . Or absence of them , rather.
It cannot address these issues, as it's written from 'the pervading authorities' perspective - which is always - by default - seen as the correct one.
It doesn't mean that it is correct, however.
Without the moral and ethical foundations in place - coming way before the logic – there are only dark outcomes.
As simplistic example;
Two people on a desert island with enough food for one.
It is logical for the stronger one to kill the weaker one, for survival.
That is logic.
That does not account for any moral or ethical concerns before the logical action.
(simplistic, I know).
I would argue that society - and civilizations throughout time, have been built up (and thrived) , precisely because of these morals and ethics being in place.
They serve to help constrain the negative actions of the powerful.
Without first having the template of morals and ethics in place (to serve as the foundation) , it would be a non negotiable perspective in a sane world.
Logic - without the constraint of morals and ethics - can only serve to empower evil.
Emotions come before thought.
Morals come before action.
Logic serves them - it does not rule them.
Logic is the sane application of those very emotions, and moral codes that are built from them..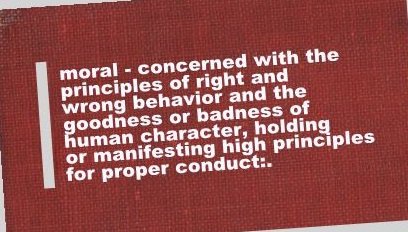 Imagine world without any moral or ethical constraints ?
You don't need to imagine it, the Hive ecosystem shows it.
And how's that working out?
Human systems need human values.
Hive is here to serve us - not us to serve it.
'Code is law' - without the proper prior considerations of writing that code, discards a lot of the human element.
It constrains no negative action, but it DOES constrain virtuous actions.
Honesty, integrity, and truth, via fear from various quarters, is a very real thing on Hive......
'Code is law' (referring to the present version of it in hive) empowers the darker side of humanity, as opposed to constraining it.
If this doesn't speak volumes to you, then I'd wager you are in willful denial (it's hard to convince a man of the truth when his salary depends on NOT understanding it)...OR, you support evil.
Code is law endorses the maxim of 'might is right' – and in doing so, discounts the millennia of social constructs where 'might is right' comes under some constraints - to some degree or other.
I don't believe in there being a utopia , but I do believe in the goodness of humanity.
And I do see that there is evil in this world.
THE HIERARCHY OF EVIL.
I think there are two basic levels , or types, of evil.
The first one is type refereed to in " banality of evil'.
Evil being perpetrated by the unthinking automaton.
'Unthinking' does not abrogate any responsibility of the act however.
Why not?
Because the 'responsibility to think', is a responsibility for each individual to recognize within themselves - in the 'growing up' years.
Ergo, any unthinking acts carried out that are 'evil' are , by extension, the result of not taking responsibility for thinking for yourself.
....there ain't no 'get out' clause.
Most of the evil that's carried out, is, by far (I think) , carried out by the above mentioned 'non thinking individuals'.
The real life NCP's, if you will.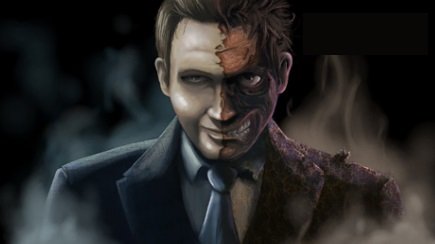 Then there is another evil....
One that creates the narrative for the non thinking individuals to accept/believe, and thus enable them to carry out evil acts.
The people that consciously construct realities that allows for evil to go unconstrained are 'Prime Evil' (I just made that term up).
These are the individuals who're aware of their intent.
They want to create negativity, discord, and enjoy the suffering of others.
Fortunately these people are also a tiny minority.
So, referring back to @ryzeonline 's post once more – What if 'the authority' is evil and not benevolent?
In the story of 'Emma's dilemma', the authority figure was a loving, caring, benevolent father figure.
One motivated by love and caring , not hate and fear.
And here is what I mean by gas lighting - even though I do not think that it was intentional - I do not know.
From OBSERVABLE actions in regards to human beings (accounts) on Hive - i.e. 'the authorities' - do not adhere to any principles based in morals and ethics first but of cold hard logic.
Logic that is not operating from a foundation of morals and ethics, is evil...or at the very least, enables evil to operate freely.
Without the moral frameworks and ethical codes, we would have nothing that we see as 'good' in humanity.
To discard this fundamental perspective is the road to hell.
So... in response to @ryzeonline posts, I'd say it did a perfect job of illustrating logic 'working as intended'... but only from the naive perspective of 'the authorities' being some benevolent 'father figure'.
Observable actions seen on the platform would negate - discount - that, as a reality.
Ergo, the post is forming a narrative that gives a nice picture, not the whole picture.
Interestingly, many of the accounts giving massive upvotes to that post , were from the very same accounts that destroyed my own post in downvoting it - of $130 down to $30 - a post that was questioning the very 'code is law' narrative...Mmmmm...
Coincidence?
Oh, I think not, sir...I think not...
The difference in actions concerning both posts raises and illustrates perfectly the very 'gas lighting' angle that I've just discussed above....
Which leads to a far more disturbing question...
...do Hive accounts exhibit 'evil' traits , not benevolent ones ?
(using observable account actions and defining evil as 'the absence of thought' or 'the intent to do harm')
Looking at it from the evil/good perspective...
Do you think it's coincidence that the largest upvote in years $130, was downvoted to just under $20?
The subject of the post was questioning the very legitimacy of the 'code is law' trope...
My post was positing that there's a superior force at work - 'love is the law' - and it's one that puts ethics and morals before any logical actions that can take place.
THAT is why it was down voted. (imo)...
THAT is why a 'feel good fluffy narrative' of the benevolent , loving, 'father figure' explaining 'reality' to the daughter, was rewarded so handsomely.
As a quick shout out to @ryzeonline 's post - I think the post was worth good up votes - it was excellent... Correct, but also naive (imo).
Back to my 'downvoted to oblivion'..... (this is NOT about my post per se, but it serves as a working example of the dynamics/values/negativity on hive.)
It raised the very questions those in authority do not want asking. (the opposite of 'emma's dilemma').
Morals, ethics....love...
And I've been downvoted relentlessly ever since.
On virtually every post in fact - by those wishing to exert power over others.
It was a very intentional exercise from my side.
Planned out months ago.
Why?
Because maintaining the circular discussions that go nowhere AVOIDS ever asking the real questions, which is the whole point of the exercise.
I wanted to change that.
...And now look at my account to see what happens when you dare to broach the real questions.
I decided to create the environment to 'draw out the evil' into plain site.
I figured that if I created enough psychological pain in the minds of TPTB – they would have no choice but to react ( so boringly predictable).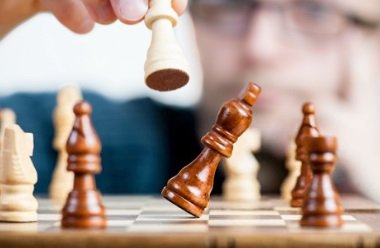 And they reacted, right on cue.
Perfectly.
And continue to do so.
You can't fix stupid , and you can't really expect stupid 'unthinking evil' to start thinking.
My exercise has been a resounding success.
Why?
Because, judging from my off hive chat room, and the amount of emails that I'm receiving, it's opened a lot of people's eyes to the reality of things.
It has given me more than enough material for....(deleted)...
With the @proofofbrainio tribe taking off so well, the popularity and enthusiasm - compared to hive - seems quite self evident.
Why is this?
It's virtually the same thing, is it not?
Ethics, integrity, fun, is the difference - and from that all good things flow.
It looks, and feels, great.
Conversely..... no ethics, zero integrity, and a derision of anything fun - leads to what we have now on hive. Boring stagnation, boring posts, scared users, and the overt expression of power.
And that, looks ugly.
It is clear for everyone to see.
Including those looking on from the outside.
And continues to be undressed by TBTB....I do wonder why not...Don't you?
Yeah.... God giving me a blow job was great fun !...And funnily enough (talking about narratives) ...has led me to be able to frame things differently, from one of just of reason and logic.
I've now got God on my side ! lol...
(even though I go more for a 'Viking type' of omnipotent being)...not quite so hippy as 'Big J'.
In fairness to Big J however, and reading 'ye olde book' - Myself and 'Big J' seem to have quite a lot in common in regards to the same lack of patience and intolerance of stupidity, evil people and authority...
p.s....I'm still struggling on making my fish and bread multiply very much though - and walking on water is right out of the question...
Something to leave you with....
Why would anyone wish to downvote posts that promote free thinking, free expression, humor, and love?
Think about it - because choosing sides is coming - whether you like it or not , and sitting on fences and getting splinters in yer arse will no longer be an option that's open to you, not for much longer.
Think about it.
Hard.
p.p.s
There's something very 'psychologically comforting' in framing this as spiritual/ethical/moral/ war - when pretty all of my values align with the fundamental principles of 'being' and 'doing', good.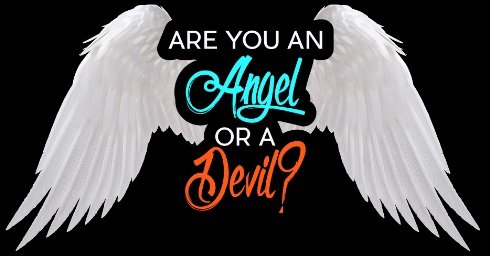 You don't have to 'believe in god' to want to try and make evil extinct.
(or at least GTFO)