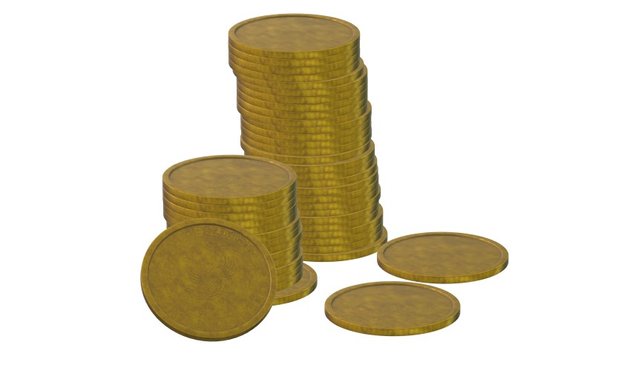 Coins (I made it using Paint 3D)
In 2010, I joined a tech company who was actually dealing with debt settlement in USA. The company had their own finance site which was always seen on the first page of google search engine.
As far as I know, a company's website can come on the first page of google through two ways:
Google Advertisement
Organic SEO
My company's website used organic SEO to be at 3rd or 4th rank on the google search engine. However, SEO is not a small thing, it is a vast syllabus. As far as I know there are two parts of organic SEO – On-page SEO and Off-page SEO.
I joined the company as an Off-page SEO. There were around 25 employees including me who were working in the same project. In the meantime, I came to know about bitcoin from one of my colleagues. However, at that time I didn't give much attention on it. Then I left the company after three and half years in 2013. The reason of leaving the company was my health issues.
As you know freelancing job currently has been popular in this world, after leaving my job I started Off-page SEO from my home. That time, I was not able to join another company because of health problem. So, freelancing job was the good option for me.
For Off-page SEO, I needed to do massive search in google. One day, I was searching with some finance topics in google search engine as usual. Suddenly, I landed on steemit article. The article was written on finance niche. There was nothing strange on the page except triple digit dollar. It drew my attention.
I started reading the article so that I could know the fact of triple digit dollar. After reading it, I came to know that a writer can earn by writing articles on steemit. Still I was not familiar to alt coins. First, I understood that users were earning US dollar by writing articles on the platform. After I reviewed the whole site, I came to know that they were earning steem backed dollar instead of US dollar.
I joined steemit in 2016 and started writing articles there. I was excited to earn cryptocurrency and convert it into real money. So, I worked hard to earn steem that time. Before withdrawal, I tried to gather all the information about the conversion of steem into real money. And Few days later, first time I converted SBD and steem coins into INR. I can't explain how happy I was that day. In this way, I came to know about cryptocurrency. If I hadn't searched with finance keywords in Google that day, I would not have known about steemit. Since then I am engaged with these types of crypto social media sites. Now I am connected with Hive.
Thank you for visiting my post