This was a part of my day out at Chinatown with an old friend two weeks ago. After we visited the Kuan Yin Shrine, we continued along Yaowarad road which is the main road in Chinatown. The atmosphere was quite lively and joyful after the quiet three months of lockdown. I was so glad to see the busy traffic and long queues of customers in various restaurants. We just need tourism to get started then people's faces would be beaming with smiles and laughters.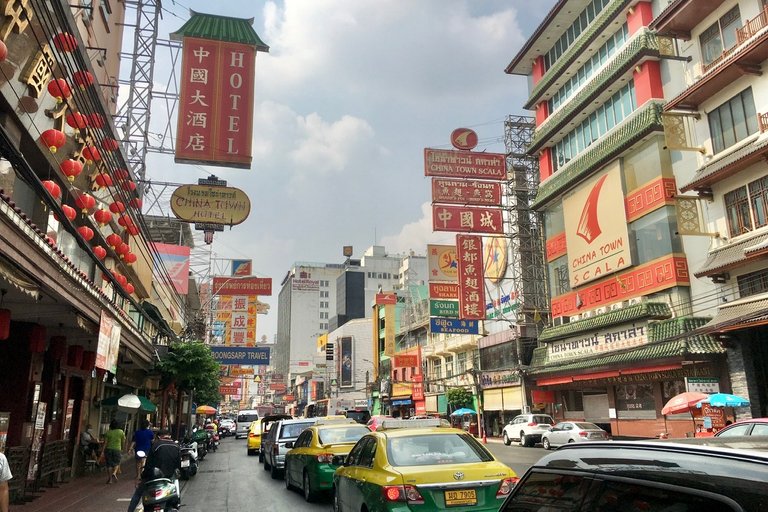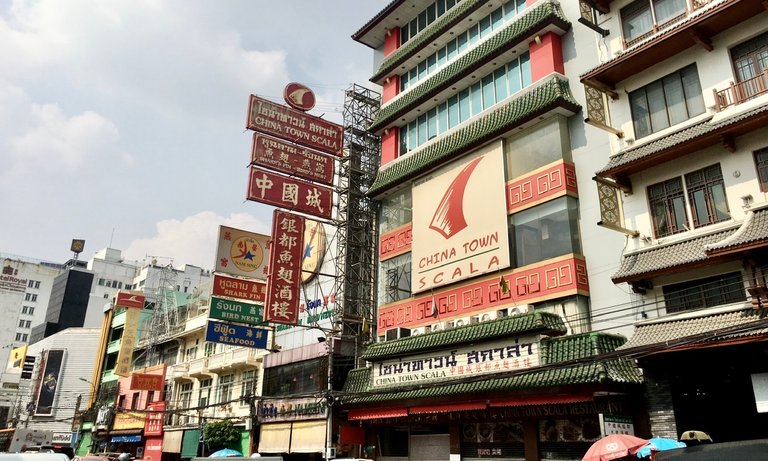 We slowly walked along the street so we could observe the delicious fast food on offer. But I was attracted by a stall selling traditional Chinese desserts. These were comfort and wholesome sweets made with monk-beans, red beans, black sticky rice, banana in coconut milk, and Job's tears in syrup. Some sweets were already sold out; I took a look at some empty pots! We gladly took a break and sat at the small table waiting for our orders. My friend was quite surprised by my order; I asked the vendor to give me two kinds of sweets in one bowl! So, I could enjoy two delicious sweets at the same time at the price of one serving!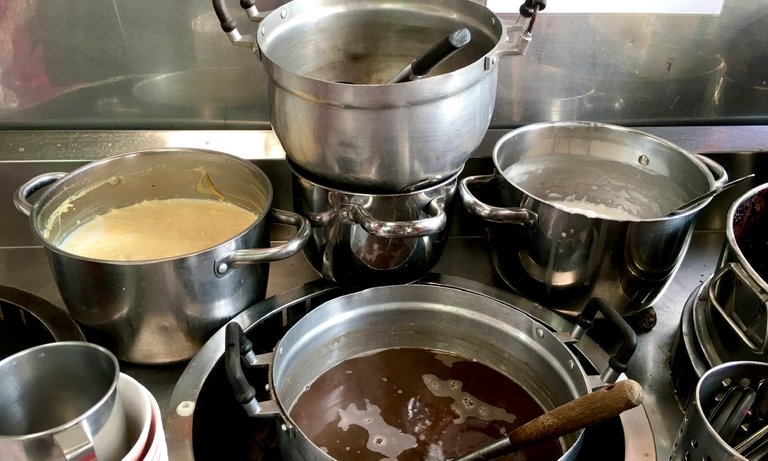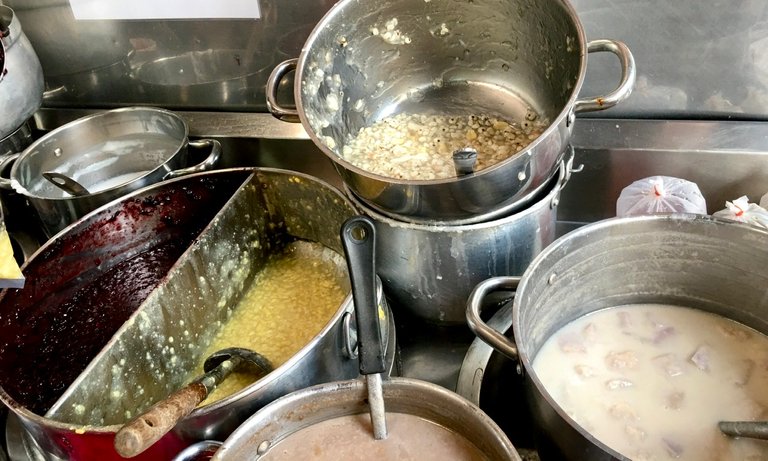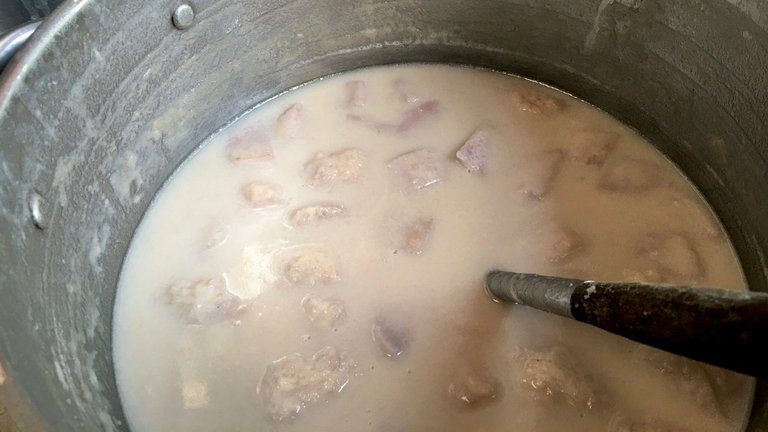 Suddenly we had more energy for our walking tour which led us to the oldest Chinese coffee shop in Bangkok. This coffee shop has been under the management of four generations of descendants during the past 89 years. This coffee shop is called Earsae Coffee Shop which used to be very famous during the reign of King Rama VII.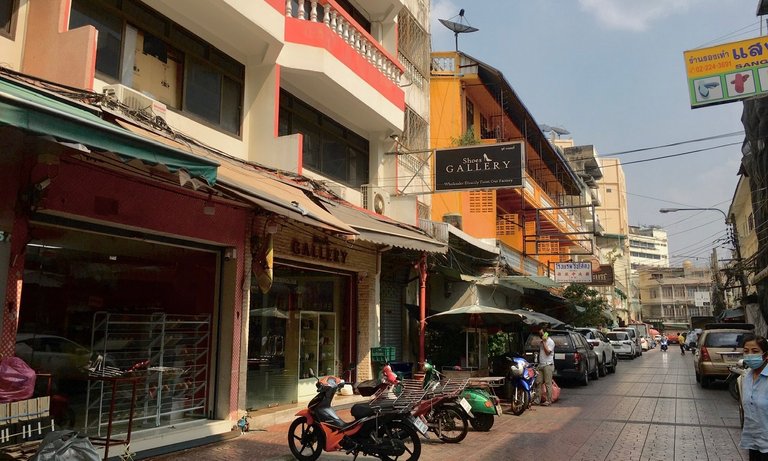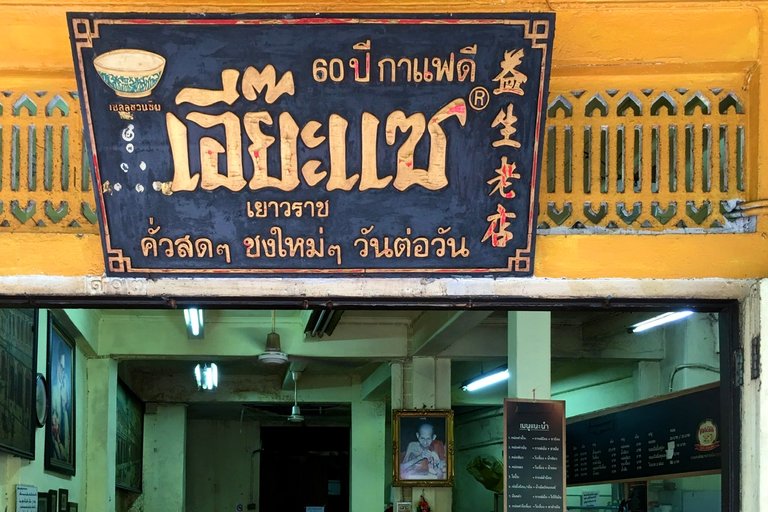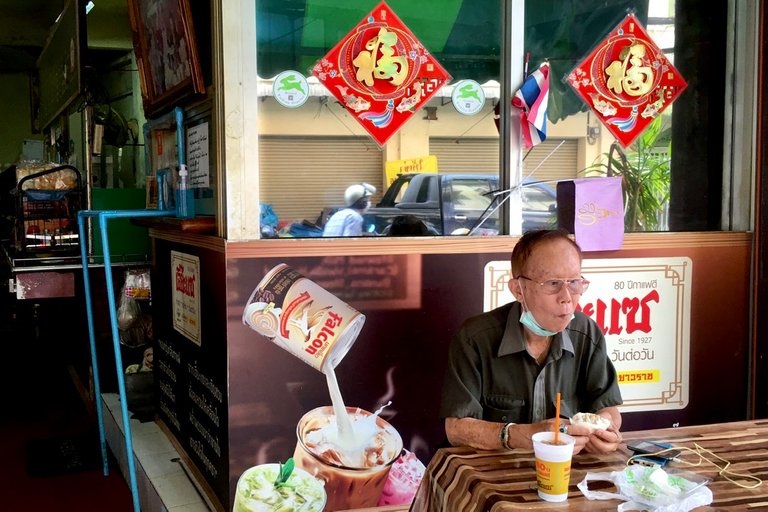 The original coffee shop was very small and nearer to the whole sale market. With increase wealth, the owners could afford to move to a bigger shop-house with more seatings for customers. They have been roasting coffee beans, produced from the south of Thailand, and serving traditional Chinese coffee here for almost eighty years. The old customers followed the vendors to this larger shop. I did try the original black coffee here once over a year ago; I found it was too strong for me. But the famous snack here is the special warm egg-custard. People just dip pieces of toast into creamy custard sauce accompanied with hot coffee.
As a Chinese tea addict and connoisseur, I could not believe that there would be a Chinese coffee shop which does not have any tea on the menu. It seems so very 'un-Chinese' to me. But I did remember going to a corner coffee shop with my Chinese grandfather, when I was three years old, every morning. He would meet up with his friends and had daily chats there for a few hours. I do wonder which Westerners had managed to turn tea-drinking Chinese into regular coffee addicts. These people tended to drink very strong and bitter coffee.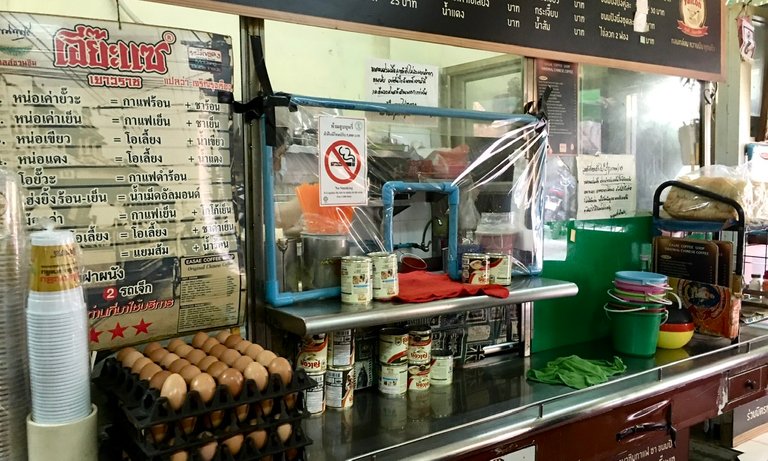 วันนี้เป็นการเดินเที่ยวถิ่นคนจีนที่ถนนเยาวราช หลังจากที่เราได้ไหว้พระขอพร ที่ศาลเจ้าแม่กวนอิมที่มูลนิธิเทียนฟ้าแล้ว เราก็ค่อยๆเดินมาตามถนน สายตาก็จ้องมองร้านขายอาหาร และของกินหลากหลายตามถนน เราดีใจที่เห็นการจราจรเริ่มหนาแน่น ผู้คนก็ออกมาเดินจ่ายตลาดและกินข้างนอกบ้านกันมากขึ้น ทำให้ถนนมีบรรยากาศรื่นเริงและมีพลังชีวิตที่สดชื่นด้วย เราคิดว่าถ้ามีนักท่องเที่ยวเริ่มเดินทางมา จะทำให้ผู้คนยิ้มและหัวเราะอย่างสบายใจมาก เราเดินไปสะดุดตาร้านขายขนมหวานโบราณที่เราเคยกินตอนเด็ก พวกเราก็หยุดพักและสั่งขนมมากินคนละถ้วย เดี๋ยวนี้ไม่มีขนมถ้วยละสิบบาทแล้ว นี่ถ้วยละยี่สิบห้าบาท เราก็เลยสั่งสองอย่างในถ้วยเดียวกัน เพื่อนเราเห็นเข้าก็ตกใจมากว่าเราช่างกินช่างสั่งมากจริง กินเสร็จเราก็มีพลังเดินต่อไป จุดหมายคือร้านกาแฟที่เก่าแก่ที่สุดในกรุงเทพ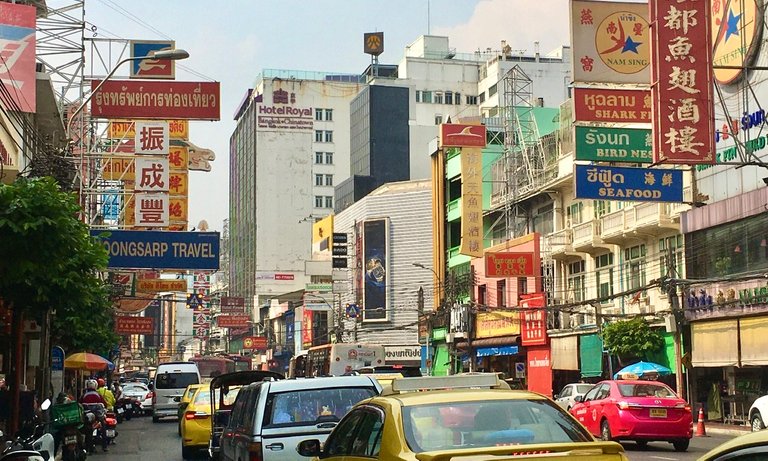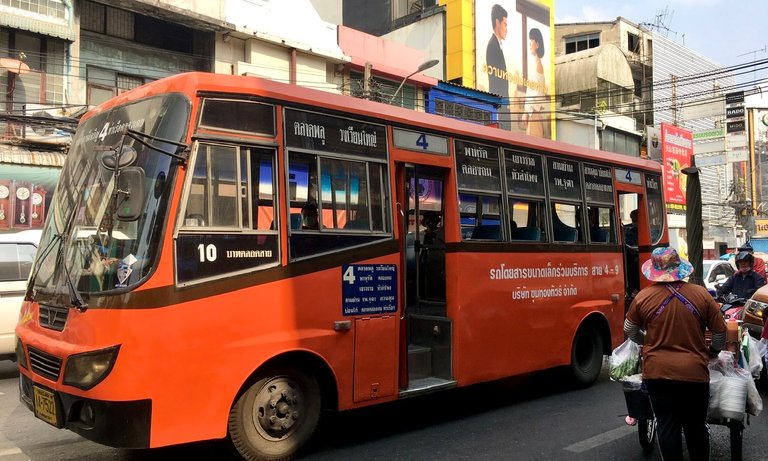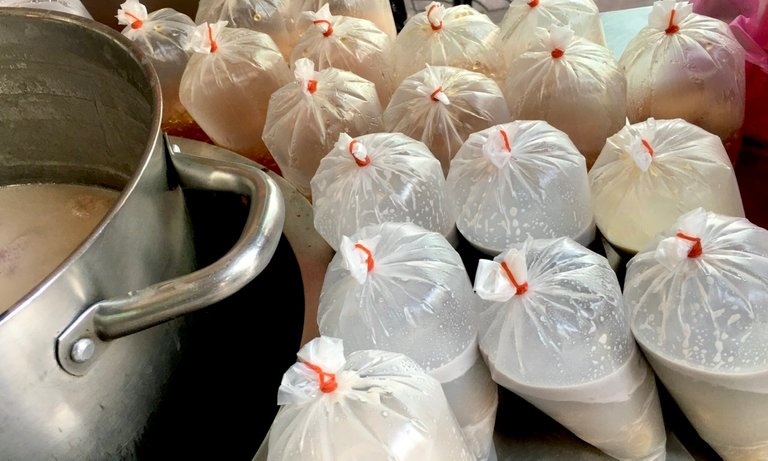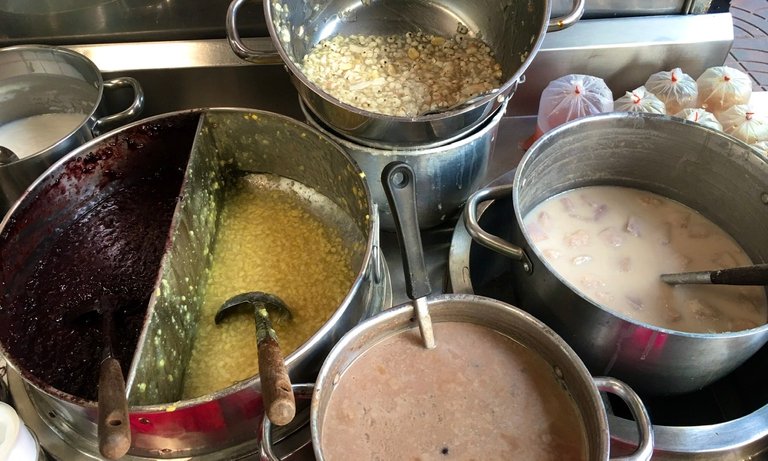 ร้านกาแฟเอี๊ยะแซเป็นร้านกาแฟที่มีมานาน กว่าร้อยปีโดยอยู่ภายใต้การจัดการโดยคนในครอบครัวเดียวกันถึงสี่รุ่นแล้ว ร้านแรกเป็นห้องเล็กๆอยู่แถวสำเพ็ง ต่อมาเขามีกำบังขยับขยายมาร้านใหม่ที่เป็นตึกแถวสองห้อง มีที่ให้ลูกค้านั่งดื่มกาแฟมากขึ้น ลูกค้าเก่าก็ตามมากินกาแฟต่อที่ร้านใหม่ซึ่ง ก็ยังคั่วกาแฟใหม่ๆทุกวัน แต่สิ่งมี่มีชื่อเสียงที่นี่คือ ขนมปังปิ้งกับสังขยา สังขยาของเขาไม่ใส่แป้ง ใส่ไข่ไก่ล้วนๆ เวลากินกับขนมปังปิ้งและกาแฟร้อน จะต้องชิวมากๆ แต่เราเคยมาลองกินกาแฟต้นตำรับเมื่อปีกว่ามาแล้ว เราไม่ชอบเลยเพราะมันขมและแก่มากเกินไป เราไม่ง่วงนอนไปสองวัน บรรยากาศในร้านก็โบราณมาก มีภาพเขียนโบราณของถนนเยาวราช โต๊ะเก้าอี้ก็เป็นของเก่าสะสมที่มีค่าสำหรับนักสะสมของเก่า ในร้านมีแต่ลูกค้าประจำที่มานัดเจอกันที่ร้านกาแฟ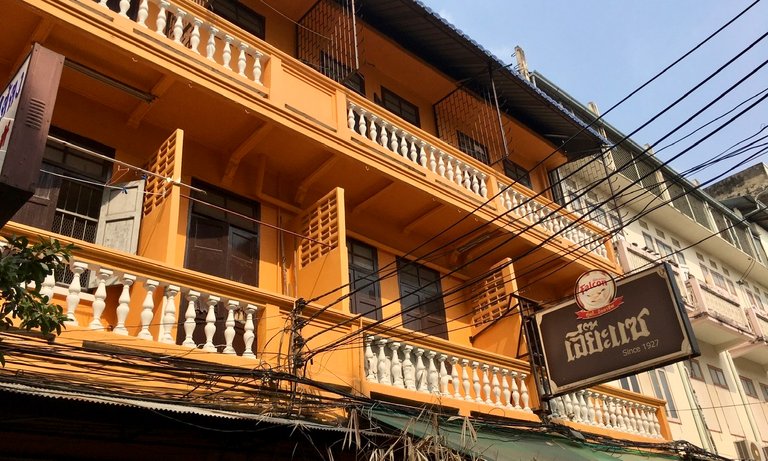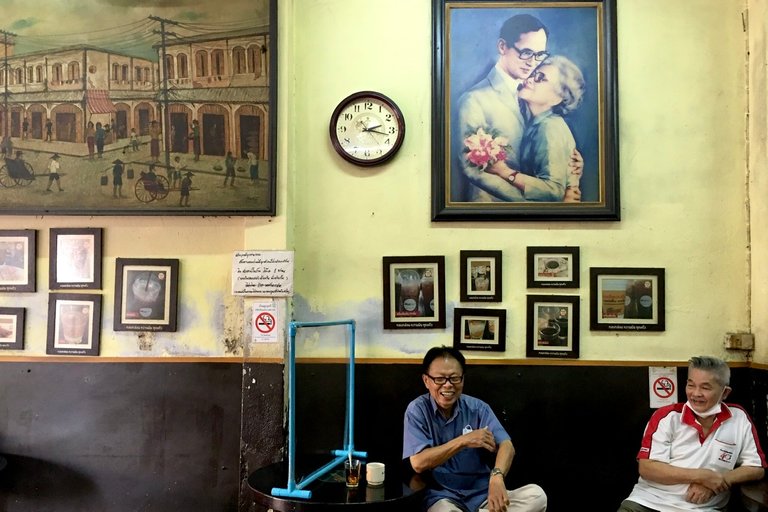 The old paintings on the wall depicted Yaowarad road in the old days with rickshaws, trams and beautiful buildings. In the old days, this coffee shop was a meeting place for Chinese people from all walks of life to connect with each other and expand networking for business. Newly arrived Chinese immigrants would come to this coffee shop to try their luck for employment. So, this place became like a 'job center' for the employees and unemployed workers. They would meet up to negotiate the new work packages and compensations. The most sought after employees were cooks, waiters, and dinner buffet service providers.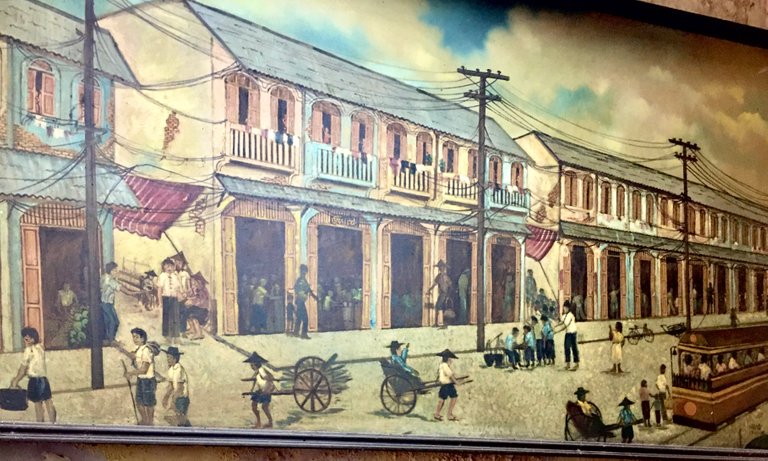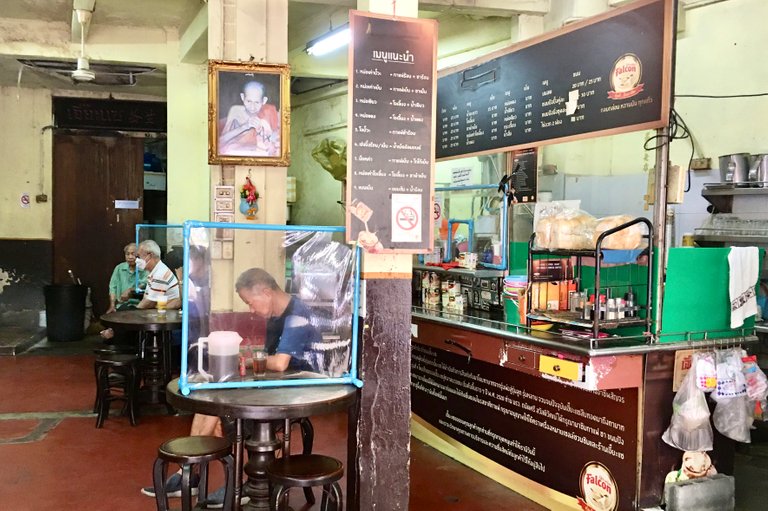 This old coffee shop was the hub of debates and discussions of all the happenings in society for the overseas Chinese. With changes in mass media and structure of economy, modern coffee shops with Internet connection becomes the norm for new generations of customers. There are still some remaining old Chinese customers who continue to meet up here in the afternoon. But this coffee shop had passed its hey days of activities and fame. The owners still try to keep the coffee shop in service as it has become part of their family cultural inheritance. Some members of the family had branched out to open a new coffee shop. I just hope that this old charming place could remain open for twenty more years at least. But changes will come and we will all be swept away and become forgotten history. Perhaps by making recordings on blockchain will make it possible for future generations to search about their past history and the forgotten people's stories.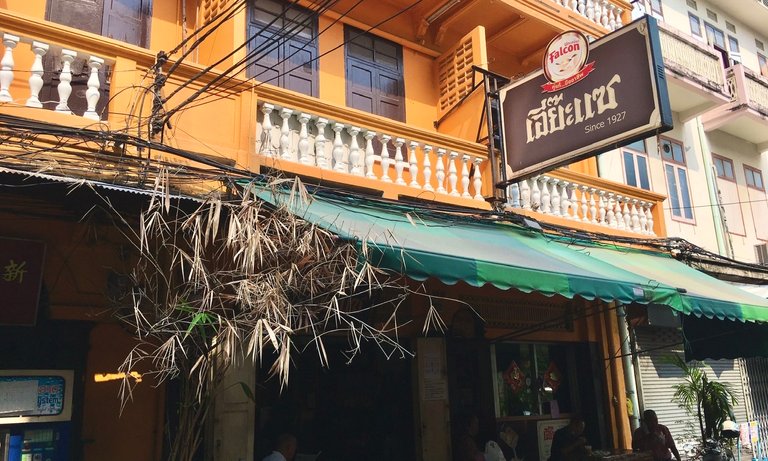 Wishing you peace, good health and prosperity.
Stay warm and cheerful.