Has jugado alguna ves un juego de administración o construcción? pues combina esos dos y añádele cadenas de producción automatizadas por que Factorio tiene todo eso en un solo juego y te aseguro que tardaras un buen rato antes de poder llegar a la mitad del juego y unas cuantas horas de entretenimiento, te aseguro que te quedaras un rato intentando automatizar tu producción de fabricas productoras de fabricas utilizando mas fabricas en el proceso así que ve y compra una copia en steam y una para tu amigo mas cercano así el entenderá por que no te a visto desde hace un tiempo.
---
Factorio comienza con un ingeniero cuya nave espacial se estrello en un planeta alienígena remoto y tu única forma de salir es construir una nave espacial e irte volando el problema es que para hacerlo tendrás que hacer una total mente nueva por que para que te estrellaras evidente mente la anterior tenia que tener fallas y no hay nada mejor que lo que hiciste tu mismo.... para tu suerte eres un ingeniero no hay nada que no puedas hacer así que dale al protagonista los materiales necesarios y te construirá cualquier cosa un horno de piedra, una refinería de petroleo, un reactor nuclear, cualquier cosa!
Have you ever played a management or construction game? Well, combine those two and add automated production lines because Factorio has all that in a single game and I assure you that it will take a long time before you can reach the middle of the game and a few hours of entertainment, I assure you that you will stay a While trying to automate your production of factories producing factories using more factories in the process so go and buy a copy on steam and one for your closest friend so he will understand why he has not seen you in a while.

---

Factorio begins with an engineer whose spaceship crashed on a remote alien planet and your only way out is to build a spaceship and fly away the problem is that to do so you will have to do a total new mind because for you to crash obviously the previous one had to have failures and there is nothing better than what you did yourself .... luckily you are an engineer there is nothing you can not do so give the protagonist the You will need materials and you will build anything a stone furnace, an oil refinery, a nuclear reactor, anything!
---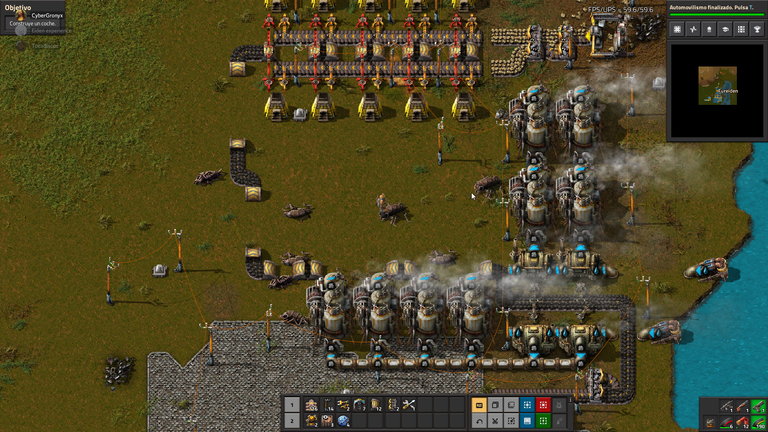 Pero aunque tu personaje puede crear casi cualquier cosa y objeto por si mismo en el juego la cantidad de recursos necesaria hace que tomar el juego de esa forma sea casi imposible puesto que no solo necesitas construir un cohete, necesitas construir todo lo que necesitas para diseñar fabricar alimentar calibrar el cohete tiene que construirse y también construir todo lo que viene antes de eso por ejemplo para siquiera pensar en hacer algo electrónico necesitamos como mínimo la capacidad de extraer minerales y refinar los principal mente cobre y hierro los cuales al fundirlos conseguimos placas de cobre y hierro y para hacer un circuito electrónico ocupamos placas de hierro y cables de cobre por lo que necesitarías extraer el mineral de hierro y cobre luego de eso fundirlos en placas y convertir esas placas de cobre en alambres de cobre después combinarlos con las placas de hierro para conseguir solo un recurso común utilizado en muchas mas cosas.
But although your character can create almost anything and object by himself in the game, the amount of resources required makes taking the game that way almost impossible since you don't just need to build a rocket, you need to build everything you need to design manufacture feed calibrate the rocket has to be built and also build everything that comes before that for example to even think about making something electronic we need at least the ability to extract minerals and refine the main mind copper and iron which when melted we get copper and iron plates and to make an electronic circuit we use iron plates and copper cables so you would need to extract the iron ore and copper after that, melt them into plates and convert those copper plates in copper wires then combine them with the iron plates to get just a common resource used in many more things.
---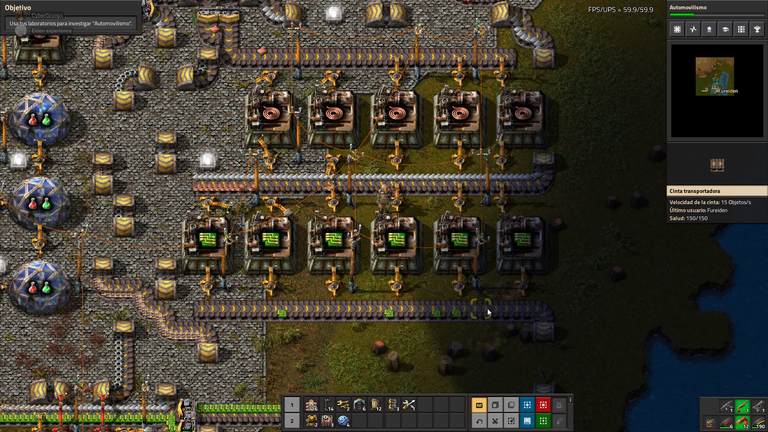 Como se ve en la imagen se ve como hice una automatización de productos electrónicos básicos la cual es la producción para pinzas de ensamblaje la cual también es la producción para paquetes de ciencia utilizados para investigar mas tecnologías junto con las cintas transportadoras, hay MUCHAS formas de hacer esto pero las 3 cosas principales a la hora de hacer una linea de ensamblaje son: cintas de transporte, ensambladores e insertadores como dice su nombre las correas de transporte llevan objetos desde un punto A a un punto B los ensambladores unen 2 o mas componentes para dar otro mas avanzado y los insertadores combinan ambos para depositar objetos de la cinta al ensamblador o del ensamblador a la cinta.... hay muchas mas cosas que no e mencionado pero me gustaria experimentarlas por mi mismo en el juego para poder explicarlas mejor
As you can see in the image you can see how I made an automation of basic electronic products which is the production for assembly clamps which is also the production for science packages used to research more technologies together With conveyor belts, there are MANY ways to do this but the 3 main things when making an assembly line are: conveyor belts, assemblers and inserters as the name implies, conveyor belts carry objects from point A to a point B the assemblers join 2 or more components to give a more advanced one and the inserters combine both to deposit objects from the tape to the assembler or from the assembler to the tape .... there are many more things that I have not mentioned but I would like to experience them for myself in the game to be able to explain them better