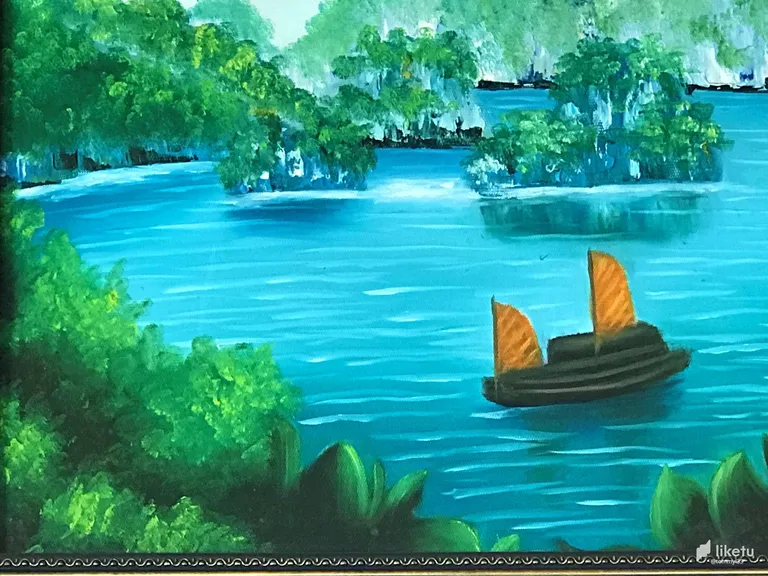 The painting at the boat illustrate the Ha Long Bay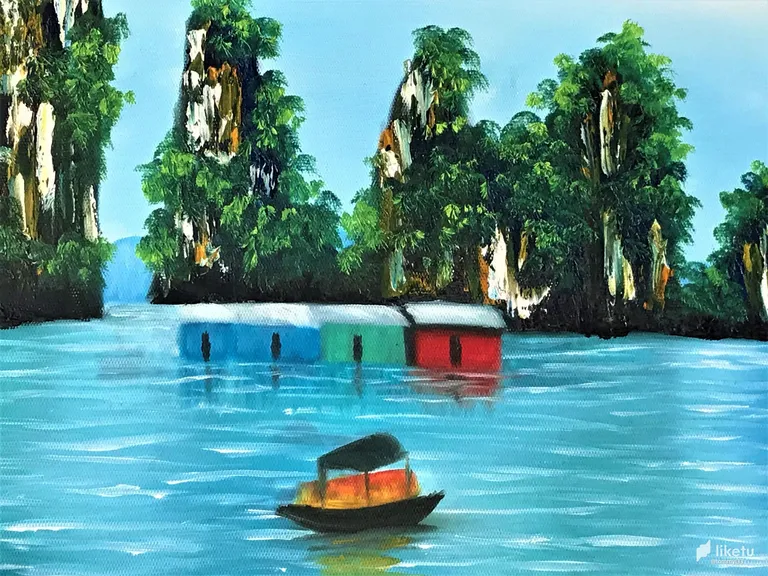 The island is look so real :).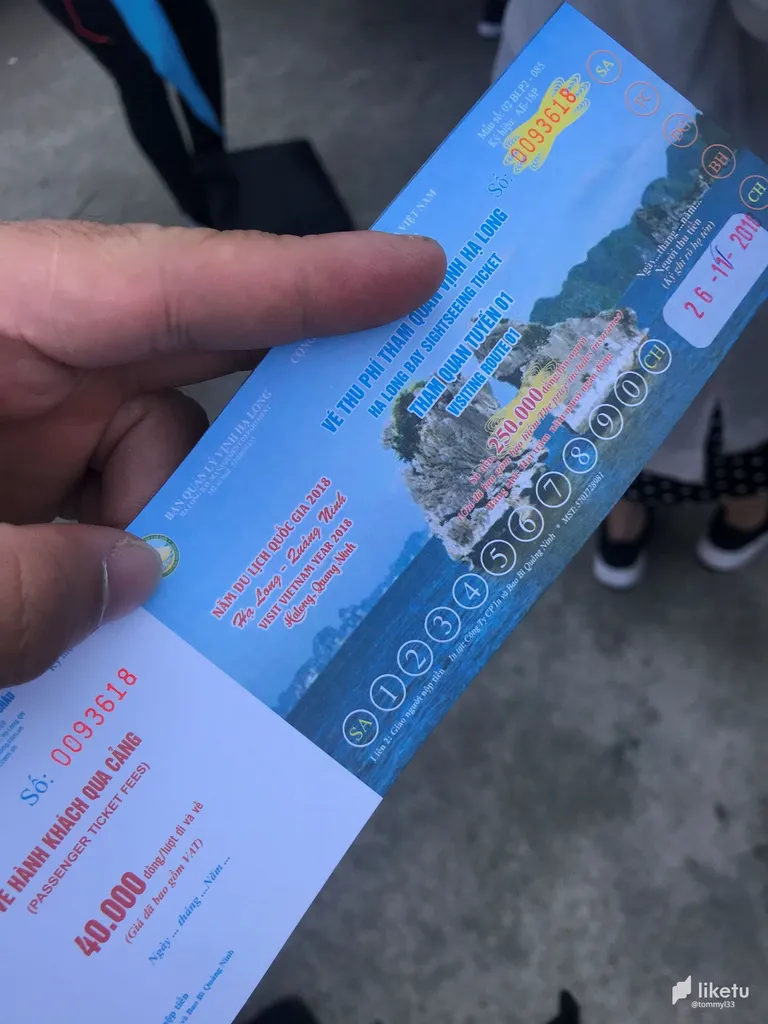 The ticket to enter this magnificent island of Ha Long Bay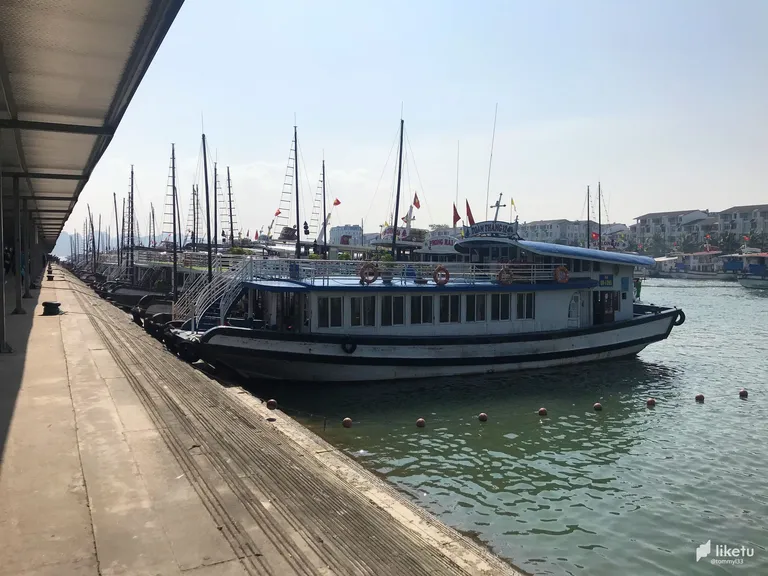 All the boat is ready for the the tourist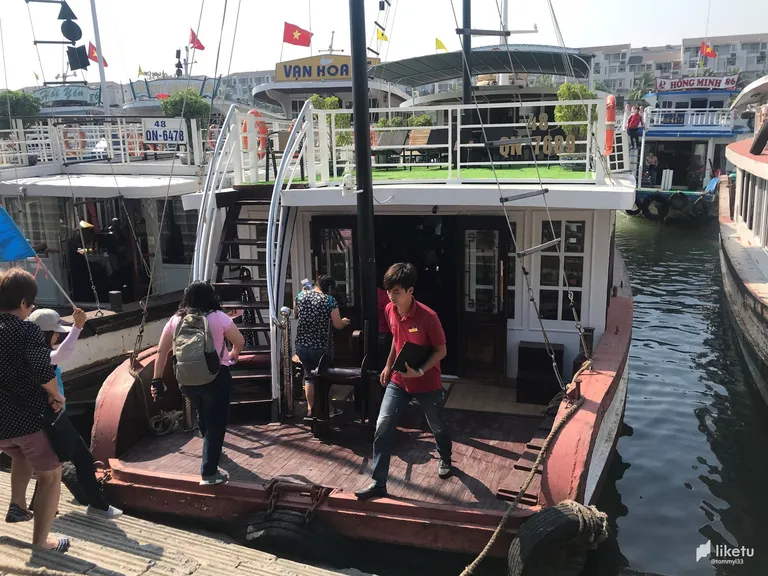 This is our ride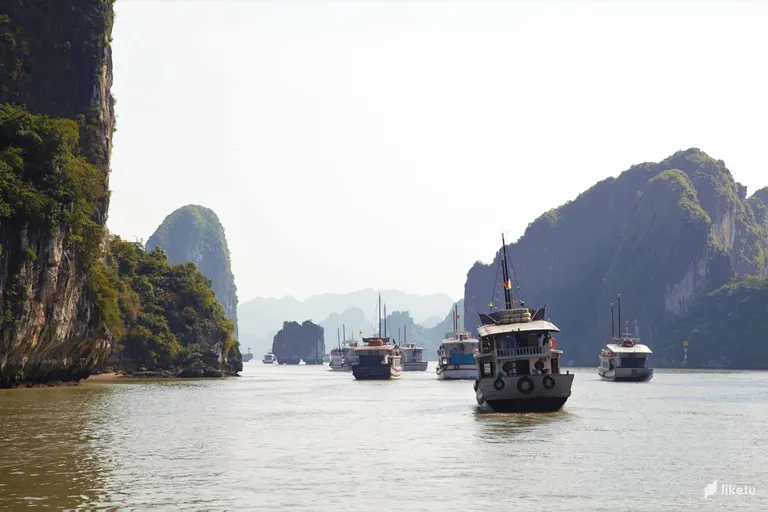 Many boat , in one direction . I was imagine this place must so busy long time ago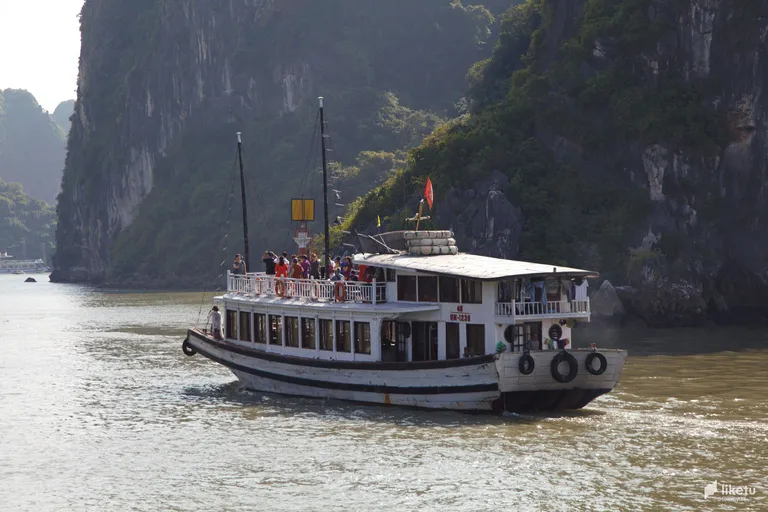 The other boat .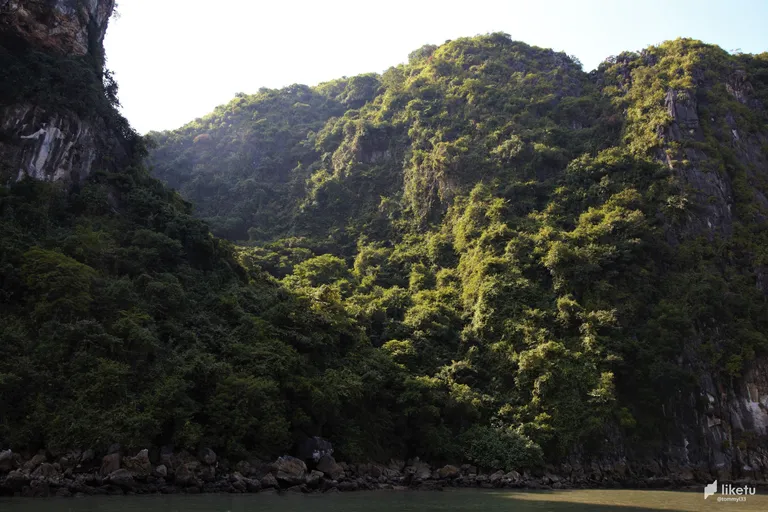 Look at the beautiful greenish island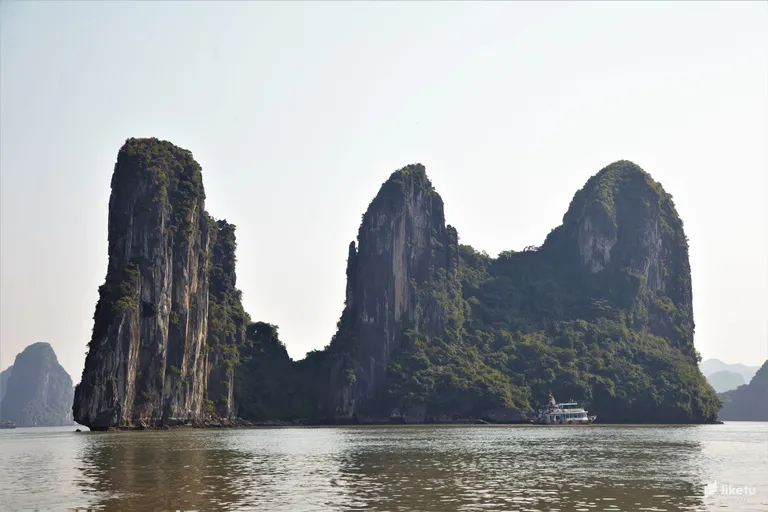 Legend say , that pillar of island is from the spit of the dragon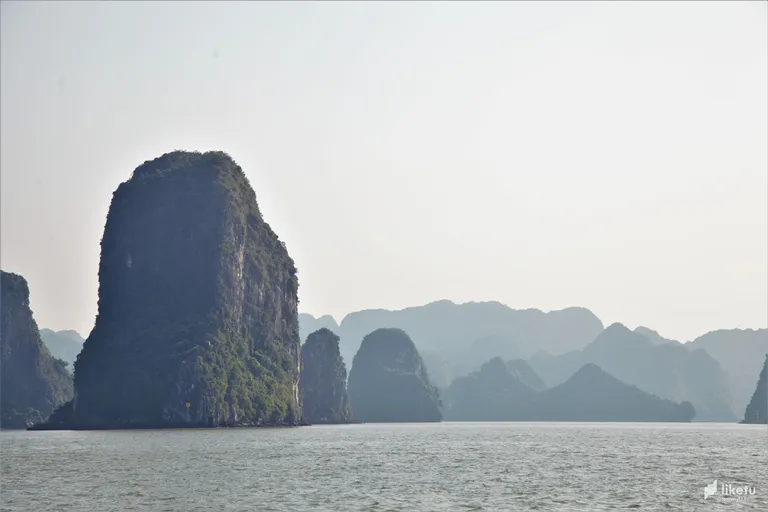 The view didnt fail feel this is another greatest art work of heaven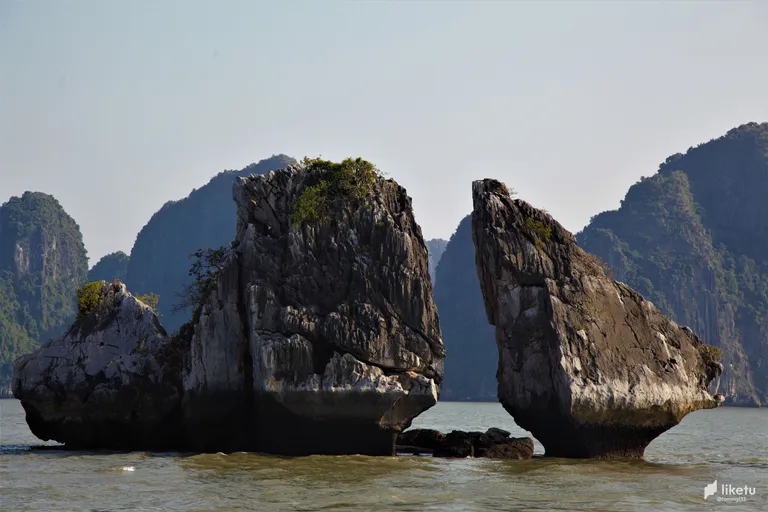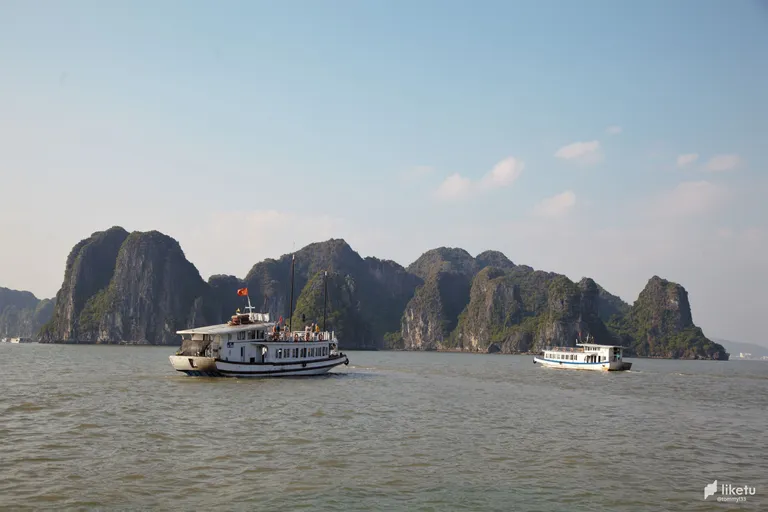 The island is so unique with different shape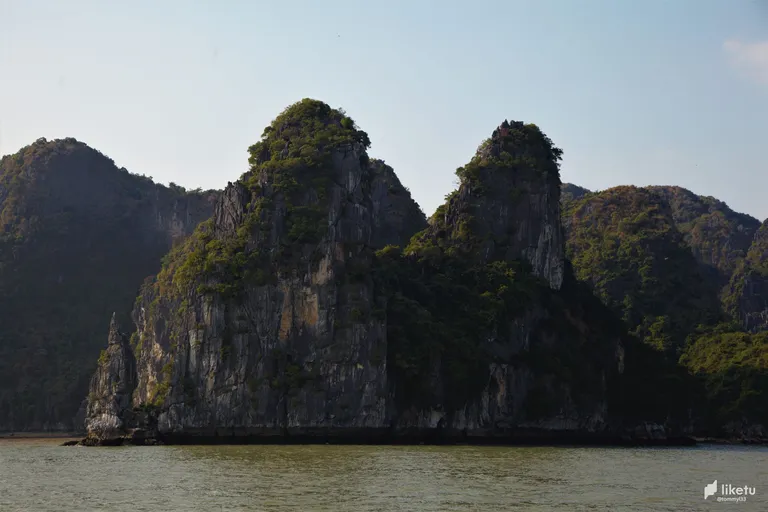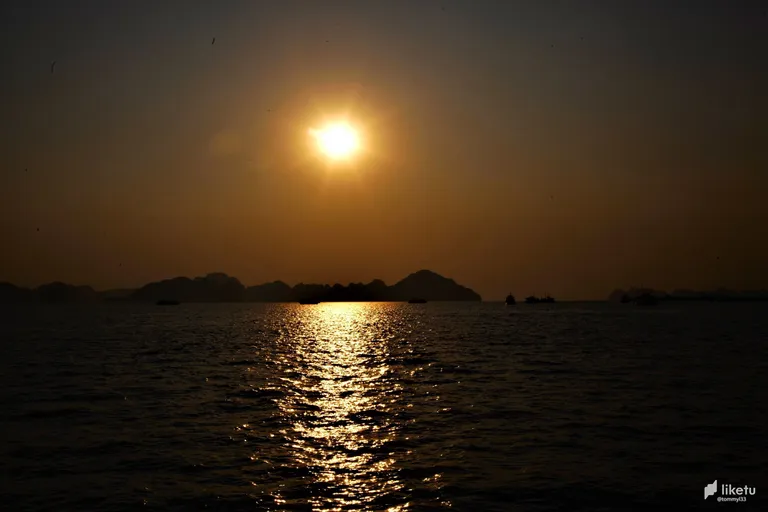 The sunset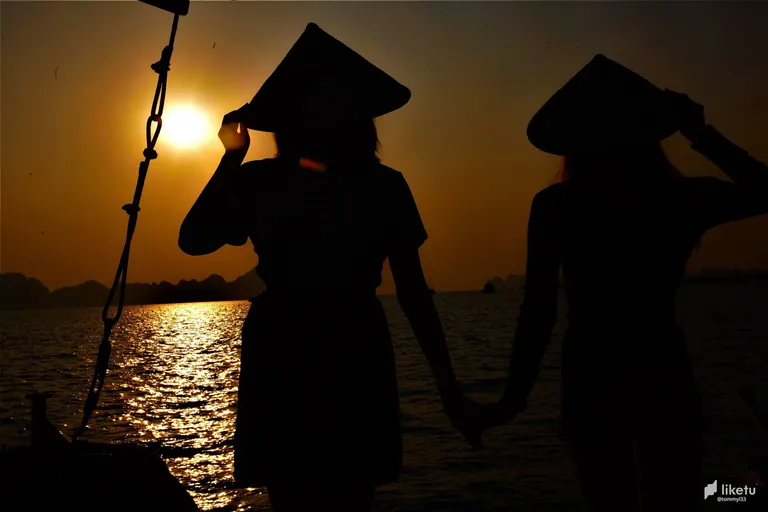 Two tourist with Vietnamese hat behind the sunset make a great silhouette
Greeting everyone ,
How are you? I hope you have a great day today that better than yesterday.
LEGEND OF HA LONG BAY
Yesterday i have submit one photo and upload a series photo of Local People in Vietnam to bring tourist around one random island in Ha Long Bay using the traditional local boat.
Legend say , long time ago when the country has just start , there invader who try to come and conquer them . The god from heaven see this was happening and send mother dragon and her child to help the Vietnamese . The dragon spit jewels of emerald and jade from sky and destroy the enemy. That's spit become the island that become the invisible wall and defends that country. . Source The dragon didnt go back to heaven and just lay on the ground, the sea rose and form that beautiful island that we see today. Thanks to heavenly help , the Vietnamese become peace again.
TRIP TO HA LONG BAY
There were big boat that bring us around the majestic island . 40k dong for entrance fee and 250k dong for the ride. The ride bring everyone around the island and stop to some spot to see the beautiful Ha Long Bay . They also provide delicious fresh sea food for us . The trip end after the sunset . I really enjoy my trip and that money is worth to spend on this trip .
I hope you enjoy those series of photo of mine during this trip.
MALAY LANGUAGE
Salam semua,
Apa khabar? Saya harap anda mempunyai hari yang hebat hari ini yang lebih baik daripada semalam.
LEGENDA HA LONG BAY
Semalam saya telah menghantar satu gambar dan memuat naik foto bersiri Orang Tempatan di Vietnam untuk membawa pelancong mengelilingi satu pulau rawak di Teluk Ha Long menggunakan bot tradisional tempatan.
Kata lagenda, dahulu ketika negara baru bermula, ada penceroboh yang cuba datang menakluki mereka. Dewa dari syurga melihat perkara ini berlaku dan menghantar ibu naga dan anaknya untuk membantu orang Vietnam. Naga itu meludahkan permata zamrud dan jed dari langit dan memusnahkan musuh. Ludah itu menjadi pulau yang menjadi tembok yang tidak kelihatan dan mempertahankan negara itu. . [Sumber](https://www.halonghub.com/blog/mysterious-legends-of-halong-bay/#:~:text=Legend%20says%20that%20long%20ago,people%20to%20defend%20their% 20negara.) Naga itu tidak kembali ke syurga dan hanya berbaring di atas tanah, laut naik dan membentuk pulau yang indah yang kita lihat hari ini. Terima kasih kepada bantuan syurga, orang Vietnam kembali aman.
PERJALANAN KE HA LONG BAY
Terdapat bot besar yang membawa kami mengelilingi pulau yang megah itu. 40k dong untuk bayaran masuk dan 250k dong untuk perjalanan. Perjalanan membawa semua orang mengelilingi pulau dan berhenti ke beberapa tempat untuk melihat Teluk Ha Long yang indah. Mereka juga menyediakan makanan laut segar yang lazat untuk kami. Perjalanan tamat selepas matahari terbenam. Saya sangat menikmati perjalanan saya dan wang itu berbaloi untuk dibelanjakan dalam perjalanan ini.
Saya harap anda menikmati siri foto saya semasa perjalanan ini.
---
For the best experience view this post on Liketu