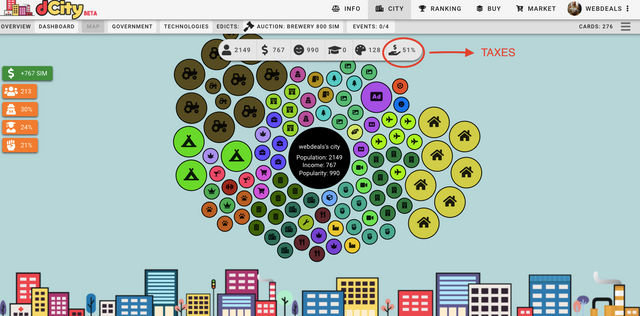 Yesterday there has been a big change in the reward system. @gerber that is the creator of this amazing and challenging game, has decided to show everyone how important is the role of a President where someone could raise the % of taxes to pay.
The taxes raised from 11% to 51% having a crazy reduction of my income that was supposed to be over than 1500 SIM daily but that dropped down to 767 SIM even not enough to buy a card daily.
The first thing that happened was a silly run to get the MIC and lots of people tried to take advantage of it selling them at huge prices such as 100 HIVE LOL.
This huge taxation will not print SIM as did in the past so there will be less SIM circulating for a couple of days and probably also the price of this token should raise a bit. Will see.
Anyway we have learned the lesson... having a good president is important for the good of this game.
---
ITA
Ieri c'e' stato un cambio radicale nel sistema di pagamento della citta' di dCity. Come sappiamo qualche tempo fa ci fu l'annuncio di alcuni cambiamenti come l'introduzione di un Presidente che puo' scegliere quanto tassare la popolazione.
Dall'11% la tassazione e' stata fatta salire al 51% perche' @gerber ovvero il creatore di questo gioco, ha voluto far capire quanto importante fosse questa figura di presidente che al momento e' coperta da lui. Ovviamente questa tassazione e' temporanea e dura solo 2 giorni pero' e' pur sempre un colpo al cuore vedersi togliere la meta' dei profitti.
Questo potrebbe portare ad un aumento del valore del SIM eventualmente dato che meno SIM saranno circolanti e piu' richiesta dovrebbe esserci e quindi un aumento del prezzo d'acquisto. Boh vedremo.
Abbiamo comunque imparato quanto sia importante avere un presidente buono in questo gioco.