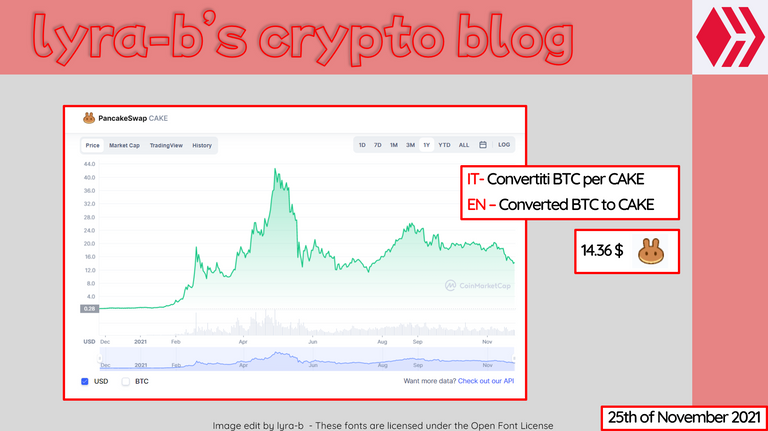 ---
Hive logo source: https://hive.io/
PancakeSwap logo source: https://pancakeswap.finance/
Central image source: https://coinmarketcap.com/currencies/pancakeswap/
Price source: https://coinmarketcap.com/currencies/pancakeswap/
---
Versione italiana
"La luna è fatta di Pancake" questo è lo slogan di PancakeSwap, un'applicazione di Finanza decentralizzata della Binance Smart Chain.
Oggi 25/11/2021 ho scambiato BTC per CAKE, perchè dal grafico di CAKE che ho trovato su https://coinmarketcap.com/currencies/pancakeswap/, mi è sembrato un buon momento per accumulare CAKE.
Una volta scambiati i CAKE, sono andata nel sito https://pancakeswap.finance/ per metterli in stake.
1)Ho spostato i miei CAKE sul mio portafoglio Metamask
2)Ho collegato il portafoglio al sito di PancakeSwap cliccando su Connect Wallet e scegliendo Metamask come portafoglio da collegare

3)Cliccare nel menù a tendina "Earn" e selezionare la voce "Pools"



4)Da qui si aprirà una pagina con diverse possibilità per le pool. Se si vogliono mettere in stake dei CAKE allora cliccare in Details
sulla prima voce "Auto cake"


5)Cliccare su +


6)Decidere la quantità di CAKE che si vogliono mettere in stake e cliccare su Confirm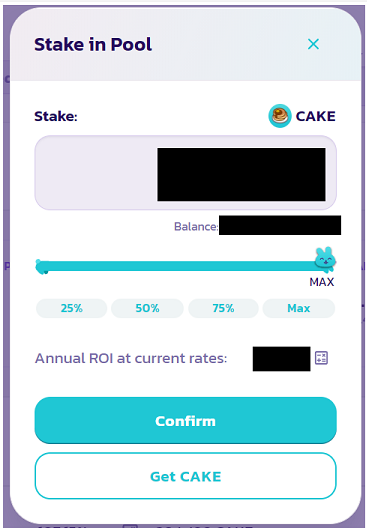 7)Stake avvenuto!

Conclusioni: La percentuale di APY per mettere in stake i CAKE su Pancake Swap è del 79.33%, ed è per questo che l'ho trovato conveniente.
Disclaimer: Non sono un consulente finanziario, quindi ciò che è scritto in questo post è un'opinione personale, non un consiglio finanziario. Se volete investire dovete farlo consapevolmente e sotto la vostra responsabilità.
---
English version
"The moon is made of Pancakes" this is the slogan of PancakeSwap, a decentralized finance application from Binance Smart Chain.
Today 25/11/2021 I traded BTC for CAKE, because from the CAKE chart I found on https://coinmarketcap.com/currencies/pancakeswap/, it seemed a good time to accumulate CAKE.
Once the CAKEs were traded, I went to https://pancakeswap.finance/ to stake them.
1)I moved my CAKE to my Metamask wallet.
2)I connected the wallet to the PancakeSwap site by clicking on Connect Wallet and choosing Metamask as the wallet to connect.

3)Click on the "Earn" drop down menu and select the "Pools" item



4)This will open a page with different possibilities for pools. If you want to stake CAKES then click in Details
the first item "Auto cake".


5)Click on +


6)Decide how many CAKES you want to put in the stake and click on Confirm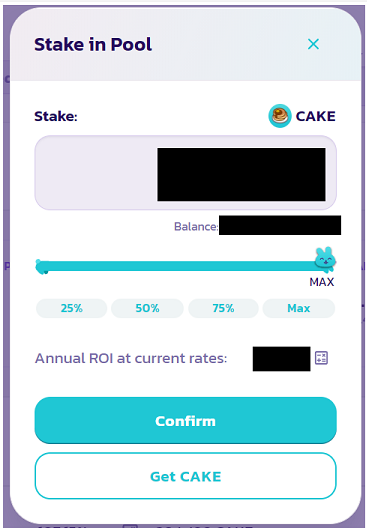 7)Stake it!

Conclusion: The APY for staking CAKE on Pancake Swap is 79.33%, which is why I found it convenient.