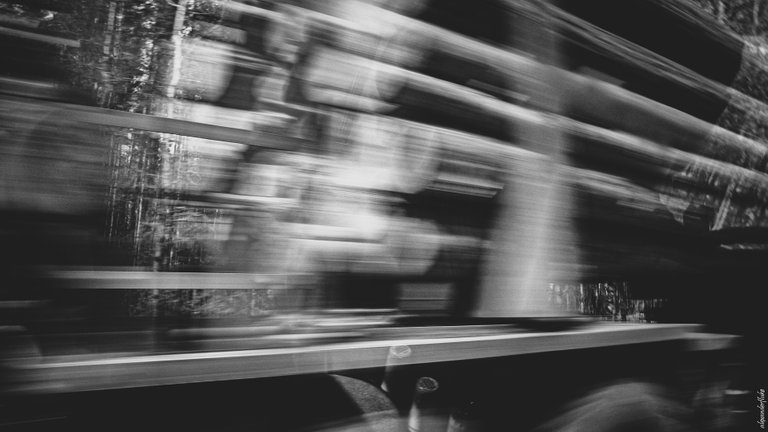 It's a short story. It was in the summer of 2007 on the M5 Ural highway, Russia. I was riding as a passenger in the back seat, drinking beer and admiring the passing scenery. At some point, a truck loaded with logs appeared on the oncoming lane. I don't remember how I managed to take a picture of this truck — apparently, in addition to beer, a camera also miraculously turned out to be in my hands. It was very fast. Of course, the picture turned out to be blurry but I like the result. Down there, in the reflection, you can see the bottles of beer that haven't been opened yet.
Это короткая история. Дело было летом 2007-го на трассе М5 «Урал». Я ехал пассажиром на заднем сиденье, попивал пиво и любовался пролетающими пейзжами. В какой-то момент навстречу нам пролетел грузовик, гружёный лесом. Я не помню, каким образом я успел сфотографировать этот грузовик — судя по всему, в моих руках кроме пива каким-то чудом оказался ещё и фотоаппарат. Всё это было неожиданно и очень быстро. Разумеется, картинка получилась смазанной, но мне нравится результат. Там внизу, в отражении, видны ещё не открытые бутылки «Стелла Артуа».
@alexanderfluke's pics 
Canon Digital IXUS 850 IS 
© All rights reserved 
...



this is the original content published for the first time
posted via Ecency  —  powered by Hive