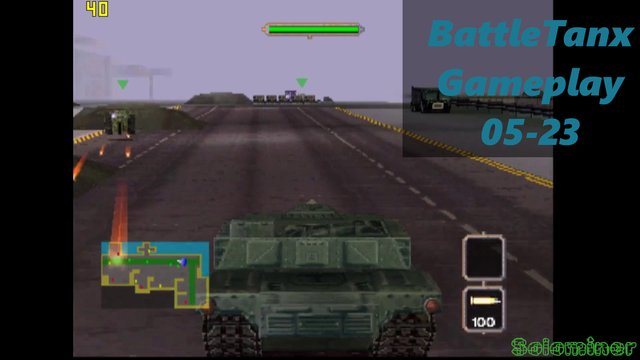 There were many games I wanted to play more of when I was a child. With renting games from Blockbuster I could only play a game for a few days before I had to return it. A few games stuck in my memory for those that I had to give back before I was ready. One of those games is called BattleTanx. Im playing it on an emulator and trying out the levels.
I start the game and let the intro play out, then I am in an M1A1 tank and make my way through the map to find enemies and destroy them.
It appears im at an airport though hard to tell. Maybe I should have paid better attention to the story line. There were small tanks I had to take out and then some full sized ones at the end of the map. There were power ups but I could not tell much of a difference. I move onto the next level which is a city from the looks of it. Many barriers I keep getting stuck on this map. My tank got pretty torn up as I was having troubles finding my way through the maps, though it seems I made it to the tunnel which brings me onto the next level. I upgraded my tank to a flame thrower model and tried out level 3. Looks like it was a level on the ocean and tanks are being dropped off by boat. I get taken out by one of the boats, had no idea they could fire back.
So far the playing has been kinda meh, maybe it will get better as I play more. Otherwise ill stick to some other games and see how much I like those. Now the emulators are working so well its a good time to try out a bunch of games that I rented from my childhood, but only got to play a little bit.
| Solominer Presents: | BattleTanx: Global Assault |
| --- | --- |
| Year | 1998 |
| Genre | Action |
| Console | Nintendo 64 |
| Platform | Project64 emulator |
| Rig specs: | Main gaming setup |
| --- | --- |
| Processor | Ryzen 7 1700 Eight Core overclocked to 3.7 Ghz |
| Memory | Corsair DDR4 32GB overclocked to 3066 XMP 16-17-17-35 1T |
| Video Cards | 2x Gigabyte G1 1080 no overclock |
| Power Supply | Corsair 1000W |
---
| Coin | Address |
| --- | --- |
| BTC: | bc1qhfmvd2gywg4fvrgy2kkkkyqta0g86whkt7j8r7 |
| LTC: | ltc1qdyzm5cwgt8e2373prx67yye6y9ewk0l8jf3ys9 |
| DASH: | XkSqR5DxQL3wy4kNbjqDbgbMYNih3a7ZcM |
| ETH: | 0x045f409dAe14338669730078201888636B047DC3 |
| DOGE: | DSoekC21AKSZHAcV9vqR8yYefrh8XcX92Z |