INGLES // ESPAÑOL
AQUÍ ESTAMOS JUGADORES! // HERE WE ARE PLAYERS

Hoy les he traído un juego bastante peculiar entre la categoría indie, esto lo digo en el mejor sentido posible claro esta y no es un titulo que lo tendrás que pensar mucho para ir volando a probarlo, solo presta atención, quedarás maravillado y con ganas de ir volando a descargar Deadbolt
Today I have brought you a quite peculiar game among the indie category, this I say in the best possible way, of course, and it is not a title that you will have to think a lot to go flying to try it, just pay attention, you will be amazed and wanting to run to download Deadbolt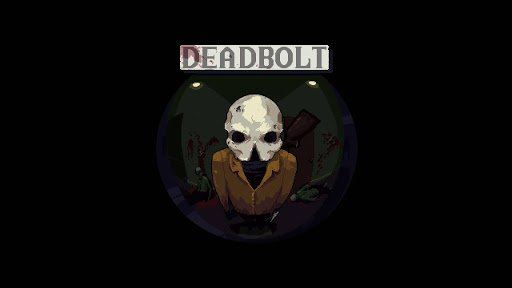 >>>


📖Historia sencilla pero atrapante // Simple but engaging story 📖

La historia de Deadbolt se desenvuelve siendo tu el Reaper o la parca el cual se gana la vida con cada trabajo siendo asesino a sueldo, con un gran alijo de armas este se abre paso misión tras misión acabando con la Mafia de No muertos compuesta por los Zombies, Molestos vampiros y testarudos esqueletos.
Le doy crédito a la forma en como avanza la dificultad de el juego con sus mecánicas en tanto a cada una de estas bandas y cada uno de sus integrantes, cabe destacar que la historia carece un poco de una historia muy desarrollada, te plantea que va de eso secuestros, trabajos sucios, ventas ilegales, es la Mafia, un poco mas de los mismo pero lo compensa mas que suficiente con todo lo que tiene en si, con esto no digo que sea malo, no, en lo absoluto, Deadbolt es uno de mis Indie mas apreciados, solo que pudieron desarrollarla un poco mas, otro punto es que es muy corto pero vamos, el final de este juego es muy dado, increíble y logra con su cometido, este te deja con ganas de mas en todo sentido, esta de mas decir que no les haré spoiler porque busco que les llame a jugarlo también.
The story of Deadbolt unfolds as you are the Reaper or the Grim Reaper who earns a living with each job being a hitman, with a large cache of weapons this makes its way mission after mission ending the Mafia of undead compound by the Zombies, Annoying vampires and stubborn skeletons.
I give credit to the way in which the difficulty of the game progresses with its mechanics in both each of these bands and each of its members, it should be noted that the story lacks a bit of a highly developed story, it suggests that it will Of that kidnappings, dirty jobs, illegal sales, it is the Mafia, a little more of the same but it more than makes up for it with everything it has in itself, with this I do not say that it is bad, no, not at all, Deadbolt is One of my most appreciated Indies, only they could develop it a little more, another point is that it is very short but come on, the end of this game is very given, incredible and achieves its purpose, this leaves you wanting more in everything sense, it goes without saying that I will not spoil them because I want them to call them to play it too.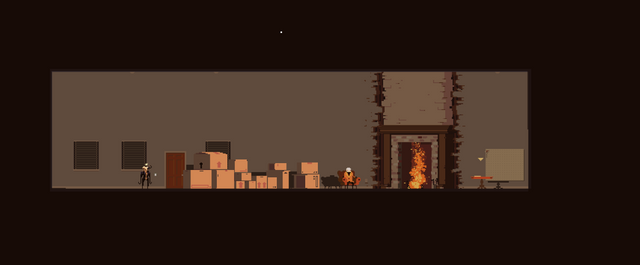 🕹️Brutal reto en jugabilidad, estrategias y sistemas de juego // Brutal challenge in gameplay, strategies and game systems 🕹️

El juego desde un principio te muestra su tutorial y en el mismo es agradable como notas que tiene la libertad de hacerlo de varias maneras, no te demandan ve, haz esto con la única opción, no, te dan los controles básicos, te dejan allí y tu mismo tomaras tu forma de hacerlo en este increíble titulo combinando acción y sigilo.
Para estrategias hay herramientas demás, puedes encender, apagar las luces (Sea con el interruptor de la luz correspondiente o sea reventando el foco con un disparo), tocar puertas para llamar la atención, sabotear la fuente de energía del sitio por unos segundos, silenciadores, lanzar las armas, granadas flash entre muchos otros de estos todos te puedes ayudar a armas tu plan para cumplir con la misión y salir ileso. La dificultad del juego es progresiva pero llega en puntos que puedes frustrarte por esta, es elevada, hasta llegar a querer partir el teclado contra la mesa pero esto no te impide seguir porque de cierta forma hace que aun mas lo quieras conseguir a mi parecer esta muy bien implementado.
Otro sistema que te varia muchísimo tus estrategias es que puedes transportarte entre las tuberías y ventilaciones de cada edificación. Poniendo en prueba nuestra puntería y velocidad de reacción.
The game from the beginning shows you its tutorial and in it it is nice as notes that you have the freedom to do it in several ways, they do not demand you go, do this with the only option, no, they give you the basic controls, they leave you there And you yourself will take your way of doing it in this incredible title combining action and stealth.
For strategies there are other tools, you can turn on, turn off the lights (either with the corresponding light switch or by bursting the focus with a shot), knocking on doors to attract attention, sabotaging the site's power source for a few seconds, silencers Throwing weapons, flash grenades, among many of these, you can all help yourself to your plan to complete the mission and escape unscathed. The difficulty of the game is progressive but it comes at points that you can get frustrated by, it is high, until you want to break the keyboard against the table but this does not stop you from continuing because in a certain way it makes you want to achieve it even more, in my opinion, this very well implemented.
Another system that greatly varies your strategies is that you can transport yourself between the pipes and vents of each building. Testing our aim and reaction speed.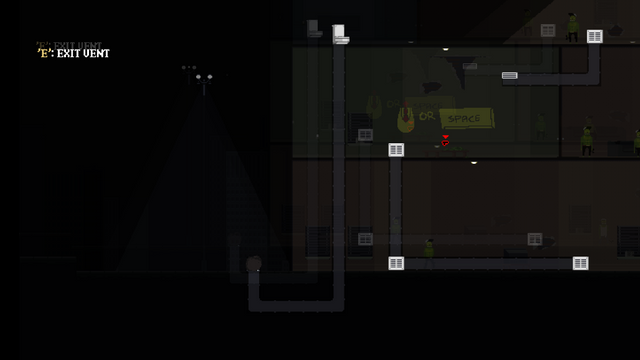 .

Te desvaneces convirtiéndote en un humo de color negro, permitiéndote moverte por estos agujeros, esto le da un giro a todo puede ser positivo o negativo dependiendo de donde te sitúes y donde se sitúen los enemigos de la habitación, a esto uno termina gustándole un montón, da buen rollo, termina encantando moverse entre las sombras sigilosamente acabando con todos los objetivos, y les pido que vean el siguiente vídeo, es un trailer corto de el nombrado Deadbolt, para proseguir con la reseña.

You fade becoming a black smoke, allowing you to move through these holes, this turns everything can be positive or negative depending on where you are and where the enemies of the room are located, this one ends up liking a lot , gives good vibes, ends up loving moving through the shadows stealthily finishing all the objectives, and I ask you to watch the following video, it is a short trailer of the named Deadbolt, to continue with the review.

.
Cada uno de estos personas de cada banda tiene un comportamiento, patrón de ataque, movimiento, armamento, reacciones distintas ante la agresividad que afectan tu estrategia, a veces solo debes ser rápido para reaccionar, utilizar los sillones, tv y otros para cubrirte del fuego, hay muchos factores en cada misión. Cuentas con cuchillos, armas cuerpo a cuerpo rifles de asalto, pistolas, revólveres, sniper, escopetas, granadas, smgs entre muchas otras avanzadas.
Se mantiene un sistema sencillo de ganzúas en las puertas de inicio a fin del juego, misiones de Sniper entre otros
Each of these people in each gang has a different behavior, attack pattern, movement, weaponry, different reactions to aggressiveness that affect your strategy, sometimes you just have to be quick to react, use armchairs, TV and others to cover yourself from the fire. , there are many factors in each mission. You have knives, melee weapons, assault rifles, pistols, revolvers, snipers, shotguns, grenades, smgs, among many other advanced ones.
A simple system of picks is maintained at the start doors at the end of the game, Sniper missions among others


🖌️Increíble diseño, Arte pixelar y un soundtrack sentido // Amazing design, pixel art and a heartfelt soundtrack🖌️

Desde sus sencillo estilo oscuro - sangriento sus escenarios bien detallados y un soundtrack bastante fuero de lo ordinario es un deleite para la vista, soy muy fan personalmente de los buenos pixel art y este no se queda atrás, sus efectos de luz, golpes y sangre al destrozar nuestros enemigos dejando el rastro en las paredes, en todos lados son bastantes notorios, los gráficos en 8 bits no son excusa para no jugarlo, están muy bien detallados recalco que es un juego indie. Sus efectos de sonido (FX) no son muy complejos, podrían estar mejores sin embargo en tanto a su música y sus fondos pasivo agresivos están impecables, te emocionan y meten en el juego que es lo vital de los mismos de este apartado no tengo mas quejas.
From its simple dark-bloody style to its well-detailed settings and a fairly out-of-the-ordinary soundtrack it is a delight to behold, I am personally a huge fan of good pixel art and it is not far behind, its light effects, bumps and blood by destroying our enemies leaving the trail on the walls, everywhere they are quite noticeable, the 8-bit graphics are not an excuse for not playing it, they are very well detailed I emphasize that it is an indie game. Its sound effects (FX) are not very complex, they could be better, however, in terms of their music and their aggressive passive backgrounds, they are impeccable, they excite you and they put you in the game, which is the vital thing of the same in this section. complaints.

| Tabla de datos Deadbolt | 🎮 |
| --- | --- |
| Plataforma // Platform | PlayStation 4, Nintendo Switch, Windows, Linux, Mac OS, PSVITA |
| Lanzamiento//Launching | 14 de marzo de 2016// March 14, 2016 |
| Peso Aproximado// Weight | Versión 1.0: 200mb |
| Modo de juego | Un jugador modo historia // Single player story mode |
| Desarrollado//Developed | Hopoo Games |
| Genero//Gender | Desplazamiento lateral, Sigilo, Acción, INDIE // Side Scrolling, Stealth, Action, INDIE |
| En linea // Online | No |
REQUISITOS
Procesador: 2.5 GHz.
Memoria: 1 GB de RAM.
Gráficos: Direct X9.0c Compatible Card.
DirectX: Versión 9.0.
Almacenamiento: 130 MB de espacio disponible.

/
Processor: 2.5 GHz.
Memory: 1 GB of RAM.
Graphics: Direct X9.0c Compatible Card.
DirectX: Version 9.0.
Storage: 130 MB of available space.
Mi veredicto final tomando los pro y los contras es de un:
My final verdict taking the pros and cons is one:
.
7.9
Debido a mejoría de la historia, el juego es muy corto y puede llegar a frustrar mucho para algunos jugadores.

Due to an improvement in the story, the game is very short and can be very frustrating for some players.

.

Espero que enserio les haya gustado y haya sido de su agrado, pueden comentarme sus opiniones, las tomare muy en cuenta, intento siempre traer el mejor contenido y de calidad, hasta la próxima reseña y recomendación!!!!!

I hope you really liked and liked it, you can tell me your opinions, I will take them into account, I always try to bring the best quality content, until the next review and recommendation !!!!!
Los captures sin enlace son todos tomados por mi
The captures without link are all taken by me