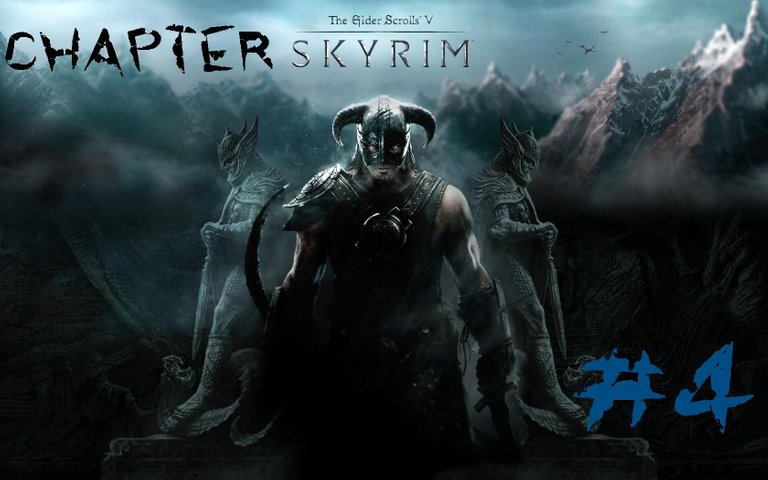 Hello friends of Hive, today I come to you with the 4th Cap. of this series, in the previous one we stayed to go to a kind of mountain to look for an object that the mage of the Jaarl of Silver Claw sent us to look for.
We started leaving the city, the first thing you see is a great landscape with a mountain in the distance, I explore a little outside the town, and find a character who is selling a horse in 1000 gold (really cheap 😉), well touch go walking to the point where we were sent.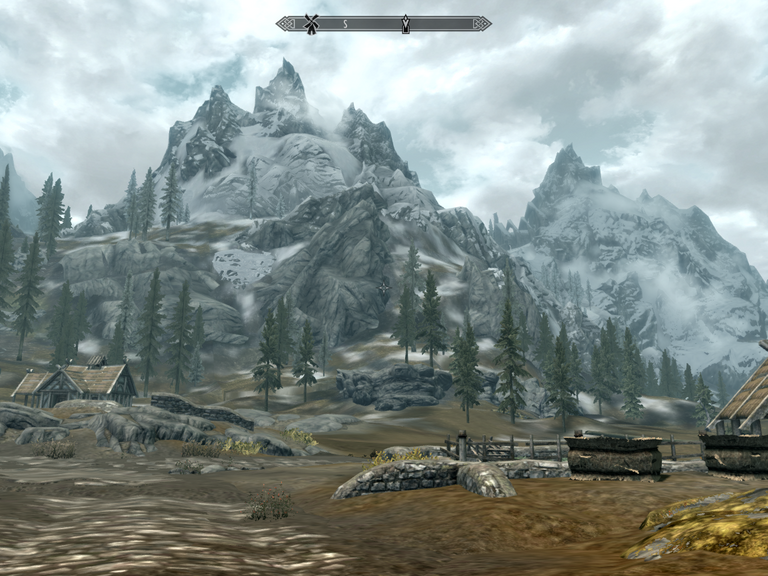 I keep exploring and it looks like some kind of ruins, I approach to see what I can grab, but apparently I was still like in the domain of the people, and every thing I was going to take put "steal" instead of "grab", so I continue my way I did not want to risk going to jail again, I pass a stream where I was attacked by a kind of crab, I defeated him easy. In front of there was a sign in the shape of a mammoth skull as I got closer I could see a giant, so as a brave knight that I am I faced him, with one blow he killed me.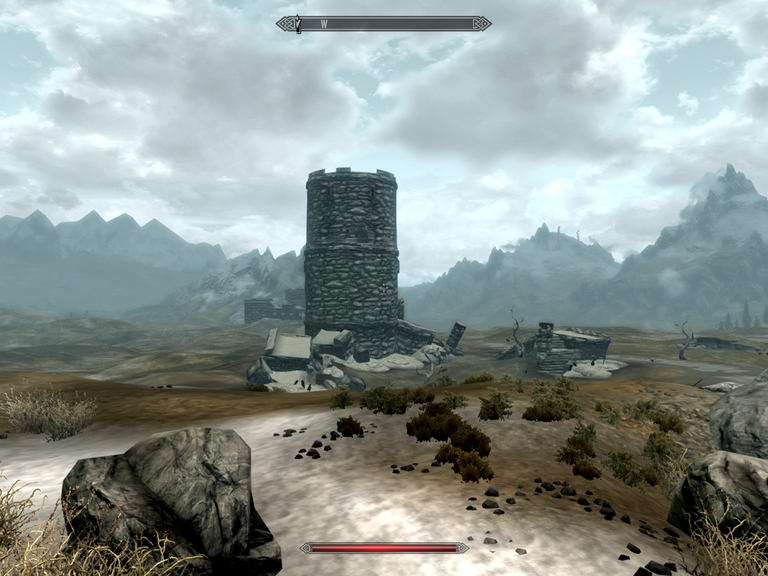 I tried again but this time from far away using a bow, then I realized that I didn't take anything from him so I ran away, but the giant was still following me, I went to the ruin where some guards were to help me, but anyway he reached me and killed me again.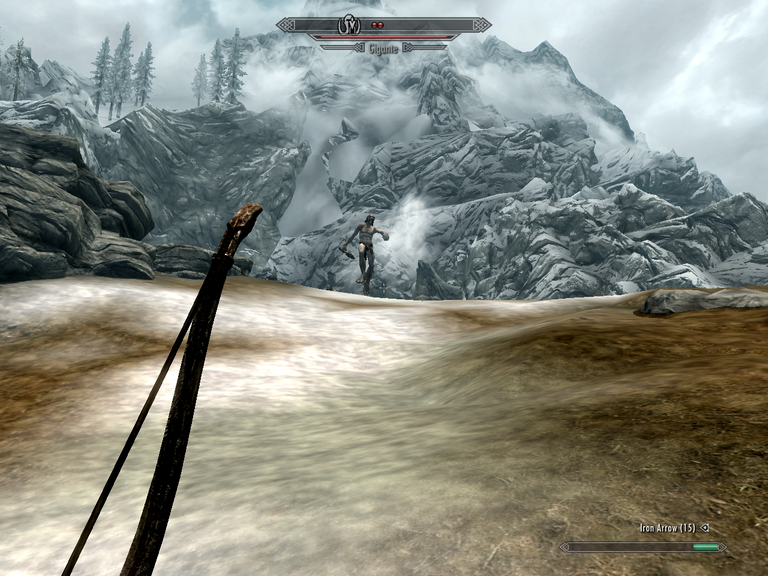 After respawning at the last save point, I decided to go straight to the point ,I went up the mountain and saw how the vegetation changed, I have to say that the setting sometimes distracts you from how well done it is, it really makes you immerse yourself in the adventure, on the way I fought some bandits, and finally I could get to the point of the mission, which was like some kind of destroyed structure, I love this kind of places because you know you reached something important, already here again I faced some bandits and even next to these ruins there is a black door, this moment made me excited since I didn't know what I was going to face after crossing it, it made me quite curious.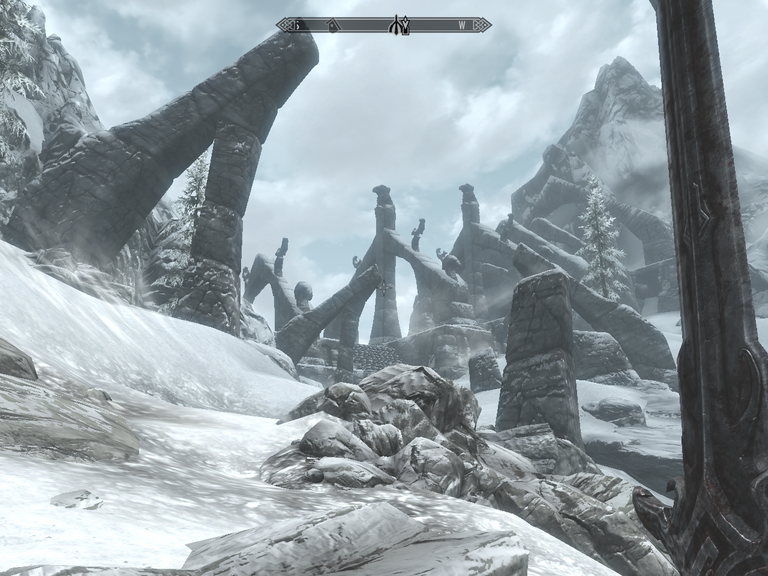 Well here's a little aside right in front of the door because I decided to go do side quests to level up to be prepared for what would be behind it and all the way I would have to go to find the item I was sent to find, so I turned back.
One of the side quests was pretty far away so I decided to steal a horse near silver claw, which didn't do any good because half way through I was uncomfortable with the camera, which went into third person, so I got off and walked to the quest it was a little hard to complete I died a couple of times but I did it, I went back to town to collect the reward for the mission, but I forgot about the stolen horse thing and when I got there I was intercepted by 10 town guards, so back to jail but this time I couldn't get my items back, so I was practically naked. So I did more side quests so I could get weapons and decent armor, but I didn't find anything on the level of the ones I had. Then I went back to the main quest mountain again.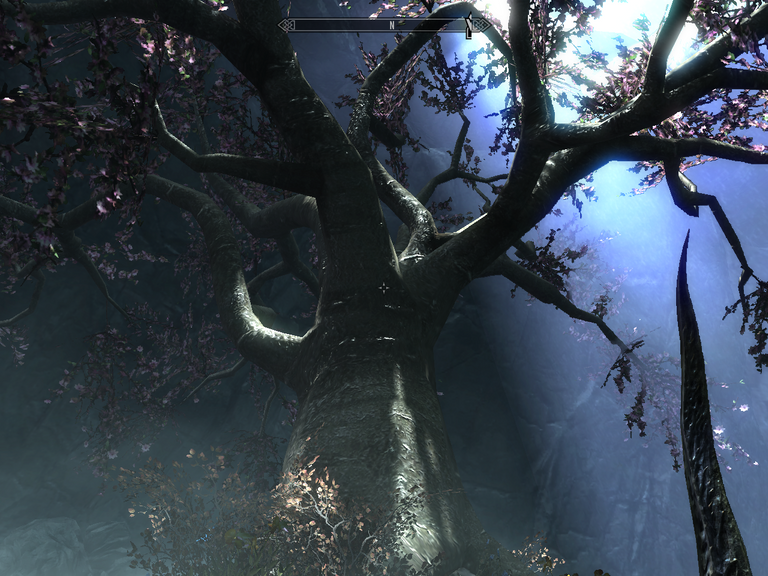 | | |
| --- | --- |
| | |
Already being in front of the black door again, I decide to pass and the first thing I face is a kind of small dogs, also some bandits who were eating, I see that they have that can benefit me, but I get nothing so I continue, to a circular entrance that leads to a tunnel, you see cobwebs everywhere, all these roads are like ruins inside the mountain, I find a puzzle and I face the dogs again, I manage to solve it and a gate opens.
        

On the left side of the room there are some stairs leading down from these ruins, so I decide to advance that way , anyway there is no other way, then I get to a room covered with spider web and spider eggs in every corner ,also on a wall there is a character asking for help, I then look up and see how a giant spider is going down a thread, this has been the largest that I have faced, I expected that it would cost me more to defeat it but it was not. I rescue the character that was trapped in the spider web, then I have to defeat him since he has the object of the secondary mission that I was sent to find and he didn't want to give it to me.
  

| | |
| --- | --- |
| | |
We continue in search of the object of the main mission, and now I face Viking undead, the design of these I liked quite a lot in addition to the detail that glowed blue eyes, I quite liked, they were not so difficult to defeat. After walking a lot defeating Viking zombies after so much fighting, I arrived to a room with a puzzle where there is a door with three circles, each one had a different figure, an owl, a moth and a bear. The puzzle was to put the right order to open it, let me tell you that I did not know how to do it so I tried random combinations and it worked, on the other side of the door leads to a rather large rocky space.
I walk a little, and as at the bottom there is a wall with some words shining in blue that I did not understand, I approach and interact with them, now apparently I have a new power if anyone knows what this is please tell me in the comments, now I decide to go down some stairs that were on the left side, I barely advance and I hear a scream, I turn and there is a Viking zombie but different from the others, apparently he was like the leader of the others, it was a little difficult but I defeated him, I inspect him and he has the object that the wizard sent me to look for, finally I get out of the cave and now I'm heading to Silver Claw. By the way, I discovered that if I put the map and select a point where I have gone before I can teleport directly there, without having to walk so much.
      

I enter the barracks to deliver the object to the wizard, as I do so we are interrupted by the guard who looks like an orc, and tells us that they have sighted the dragon near the village.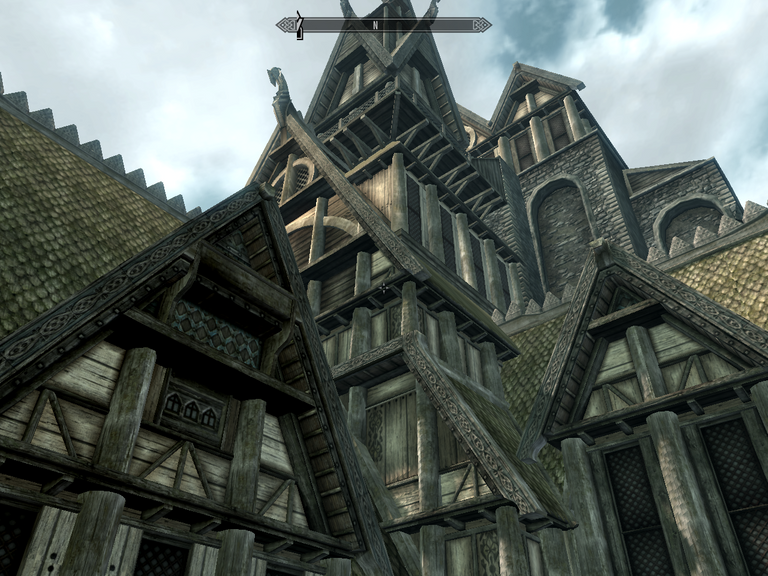 Well hive friends I will leave this chapter here, in this moment of tension. I hope you liked it and see you in the next post.
ESPAÑOL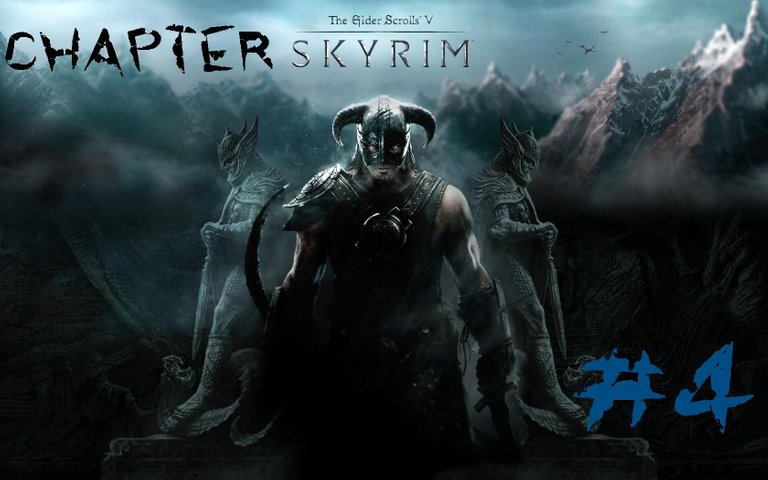 Hola amigos de Hive, hoy les vengo con el 4to Cap. de esta serie, en el anterior nos quedamos en ir a una especie de montaña a buscar un objeto que nos mandó a buscar el mago del Jaarl de Garra de plata.
Comenzamos saliendo de la ciudad, lo primero que se ve es un gran paisaje con una montaña a lo lejos, exploro un poco las afuera del pueblo, y encuentro un personaje que está vendiendo un caballo en 1000 de oro barato barato, bueno tocara ir caminando hasta el punto a donde nos mandaron.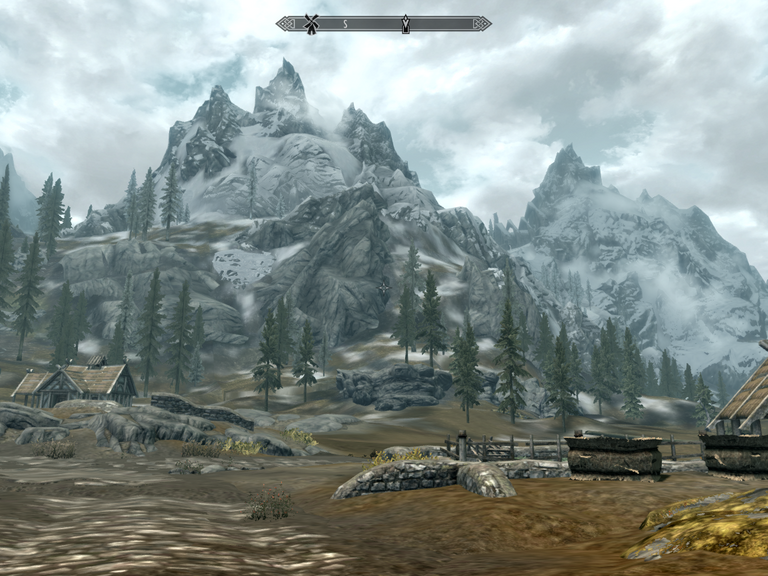 Sigo explorando y se ve como una especie de ruinas, me acerco a ver que puedo agarrar, pero al parecer seguía como en el dominio del pueblo, y cada cosa que iba a tomar ponía "robar" en vez de "agarrar", así que sigo mi camino no quería arriesgarme a ir la cárcel de nuevo, paso un riachuelo donde me ataco una especie de cangrejo, lo derrote fácil. Al frente de ahí había un signo con forma de cráneo de mamut mientras más me acercaba pude ver a un gigante, así que como un caballero valiente que soy me le enfrente, de un golpe me mato.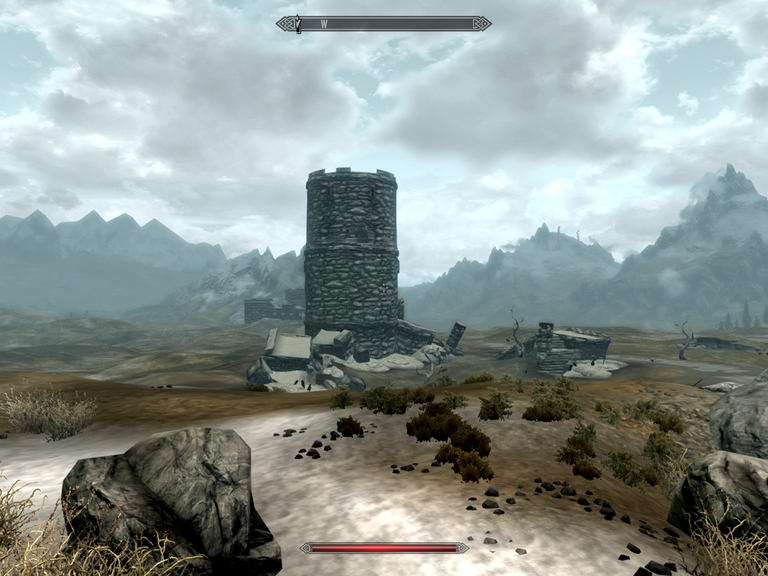 Intenté de nuevo pero esta vez de lejos usando un arco, luego me di cuenta que no le quitaba nada así que hui, pero el gigante todavía me seguía, fui a la ruina donde estaban unos guardias para que me ayudaran, pero de todas formas me alcanzo y me mato otra vez.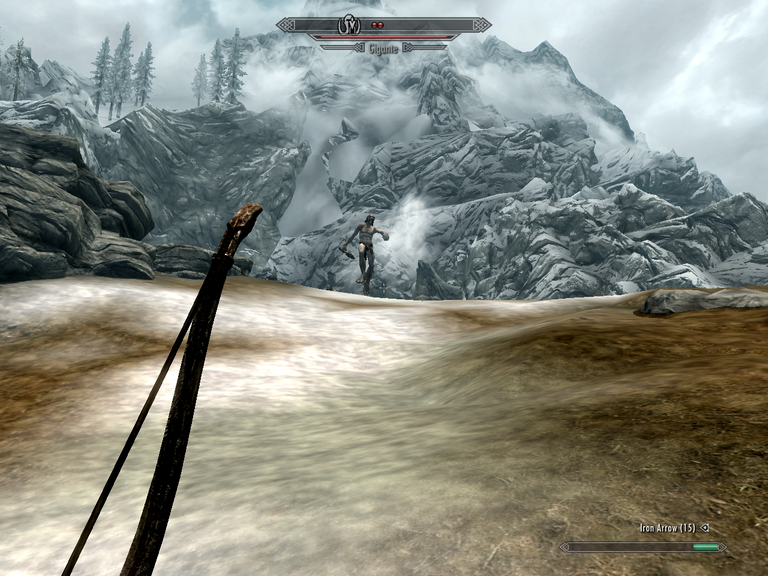 Después de volver aparecer en el último punto de guardado, decidí ir directamente al punto ,fui subiendo la montaña y veía como la vegetación cambiaba, tengo que decir que la ambientación a veces te distrae de lo bien que está hecho, realmente te hace sumergirte en la aventura, en el camino pelee contra unos bandidos, y por fin pude llegar al punto de la misión, que era como una especie de estructura destruida, me encanta este tipo de lugares porque sabes que llegaste a algo importante, ya aquí de nuevo me enfrente a algunos bandidos y aun lado de estas ruinas hay una puerta negra, este momento me emociono ya que no sabía a qué me iba a enfrentar después de cruzarla, me dio bastante curiosidad.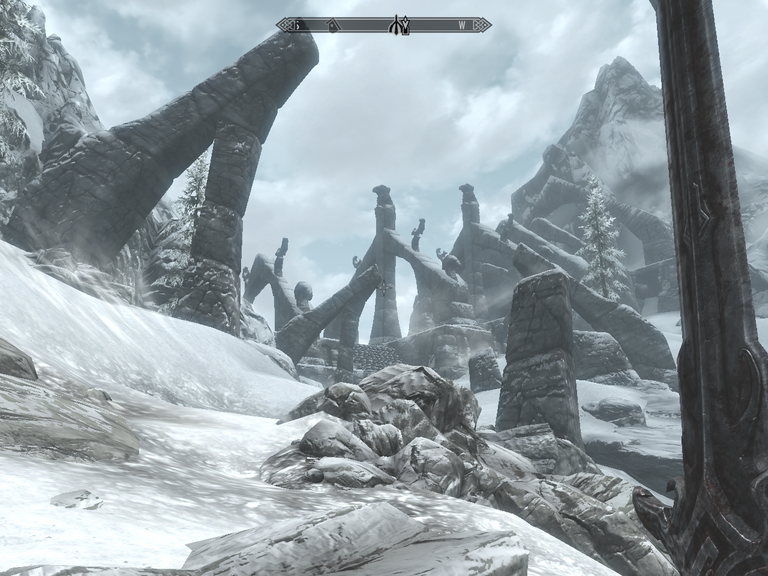 Bueno aquí haremos un pequeño inciso justo al frente de la puerta porque me decidí ir hacer misiones secundarias para subir de nivel para estar preparado a lo que estaría atrás de ella y todo el camino que tendría que recorrer para encontrar el objeto que me mandaron a buscar, así que di vuelta atrás.
Una de las misiones secundarias estaba bastante lejos así que decidí robarme un caballo cerca de garra de plata, lo cual no sirvió para nada porque al mitad de camino me incomodaba la cámara, que se volvió en tercera persona, así que me baje y camine hasta la misión fue un poco difícil completarla morí un par de veces pero la hice, me devolví al pueblo para cobrar la recompensa de la misión, pero se me olvido el asunto de haberme robado el caballo y cuando llego me interceptan 10 guardias del pueblo, así que de nuevo para la cárcel pero esta vez no pude recuperar mis objetos, así que estaba prácticamente desnudo. Así que hice más misiones secundarias para poder tener armas y una armadura decente, pero no encontré algo al nivel de las que tenía. Luego me regrese de nuevo a la montaña de la misión principal.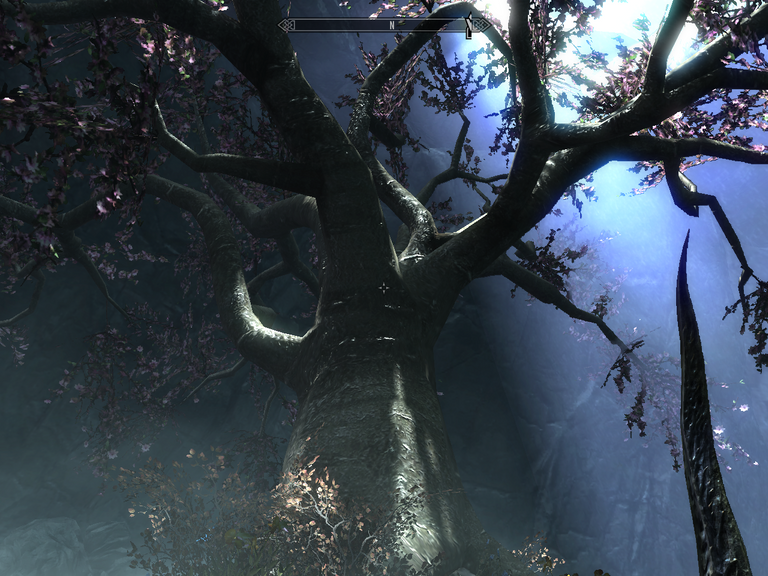 | | |
| --- | --- |
| | |
Ya estando de nuevo en frente de la puerta negra, decido pasar y a lo primero que me enfrento es a una especie de perros chiquitos, también a unos bandidos que estaban comiendo, veo que tienen que me pueda beneficiar, pero no consigo nada así que sigo, a una entrada circular que lleva a un túnel, se ve telarañas por todos lados, todos estos caminos son como unas ruinas dentro de la montaña, me encuentro con un puzzle y me enfrento de nuevo a los perros, logro resolverlo y se abre una reja.
      

Al lado izquierdo de la sala hay unas escaleras que dirigen hacia abajo de estas ruinas, así que decido avanzar por ahí , de todas formas no hay otro camino, luego llego a una habitación cubierta de telaraña y huevos de araña en cada esquina ,además en una pared hay un personaje pidiendo ayuda, ya que está atrapado en unas telarañas( tengo que decir que este es de una misión secundaria), luego miro hacia arriba y veo como una araña gigante va bajando por un hilo, esta ha sido a la más grande a la que me he enfrentado, esperaba que me costara más derrotarla pero no fue así. Rescato al personaje que estaba atrapado en la telaraña, luego lo tengo que derrotar ya que él tiene el objeto de la misión secundaria que me mandaron a buscar y no me lo quería dar.
  

| | |
| --- | --- |
| | |
Seguimos en busca del objeto de la misión principal, y ahora me enfrento a muertos vivientes de vikingos, el diseño de estos me gusto bastante además del detalle que le brillaban los ojos de color azul, me gusto bastante, no fueron tan difíciles de derrotar. Luego de caminar bastante derrotando a zombies vikingos después de tanto pelear, llego a una sala con un puzzle donde hay una puerta con tres círculos, cada uno tenía una figura diferente, la de un búho, la de una polilla y otra de un oso. El puzzle consistía en poner el orden correcto para poder abrirla, déjeme decirles que no supe cómo hacerlo así que intente con combinaciones al azar y funciono, al otro lado de la puerta lleva a un espacio rocoso bastante grande.
Camino un poco, y como en el fondo hay una pared con unas palabras brillando en azul que no entendía, me acerco e interactuó con ellas, ahora al parecer tengo un nuevo poder si alguien sabe que es esto que por favor me lo diga en los comentarios, ahora decido irme por unas escaleras que se encontraban del lado izquierdo, apenas avanzo y escucho un grito, giro y hay un zombie vikingo pero diferente a los demás al parecer era como el líder de los otros, fue un poco difícil pero lo derrote, lo inspecciono y tiene el objeto que me mando a buscar el mago, por fin logro salir de la cueva y ahora rumbo a garra de plata. Por cierto, descubrí que si pongo el mapa y selecciono un punto a donde he ido anteriormente me puedo teletransportar directamente para allá, sin tener que caminar tanto.
    

Entro al cuartel para entregarle el objeto al mago, al hacerlo nos interrumpe la guardia que se parece como a un orco, y nos dice que han avistado al dragón cerca del pueblo.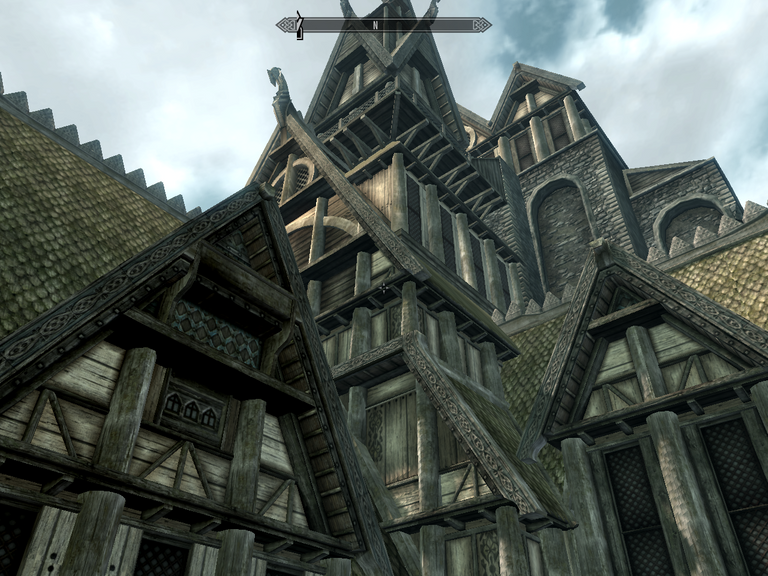 Bueno amigos de hive dejare este capitulo aquí, en este momento de tensión. Espero que les haya gustado y nos vemos en el proximo post.