English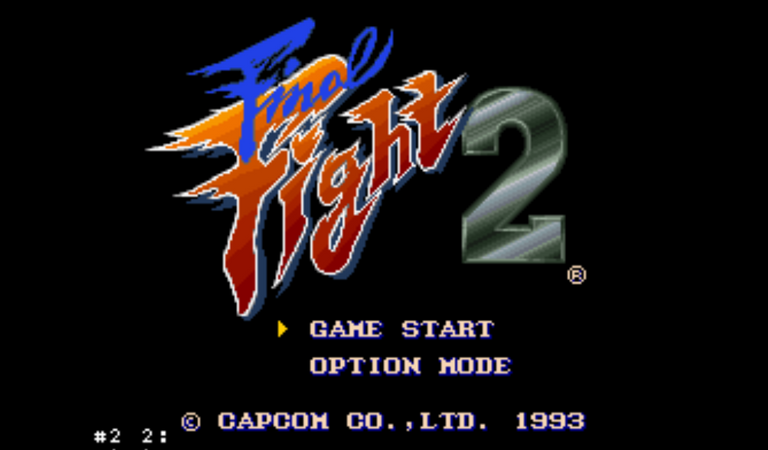 Capture made from the emulator of my game
Since its appearance on the Nintendo NES under the name Mighty Final Fight, it became a very popular game, mainly because its gameplay was a step above the rest of video games, it was positioned by its great diversity, fairly acceptable level of difficulty and independent skills for each of the three protagonists.
The possibility of picking up objects from the ground to defend ourselves, the unlocking of new skills, a pretty good musical atmosphere and a very high quality graphics, were the main factors that allowed the progress of this game, presenting Final Fight 2 on the SNES and a month later the Mighty Final Fight on the Nintendo NES, two games, that if they had been combined into one, would surely have been the best game of the time, and what one had enough, the other needed.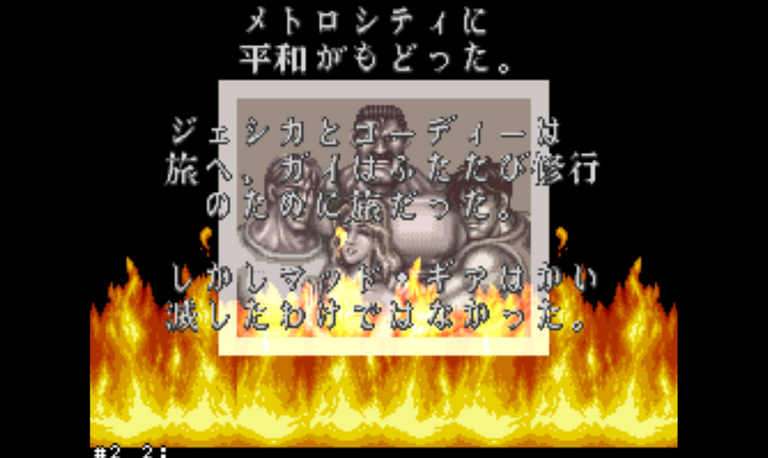 Capture made from the emulator of my game
At the beginning, Final Fight 2 presented a storyline that unfortunately I could never understand because of the language in which it was made, but it was still intuitive with the images that were accompanied by those short dialogues, and with a strange musical atmosphere, which became a bit sad.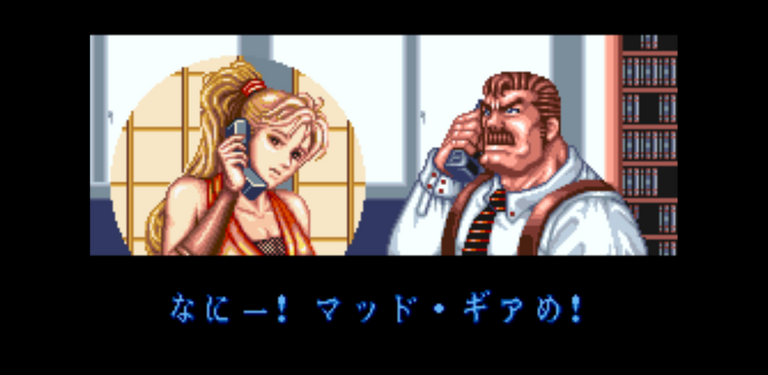 Capture made from the emulator of my game
The great Haggar, one of the protagonists of the game, received the warning call to come to the rescue again, a character quite strong, but very slow, something very consistent with his physical build.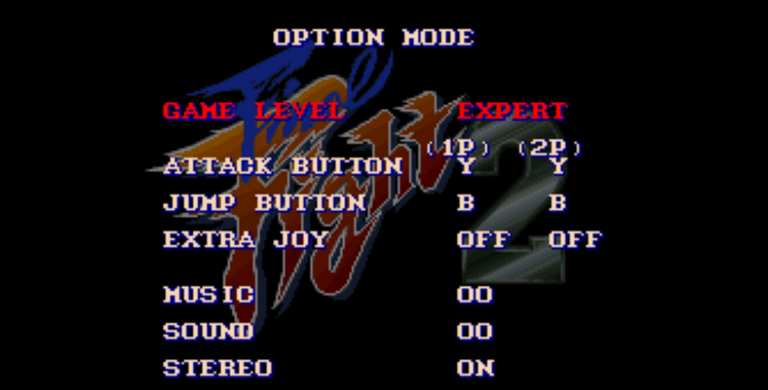 Capture made from the emulator of my game
The game presented a fairly simple options menu, and there was one of the main changes we could make and always did, and that was the level of play, being possible to vary from easy to expert, of course, to take on the expert mode in 1 player games was a challenge, so you had to be very careful and get as far as possible with as many lives as possible.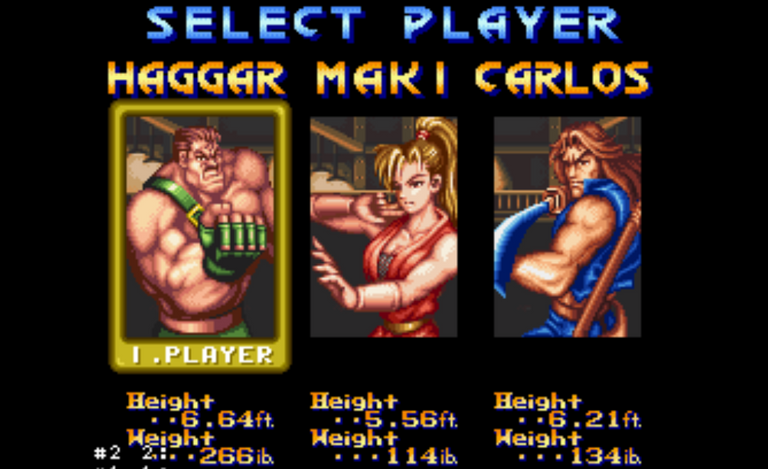 Capture made from the emulator of my game
It was possible to choose between 3 characters: Haggar, Maki and Carlos, each one had a brief but very important description, and this was the weight and height, mainly the weight indicated how fast the fighter could be, so we tended to think that Carlos was the best balanced character to deal with the battles, although the truth is that all of them were pretty good.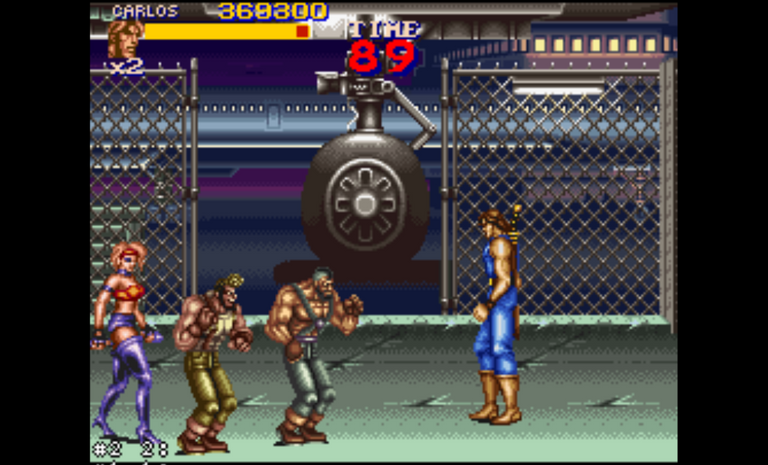 Capture made from the emulator of my game
Graphically the game lived up to expectations, the basic hits with a single button, and another for jumping, allowed us to focus our attention on the opponent, to know which ones to attack first, and which ones to leave for last, this mainly for when we were a little surrounded.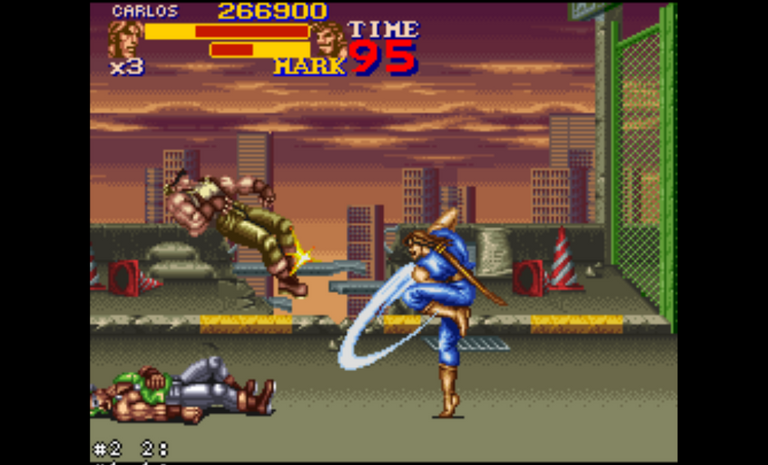 Capture made from the emulator of my game
In those cases where we had nowhere to go, we could execute one of the different special attacks of each character, with this, we attacked several at once and gave us time to better position ourselves on the game platform, a technique that we executed at the cost of a little of our health bar.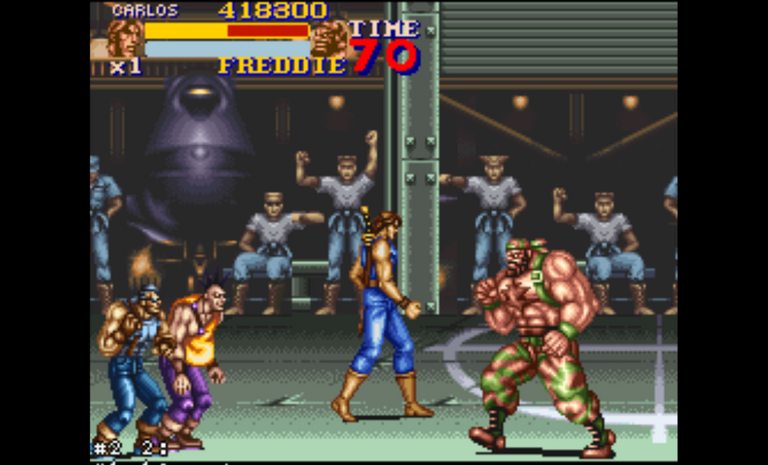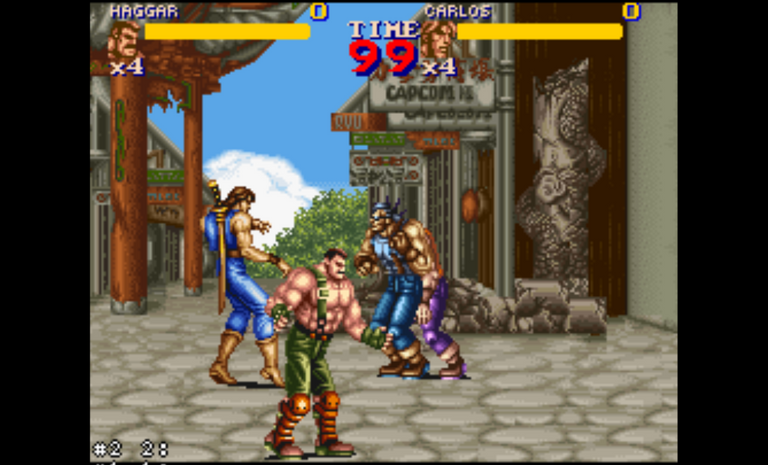 ---
Captures made from the emulator of my game
The biggest and visually strongest were always the final bosses, and to kill them, first we had to kill the other opponents in turn, because if we did not, we could not hurt the boss of the stage, but once the other rivals were exterminated, our blows against the boss began to take effect.
The multiplayer games were the most entertaining, because playing with another of our friends allowed strategic dialogues to know who would attack who and thus avoid as much damage as possible, technically a multiplayer mode gave greater ease to the game but everything was reduced to a fairly intense and entertaining battles.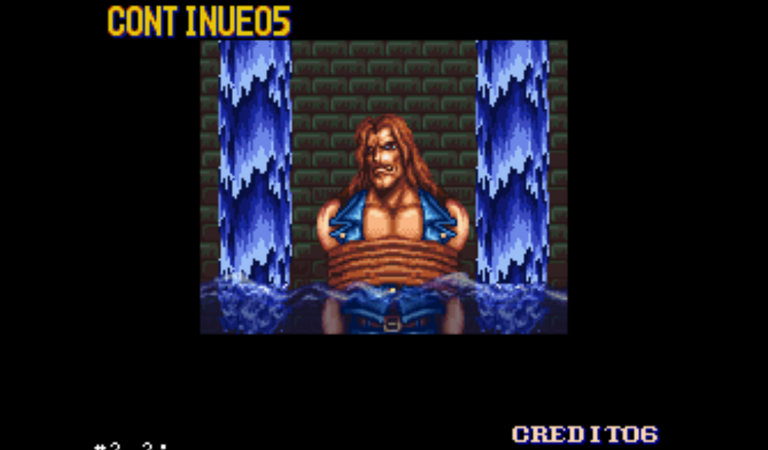 Capture made from the emulator of my game
In our defeats, we saw a quite creative image, with our character gagged and being tortured with a possible drowning, we could always resume the game with 4 lives and starting from the world in which we had left, so advancing in the game was a quite accessible possibility.
Final Fight 2 ended up being another great SNES game, one of those that marked our childhood with great amounts of entertainment and happiness.

Source of images
---
1 - 2

Español
Review: Final Fight 2 - La continuación de una gran saga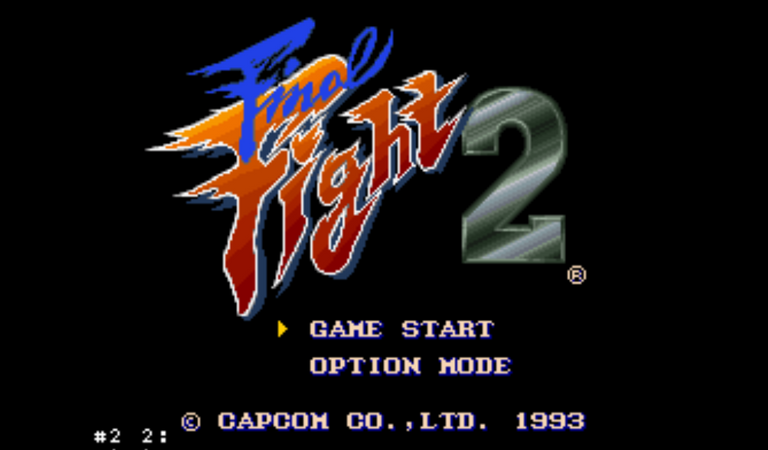 Capture realizado desde el emulador de mi juego
Desde su aparición en la nintendo NES bajo el nombre de Mighty Final Fight, se convirtió en un juego muy popular, principalmente porque su jugabilidad estaba un escalón por encima del resto de videojuegos, se posicionaba por su gran diversidad, nivel de dificultad bastante aceptable y habilidades independientes para cada uno de los tres protagonistas.
La posibilidad de recoger objetos del suelo para defendernos, el desbloqueo de nuevas habilidades, una ambientación musical bastante buena y una calidad gráfica muy a la altura, fueron los principales factores que permitieron el progreso de este juego, presentando Final Fight 2 en la SNES y un mes después el Mighty Final Fight en la nintendo NES, dos juegos, que si se hubiesen combinado en uno solo, habrían sido seguramente el mejor juego de la época, y es que lo que a uno le sobraba, al otro le hacía falta.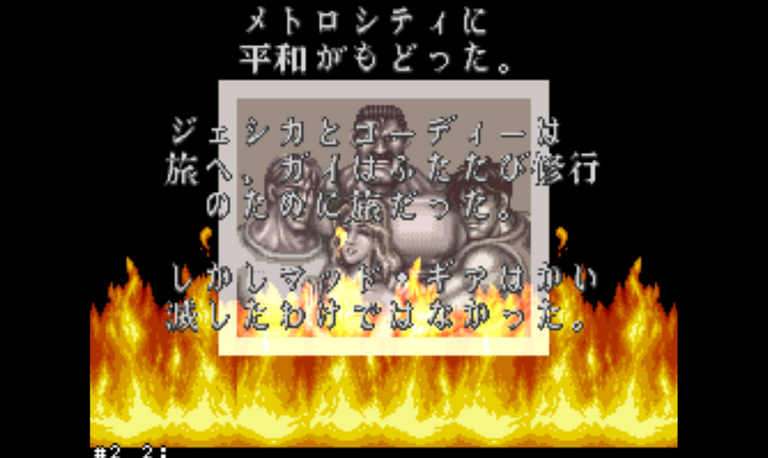 Capture realizado desde el emulador de mi juego
Al inicio, Final Fight 2 presentaba un lapso argumental que lastimosamente nunca pude comprender por el idioma en el que estaba realizado, aún así era intuitivo con las imágenes que venían acompañadas de esos cortos diálogos, y con una ambientación musical un poco extraña, que se tornaba algo triste.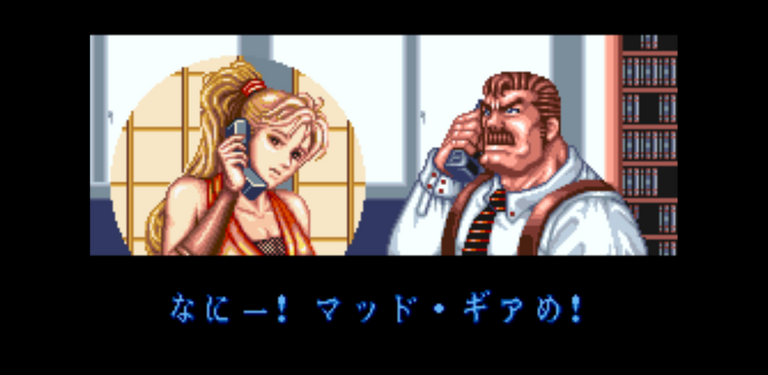 Capture realizado desde el emulador de mi juego
El gran Haggar, uno de los protagonistas del juego, recibía el llamado de aviso para salir nuevamente al rescate, un personaje bastante fuerte, pero muy lento, algo muy coherente con su contextura física.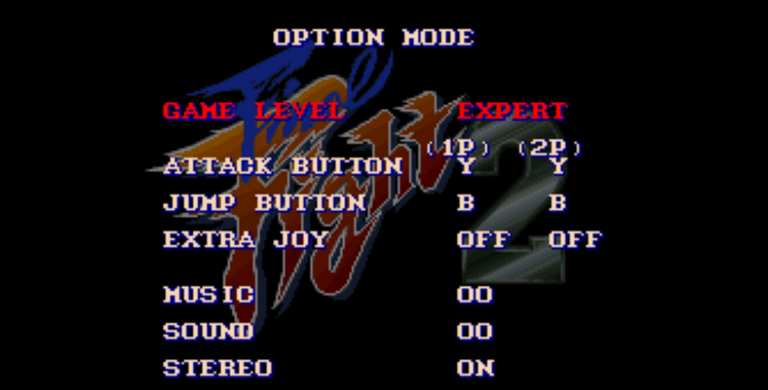 Capture realizado desde el emulador de mi juego
El juego presentaba un menú de opciones bastante sencillo, y allí se encontraba uno de los principales cambios que podíamos hacer y que siempre hacíamos, y esto era el nivel de juego, siendo posible variar desde fácil a experto, por su puesto, que para asumir el modo experto en partidas de 1 jugador era todo un reto, por lo que había que ser muy cuidadoso y llegar lo más lejos posible con la mayor cantidad de vidas.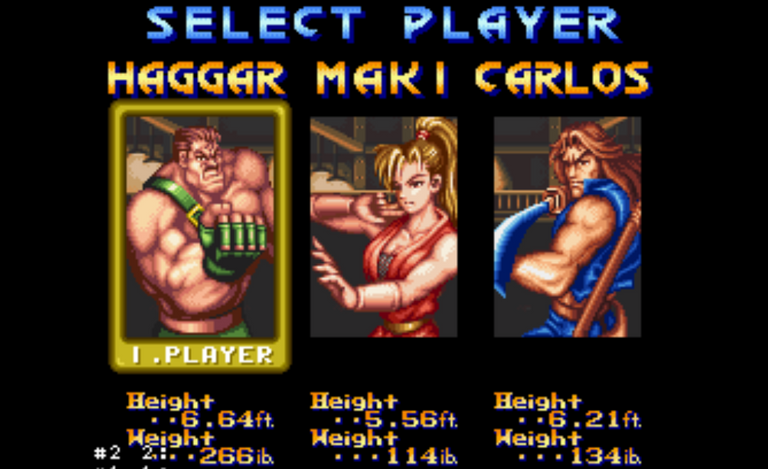 Capture realizado desde el emulador de mi juego
Era posible elegir entre 3 personajes: Haggar,Maki y Carlos, cada uno traía una breve pero muy importante descripción, y esta era el peso y la altura, principalmente el peso nos indicaba que tan rápido podía ser el luchador, por lo que tendíamos a pensar que Carlos era el personaje mejor equilibrado para lidiar con las batallas, aunque la verdad, todos eran bastante buenos.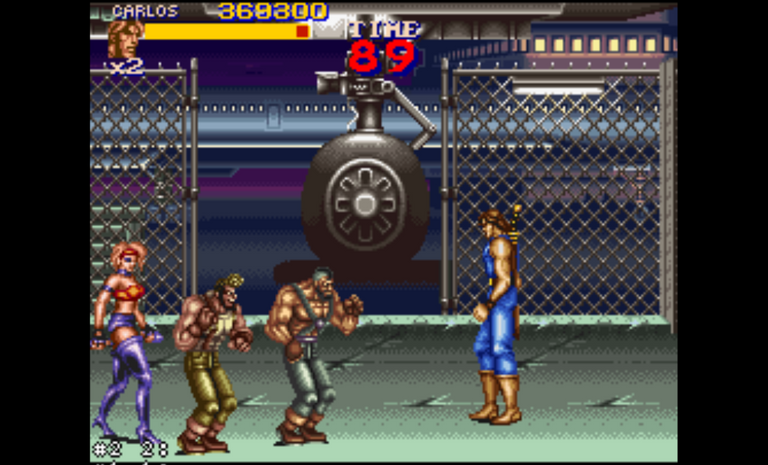 Capture realizado desde el emulador de mi juego
Gráficamente el juego cumplía con las expectativas, los golpes básicos con un solo botón, y otro para el salto, permitían centrar nuestra atención en el rival, para saber a cuales atacar primero, y cuales dejar para final, esto principalmente para cuando nos veíamos un poco rodeados.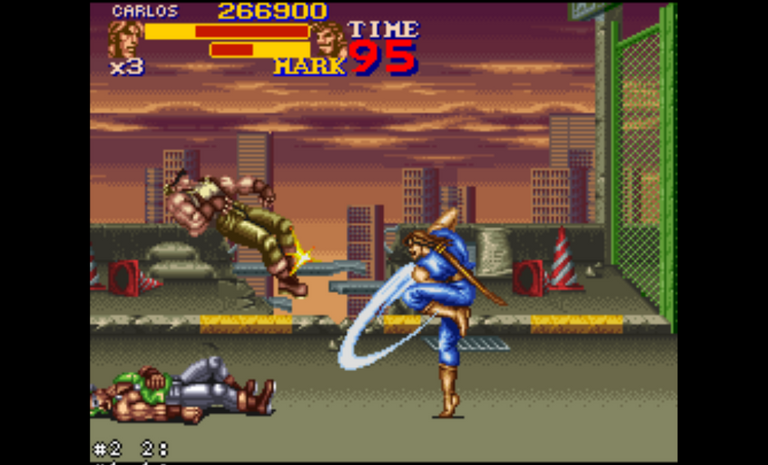 Capture realizado desde el emulador de mi juego
En esos casos en donde no teníamos a donde ir, podíamos ejecutar uno de los ataques especiales diferentes de cada personaje, con esto, atacábamos a varios a la vez y nos daba tiempo de ubicarnos mejor en la plataforma de juego, una técnica que ejecutábamos al costo de un poco de nuestra barra de salud.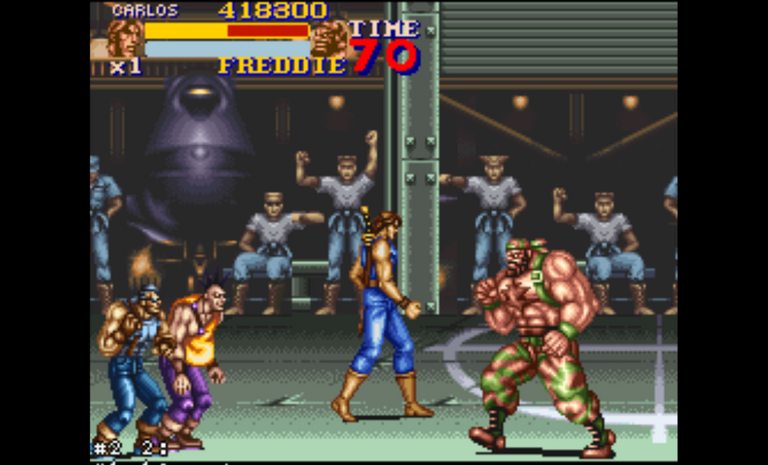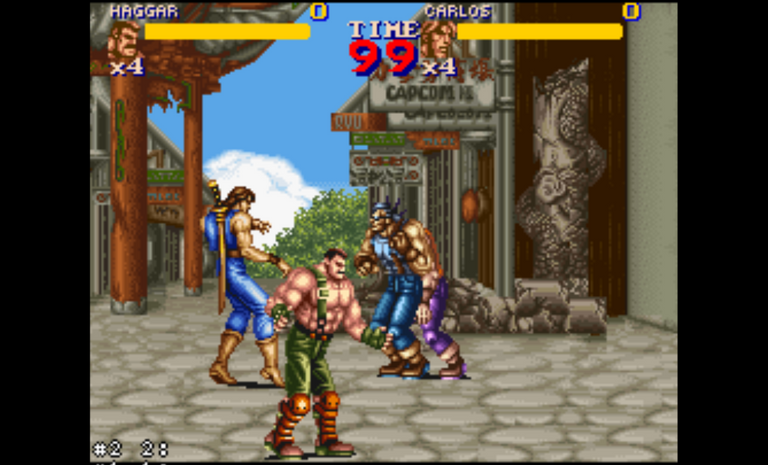 ---
Captures realizados desde el emulador de mi juego
Los más grandes y visualmente fuertes siempre resultaban siendo los jefes finales, y para acabar con ellos, primero debíamos acabar con los otros rivales en turno, pues si no lo hacíamos, no podríamos hacerle daño al jefe del escenario, pero una vez exterminados los demás rivales, nuestros golpes contra el jefe empezaban a hacer efecto.
Las partidas multijugador eran las más entretenidas, pues jugar con otro de nuestros amigos permitía diálogos estratégicos para saber quien atacaría a quien y así evitar en lo posible recibir mucho daño, técnicamente un modo multijugador le daba mayor facilidad al juego pero todo se reducía a unas batallas bastante intensas y entretenidas.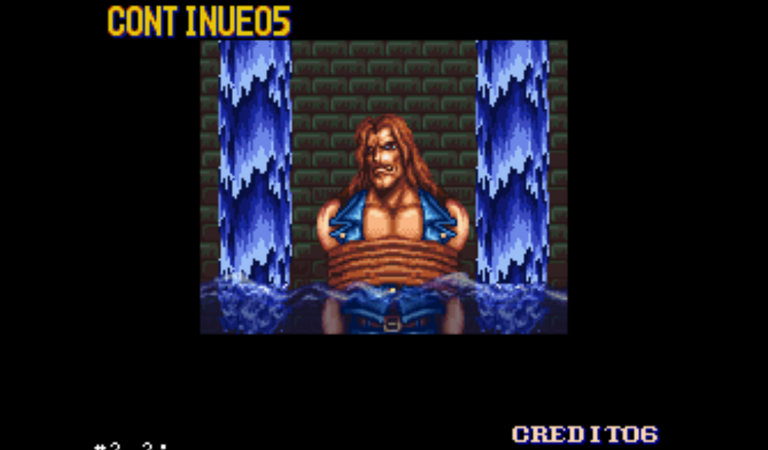 Capture realizado desde el emulador de mi juego
En nuestras derrotas, veíamos una imagen bastante creativa, con nuestro personaje amordazado y siendo torturado con un posible ahogo, siempre podíamos retomar la partida con 4 vidas y arrancando desde el mundo en el que habíamos quedado, por lo que avanzar en el juego era una posibilidad bastante accesible.
Final Fight 2 terminó siendo otro gran juego de la SNES, uno de esos que marcaron nuestra infancia con grandes cantidades de entretenimiento y felicidad.

Fuente de imágenes
---
1 - 2


---