Ahora todo está comenzando a tener sentido en todo el juego de Chrono Trigger, una malvada criatura al que pensábamos que había sido creada por Magus llamada Lavos, pero no fue así, aún se desconoce su creación, pero Magus no fue su creador, al parecer la criatura proviene desde el universo, pero no sabemos de qué planeta proviene.
Los más extraño es que Lavos no ha estado causando destrucción solo en el futuro, sino en el pasado, puesto que en el presente no estaban ocurriendo ningún tipo de sucesos extraños, ahora bien, en la lucha contra Magus el cual hemos sido victoriosos, se activó un agujero temporal, donde nosotros hemos sido llevados al pasado, en el año 63.000.000 AC, justo en la época de Ayla.
Esto sucede porque en el combate contra Magus, interrumpimos la invocación que estaba haciendo, puesto que Lavos reacciona contra la invocación y nos mete en el agujero temporal, aún no sabemos sobre el paradero de Magus, puesto que nuestro objetivo ahora es localizarlo.
Now everything is beginning to make sense throughout the game of Chrono Trigger, an evil creature that we thought had been created by Magus called Lavos, but it was not, its creation is still unknown, but Magus was not its creator, apparently the creature comes from the universe, but we do not know what planet it comes from.
The strangest thing is that Lavos has not been causing destruction only in the future, but in the past, since in the present no strange events were occurring, now, in the fight against Magus which we have been victorious, a time hole was activated, where we have been taken to the past, in the year 63,000,000 BC, just at the time of Ayla.


This happens because in the fight against Magus, we interrupted the summoning that he was doing, since Lavos reacts against the summoning and puts us in the time hole, we still do not know about the whereabouts of Magus, since our goal now is to locate him.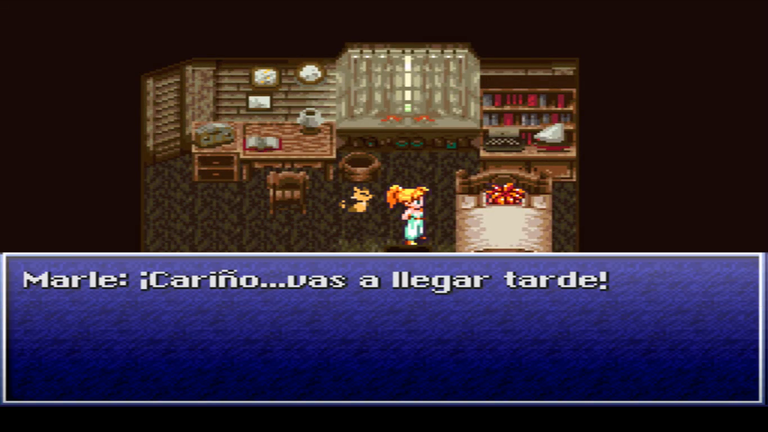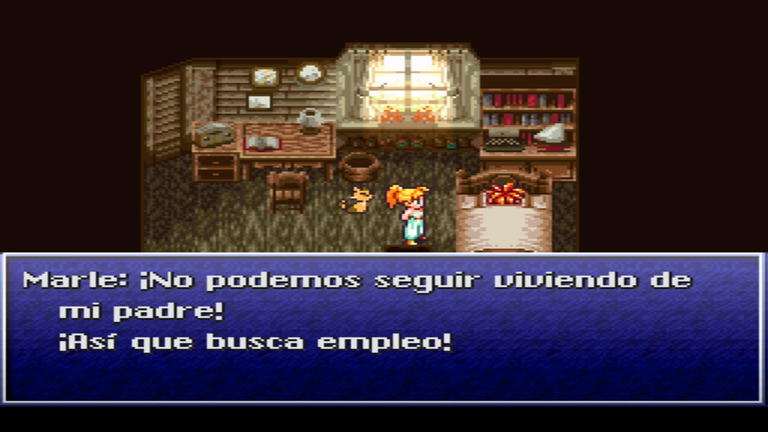 Luego de ser teletransportados, veremos unas escenas, las cuales es justamente igual cuando comenzamos nuestra historia en Chrono Trigger, pero esta vez es con personajes diferentes…
Antes era la madre de Chrono (Lion) quien nos levantaba de la cama, ahora es Marle quien lo hace, al parecer llevan una relación amorosa en estas escenas, las cuales aún no logro comprender bien.
¿Será un posible futuro amoroso entre nuestro personaje y Marle?
Puesto que las escenas nos revelan que están viviendo de su padre el rey, así que nos dirá que busquemos empleo, ya que eso no está bien ante los ojos de ella siendo una princesa.
Pero al parecer era un sueño (o tal vez sea una precognición), despertaremos en la era pasada, justo en la época de Ayla como mencione anteriormente.
Seguiremos descansando luego de la ardua lucha Magus, puesto que terminamos muy exhausto y adoloridos por semejante magia que posee este formidable enemigo.
After being teleported, we will see some scenes, which is just like when we started our story in Chrono Trigger, but this time it's with different characters...
Before it was Chrono's mother (Lion) who got us out of bed, now it's Marle who does it, apparently they have a love relationship in these scenes, which I still can't understand well.


Is it a possible future love affair between our character and Marle?
Since the scenes reveal to us that they are living from her father the king, so she will tell us to look for a job, since that's not right in her eyes being a princess.
But apparently it was a dream (or maybe it's a precognition), we will wake up in the past era, right in Ayla's time as I mentioned before.


We will continue resting after the arduous Magus fight, since we end up very exhausted and sore from such magic that this formidable enemy possesses.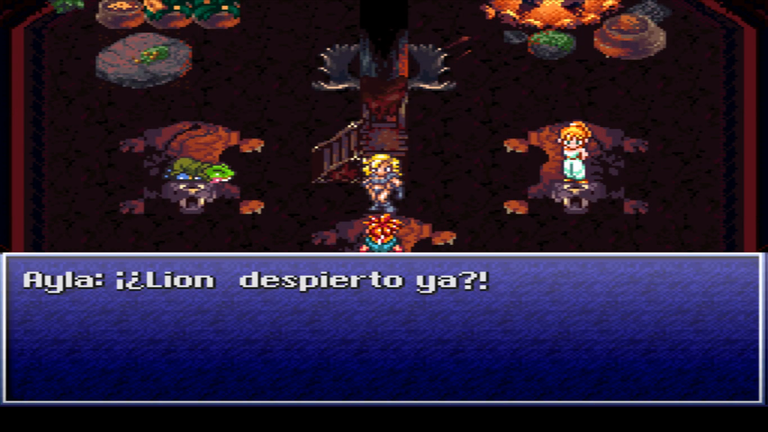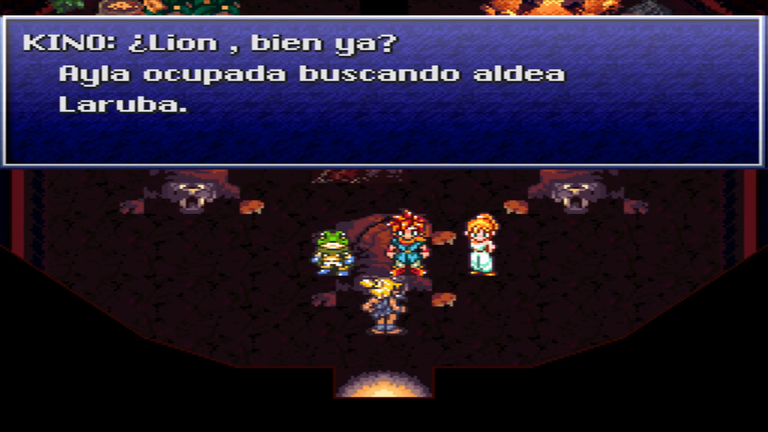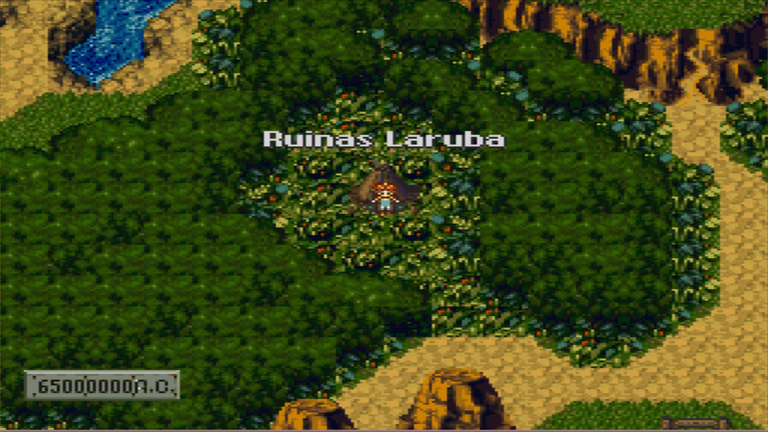 ---

Al volver a despertarnos aparecerá Kino, quien nos mencionara que Ayla ha ido a la aldea Laruba, lo cual es muy extraño que esto suceda, ya que en esta era existen dos tribus, los fuertes que son los de Ayla y los Laruba, los más débiles.
Ayla tenía pensado en unir ambas tribus para así poder sobrevivir ante los ataques de los reptiles, quienes desean gobernar el mundo, así que iremos a las ruinas Laruba, se encuentra un poco al norte del poblado de Ayla.
Al entrar nos dirán que los han reptiles secuestrados a Kino, quienes intentaron salvarlo, perdiendo muchas vidas en ese ataque y otros quedaron muy malheridos.
Encontraremos a Ayla teniendo una conversación con el jefe de la tribu de Laruba, puesto que Ayla desea rescatar a Kino y le pide al anciano que le preste los Dáctilos, quienes con ellos podrá volar a la fortaleza de los reptiles.
When we wake up again, Kino will appear, who will mention that Ayla has gone to the Laruba village, which is very strange that this happens, since in this era there are two tribes, the strong ones that are Ayla's and the Laruba, the weaker ones.
Ayla had thought of uniting both tribes in order to survive against the attacks of the reptiles, who want to rule the world, so we will go to the Laruba ruins, located a little north of the village of Ayla.
Upon entering, we will be told that the reptiles have kidnapped Kino, who tried to save him, losing many lives in that attack and others were badly wounded.
We will find Ayla having a conversation with the chief of the Laruba tribe, since Ayla wants to rescue Kino and asks the old man to lend her the Dactyls, who with them will be able to fly to the reptilian fortress.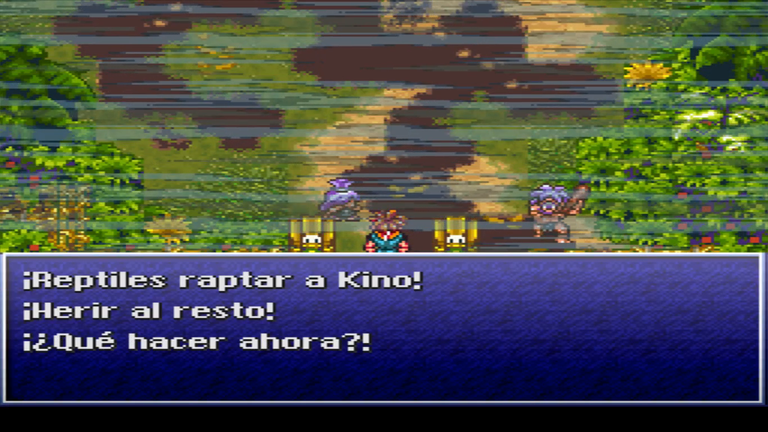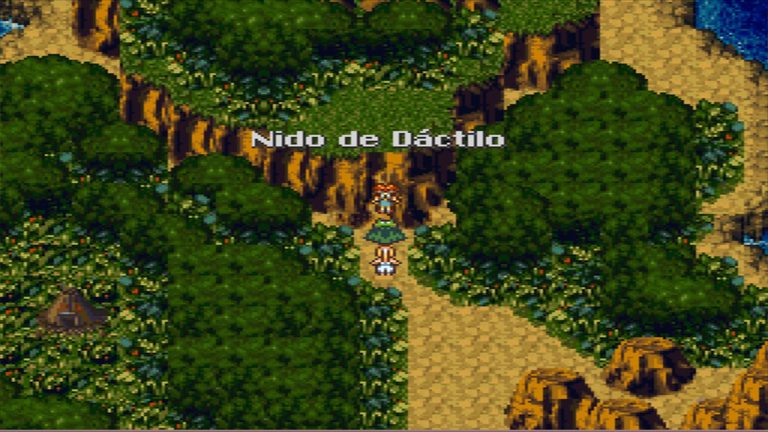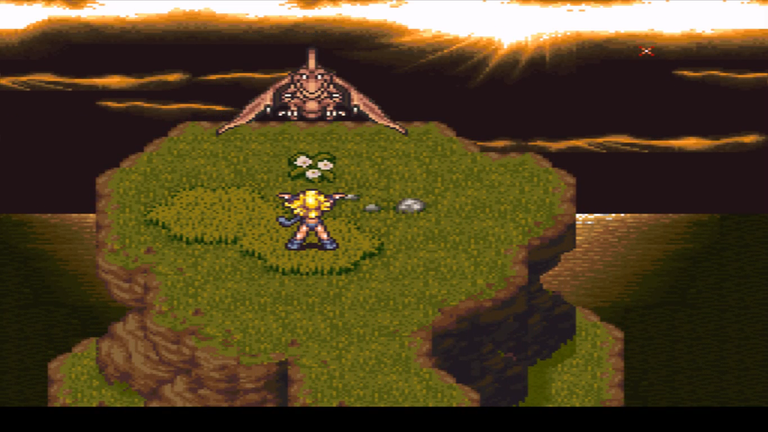 Luego de tener esa larga conversación Ayla y el anciano, iremos al nido Dáctilo, que fue el lugar donde Ayla se dirigió a toda velocidad para rescatar a Kino.
Al entrar en la montaña nos enfrentaremos contra muchos enemigos, aquí ya mis personajes poseen nivel de 22 a 25, puesto que las criaturas de aquí son solamente vulnerables a los ataques físicos, pero no son muy complicados de vencer a este nivel.
Una vez en la cima de la montaña observaremos como Ayla llama a los Dáctilos, donde se sorprenderá de que estemos aquí y que la queramos ayudar, puesto que en la selección de personajes no podamos cambiar a Ayla.
En ocasiones cuando hay una misión superimportante de los personajes de esa era, obligatoriamente tienen que estar, como siempre me llevo a Marle, ya que sus poderes curativos son extraordinarios, también podemos llevarnos a Frog, ya que tiene la habilidad de curar a todos los miembros del grupo, sin embargo, no es muy potente, además podemos mezclar la habilidad curativa de Marle junto con la de Lion, para poder sanar a todos los miembros del grupo.
After having that long conversation Ayla and the old man, we will go to the Dactyl nest, which was the place where Ayla went at full speed to rescue Kino.
Upon entering the mountain we will face many enemies, here my characters already possess level 22 to 25, since the creatures here are only vulnerable to physical attacks, but they are not very complicated to defeat at this level.


Once at the top of the mountain we will observe how Ayla calls the Dactyls, where she will be surprised that we are here and that we want to help her, since in the character selection we can't change Ayla.
Sometimes when there is a super important mission of the characters of that era, they have to be, as I always take Marle, as her healing powers are extraordinary, we can also take Frog, as he has the ability to heal all members of the group, however, it is not very powerful, we can also mix the healing ability of Marle along with Lion, to be able to heal all members of the group.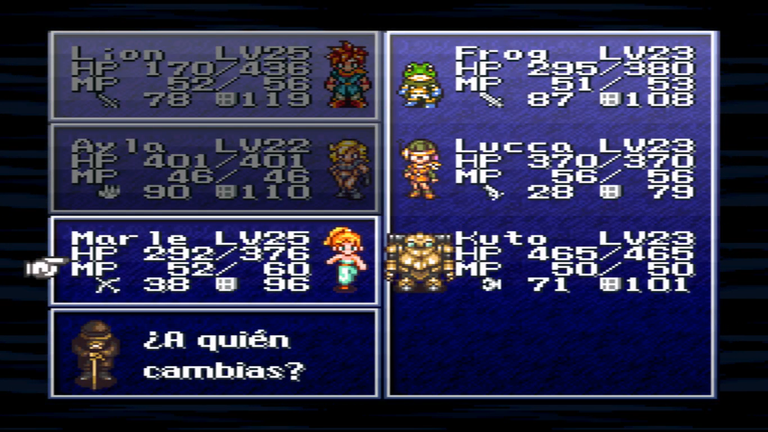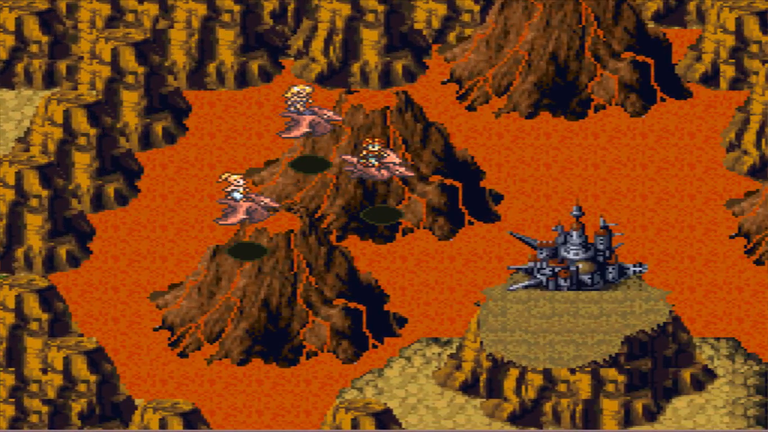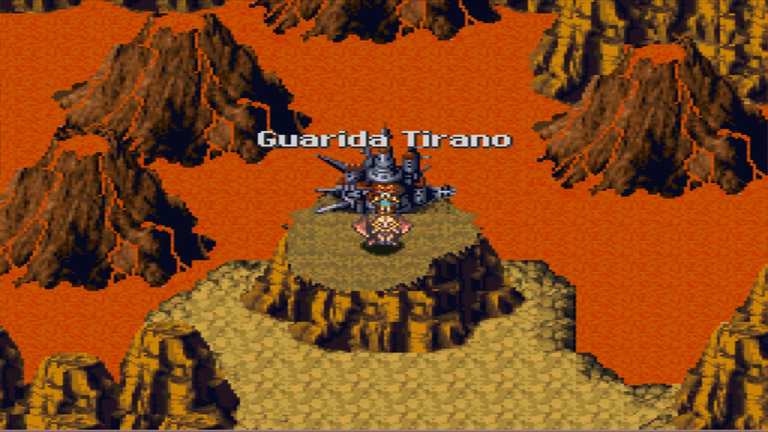 Usaremos los Dáctilos para llegar a la fortaleza de los Reptiles, se encuentra rodeada por volcanes, al bajar entraremos en la guarida del Tirano.
Lo más extraño es que mencionan a un poderoso enemigo de esta era llamado Tirano, supongo que más adelante descubriremos quien es.
Al entrar nos enfrentaremos a algunos guardianes, si nos encontramos contra los Simios locos, debemos derrotarlos de primero, ya que, si atacamos a los otros, se volverán aún más locos y su daño es aún más fuerte, de hecho, aun en este nivel de personajes en ocasiones ha logrado quitarme 100 puntos de vitalidad.
We will use the Dactyls to get to the Reptile fortress, it is surrounded by volcanoes, when we go down we will enter the Tyrant's lair.


The strangest thing is that they mention a powerful enemy of this era called Tyrant, I guess we will find out later who he is.


Upon entering, we will face some guardians, if we find ourselves against the crazy Apes, we must defeat them first, because if we attack the others, they will become even crazier and their damage is even stronger, in fact, even at this level of characters sometimes it has managed to take 100 vitality points from me.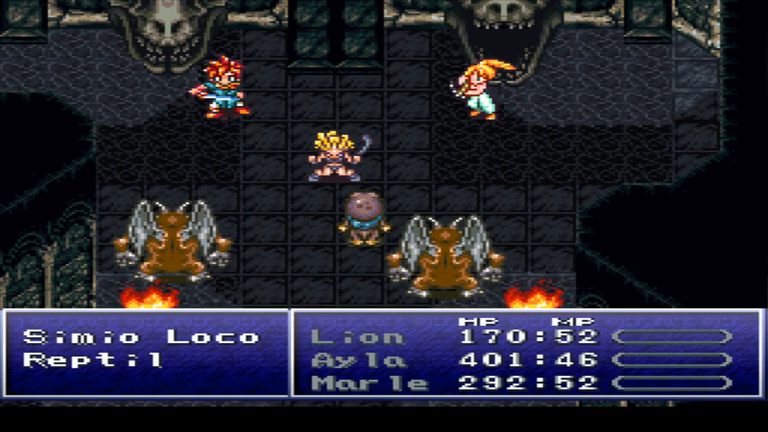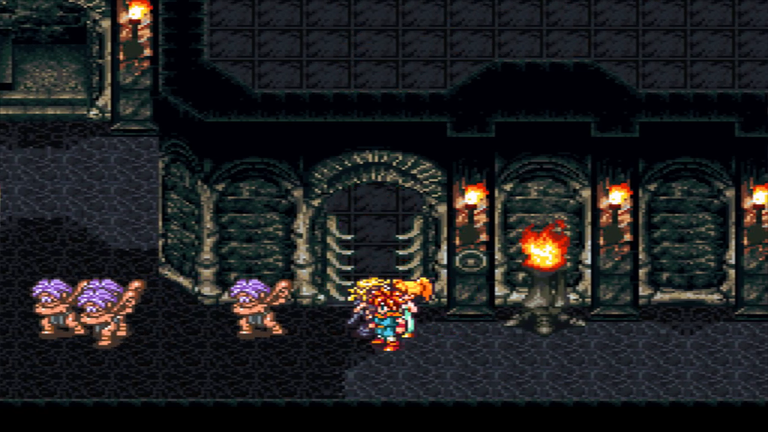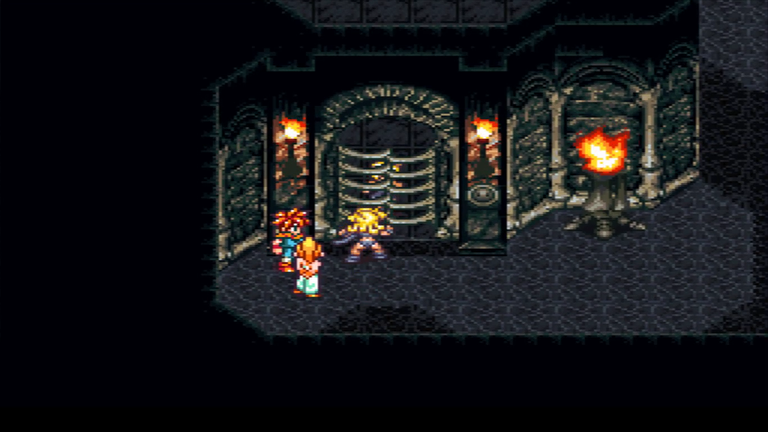 Luego de vencerlos, observaremos que hay una sola entrada, las cuales tienen la forma de cráneo de dinosaurio, puesto que entraremos por la izquierda, encontraremos a algunos aliados quienes tenían secuestrado en este lugar.
Si seguimos el único camino posible, encontraremos a Kino, quien Ayla lo rescatará, una vez en el sitio seguro, Kino nos abrirá la puerta de la izquierda cuando matamos a los guardianes cuando apenas entramos a este sitio.
Cuando entremos por ese camino, llegaremos un momento en la que caeremos en un agujero, donde estaremos rodeados de puros enemigos, entre ellos el formidable enemigo llamado Terrasaurio, este enemigo debemos matarlo de primero a toda costa, ya que puede quitarnos aun con este nivel, toda la vida si se lo propone, tiene una defensa muy baja si lo atacamos con rayo, pero una vez que ataque no parara de hacerlo, y son bastante fuertes.
After defeating them, we will observe that there is only one entrance, which have the shape of a dinosaur skull, since we will enter from the left, we will find some allies who were kidnapped in this place.


If we follow the only possible way, we will find Kino, who Ayla will rescue him, once in the safe place, Kino will open the door on the left when we kill the guards when we just entered this place.


When we enter this way, we will reach a moment in which we will fall into a hole, where we will be surrounded by pure enemies, including the formidable enemy called Terrasaurus, this enemy we must kill him first at all costs, as it can take away even with this level, all life if it proposes, has a very low defense if we attack with lightning, but once attack will not stop doing so, and they are quite strong.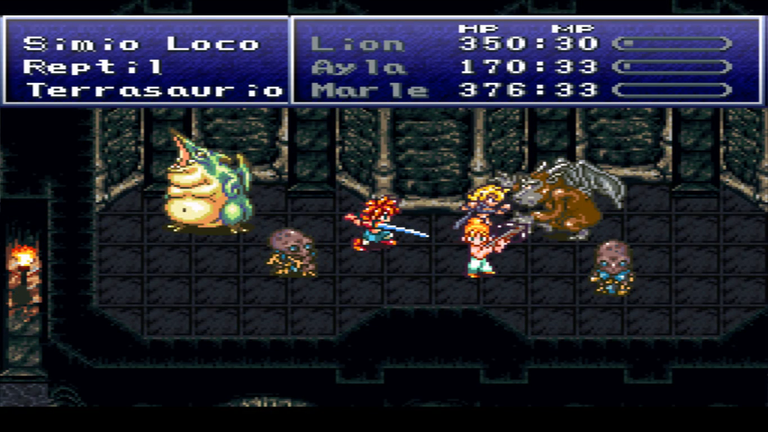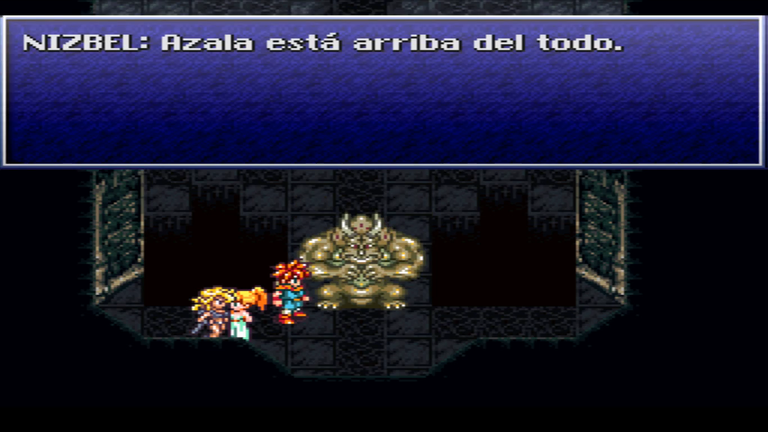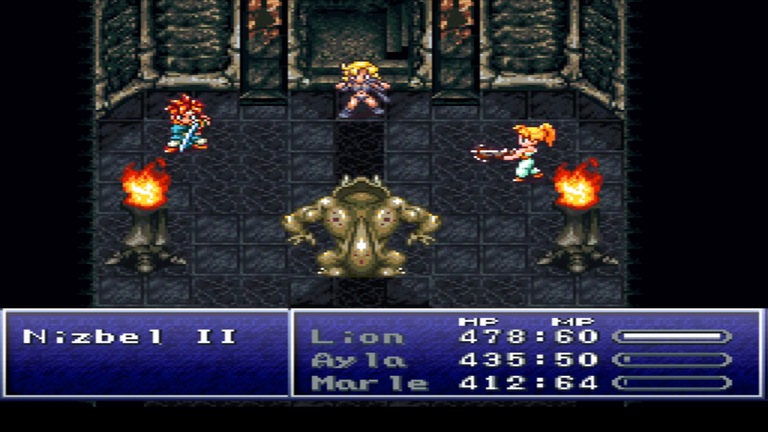 Al estar casi en la cima de esta fortaleza, encontraremos un guardián que antes habíamos conocido, es Nizbel segundo, el hermano gemelo del anterior jefe enemigo cuando estábamos en esta era.
Nos enfrentaremos a él, recuerda vigilar mucho tu salud, si esta por debajo de 150 puntos de vitalidad, cúrate lo más rápido posible, ya que de lo contrario nos matara con su descarga eléctrica, la misma que utilizamos para bajarle la defensa.
Luego estaremos en la sala del trono de Azala, quien es el responsable de todos los problemas, puesto que saldrá huyendo a la sala superior.
When we are almost at the top of this fortress, we will find a guardian that we had met before, is Nizbel second, the twin brother of the previous enemy boss when we were in this era.


We will face him, remember to keep an eye on your health, if it is below 150 vitality points, heal as quickly as possible, otherwise he will kill us with his electric shock, the same one we used to lower his defense.


Then we will be in the throne room of Azala, who is responsible for all the problems, since he will flee to the upper room.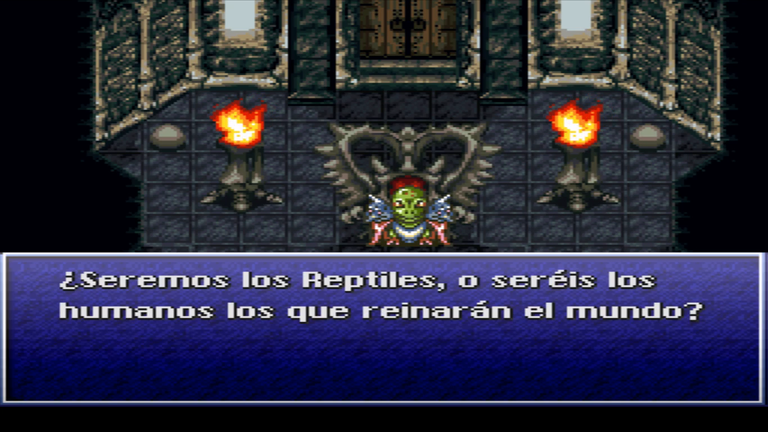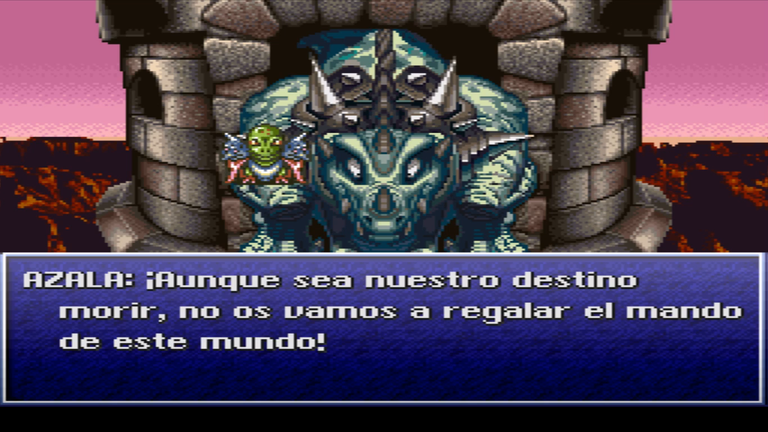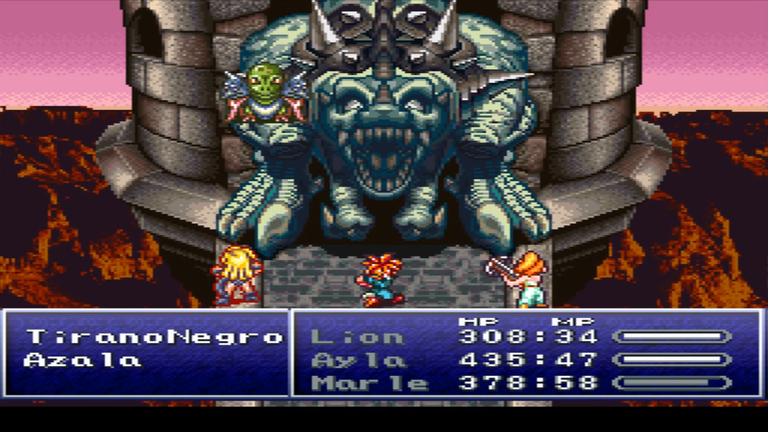 Ahora finalmente conoceremos al legendario Tirano que tanto se mencionaba anteriormente.
El Tirano es un poderoso dinosaurio, el cual se encuentra con enormes cadenas, ya que, si se libera provoca el caos en toda la isla, junto a Tirano se encuentra Azala, así que nos enfrentaremos a dos jefes a la vez.
Para poder causarle daño al Tirano, primero debemos vencer a Azala, ya que tiene un campo protector sobre Tirano, al derrotar a Azala podremos atacarle al tirano, pero debemos tener cuidado, ya que de vez en cuando Tirano dejará de atacar durante 5 turnos, una vez que llegue a cero creará una ola de fuego que vendrá desde su boca, causando grabes daños a todos los miembros del grupo.
Ahora bien, debemos atacarle con magia de rayo para así debilitarlo, aunque hay una habilidad dúo de Chrono (Lion) y Ayla, donde electrocutara a Ayla y esta atacar al enemigo electrocutada, si hacemos esto le causaremos un daño de más de 1000 puntos de vitalidad, lo cual es muy bueno.
Continuará…
Y de esta manera finaliza la publicación de hoy hermanos, espero les sea de su agrado, hasta la próxima.
Now we will finally meet the legendary Tyrant that was mentioned so much before.
The Tyrant is a powerful dinosaur, which is with huge chains, since, if released causes chaos throughout the island, next to Tyrant is Azala, so we will face two bosses at once.


In order to cause damage to the Tyrant, we must first defeat Azala, as she has a protective field over Tyrant, when we defeat Azala we can attack the Tyrant, but we must be careful, because from time to time Tyrant will stop attacking for 5 turns, once it reaches zero will create a wave of fire that will come from its mouth, causing heavy damage to all members of the group.


Now, we must attack him with lightning magic to weaken him, although there is a duo ability of Chrono (Lion) and Ayla, where he will electrocute Ayla, and she will attack the enemy electrocuted, if we do this we will cause damage to more than 1000 vitality points, which is very good.


To be continued...
And thus ends today's publication brothers, I hope you like it, until next time.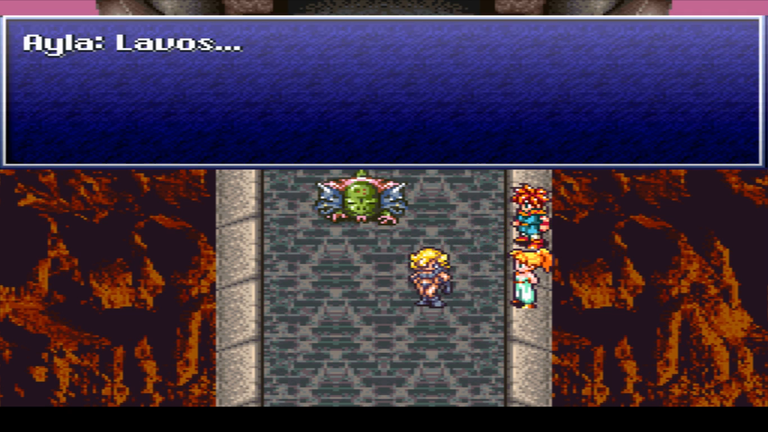 Los separadores son de mi autoría, los captures son realizados desde mi perfil de jugador en mi ordenador, las ediciones del gif son creados por mí.
The separators are of my authorship, the captures are made from my player profile on my computer, the gif edits are created by me.
Programas que utilicé para crear mi diseño es este:
This is the program I used to create my design:
Gif y portada cortesía de Canva
Gif and cover courtesy of Canva
Traducido por Deepl