Buenos días, tardes o noches dependiendo desde que luna me estén leyendo, hoy les traigo el retro Review de uno de mis juegos favoritos de PS1, siendo la octava entrega de esta saga, hablamos por supuesto de Megaman 8.
Good morning, afternoon or evening depending on which moon you are reading to me, today I bring you the retro Review of one of my favorite PS1 games, being the eighth installment of this saga, we are talking of course about Megaman 8.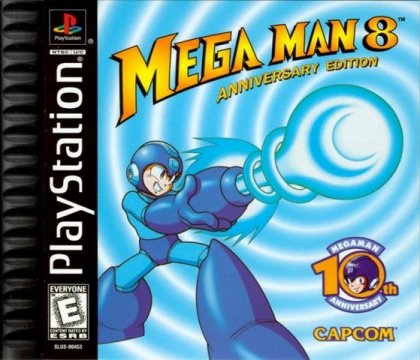 Source
Este juego, como sus antecesores fue desarrollado por Capcom, saliendo para el PS1 en el año 1997, siendo esta la ultima entrega para esta consola, esta entrega nos presentaba 8 bosses los cuales tenían cada uno 2 mundos (algunos con bosses entre cada mundo), además del mundo inicial y los 4 mundos que formaban el nivel final, es cual incluía 4 bosses.
This game, like its predecessors, was developed by Capcom, coming out for the PS1 in 1997, this being the last installment for this console, this installment presented us with 8 bosses which each had 2 worlds (some with bosses between each world), in addition to the initial world and the 4 worlds that made up the final level, which included 4 bosses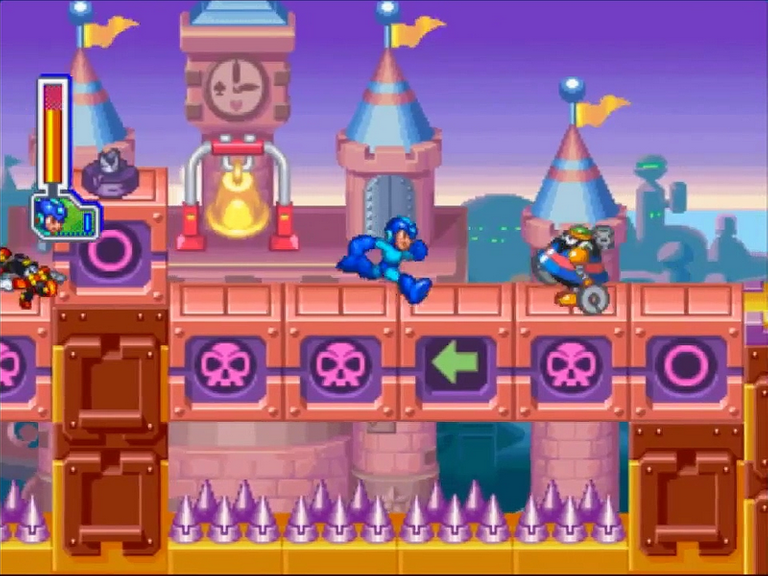 Source
En este juego tomábamos el papel del ya conocido Megaman siendo llamado para revisar unas extrañas lecturas de energía provenientes del reciente choque de un meteorito en una isla, debemos detener los planes del malvado doctor Wily que se ha quedado con esta fuente de energía, este juego contaba con cinematográficas animadas y un completo doblaje de voz, su jugabilidad y graficas permitieron que este juego se ganara un lugar entre los mas queridos por los fanáticos.
In this game we took the role of the well-known Megaman being called to review some strange energy readings from the recent collision of a meteorite on an island, we must stop the plans of the evil doctor Wily who has remained with this source of energy, this game had animated films and a complete voice dubbing, its gameplay and graphics allowed this game to earn a place among the most loved by the fanatics.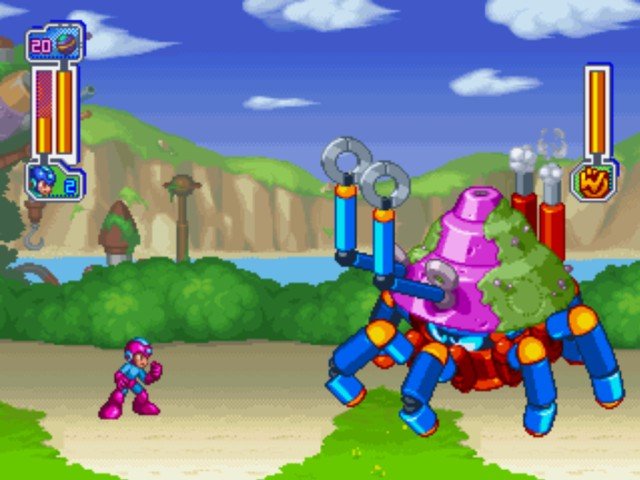 Source
La dinamia de este juego era la ya conocida de plataforma 2D, aunque ya no utilizando las tan conocidas graficas de 8 bits, esto permitió un juego visualmente más atractivo con graficas bastante buenas para su época, este juego nos presentó mundos realmente bonitos y bosses con un mayor trabajo estético esto les permitió desarrollar una personalidad característica para cada uno (esto es uno de los factores que hacen que sean uno de mis juegos favoritos) los bosses principales (ya que teníamos 3 bosses intermedios entre algunos mundos además de los 4 de los pisos finales y el jefe final) siendo estos Tenguman, Astroman, Frostman, Swordman, Clownman, Granademan, Aquaman y Seachman, ada boss nos presentaba dos niveles en los cuales destacaban el snowboard level de Snowman (era extremadamente difícil) además al vencer a cada uno de los bosses ganábamos un poder característico (algo clásico en los juegos de Megaman).
The dynamics of this game was the already known 2D platform, although no longer using the well-known 8-bit graphics, this allowed a more visually attractive game
with quite good graphics for its time, having really beautiful worlds and bosses with a greater aesthetic work, this allowed them to develop a personality characteristic for each one (this is one of the factors that make them one of my favorite games) the main bosses (since we had 3 intermediate bosses between some worlds in addition to the 4 of the final floors and the final boss) being these Tenguman, Astroman, Frostman , Swordman, Clownman, Granademan, Aquaman and Seachman, each boss presented us with two levels in which Snowman's snowboard level stood out (it was extremely difficult) and by beating each of the bosses we gained a characteristic power (something classic in Megaman's games).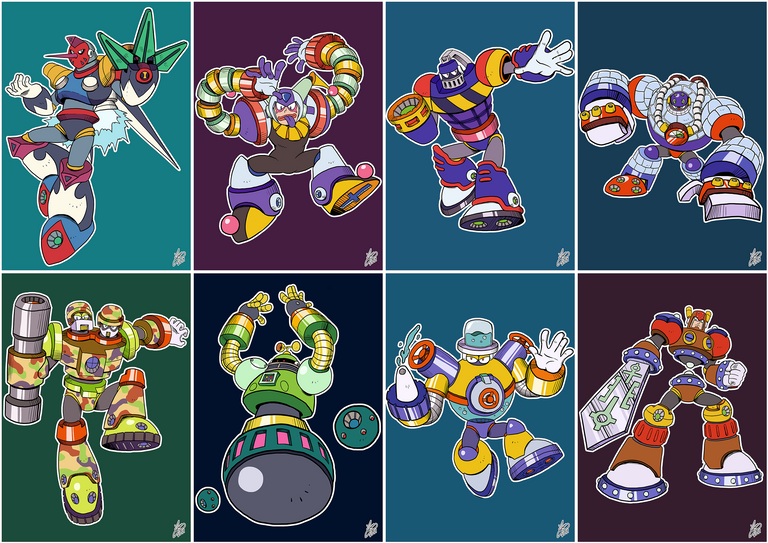 Source
Contábamos no solo con los poderes que nos daba cada boss al ser vencido sino también con una dinámica de compra de habilidades extra, los cuales se podían adquirir por un numero de tornillos que estaban distribuidos en algunos caminos secretos de los diferentes mundos (algunos solo podíamos conseguirlos teniendo ya un poder especifico ya desbloqueado), siendo algunos de los más interesante la vida extra al empezar cada mundo o una ráfaga de disparos simples.
We had not only the powers that each boss gave us when defeated but also a dynamic of buying extra skills, which could be acquired by a number of screws that were distributed in some secret paths of the different worlds (some we could only get them having a specific power already unlocked), being some of the most interesting the extra life at the beginning of each world or a burst of simple shots.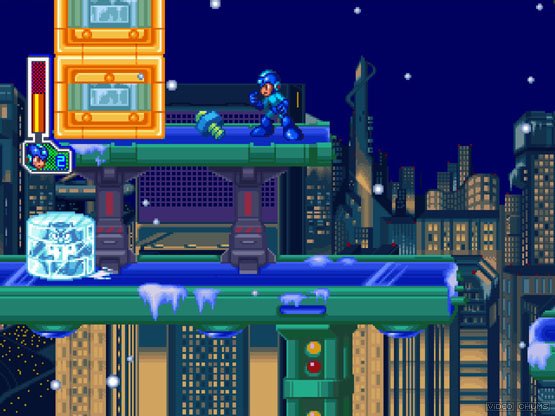 Source
Para terminar este post solo puedo agregar que este es mi juego favorito de PS1, tengo muy buenos recuerdos de sus gráficas, su música (que cambiaba en cada mundo y le daba aun mas personalidad a los mismos), la actitud característica de cada boss y los poderes que estos mismos nos daban al vencerlos, además de contar con mundos bastante difícil (Snowman y primera torre de Doctor Willy) y una dinamia muy entretenida, nunca fui muy fanático de las otras entregas ya que no me gustaban mucho son graficas 8 bits pero este juego con sus mejoras graficas se encargó de tomar el podio de mis juegos favoritos, espero que este post les haya gustado y nos vemos en el próximo post.
To finish this post I can only add that this is my favorite PS1 game, I have very good memories of its graphics, its music (which changed in each world and gave them even more personality), the characteristic attitude of each boss and the powers that these same gave us when we beat them, in addition to having quite difficult worlds (Snowman and the first tower of Doctor Willy) and a very entertaining dynamics, I was never a fan of the other deliveries since I did not like them much, they are 8-bit graphics but this game with its graphical improvements was in charge of taking the podium of my favorite games, I hope you liked this post and see you in the next post.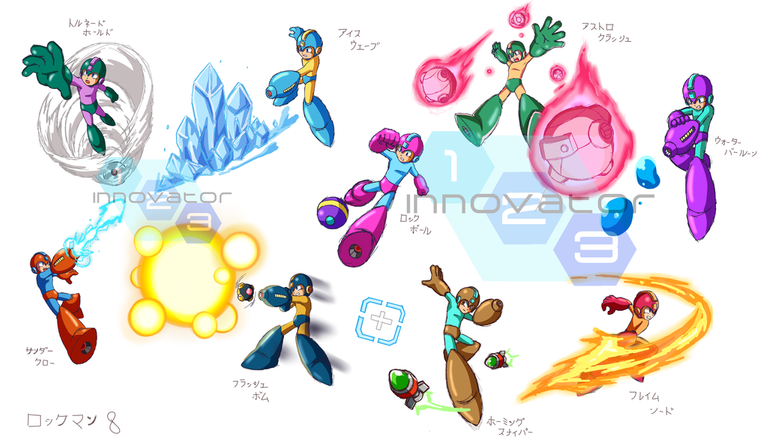 Source