Buenos días, tardes o noches dependiendo desde que sistema planetario me estén leyendo, hoy vamos hablaremos de uno de los juegos de pelea y arcade más conocidos en la historia del ps1, además de una de las entregas más conocidas de esta saga, además ha tenido una nueva entrega para el PS4, hablamos de Marvel vs Capcom: Clash of Super Heroes, también conocido como MVC o simplemente Marvel vs Capcom.
Good morning, afternoon or evening depending on which planetary system you are reading me from, today we will talk about one of the best known fighting and arcade games in the history of the ps1, as well as one of the best known installments of this saga, it has also had a new installment for the PS4, we talk about Marvel vs Capcom: Clash of Super Heroes, also known as MVC or simply Marvel vs Capcom.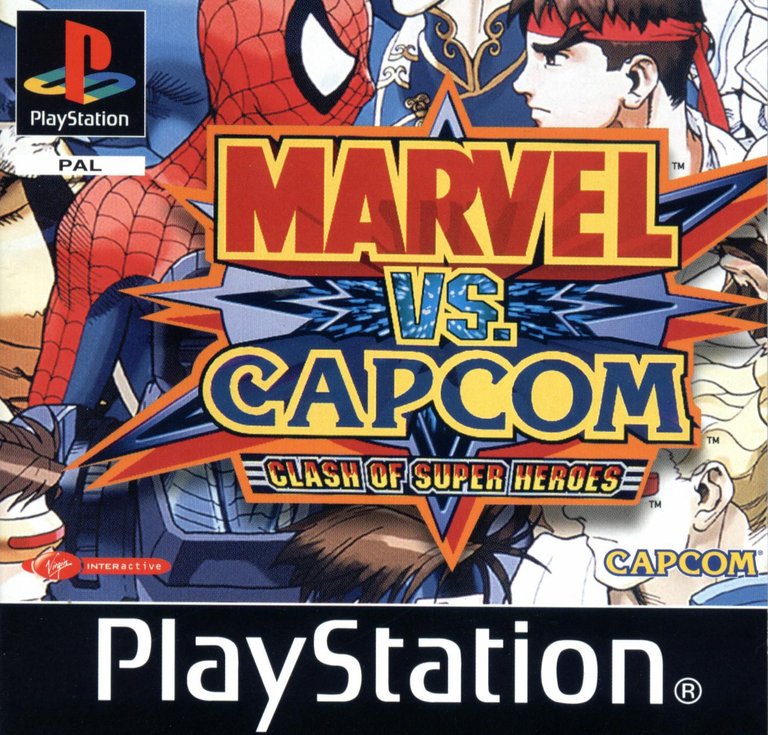 Source
Este juego fue desarrollado por Capcom, saliendo para el PS1 en el año 1999, siendo la tercera entrega del crossover de Marvel con Capcom, siendo esta entrega una de las más famosas de la saga, teniendo también su entrega en la plataforma de Arcade, contando con 15 personajes jugables y 6 personajes ocultos; contando con villanos y superhéroes de Marvel y con personajes de diferentes juegos de Capcom, esto represento un gran avance para esta saga y permitió situarlo como uno de los mas queridos de la saga (admito que era adicto a este juego jaja) además teníamos una gran variedad de personajes invocables para los diferentes combos, teniendo 12 de Marvel y 10 de Capcom, nuestros personajes principales del universo Marvel eran: Spiderman, Capitán América, Hulk, Wolverine, Venom, Gambit y War Machine y de Capcom contábamos con Ryu, Chun-li, Zangief, Megaman, Jin Saotome, Morrigan, Strider Hiryu y Captain Commando, además al terminar el juego podemos desbloquear a Onslaught siendo este el jefe final del juego.
This game was developed by Capcom, coming out for the PS1 in 1999, being the third installment of Marvel's crossover with Capcom, this installment being one of the most famous in the saga, also having its delivery on the Arcade platform, counting with 15 playable characters and 6 hidden characters; counting with villains and superheroes from Marvel and with characters from different Capcom games, this represented a great advance for this saga and allowed us to place it as one of the most beloved of the saga (I admit that I was addicted to this game haha) we also had a great variety of invokable characters for the different combos, having 12 from Marvel and 10 from Capcom, our main characters from the Marvel universe were: Spiderman, Captain America, Hulk, Wolverine, Venom, Gambit and War Machine and from Capcom we had Ryu, Chun- li, Zangief, Megaman, Jin Saotome, Morrigan, Strider Hiryu and Captain Commando, also at the end of the game we can unlock Onslaught being this the final boss of the game.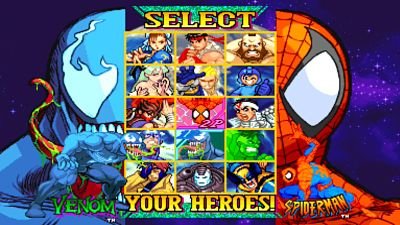 Source
El modo de juego es un muy caracterizo juego de pelea en 2D contando este con unas gráficas excelentes para su época, en este juegos debíamos elegir dos personajes para un equipo, esto nos permitía cambiar de personaje entre rounds además se podía elegir un ayudante, el cual se podía utilizar un contando número de veces por rounds, algunos de estos ayudantes eran Thor, Cyclops, Colossus, Iceman, Juggernaut, Magneto, contábamos como cualquier clásico de pelea con la modalidad de combos además que como es caracterizo en los juegos de pelea de Capcom teníamos ataques especiales conocidos como Specials, Supers que varían dependiendo de cada personaje.
The game mode is a very characteristic 2D fighting game with excellent graphics for its time, in this game we had to choose two characters for a team, this allowed us to change characters between rounds and you could also choose an assistant, the which could be used a counting number of times per rounds, some of these helpers were Thor, Cyclops, Colossus, Iceman, Juggernaut, Magneto, we counted like any fighting classic with the combos mode, as well as that as it is characterized in fighting games From Capcom we had special attacks known as Specials, Supers that vary depending on each character.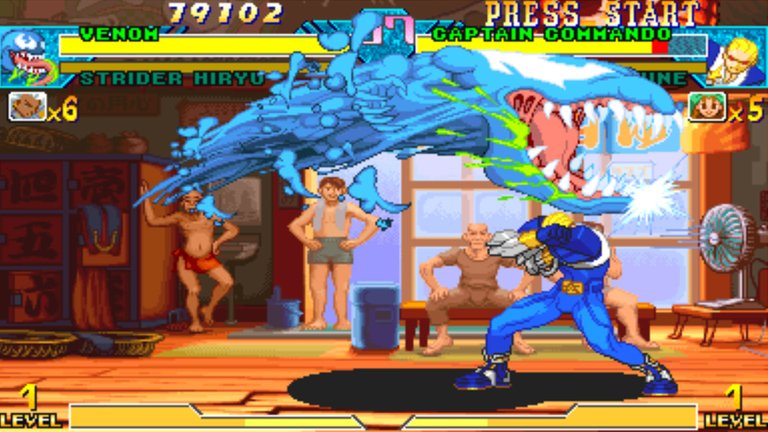 Source
La recepción y calificación de este juego fue excelente ya que sus gráficos y jugabilidad eran tremendos muy rápidos y entretenidos, siendo no solo uno de los más queridos de los fanáticos sino también de los mejores calificados por la crítica y permitiendo así continuar con una saga tan prolifera, que aún para las consolas actuales sigue presentando entregas.
The reception and rating of this game was excellent since its graphics and gameplay were tremendous, very fast and entertaining, being not only one of the most beloved of the fans but also one of the best rated by critics and thus allowing to continue with such a saga proliferates, which even for current consoles continues to present deliveries.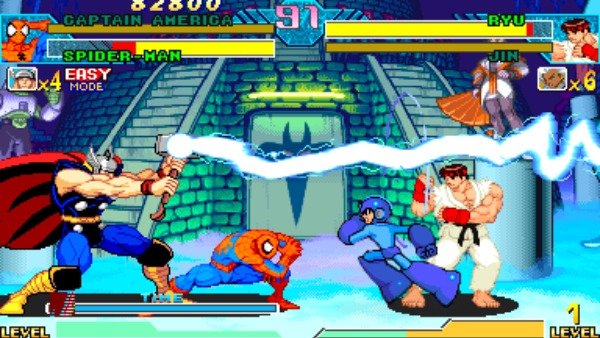 Source
Para finalizar este post solo puedo comentar que este era uno de mis juegos favoritos de pelea y que me encantaba jugar con Spiderman o Venom (ya que soy un gran seguidos de esos dos personajes en los comics y series) además que la gran cantidad de combos, specials y supers que podías sacar dependiendo de tu elección de equipo hacia más atractivo el juego y su jefe final era muy difícil y a la vez entretenido de vencer, aún lo juego en mis tiempos libres en un emulador de PS1 para la PC, lo recomiendo para aquellos que quieran un juego de pelea rápido y divertido, espero que este post les haya gustado y haya tocado su lado nostálgico nos vemos en el próximo post.
To end this post I can only comment that this was one of my favorite fighting games and that I loved playing with Spiderman or Venom (since I am a great follower of those two characters in comics and series) in addition to the large number of combos , specials and supers that you could get depending on your team choice made the game more attractive and its final boss was very difficult and at the same time entertaining to beat, I still play it in my spare time on a PS1 emulator for PC, I recommend it For those who want a fast and fun fighting game, I hope you liked this post and touched its nostalgic side. See you in the next post.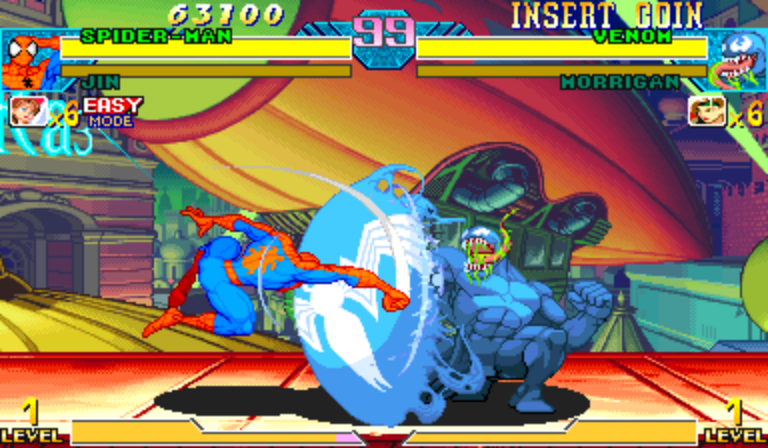 Source