Buenos días, tardes o noches a todo aquel ser interdimensional e intradimensional que me lea, hoy les traigo un Review de considero yo que el más querido y más reconocidos para esta generación que creció con el PS1 (momento de sentirme viejo) y sin lugar a dudas el más querido de su saga, hablamos nada más y nada menos que de Crash Bandicoot 3: Warped.
Good morning, afternoon or evening to all those interdimensional and intradimensional beings who read me, today I bring you a Review of the game that I consider the most loved and most recognized for this generation that grew up with the PS1 (time to feel old) and without a doubt the most beloved of its saga, we speak nothing more and nothing less than Crash Bandicoot 3: Warped.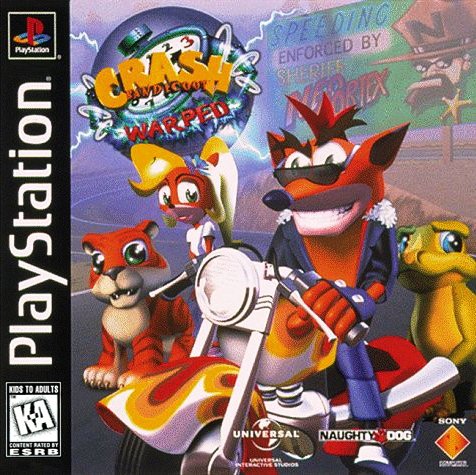 Source
Este juego fue desarrollado por Naughty Dog en el año 1998, siendo esta a secuela directa del Crash Bandicoot 2: Cortex Strikes Back, siendo esta entrega la mas querida y con mayor éxito en ventas y en críticas de toda la saga siendo inclusive el 9 juego mas vendido en la historia del Play Station 1, siendo inclusive lanzado en años posteriores para la PSP y para el PS3. En este juego contábamos con una temática combinada de las dos entregas anteriores de Clash que eran un mundo central llamado Warp Room que se dividía en 5 áreas y estas mismas se dividían en 5 niveles y un jefe final además entre los niveles de cada mundo contábamos con algunos con retos como contrarreloj o subir sobre objetos como motos o biplanos, también podíamos ganar habilidades nuevas al vencer a un jefe final e inclusive este juego contaba con niveles secretos que se desbloqueaban al completar retos como conseguir todas las cajas o pasar el nivel en un tiempo dado.
This game was developed by Naughty Dog in 1998, this being a direct sequel to Crash Bandicoot 2: Cortex Strikes Back, being this game the most beloved and with the greatest success in sales and criticism of the entire saga, including the 9th game best-selling in the history of Play Station 1, being even launched in later years for the PSP and for the PS3. In this game we had a combined theme of the two previous Clash games, a central world called Warp Room that was divided into 5 areas and these were divided into 5 levels and a final boss, also between the levels of each world we had some challenges such as time trials or riding on objects such as motorcycles or biplanes, we could also gain new skills by beating a final boss and even secret levels that were unlocked by completing challenges such as getting all the boxes or passing the level in a given time.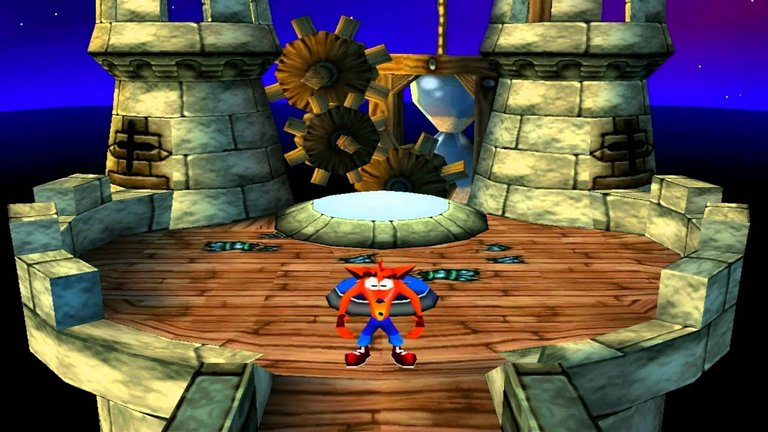 Source
El modo de juego en esta entrega es el ya conocido juego de plataforma en 3D, en el cual debemos romper la mayor cantidad de cajas para conseguir las frutas Wumpa que suelen estar dentro (al conseguir 100 de estas ganamos una vida extra) también manteníamos la dinamia de las cajas con la cara de Aku (que nos permitía inmunidad si conseguíamos 1 y si conseguíamos 3 seguidas hacía que Clash fuese invencible temporalmente) además teníamos dependiendo del nivel en el que entráramos la posibilidad de jugar no solo con Clash sino también con Coco, en esta entrega los niveles que iríamos visitando serian basados en la edad de piedra, el antiguo Egipto, China, el mar profundo, el espacio, la edad media; dependiendo del nivel debíamos sortear enemigos diferentes y peligros que harían cada nivel muy entretenido.
The game's mode is the already known 3D platform game, in which we must break as many boxes to get the Wumpa fruits that are usually inside (by getting 100 of these we gain an extra life) we also kept the dynamics of the boxes with the Aku Aku face (which allowed us immunity if we got 1 and if we got 3 in a row, it made Clash temporarily invincible) we also had depending on the level we entered the possibility of playing not only with Clash but also with Coco, the levels that we would visit would be based on the stone age, ancient Egypt, China, the deep sea, the space, the Middle Age; depending on the level we had to avoid different enemies and dangers that would make each level very entertaining.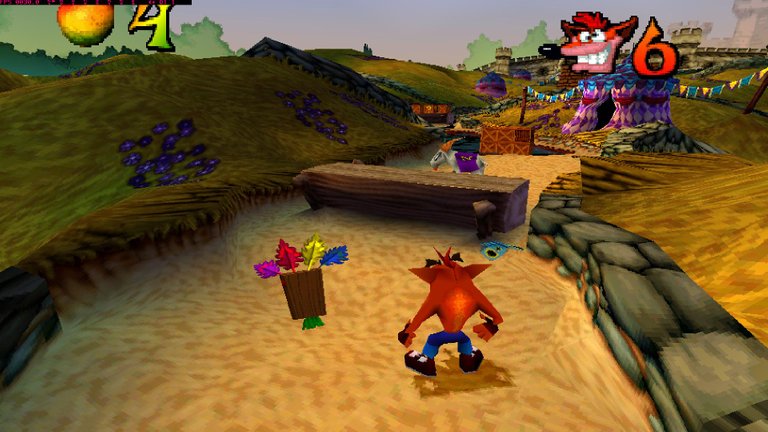 Source
La aceptación de este juego por los fans fue la mejor de la saga, llegando a ser la mas vendida de la misma, además ser llevada a consolas más nuevas (PSP y PS3) e inclusive llegando a tener una remasterización para el PS4, esto demuestra el gran cariño que genero esta entrega llegando inclusive a ser el 9no juego más vendido de la PS1, y no solo con esto sino llegando a tener también una gran aceptación por la crítica, ya que la jugabilidad del juego mejoro en comparación con las dos entregas anteriores, las gráficas y el diseño de personajes (jefes, enemigos entre mundos, objetos para montar) fueron desarrollados de manera excelente ya que para su época fueron muy detallados y fluidos y contaba también con una banda sonara increíble que nos generaba un mayor impacto en cada nivel.
The acceptance of this game by fans was the best of the saga, becoming the best-selling of the same, also being taken to newer consoles (PSP and PS3) and even having a remastering for the PS4, this shows the great love that this game generated, even becoming the 9th best-selling game on the PS1, and not only with this but also having a great acceptance by critics, since the gameplay of the game improved compared to the two previous games, the graphics and character design (bosses, enemies between worlds, objects to ride) were developed in an excellent way taking into account the year in which was made, it was very detailed and fluid and it also had an incredible soundtrack that generated a greater impact in each level.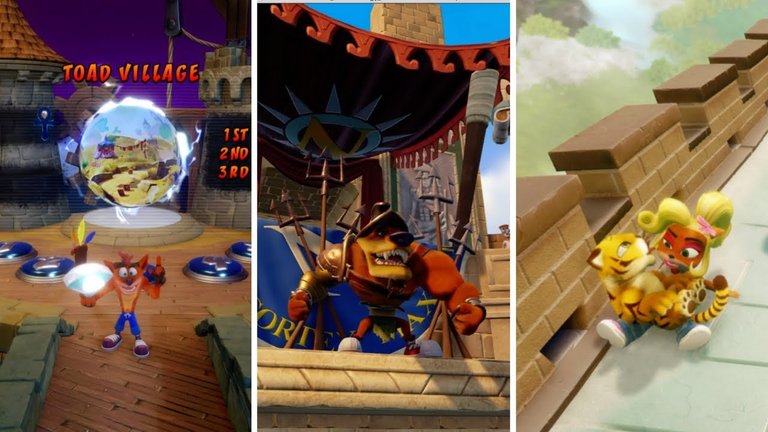 Source
Para resumir este post solo me queda decir que este juego para mi fue uno de los que mas tiempo me tuvo atrapado frente a televisor, tratando de obtener todos los retos (contrarreloj, cantidad de cajas) y tratando de vencer a todos los jefes ya que conforme avanzábamos en el juego los jefes e inclusive los enemigos básicos de cada nivel se iban haciendo más difíciles, además de que los niveles que incluían montar motos o al tigre de Coco eran muy difícil, por muchas razones entiendo porque es uno de los juegos mas vendidos y queridos de los fanáticos del PS1, espero que este post les haya gustado y recuerden que estos juegos se pueden volver a jugar en emuladores como el PSX para así tener nuestra buena dosis de nostalgia, nos vemos en el próximo post.
To conclude this post, I can only say that this game for me was the one that had me trapped the longest time in front of the tv, trying to get all the challenges (time trial, number of boxes) and trying to beat all the bosses since as we progressed in the game the bosses and even the basic enemies of each level became more difficult, in addition to the fact that the levels that included riding motorcycles or Coco's tiger were very difficult, for many reasons I understand why it is one of the most sold and loved games of the PS1 fans, I hope you liked this post and remember that these games can be played again in emulators like PSX to have our good dose of nostalgia, see you in the next post.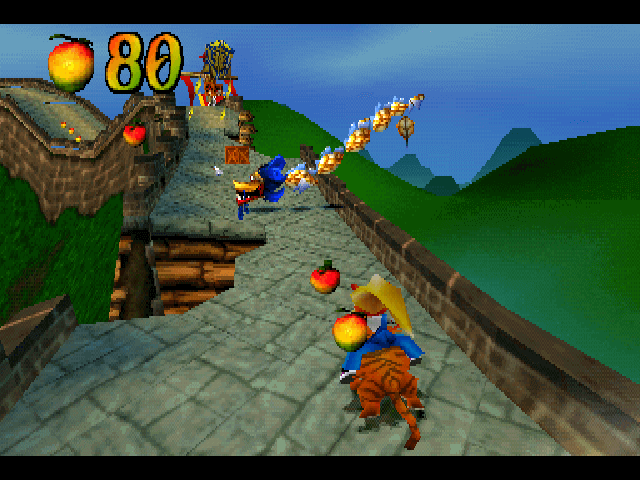 Source