Harry Potter y el cáliz de fuego es el cuarto juego de la saga, la cual les debo confesar que a pesar que me gusto, fue uno de mis favoritos hasta el momento, bueno todos los anteriores también lo fueron, pero en lo personal este me encantó, pero por desgracia para mí no lo pude terminar y es que se me daño mi PlayStation 2 en su momento y cuando lo adquirí en PC, pues avance un poco más, pero ya como el juego no me llegaba en ese momento, no me atraía y además que tenía otras ocupaciones, por lo cual lo tuve que dejarlo de jugar. En lo personal hasta el momento que lo jugué, lo disfruté mucho, al igual que las anteriores versiones, pero esta fue una de mis favoritas entre las películas, razón por la cual lo decidí en compartir mi experiencia con usted que tuve con este videojuego.
Harry Potter and the Goblet of Fire is the fourth game of the saga, which I must confess that although I liked it, it was one of my favorites so far, well all the previous ones were too, but personally I loved this one, but unfortunately for me I couldn't finish it because my PlayStation 2 was damaged at the time and when I bought it on PC, I advanced a little more, but since the game didn't reach me at that time, it didn't attract me and also I had other occupations, so I had to stop playing it. Personally, up to the moment I played it, I enjoyed it a lot, just like the previous versions, but this was one of my favorites among the movies, which is why I decided to share my experience with you that I had with this video game.
Este juego es del género de acción y aventura, desarrollado por EA Reino Unido para las plataformas PC, PlayStation 2 (PS2), Xbox, GameCube, PlayStation Portable (PSP), Nintendo DS y Game Boy Advance (GBA). Su lanzamiento oficial en el mercado fue el 8 de Noviembre de 2005, para las plataformas digitales ya mencionadas. ¿Por qué este era uno de mis juegos favoritos de la Saga? Debido a que fue la primera presentación de la saga de Harry Potter en presentar el modo multijugador, con lo cual estaba muy emocionado en su momento, pero sin embargo no lo pude probar en ese modo, con lo cual aún muy siento muy triste de solo pensarlo. La razón de no hacerlo fue que en ese tiempo no disponía conexión de Internet propia, lo cual me dificultaba mucho hacer las partidas. Aun así, la experiencia con este juego, hasta el momento que lo jugué fue realmente buena, razón por la cual les comparto el día de hoy que me pareció este juego o por lo menos lo que puedo recordar.
Este juego es del género de acción y aventura, desarrollado por EA Reino Unido para las plataformas PC, PlayStation 2 (PS2), Xbox, GameCube, PlayStation Portable (PSP), Nintendo DS y Game Boy Advance (GBA). It was officially released on November 8, 2005, for the aforementioned digital platforms. Why this was one of my favorite games of the Saga? Because it was the first presentation of the Harry Potter saga to present the multiplayer mode, with which I was very excited at the time, but nevertheless I could not try it in that mode, with which I still feel very sad just thinking about it. The reason for not doing it was that at that time I didn't have my own Internet connection, which made it very difficult for me to play the games. Even so, the experience with this game, until the moment I played it was really good, reason why I share with you today what I thought of this game or at least what I can remember.

Historia
History
Harry Potter ya con 14 años de edad, regresa nuevamente a la escuela de Hogwarts, encontrándose con sus amigos Hermione Granger y Ron Weasley, donde se encontraron con la sorpresas de que abría un tornea ese año en el colegía, que se conocía como el torneo de los tres magos y donde Harry tendría que participar ya que fue elegido sorpresivamente como ya sabemos por un encantamiento que le hicieron al Cáliz de Fuego, quien era el objeto mágica encargado de seleccionar a los participante de las tres escuelas, Siendo así Potter el cuarto participante. De Allí comienza la aventura dentro del colegio de magia y hechicería, aunque con laguna decepción pero esta se las mencionaré más adelante. Nuestro personaje principal y sus amigos se deben pasear por el colegia y aprender los hechizos necesarios para pasar cada una de las pruebas y desafíos que se le presenten en el camino, pero finalmente el gran desafío es que en el final debe luchar con su gran enemigo Lord Voldemort, aunque eso me imagino por lo visto en la serie, ya que como les mencioné no culminé el juego, pero esta es una de las partes más transcendentales, así que no creo que falte en el videojuego.
Harry Potter, now 14 years old, returns again to Hogwarts school, meeting with his friends Hermione Granger and Ron Weasley, where they found the surprise that opened a tournament that year in the school, which was known as the tournament of the three wizards and where Harry would have to participate as it was chosen surprisingly as we know by an enchantment that made the Goblet of Fire, who was the magical object responsible for selecting the participants of the three schools, Potter being thus the fourth participant. From there begins the adventure inside the school of magic and wizardry, although with some disappointment but I will mention this later. Our main character and his friends must walk around the school and learn the necessary spells to pass each of the tests and challenges that are presented along the way, but finally the big challenge is that in the end he must fight with his great enemy Lord Voldemort, although I imagine that from what I saw in the series, because as I mentioned I did not finish the game, but this is one of the most transcendental parts, so I do not think it is missing in the game.

Jugabilidad
Playability
La jugabilidad es uno de los aspectos más importantes que podemos encontrar en un videojuego, tal vez eso no lo tomaba en cuenta antes ya que era más chico y solo lo que me importaba era jugar, pero ahora si es factor muy importante. En este juego y como el anterior del Prisionero de Azkaban tenemos disponible a Harry y sus amigos para poder jugar, a diferencia de las dos primeros presentaciones que tan solo el prota era el personaje jugable. Una de las decepciones de la jugabilidad es que no podemos recorrer todo el castillo como las anteriores versiones, algo que me disgusto, ya que los espacios por la cual nos podíamos mover estaban limitados. Por lo demás, me pareció un juego muy divertido, donde debíamos aprender hechizos para afrontar las pruebas del torneo de los tres magos y otras aventuras con la cual nos podíamos encontrar en el camino. El juego es mucho más completo en cuanto a la jugabilidad se refiere, ya que incorporan el modo multijugador, aunque también podemos jugar a un solo jugador, y otros modos de juegos que fueron agregados, pero lo que más me gusto es volar con la escoba y nadar en el río para pasar la segunda prueba del torneo, de allí no pude avanzar mucho más.
The gameplay is one of the most important aspects that we can find in a video game, maybe I didn't take it into account before because I was younger and all I cared about was playing, but now it is a very important factor. In this game and like the previous Prisoner of Azkaban we have Harry and his friends available to play, unlike the first two presentations that only the protagonist was the playable character. One of the disappointments of the gameplay is that we can not go all over the castle as the previous versions, something that I disliked, since the spaces through which we could move were limited. Otherwise, I found it a very fun game, where we had to learn spells to face the trials of the tournament of the three wizards and other adventures with which we could meet along the way. The game is much more complete in terms of gameplay, since they incorporate the multiplayer mode, although we can also play single player, and other game modes that were added, but what I liked the most is flying with the broom and swimming in the river to pass the second test of the tournament, from there I could not advance much more.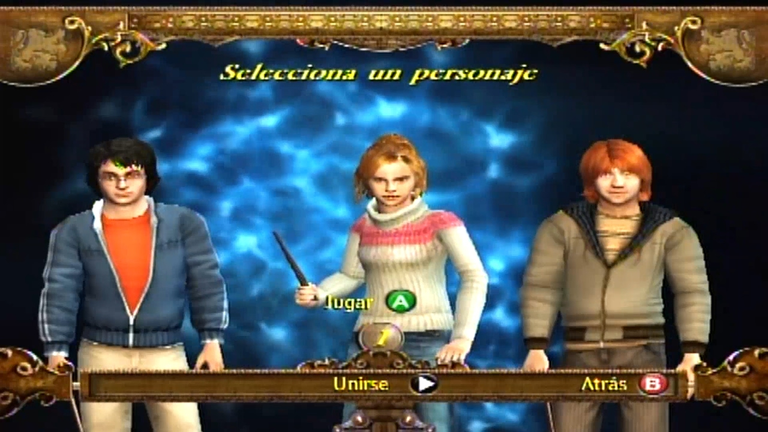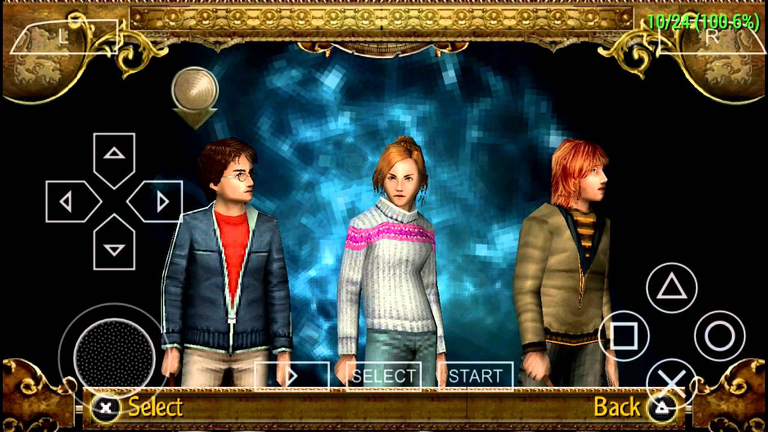 1 || 2
Las gráficas de este juego mejoraron mucho con respecto a su antecesores, donde los personajes lucen más o como realmente son en la película, las animaciones en general me parecen bien trabajadas, donde vemos como nuestros personajes salta, hace hechizos o encantamientos, correr, entre otras cosas más. Los efectos visuales me parecieron correctos, pero aún creo que podían ser un poco mejor. En fin las gráficas me parecieron que si mejoraron, a pesar de tener algunos detalles, pero para la época me pareció que eran bien. El Sonido es una de las partes técnicas del juego que están mejor trabajadas, con unos excelente sonidos, tanto de los efectos sonoros como la banda musical. La banda sonora es una de las partes que más me gustó de este juego, ya que los sonidos eran muy variados, nada repetitivos y siempre acorde al momento que estuviesen viviendo nuestro personas. El juego estaba bien traducido al español, algo que era realmente importante para mí en su momento tan solo tenía unos 12 o 13 años cuando probé el juego.
The graphics of this game improved a lot with respect to its predecessors, where the characters look more or as they really are in the movie, the animations in general seem to me well worked, where we see how our characters jump, do spells or incantations, run, among other things. The visual effects seemed to me correct, but I still think they could be a little better. Finally, the graphics seemed to me to have improved, despite having some details, but for the time I thought they were fine. The Sound is one of the technical parts of the game that are better worked, with excellent sounds, both the sound effects and the musical band. The soundtrack is one of the parts that I liked most of this game, as the sounds were very varied, nothing repetitive and always according to the moment that our people were living. The game was well translated into Spanish, something that was really important for me at the time I was only 12 or 13 years old when I tried the game.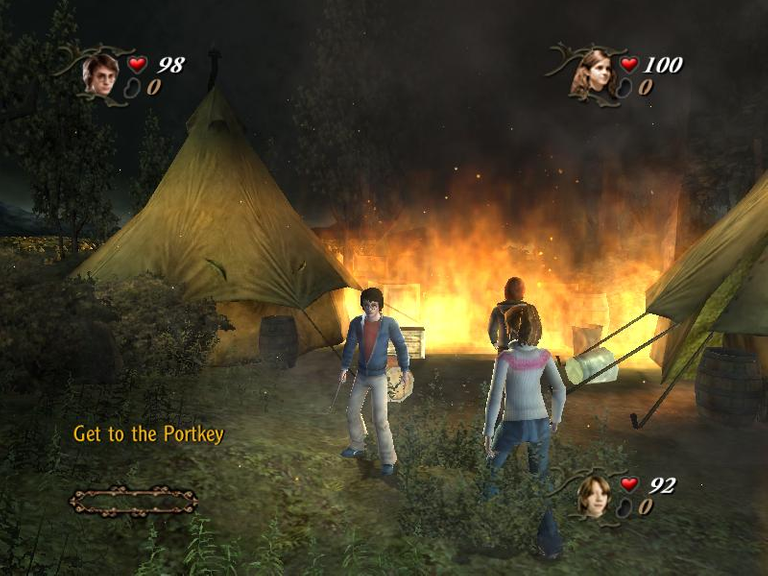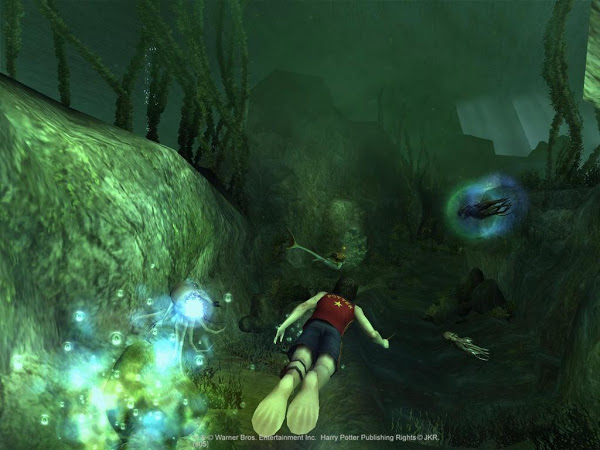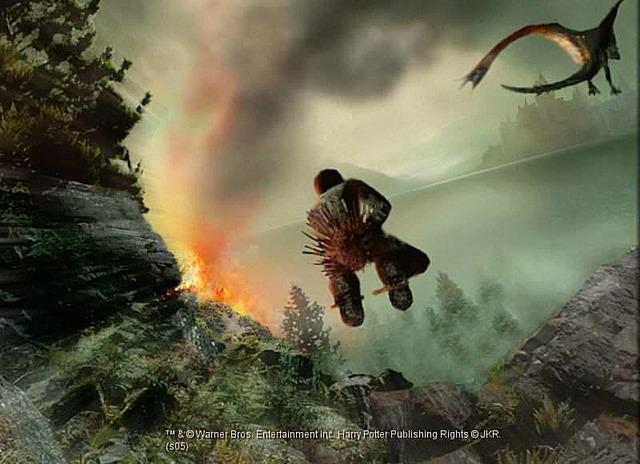 1-2 || 3
El juego Harry Potter y El Cáliz de Fuego es un videojuego que es muy entretenido sin lugar a duda, donde claro que tiene sus cosas que tal vez no convencían a todo el mundo, pero lo más importante eran que se agregaron nuevos modos de juegos y retos que debían resolver nuestro personajes jugables. Como les mencioné anteriormente en la jugabilidad lo que no me gusta es que nos limitaron para poder movernos por todo el colegio, pero por lo demás me parece que está muy bien. Las gráficas tienen grandes mejores en el diseño de los personajes, animaciones y efectos visuales, muy destacados para la época, aun con algunos errores. Por otra parte nos encontramos con el sonido que es lo mejor de lo mejor, buenos efectos de sonidos y la gran banda sonora. Si no ha probado este juego, creo que es el momento de hacerlo, por lo menos yo me he animado a jugarlo nuevamente para así terminar y volver a vivir a aventuras, realizados mis hechizos y enfrentarme a las criaturas en el colegio de Hogwarts.
The game Harry Potter and the Goblet of Fire is a video game that is very entertaining without a doubt, where of course it has its things that perhaps did not convince everyone, but the most important thing was that they added new game modes and challenges to be solved by our playable characters. As I mentioned earlier in the gameplay what I don't like is that they limited us to move around the school, but otherwise I think it's very good. The graphics have great improvements in the design of the characters, animations and visual effects, very outstanding for the time, even with some errors. On the other hand we find the sound that is the best of the best, good sound effects and great soundtrack. If you have not tried this game, I think it is time to do it, at least I have encouraged me to play it again to finish and return to live adventures, cast my spells and face the creatures in Hogwarts school.

TRAILER
Fuente | Source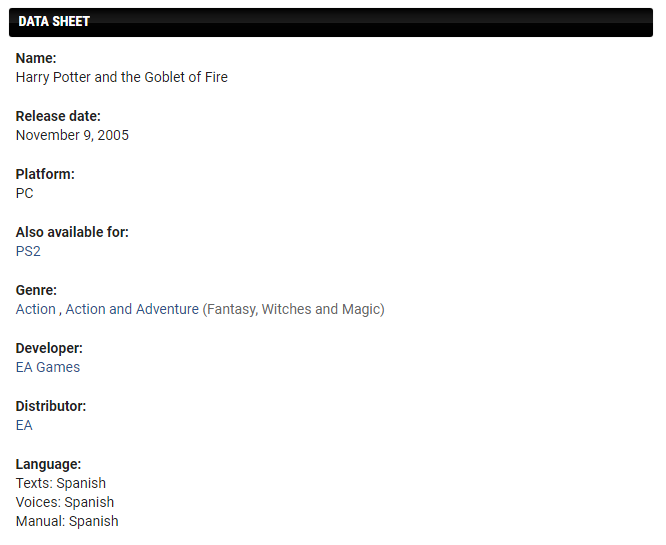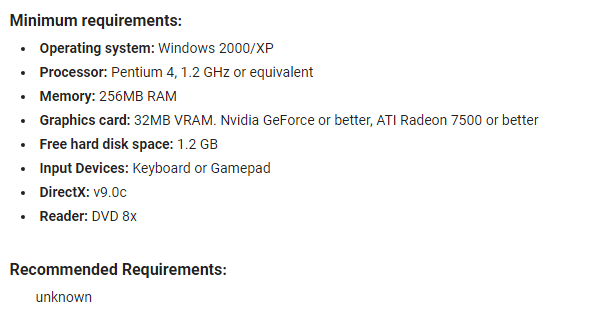 Fuente | Source

Algunos datos fueron obtenidos de la fuente | Some data were obtained from the source: Consulte Aquí | Click here
All the images of this Post are Captured from the game made by @franz54
Separador de texto extraído del post y editado por mi persona | Text separator extracted from the post and edited by myself:
Gracias por su visita. Espero que le haya gustado. | Thank you for your visit. I hope you liked it.
Hasta una próxima oportunidad | Till a next chance
Sin más, se despide de usted, su cordial servidor @franz54. | Without further ado, he bids farewell to you, his cordial server @franz54.
Translated with www.DeepL.com/Translator (free version)
---
Fuente | Source