Streets of Rage 4 is a time capsule game that may fool you with its current release as a modern game, but its spirit was still firmly cultivated in the early 1990s.
It has been more than 26 years since the release of Streets of Rage 3, in which remaster and remic games have emerged as a way of returning to the past and reclaiming beautiful memories.
But French development studio DotEmu, in cooperation with Guard Crush and Lizardcube, has made the creation of a suitable sequel to the Streets of Rage series, but it can be said with confidence that the development teams succeeded in the mission by reviving a classic game that we so much enjoyed in our childhood.
This kind of game started on arcade machines, before it ended up on systems like Sega Genesis and SNES that started to dominate as home video game systems.
Unfortunately, excessive saturation and lack of innovation have worsened this type of game shortly after the release of Streets of Rage 3.
This introduction was necessary to demonstrate the interest and interest of many players in the game Streets of Rage 4, especially with the presence of new generations of players, you may not have heard about the game at all.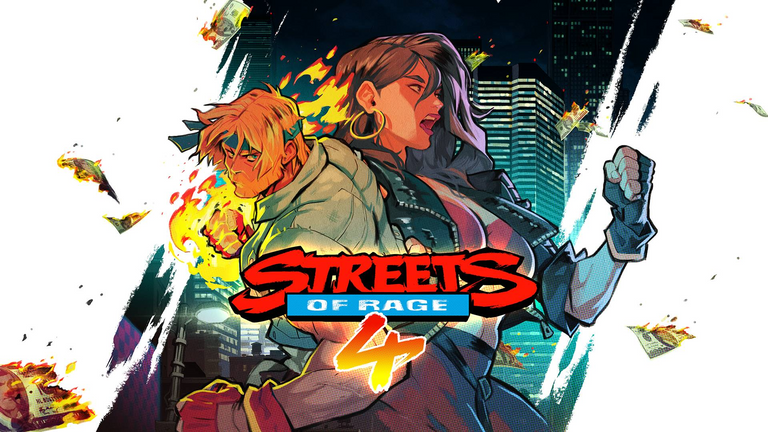 The story
The game unfolds ten years after the death of the main villain Mr. X, as a new wave of crime has struck the city of Wood Oak.
Angered by violent bullying and rampant corruption, Axel Stone and Blaze Fielding bring us along with a few new characters to try to take over the streets but it's actually more than enough excuse to get you back on the streets and start enjoying the favorite punches we loved in the series.
As with Beat 'em Up games, the game was overpowered by the tumultuous fight weapons, consecutive strikes, and the presence of groups of enemies trying to confuse you at once if you were hit during this period, you will not regain your health, and even trying to use special moves in a strategic way can seem like just a gamble, But this makes the gameplay more enthusiastic than the previous parts of the series.
In addition to consecutive strikes and impulsive attacks, you also have limited star moves, in fact this was a very satisfying move and it makes you look super skill when you use it.
New characters provide versatility to play regardless of the more balanced Blaze and Axel characters, for example we have Cherry and luckily you can select a different character at the beginning of each round, giving you the opportunity to mix your own playing style.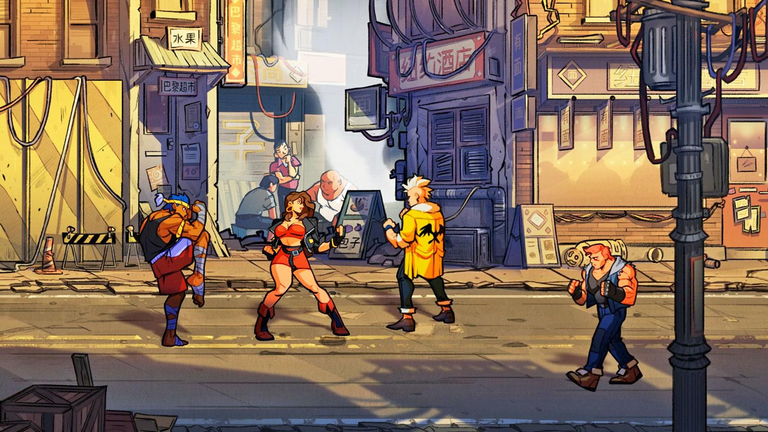 Graphics and acoustics
The gameplay is mostly unchanged from the previous parts, but it looks smoother and more accurate, and the main reason for this is due to the beautiful graphics, when cinematic clips are divided into comic-like boards, all of which comes within a very coherent artistic direction.
These visuals are accompanied by active electronic soundtracks, which is not surprising since the series is known for its distinctive melodies, which replays clips from previous series games were an elegant bonus.
I was hoping the game would get out of the ordinary and provide more hours and fun. In any case, the story mode can take anywhere from 2-3 hours, the more you play, the more points you get, so you can unlock more items.
Almost all the characters from the first three parts of the game are unlockable and maintain the same gameplay from the original game, this creates a different and entertaining experience.
Unlike previous games, Story Mode saves your progress after each level. If you die, you can simply try again, and you must complete the game within these restrictions or you will return to zero in case of loss.
Stage select capability is also available after completing the stages in Story mode, allowing you to compete in online leaderboards.
The Streets of Rage 4 team play system helps players get an integrated Beat'em ups experience, four players can play locally, but nothing better than collaborating with a friend to fight a fight and punch some punches for street criminals.
There is also a Battle Mode that allows you to fight against one of your friends locally or take on challenges with other players online. I can say that the amazing visual elements and unique artistic direction are what really distinguishes the game and makes it shine.
In addition to the short duration of the game, Streets of Rage 4 is somewhat flawed in the weakness of cinematic clips, transitions and the absence of voice acting, and for fans of the series this game is a gift from the sky, and for new players this depends on how well they accept the Beat 'em Ups games, either they fall in love with them Or just become a nuisance.
The duration of the game may be a problem for some, but there are plenty of reasons why you can get the game and return to a new round of street conflict.
With great graphics, game style and loyal characters of the past, charming soundtracks and a hassle-free team play experience.
Thank You