Hola a todos los que estén leyendo esta publicación espero se encuentren bien. Hoy les voy a comentar sobre un juego de estilo Sigilo en Primera persona, el cual cuenta con toma de decisiones y cambios en la forma de actuar de los NPCs según nuestras acciones, el juego cuenta con 3 finales posibles según haya sido nuestro desenvolvimiento en la historia del mismo. Este juego no es otro que "Dishonored" que ya posee dos entregas más al momento de hacer esta publicación.
Hello to all who are reading this publication I hope you are well. Today I am going to tell you about a Stealth style game in First person, which has decision-making and changes in the way the NPCs act according to our actions, the game has 3 possible endings according to our development in the history of it. This game is none other than "Dishonored" which already has two more installments at the time of this publication.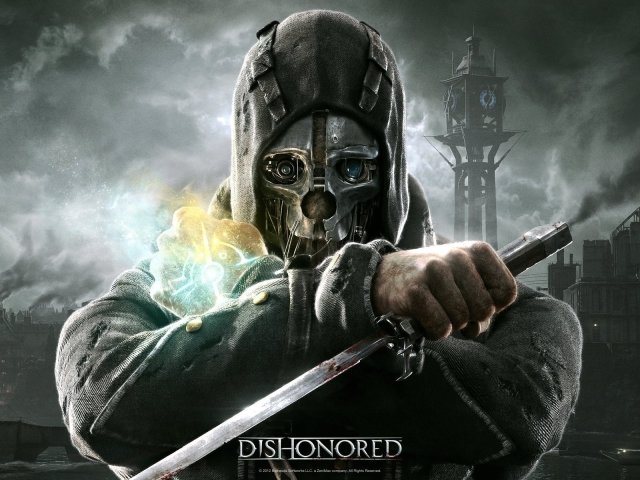 Source
"Dishonored" fue desarrollado por "Arkane Studios" quienes tuvieron participación en el desarrollo de otras entregas como "Bioshock 2" y "Half-Life 2" y fue distribuido por "Bethesda Softworks" conocida por distribuir clásicos como "The Elder Scrolls V: Skyrim" o "Fallout 3". Fue publicado oficialmente entre el 9 – 12 de octubre del 2012 a nivel mundial y actualmente se encuentra disponible para las plataformas: PlayStation 3, Xbox 360, PlayStation 4, Xbox One y Microsoft Windows. Perteneciendo al género de Acción-Aventura y sigilo.
"Dishonored" was developed by "Arkane Studios" who participated in the development of other installments such as "Bioshock 2" and "Half-Life 2" and was distributed by "Bethesda Softworks" known for distributing classics such as "The Elder Scrolls V: Skyrim "or" Fallout 3 ".It was officially published between October 9 - 12, 2012 worldwide and is currently available for platforms: PlayStation 3, Xbox 360, PlayStation 4, Xbox One and Microsoft Windows. Belonging to the genre of Action-Adventure and stealth.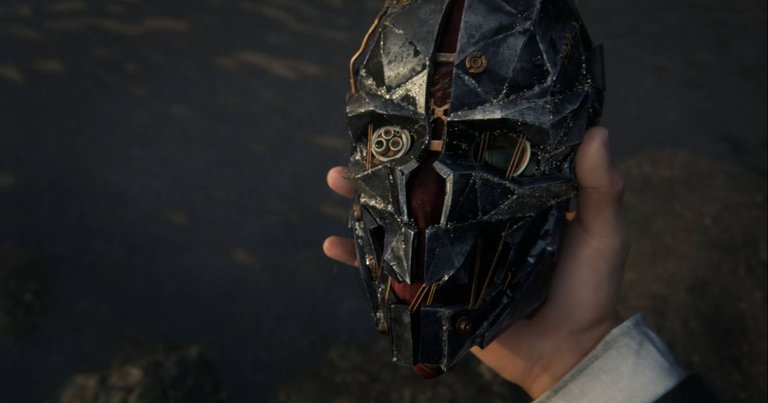 Source
El juego nos narra la aventura de "Corvo Attano" quien será nuestro personaje a utilizar en la ciudad de "Dunwall" la cual esta inspirada en Londres a finales del siglo XIX. Nuestro personaje es el protector y guardaespalda de la emperatriz de este imperio al cual acusan injustamente de su asesinato e intento de asesinato de la princesa "Emily Kaldwin". Toda la aventura tiene ambientación de estilos clásicos combinados con elementos sobrenaturales y tecnologías únicas creadas con recursos de la época como el "Aceite de Ballena" el cual es muy explosivo y valioso en este mundo.
The game tells us the adventure of "Corvo Attano" who will be our character to use in the city of "Dunwall" which is inspired by London at the end of the 19th century. Our character is the protector and bodyguard of the empress of this empire who is unjustly accused of her murder and attempted murder of the princess "Emily Kaldwin". The whole adventure has an atmosphere of classic styles combined with supernatural elements and unique technologies created with resources of the time such as "Whale Oil" which is very explosive and valuable in this world.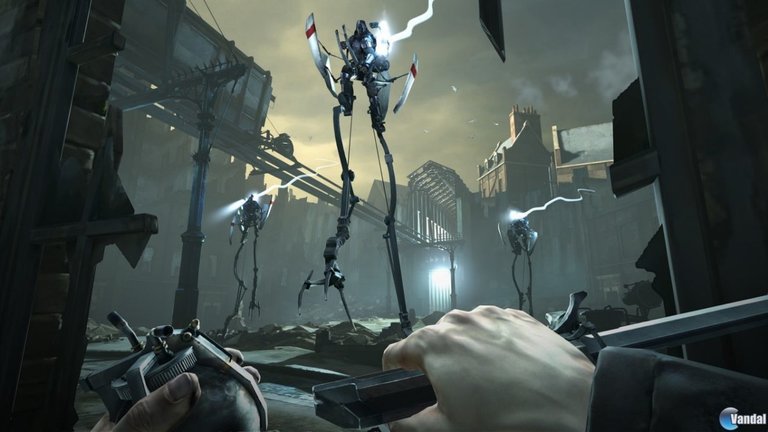 Source
Una vez empezada la aventura tendremos que escapar de prisión luego de los hechos en los cuales nos inculpan de asesinato. En el juego contaremos con armas básicas como una pistola, espada, ballesta, granadas, minas especiales y demás en nuestro arsenal. También tendremos habilidades sobrenaturales que nos serán otorgadas por un personaje muy intrigante en la aventura quien se llama a sí mismo "El forastero", dicho personaje además de tener un aura de intriga como una mezcla entre dios y el diablo justo también es quien nos guía durante esta aventura y nos da consejos muy importantes en la trama. "El forastero" nos entrega un corazón humano modificado con piezas mecánicas el cual nos da información sobre el estado de la ciudad y sus habitantes así como nos permite localizar una serie de "Runas" que nos servirán para obtener las habilidades así como talismanes de hueso de ballena que nos otorgan mejoras mientras los tengamos equipados.
Once the adventure begins, we will have to escape from prison after the events in which we are accused of murder. In the game we will have basic weapons such as a pistol, sword, crossbow, grenades, special mines and others in our arsenal. We will also have supernatural abilities that will be granted to us by a very intriguing character in the adventure who calls himself "The foreigner", said character besides having an aura of intrigue as a mix between god and the devil is also the one who guides us during this adventure and gives us very important advice on the plot. " The foreigner " gives us a human heart modified with mechanical pieces which gives us information about the state of the city and its inhabitants as well as allows us to locate a series of "Runes" that will help us to obtain skills as well as bone talismans of whale that grant us improvements as long as we have them equipped.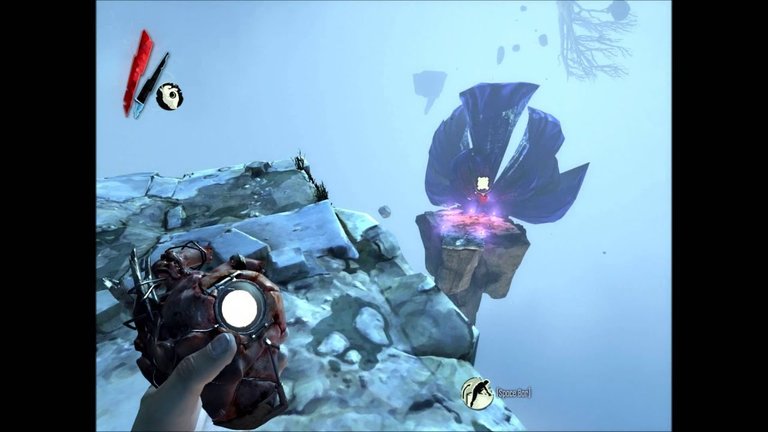 Source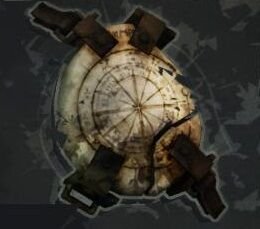 Source
La lista de habilidades sobrenaturales que podemos escoger son muy interesantes y diferentes entre una lista de 10 las cuales podemos mejorar para aumentar sus efectos. Algunos de los más importantes podrían ser el "parpadeo o guiño" que nos permite realizar una Teletransportación a cierta distancia frente a nosotros permitiéndonos así una gran movilidad y formas diferentes de sortear nuestros obstáculos, otra muy destacable seria "posesión" que como su nombre lo indica nos permite poseer por un corto periodo de tiempo algún animal como ratas o enemigos para sortear obstáculos e incluso poder eliminarlos de una manera muy sencilla al salir de ellos ya que quedan un breve momento incapacitados frente a nosotros siendo presa fácil.
The list of supernatural abilities that we can choose from are very interesting and different from a list of 10 which we can improve to increase their effects. Some of the most important could be the "blink or wink" that allows us to carry out a Teleportation at a certain distance in front of us, thus allowing us great mobility and different ways of getting around our obstacles, another very remarkable one would be "possession" that, as its name, indicates allows us to possess for a short period of time some animal such as rats or enemies to avoid obstacles and even to be able to eliminate them in a very simple way when leaving them since they are a brief moment incapacitated in front of us being easy prey.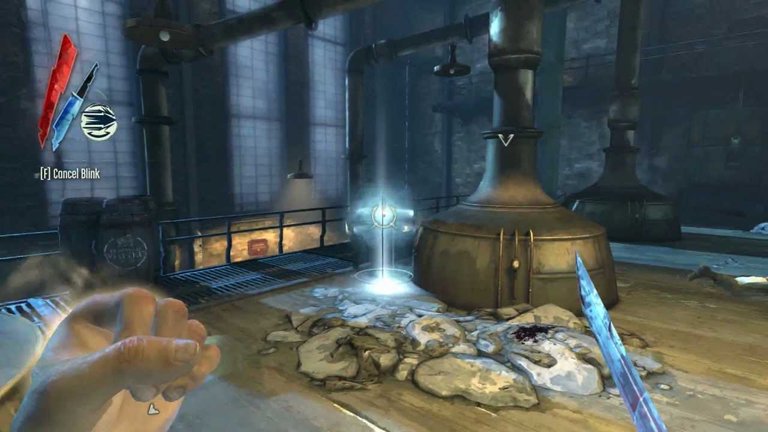 Source
Como se puede notar por las habilidades tenemos libertad de escoger si las utilizamos para superar las misiones de la manera más pacífica y sigilosa posible o simplemente las usamos para eliminar más a fácil a cualquier enemigo en nuestro camino. Como se pueden imaginar el juego presentara un cambio en base a estas decisiones, la ciudad está plagada de ratas las cuales al estar en grupos grandes serán capaces de matar y devorar personas incluyendo al jugador por eso si decidimos ir matando a todos los enemigos que nos encontremos esto tendrá como resultado el aumento de las ratas y peor condición de vida en los ciudadanos de la ciudad. Del mismo modo si tomamos una ruta más agresiva nuestras acciones se harán conocidas en la ciudad y sus habitantes dando como resultado que nos desprecien eliminado líneas de dialogo disponible y en el peor de los casos nos ataquen a penas nos logren ver. A todo esto se le conoce como el sistema de "Caos" dentro del juego.
As can be seen from the skills, we have the freedom to choose if we use them to overcome the missions in the most peaceful and stealthy way possible or simply use them to more easily eliminate any enemy in our way. As you can imagine, the game will present a change based on these decisions, the city is plagued by rats which, being in large groups, will be able to kill and devour people including the player, so if we decide to kill all the enemies that we Let's find out this will result in increased rats and worse living conditions for city citizens. In the same way, if we take a more aggressive route, our actions will become known in the city and its inhabitants, resulting in them despising us, eliminating available lines of dialogue and in the worst case, they attack us as soon as they can see us. All of this is known as the "Chaos" system within the game.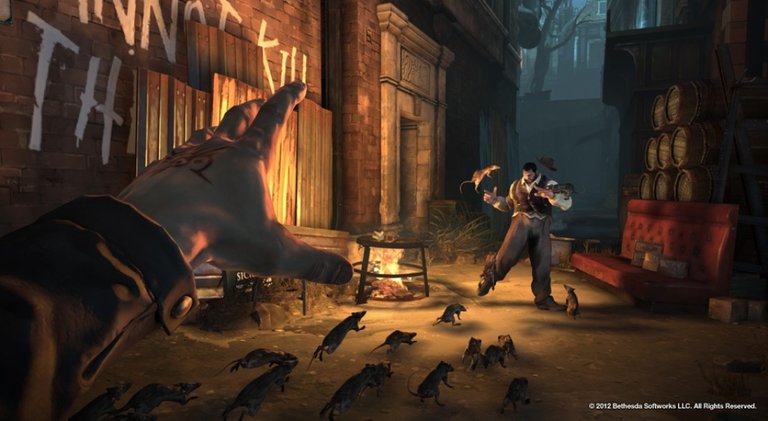 Source
A lo largo de nuestra aventura encontraremos misiones secundarias así como libros que nos contaran más sobre la historia de este imperio y la situación de sus habitantes dándole así una gran historia para complementar y permitirnos simpatizar con la misma. Algunas de las misiones secundarias nos permitirán eliminar a nuestros objetivos específicos sin tener que asesinarlos permitiéndonos de este modo mantener un "Caos" bajo y no tener ninguna muerte en nuestras manos en caso que estemos haciendo una partida con este objetivo.
Throughout our adventure we will find secondary missions as well as books that will tell us more about the history of this empire and the situation of its inhabitants, thus giving it a great story to complement and allow us to sympathize with it. Some of the secondary missions will allow us to eliminate our specific objectives without having to assassinate them, thus allowing us to maintain a low "Chaos" and not have any deaths on our hands in case we are making a game with this objective.

Contamos además de la típica barra de Salud con una barra Azul la cual es el indicador de nuestra energía mágica la cual nos permite usar las habilidades sobrenaturales y la misma se recarga con el tiempo pero en caso de usar varias habilidades seguidas esta bajara su capacidad máxima teniendo que usar una poción para volver a recuperarla al máximo. Según la dificultad que escojamos cambiara la efectividad de dichas posiciones siendo más o menos efectivas en cada caso.
We also have the typical Health bar with a Blue bar which is the indicator of our magical energy which allows us to use supernatural abilities and it recharges over time but in case of using several abilities in a row this will lower its maximum capacity having to use a potion to recover it to the maximum. Depending on the difficulty we choose, the effectiveness of these positions will change, being more or less effective in each case.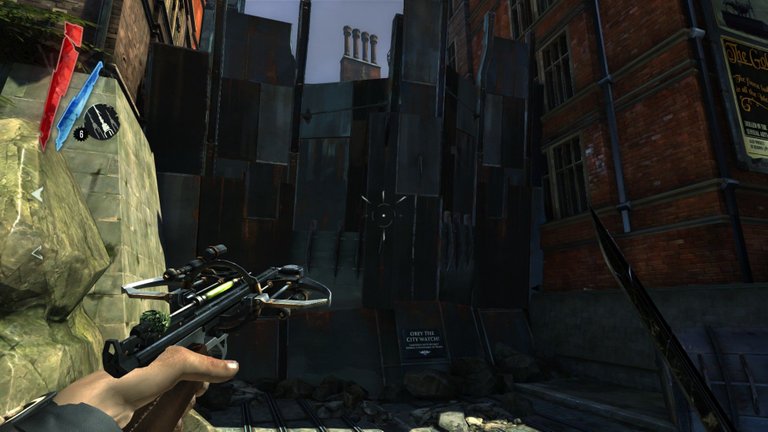 Source
En cada una de nuestras misiones podremos ir recogiendo dinero y objetos de valor los cuales podremos vender en la isla que será la base de operaciones de quienes nos ayudaran a demostrar nuestra inocencia, mediante el dinero que obtengamos podremos ir mejorando nuestro equipo así como aumentar nuestra capacidad y tipos de municiones o comprar más en caso de quedarnos sin ellas, de esta manera mejoraremos nuestra capacidad ofensiva y defensiva según el caso de nuestra preferencia.
In each of our missions we will be able to collect money and valuables which we can sell on the island that will be the base of operations for those who will help us prove our innocence, through the money we obtain we can improve our equipment as well as increase our capacity and types of ammunition or buy more if we run out of them, in this way we will improve our offensive and defensive capacity according to the case of our preference.

Este juego cuenta con una increíble movilidad producto de sus habilidades y mejoras logrando así un gran desempeño del estilo sigilo y consiguiendo un efecto muy entretenido, del mismo modo es un juego muy fluido en todos los aspectos y con gran detalle en el trabajo gráfico, el hecho de que nuestras decisiones y acciones en el juego pueden llegar a tener un gran impacto en el progreso del mismo así como en su final nos otorga una gran libertada y sensación de relevancia en la historia. Esta es una entrega muy original y recomendada en verdad, yo mismo lo he terminado en varias ocasiones consiguiendo los 3 finales disponibles y el nivel de desafío que otorga completar el juego sin asesinar a ningún enemigo ni ser detectado en ninguna misión es algo simplemente fantástico que te ocupara muchas horas de juego y te alegraras una vez lo consigas.
This game has an incredible mobility product of its abilities and improvements, thus achieving a great performance of the stealth style and achieving a very entertaining effect, in the same way it is a very fluid game in all aspects and with great detail in the graphic work, the The fact that our decisions and actions in the game can have a great impact on the progress of the game as well as on its end gives us great freedom and a sense of relevance in the story. This is a very original and highly recommended delivery, I myself have finished it several times getting the 3 available endings and the level of challenge that completes the game without killing any enemy or being detected in any mission is something simply fantastic that It will occupy you many hours of play and you will be happy once you get it.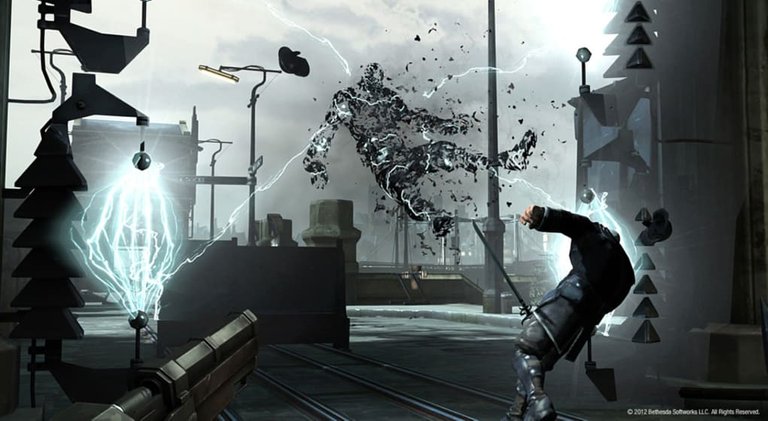 Source

Muchas Gracias por leer esta publicación espero estés muy bien y te haya gustado el contenido de la misma. Instagram: andryovalles_
Thank you very much for reading this publication. I hope you are very well and you liked the content of it. Instagram: andryovalles_
El separador de texto fue tomado de la siguiente publicación:
The text separator was taken from the following post:
https://www.tutorialesteemit.com/recomendaciones/separadores-de-texto-para-blog/*