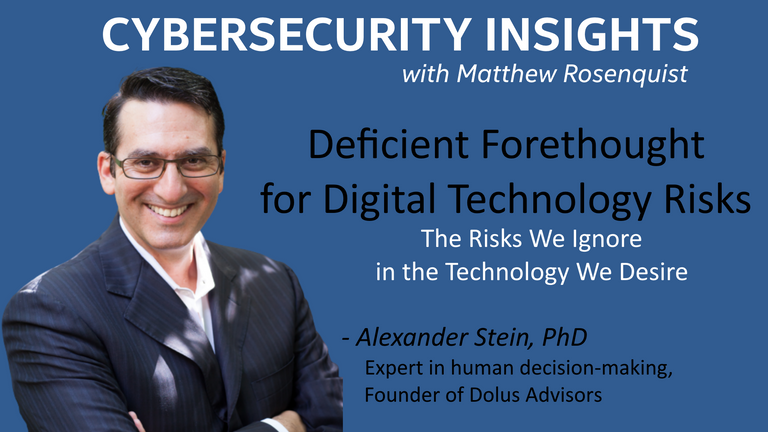 ---
In today's Cybersecurity Insights podcast, I am talking with Dr. Alexander Stein, an expert in human decision-making and behaviors involving cybersecurity vulnerabilities and the unintended consequences of technologies.
Dr. Stein highlights the systemic problem of trust in technology and breaks down many of the root behavioral challenges. He also provides some recommendations we all can apply to shift the technology and human interaction ecosystem, in a way that better manages technology risks.
Special thanks to this week's guest, Dr Alexander Stein, whom you can follow on LinkedIn: https://www.linkedin.com/in/alexander... and his website: https://www.dolusadvisors.com/
Please click the Like button if you found this insightful and subscribe to the Cybersecurity Insights channel for more interviews, best-practices, rants, and strategic viewpoints. https://www.youtube.com/c/Cybersecuri...
Follow me on:
LinkedIn: https://www.linkedin.com/today/author...
Medium: https://medium.com/@matthew.rosenquist
Twitter (@Matt_Rosenquist): https://twitter.com/Matt_Rosenquist
---
▶️ 3Speak