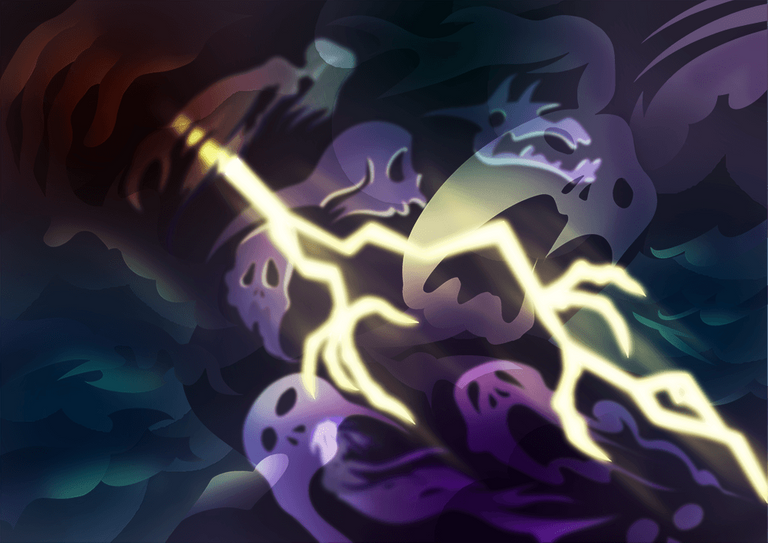 When the clouds are dark and ghouly
....Find a shed....
It might just be the Soulstorm
Hello Splinterland warriors from the West, East, South and North...how have your battle's fared? As you must know, I've kicked ass and gotten my ass kicked a lot, is it just me, or the bots have been relegated to the lower levels due to their collection power not being able to take them up the ladder? On the good side, more details on the collection power phase 3 have been released, if you haven't seen it, you can here...In the entire explanation, the part I loved the ost was the League leaderboard...
Phase three of the collection power update will add separate ranked play leaderboards into the game for each league. There will not be separate leaderboards for each tier within each league, and there will not be a leaderboard for the Novice league, so that means that there will be a total of 5 different leaderboards: Bronze, Silver, Gold, Diamond, and the existing Champion League Leaderboard.
This sure sounds like fun, now I don't have to just battle aimlessly, now I can battle to secure my position as the best at the Diamond level lol, or better still, rent a couple of gold cards, jump to gold tier and go kick ass there. While we are waiting for the plan to come into play, here's the battle showoff for the past weeks challenge using the Soulstorm.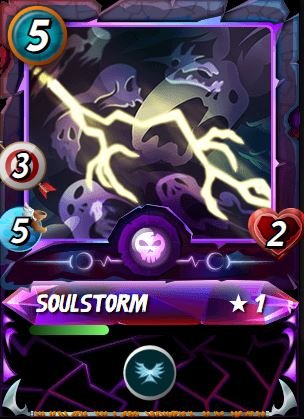 THEME: SOULSTORM
Edition: UNTAMED
Rarity: EPIC
Element: DEATH
ATTACK: RANGED
ABILITIES: Flying at level 1; Snare at level 2; Headwinds at level 3; Stun at level 6
I use the Soulstorm when I'm certain of a win, how am I certain of a win you may ask, okay, so I love battle's with high mana, I have some strategic cards that ensure a win 80% of the time, so during battles like this, using the soulstorm is just a plus, moreover it gives a damage of 3 points which I think is a big deal as a ranged monster, all I have to do is position it away from enemy reach due to its low life count while it dashes out its damage. The soulstorm is much more lethal at its highest levels with all those abilities stated above.
Less talk more action, let's watch the Soulstorm have a go in battle in the video below...

Remember what I said with large mana battles, this one was just a typical example, I could flex my monsters in the way I wanted, I had the Dark Ha'on take the first position, and the Sandworm take the rear, I think they were my best two decisions as the Sand worm kept eliminating the enemy monsters with one shot, I love that card!
I also had the Soulstorm take a position out of enemy reach where it dealth its ranged attack silently, the team work between all monsters were superb. It was almost a flawless victory,...I always try to warn my opponents to bring their a game when they see my name. I kick ass for breakfast, I say it all the time.
And that's it for the Soulstorm challenge folks, if you'd like to join me in having this awesome gaming experience on Splinterlands, here's my referral link, I will walk you step by step in the noobiest way possible.
Don't forget that if you don't have a Hive account or haven't bought any cards, you can still play for fun by registering with your Email address. This will allow you access to a lite account. The real deal is when you buy your cards and build your deck, because only then will you have access to tournaments, daily and season quests and rewards...
If you're game, I'm always up for a challenge. Hit me up and get your ass whooped.
Battle till you drop!!!! See ya.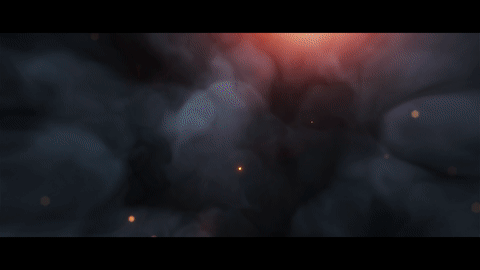 Want to join Hive through my Ref Link and let me walk you through starting up? Click the image below.