Hi all,
Today I came across a post over the market cap of social media networks in 2020. Within years, the market value has increased gradually and it's just a beginning. People are surfing from one app to another the moment they are left alone for just a minute. We all are accustomed to checking our social media accounts the moment we open our eyes in the morning.
I'm not there to criticize the situation because I'm one of the people doing the same thing every single day. However, as time goes, the apps that we use are changing. As of 2020, there is a table showing the active users of social platforms.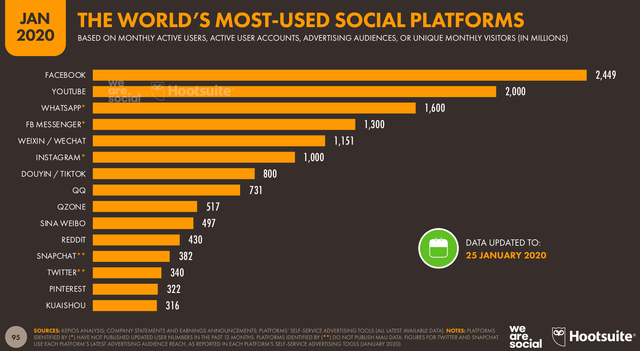 Facebook is still leading and dominating the sequence but why?
In my opinion, one of its successes is the range of the users' ages. There are 10 to 77 aged active users in this platform and even though we do not use it actively, we sometimes use it for specific purposes... Like what?
Like signing up to a new website/platform. Facebook has such an advantage compared to the other platforms. It has been there since February 2004 and it still has a use case.
One more thing for Facebook is the aspect of ads. The ads play a crucial role in Facebook because
There are 10 to 77 aged active users in this platform.
I would love to open one more parenthesis for Youtube. To be honest, not just for Youtube but for video sharing platforms. People do not waste their time reading something to be informed, they just "youtube" it. "Googling" is getting old-fashioned. Human beings seek information through video selections because it's easier and more attractive as for them.
People often use Youtube to find out information because visuals + audio is more welcomed by our brains as we are doing it every day for several...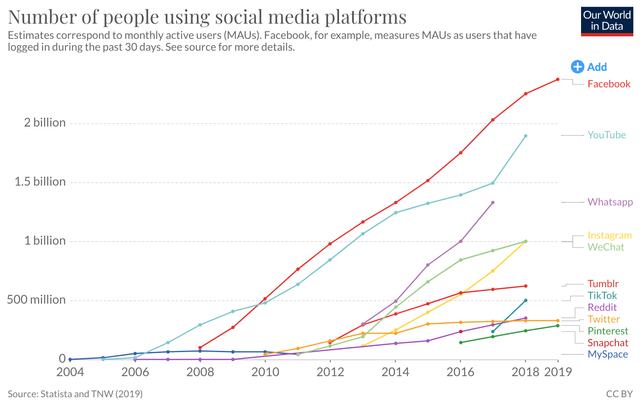 When I look at this table, the growth of Tik-Tok is astonishing. What is the rationale behind this growth? Do we like being exposed to short videos while using social media?
I base this growth to the fact that video is the new source of input and the length of a video is also quite important. Tik-Tok has a cure for both the desire for video and for shortened input. It's highly related to our shorter attention spans .😥
For now, it's quite difficult to have a place among these monopolies. Each one has distinctive features to separate itself from the rest. However, for a period of time, the growth of Youtube, Instagram, and Tik-Tok like platforms will be inevitable.
In terms of Hive
Hive is not just a blog. When someone says Hive is a blog like Blogspot, I find this statement too superficial.
Hive is an ecosystem. In our ecosystem we have blogs; @threespeak video-sharing platform; Hivesigner or Hive KeyChain for identity or permissions; @dbuzz Twitter or Quora and several Blockchain-based games.
Each of these platforms is unique. They are operating perfectly and steadily growing. However, we are supposed to take part in the race with giants. Even though, for now, we cannot beat them; we can compete with them because we have great incentives such as freedom of their voice and money.
The mainstream media trend will eventually start sinking. There are hundreds of YouTubers complaining about the censorship; People want to own their data as they are aware of the fact that their data is sold. Once the paradigm shift occurs, Hive must have evolved into something huge to welcome these people.
When will we be able to have a place in the top ranking social media platforms? In 5 years, 10 years or even less or more? What other steps need to be taken?
What can "WE" do for the sake of our ecosystem?
Please enlighten us with your perspective. Thanks for reading.
Regards,
Sources