Es ist schon etwas her... meine erste Reise in der ich Europa verlassen habe und für eine längere Zeit außerhalb des Landes war. Mit meiner Reise verbunden habe ich ganz viele tolle Erinnerungen. Diese möchte ich euch natürlich nicht vorenthalten. Meine Reise begann in Frankfurt... von dort bin ich nach Dubai geflogen... von Dubai über Malaysia... dann war ich in Bangkok. Während dieser Reise sind natürlich viele Fotos und Geschichten entstanden die ich in dieser Beitrags-Serie euch zeigen möchte. Anlass der fast 17 tägigen Reise war übrigens das Steemfest 4, welches in Bangkok stattgefunden hat. Ich hoffe mal dass wir dieses Jahr die Gelegenheit haben, ein Hive-Fest veranstalten zu können, was mich sehr freuen würde!
Wie gesagt hat meine Reise in Frankfurt angefangen und bin von dort nach Dubai geflogen. Dort hatte ich einen mehrstündigen Aufenthalt. Leider konnte ich den Airport nicht verlassen weil ich nur knappe drei Stunden in den Flughafen-Terminal mich auf aufhalten durfte. Mitten in der tiefen Nacht ging meine Reise dann weiter nach Malaysia. In Kuala Lumpur angekommen hat mich der Liebe @redpalestino mich freundlichst begrüßt und für ein paar Tage aufgenommen. Wir haben in Malaysia eine sehr sehr schöne Zeit verbracht und ich konnte hier den ersten Eindruck des asiatischen Lebens bekommen. Nach knapp einer Woche ging mein Flieger von Kuala Lumpur nach Bangkok. Dieser Flug war recht günstig der hat mich nur knapp 80 € gekostet da die Inlandsflüge in Asien ziemlich günstig sind. In Bangkok angekommen habe ich dann am SteemFest 4 teilgenommen. Nach dem Steemfest haben sich einige der Steemians auf den Weg auf die Insel Koh Chang gemacht... ich war natürlich auch dabei. ;-)
Das war nur ein kleiner, grober Überblick was ich in Asien erlebt habe! In dieser Serie möchte ich genauer darauf eingehen und jedes Bild einmal mit einer kleinen Story oder nur einen kleinen Hinweis beschreiben. Die Bilderserie beginnt am Anfang meiner Reise dann kommen Bilder und Impressionen aus Malaysia dann Bilder aus Bangkok sowie zum guten Schluss Bilder aus Koh Chang. Ich hoffe dir gefallen die Bilder und die Stories dahinter. Hast du Fragen dann schreibe es doch gerne in die Kommentare.


It's been a while... my first trip out of Europe and out of the country for a long time. I have a lot of great memories connected with my journey. Of course I would not like to keep them from you. My journey began in Frankfurt... from there I flew to Dubai... from Dubai via Malaysia... then I was in Bangkok. During this trip I took a lot of pictures and stories which I would like to show you in this article series. By the way, the reason for the almost 17 day trip was Steemfest 4, which took place in Bangkok. I hope that this year we will have the opportunity to organize a Hive-Fest, which would make me very happy!
As I said, my trip started in Frankfurt and I flew from there to Dubai. There I had a stay of several hours. Unfortunately I couldn't leave the airport because I was only allowed to stay for about three hours in the airport terminal. In the middle of the deep night my journey went on to Malaysia. Arrived in Kuala Lumpur the love @redpalestino welcomed me and took me in for a few days. We spent a very very nice time in Malaysia and I could get the first impression of the Asian life here. After nearly one week my plane went from Kuala Lumpur to Bangkok. This flight was quite cheap which cost me only 80 € because the internal flights in Asia are quite cheap. Arrived in Bangkok I participated in the SteemFest 4. After the SteemFest some of the Steemians made their way to the island Koh Chang... of course I was there too ;-)
This was only a small, rough overview of what I experienced in Asia! In this series I'd like to take a closer look at it and describe each picture once with a little story or just a little note. The picture series starts at the beginning of my journey then come pictures and impressions from Malaysia then pictures from Bangkok and finally pictures from Koh Chang. I hope you like the pictures and the stories behind them. If you have any questions please feel free to write it in the comments.
---
Die Reise beginnt - Meine Flüge nach Asien
Da ich sehr aufgeregt war, konnte ich kaum schlafen. Meine Reise aus der Heimat ging um Halb 6 Uhr morgens los. Leider mussten wir das Auto noch freikratzen.
The journey begins - My flights to Asia
Since I was very excited, I could not sleep much. My journey from home started at half past five in the morning. Unfortunately we had to scrape the car free.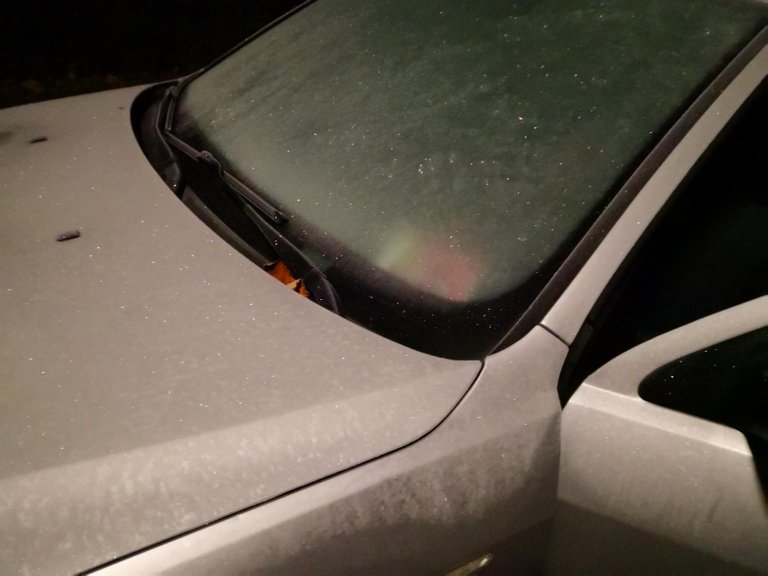 Keine Halbe Stunde später hatte ich schonmal meinen ersten Kaffee und saß in der Bahn in Richtung Frankfurter Flughafen.
Less than half an hour later I had my first coffee and sat in the train to Frankfurt airport.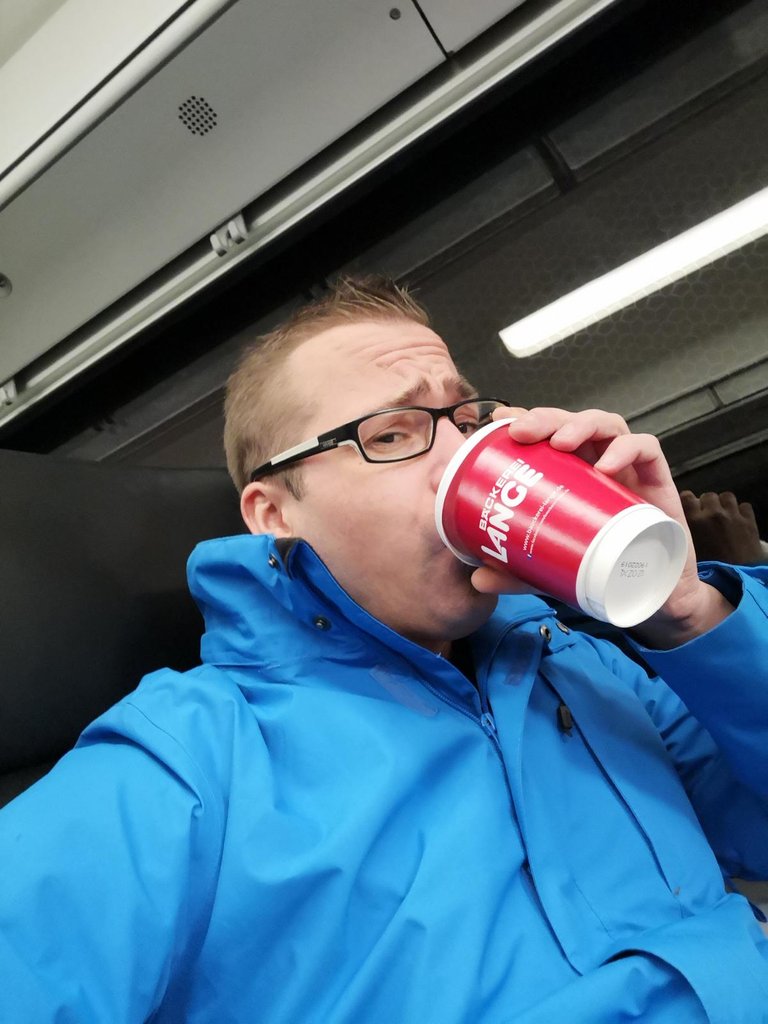 Am Frankfurter Flughafen angekommen habe ich dann um ca. 10:30 bei meiner Airline Emirates eingecheckt und meine Reiseunterlagen abgeholt.
Arriving at Frankfurt airport I checked in at about 10:30am at my airline Emirates and picked up my travel documents.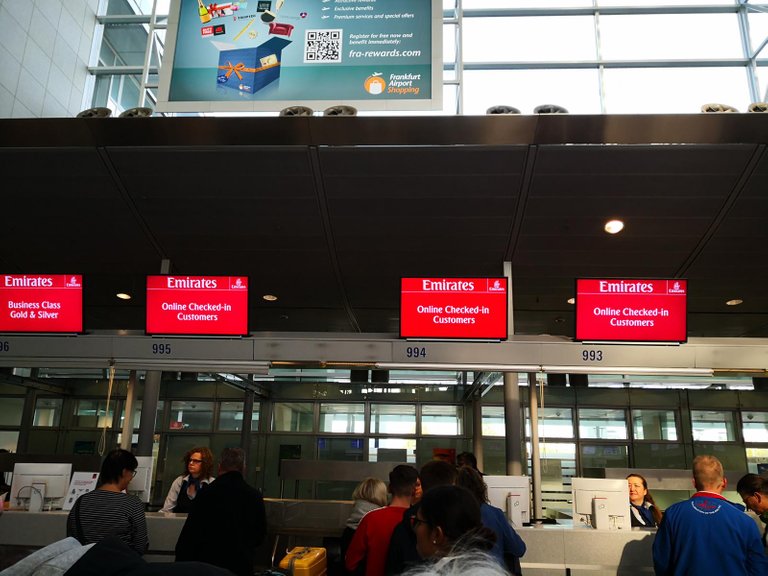 Ich war sehr früh vor Ort und hatte noch jede Menge Zeit, mich auf diese lange Reise vorzubereiten. Ich hab mir in der Mc Donalds Lounge noch einen weiteren Kaffee besorgt und mir den Flugverkehr angeschaut.
I was there very early and still had plenty of time to prepare for this long journey. I got another coffee in the Mc Donalds Lounge and had a look at the air traffic.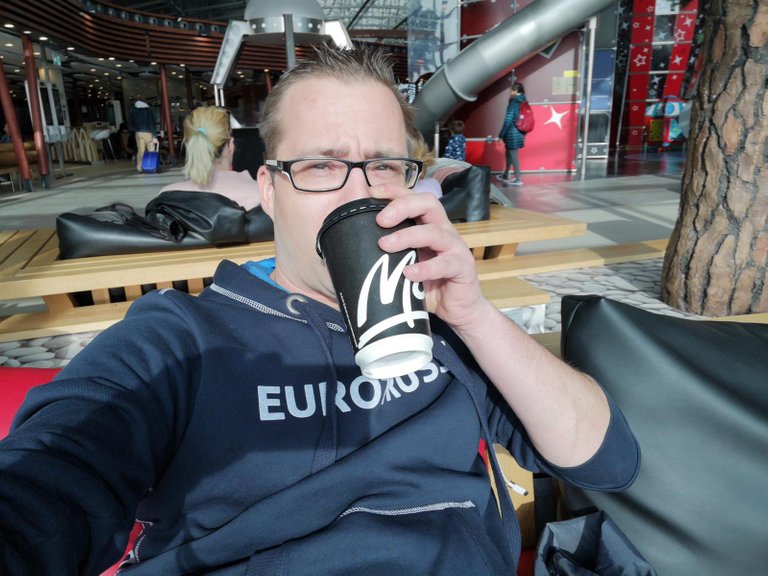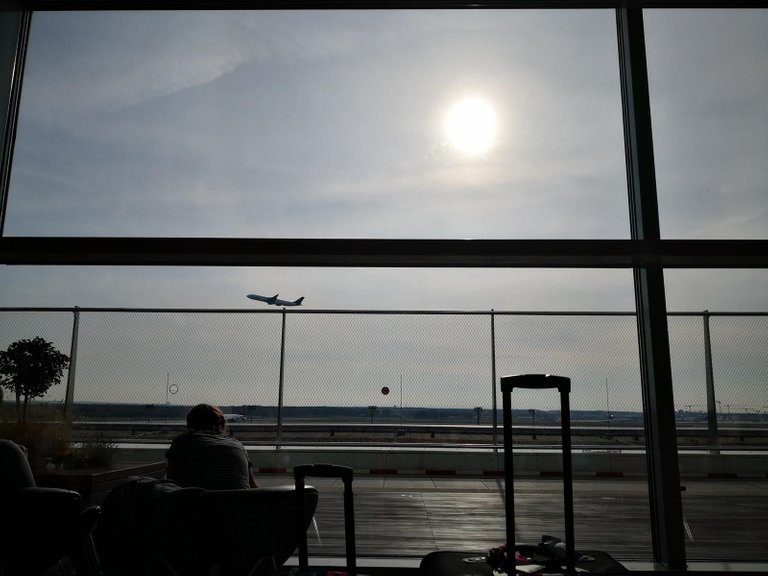 ---
Und dann war es auch schon fast so weit. Das Boarding beginnt und ich bin sehr aufgeregt.
And then it was almost time. The boarding begins and I am very excited.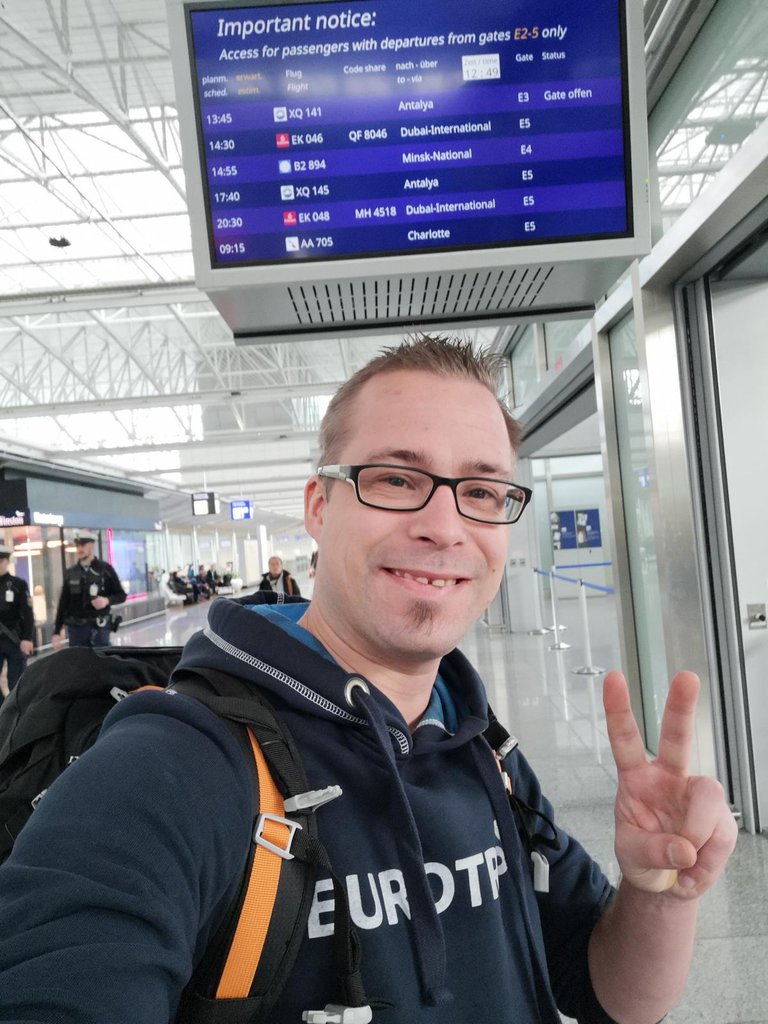 Bisher habe ich noch nie in einem so riesigen Flugzeug gesessen. Hier begutachte ich das Flugzeug von außen kurz vor dem Boarding.
I've never been in such a big plane before. Here I inspect the plane from the outside shortly before boarding.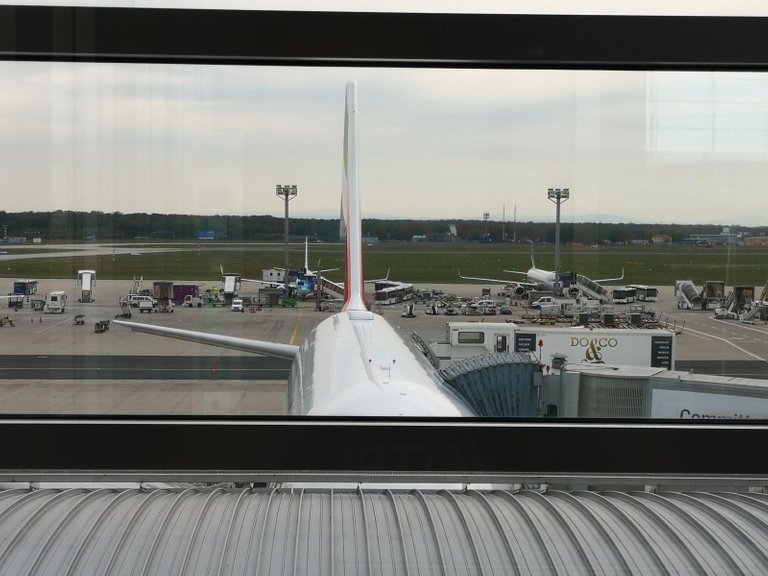 Ein Riesengroßes Flugzeug - Es hat schon ein paar Minuten gebraucht, bis ich zu meinem Sitzplatz gekommen bin. Habe mir natürlich direkt einen Fensterplatz an den Flügeln gebucht.
A huge plane - It took me a few minutes to get to my seat. Of course I booked a window seat directly at the wings.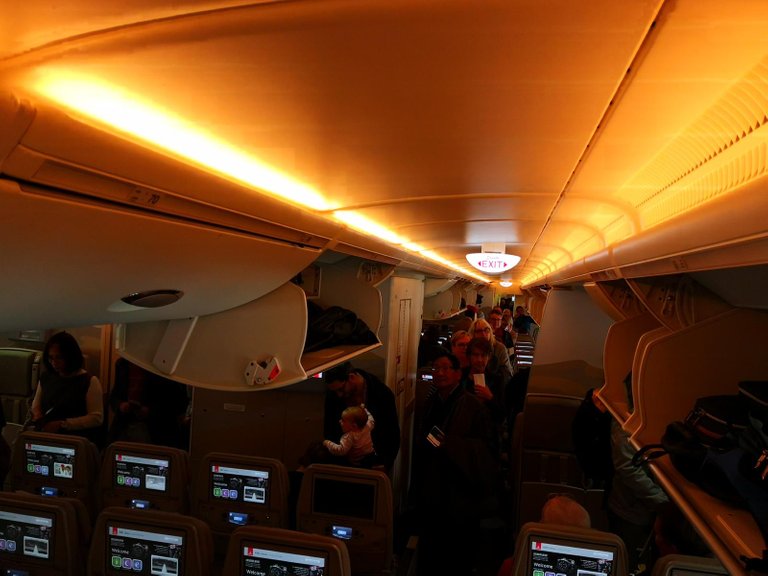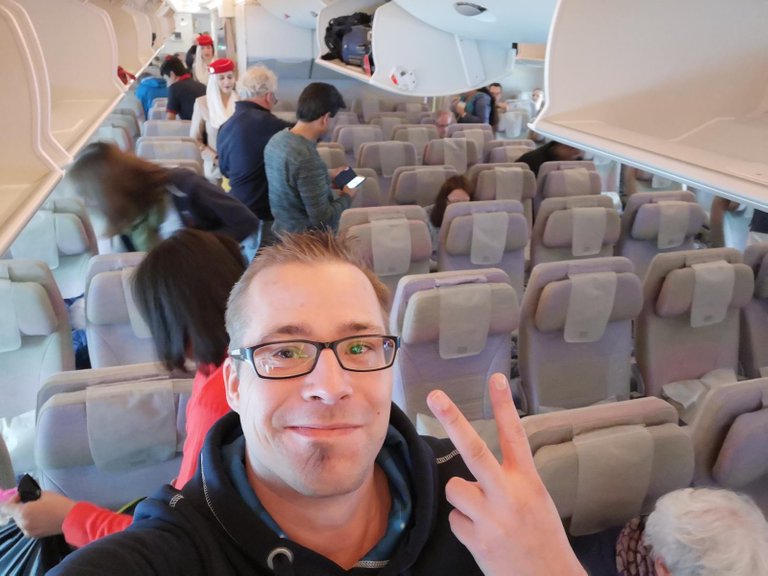 ---
Das Entertainment System war sehr gut. Ich konnte den langen Flug über Filme schaun, Musik hören oder auch einfach die Außenboard Kameras ansehen und schauen, wo wir uns gerade befinden.
The entertainment system was very good. I could watch the long flight over movies, listen to music or just look at the outboard cameras and see where we are.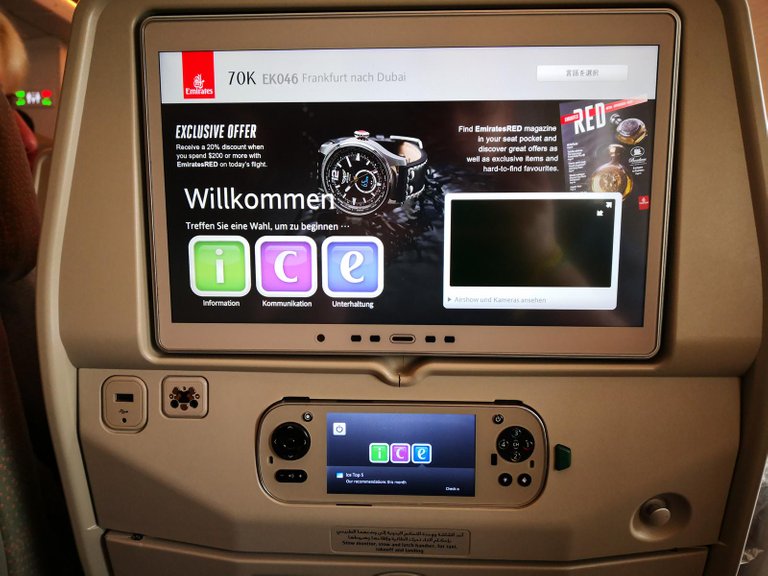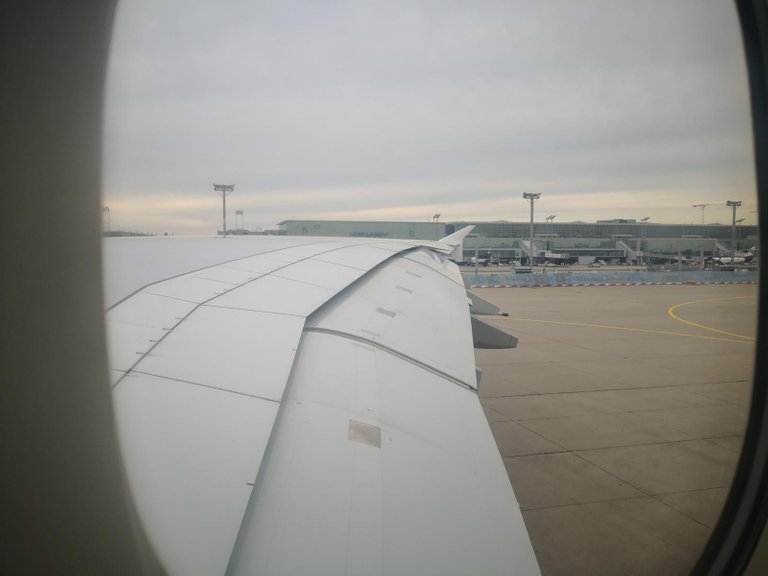 ---
Das Abendessen war super. Im Vornherein habe ich mich über das Essen bei Emirates informiert und fast ausschließlich nur gute Resonanz gesehen. Für mein Abendessen habe ich mir dann ein leckeres Bier - ein Heineken bestellt. :)
Dinner was great. In the beginning I informed myself about the food at Emirates and saw almost exclusively only good response. For my dinner I ordered a delicious beer - a Heineken. :)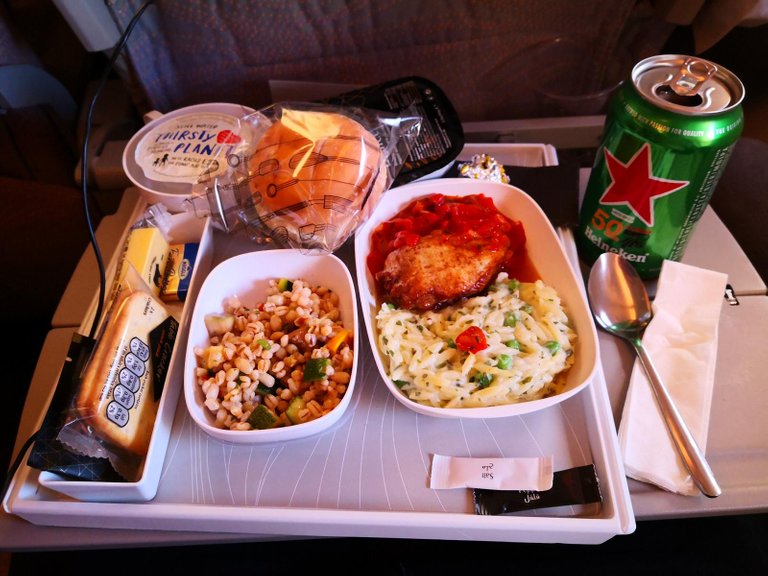 ---
Nach dem Abendessen habe ich dann versucht ein wenig die Augen zu schließen und zu schlafen. Kurz vor der Landung in Dubai bin ich dann wieder wach geworden und konnte die Landung mitten in der Nacht wahrnehmen. Aus dem Fenster schauend, konnte ich einige Öl Bohranlangen sehen die Feuer in die Luft geschossen haben. War leider aber zu Dunkel hiervon Fotos zu machen.
In Dubai angekommen und gelandet musste ich dann ca. 4 Stunden warten und im Terminal überbrücken bis es dann weiter nach Kuala Lumpur ging.
Um ca 3 Uhr nachts hat das Boarding in Dubai begonnen und mein Frühstück habe ich um ca 8:15 Uhr bekommen. Zum Frühstück gab es für mich Orangensaft, Apfelsaft, ein Omelett, ein Croissant und einen Joghurt, Ein paar Kartoffeln waren auch noch dabei. Im großen und ganzen ein super Frühstück und ich bin satt geworden.
After dinner I tried to close my eyes a little and sleep. Shortly before the landing in Dubai I woke up again and could see the landing in the middle of the night. Looking out of the window I could see some oil rigs shooting fires into the air. Unfortunately it was too dark to take pictures of them.
Arrived and landed in Dubai I had to wait about 4 hours and spend some time in the terminal until I had to go on to Kuala Lumpur.
At about 3am the boarding in Dubai started and I got my breakfast at about 8:15am. For breakfast I had orange juice, apple juice, an omelette, a croissant and a yoghurt. All in all a great breakfast and I got enough.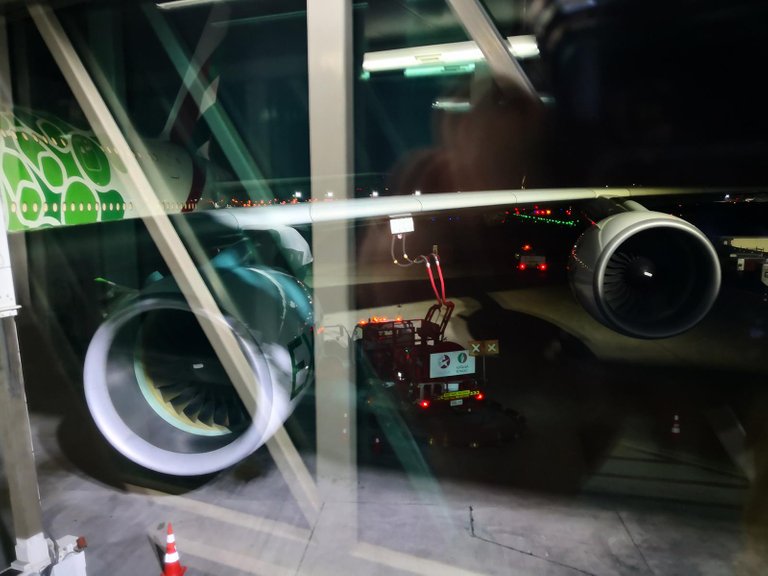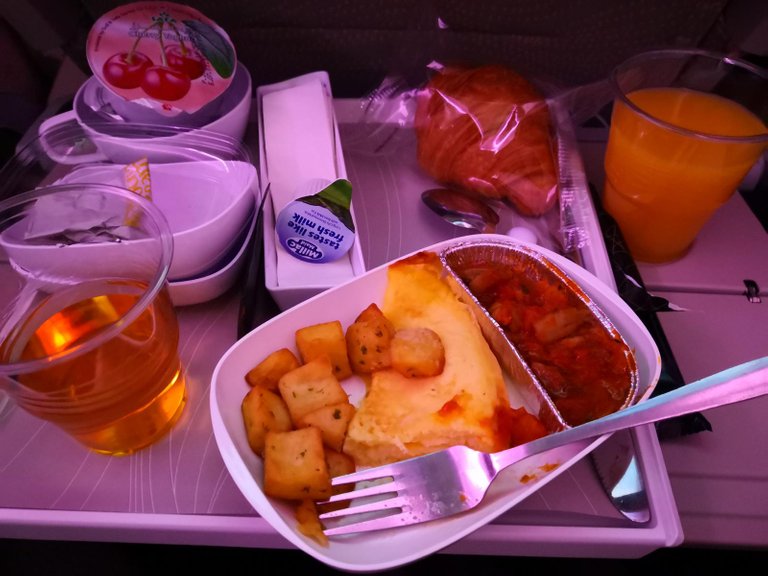 ---
Nach dem Frühstück hats auch nicht mehr lange gedauert und der Endspurt wurde eingeleitet... die Landung in Kuala Lumpur (Malaysia).
After breakfast it didn't take long and the final rush was initiated... the landing in Kuala Lumpur (Malaysia).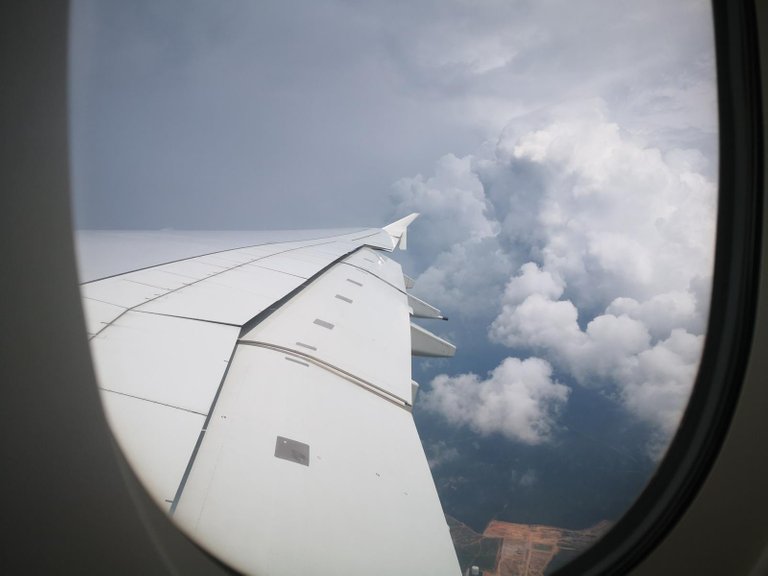 Die Landung war sehr ruhig und hat super geklappt :)
The landing was very calm and went great :)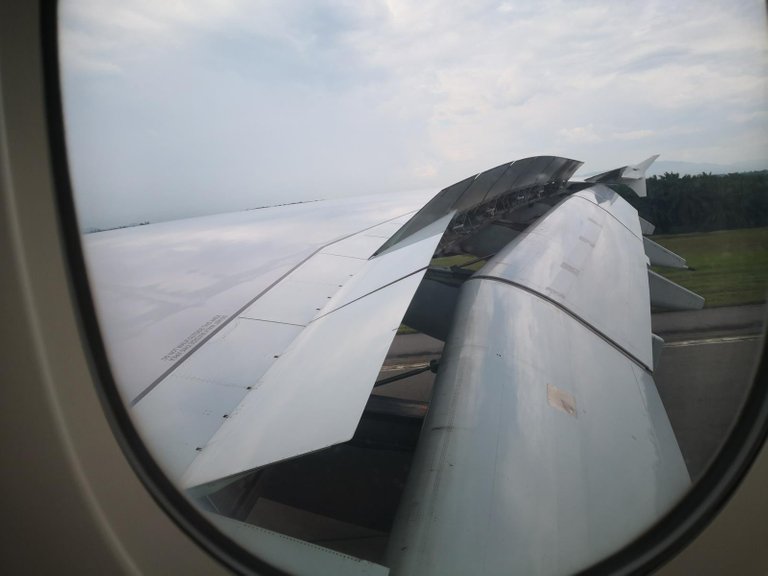 ---
Das wars für's erste - Die Reise nach Asien hat begonnen - In dem nächsten Beitrag dieser Serien berichte ich über meine ersten Tage in Malaysia und was ich dort erlebt habe. Bleibt gespannt und bis demnächst!
Viele Grüße
~louis
That's it for now - The journey to Asia has begun - In the next article of this series I will report about my first days in Malaysia and what I experienced there. Stay tuned and see you soon!
Many greetings
~louis