It's high time I wrote a post about my wonderful experience at the Old Siam Plaza as I did promise some of the vendors. I have not been to the Old Siam Plaza for over ten years as if I have forgotten about the existence of this old market altogether. The fact is that this shopping plaza is known as being very old fashion with sixties style shops for older people. This plaza was opened in 1993 with three floors. The first floor was for food hall and sweets shops; the second floor was full of clothes shops and tailor shops, lady shoes and handbags. There were also famous gold and jewelry shops. On the third floor used to be full of shops selling electrical gadgets and appliances including a very big repair center for electrical appliances.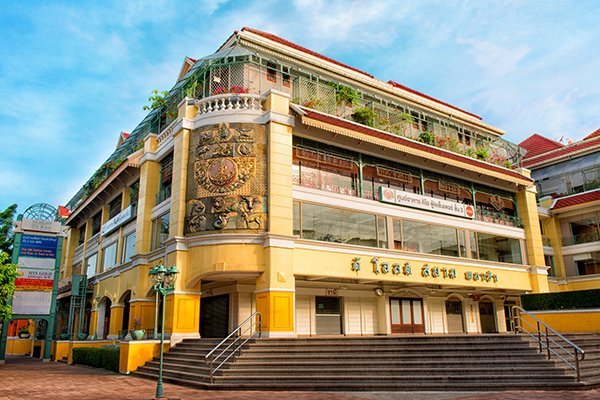 By the time I arrived at the Old Siam Plaza, the sky became very grey and cloudy. So I have to borrow a nice photo from their website to convey the old style of architecture, which was based on the popular building style during the Reign of King RamaV. The architectural style was a mixture of Thai and Western architecture. This is the only big shopping plaza in the old part of Bangkok which we called within the surrounding of the old city and Royal palaces.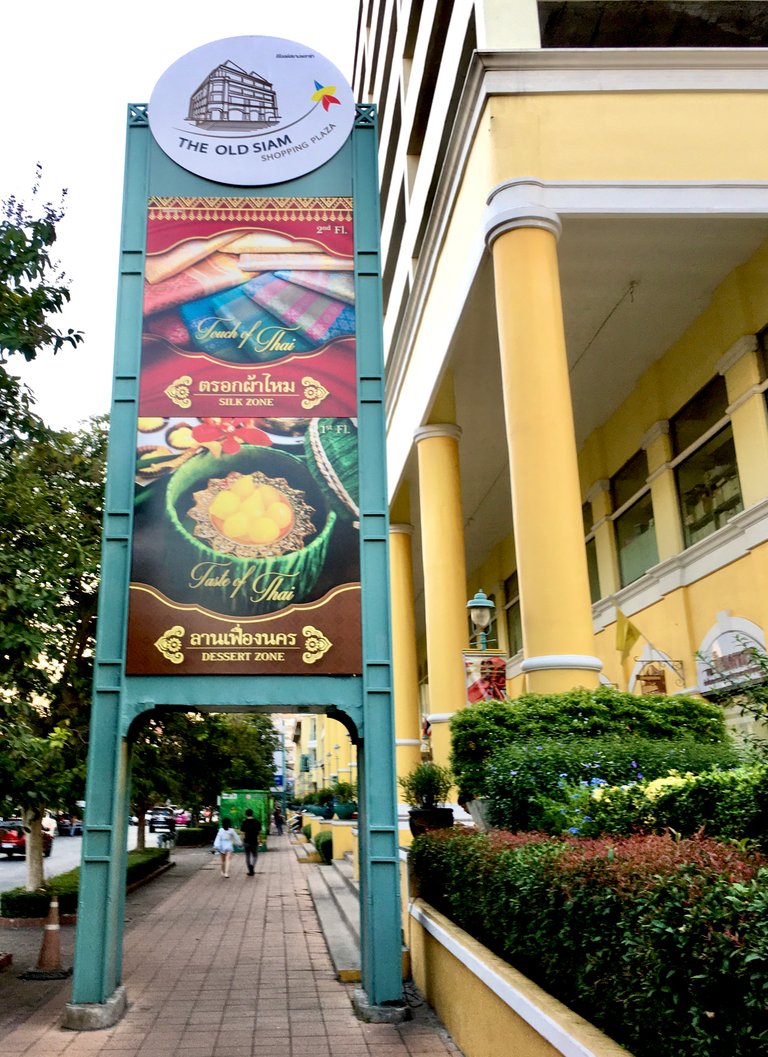 My photos of the signpost at the Old Siam Plaza.
The first time I went there was to accompany some old friends to the gun-shops on the ground floor. They were looking for some guns to practice shooting at the military shooting range. Most people knew this mall is where rich middle class ladies go to buy evening costumes for grand gala dinners or high society wedding parties. The rich men and policemen including gunmen go there to get some guns and billets at the various gun-shops. So, I was not persuaded to go out of my way there. But I needed to have my special flashlight repaired. I had asked several electrical shops about the best repair shop; they all pointed me to the Old Siam Plaza. Reluctantly, I made me way to the plaza and found the biggest repair center of electrical gadgets I had ever seen in Bangkok. The shop alone is well worth a visit! It was like something surreal as there were piles of appliances along several rows of tables manned by over fifty staff. It was like a repairing factory. But, alas several electricians told me they couldn't repair my flashlight. Amorn Electronic is the name of this big repair center; staff are usually very friendly.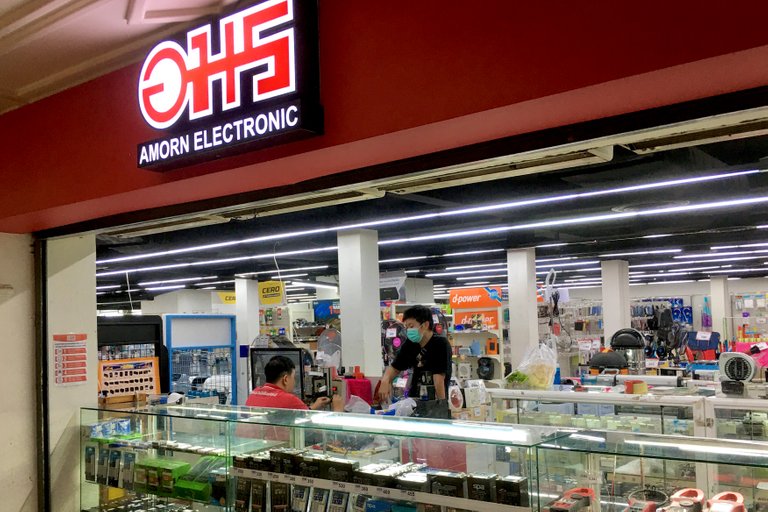 I felt very dejected and sad to know that my expensive and cute flashlight has to die from me forever. I was really attached to this flashlight as it used to accompany me on some adventurous journey on trains and in dark caves several years ago. I should have looked after this precious flashlight; it's my fault entirely. With sadden heart I walked along the quiet corridor, the noisy sounds of people downstairs attracted my attention. I was so surprised to see a lively market selling all kinds of Thai snacks and sweets on the ground floor.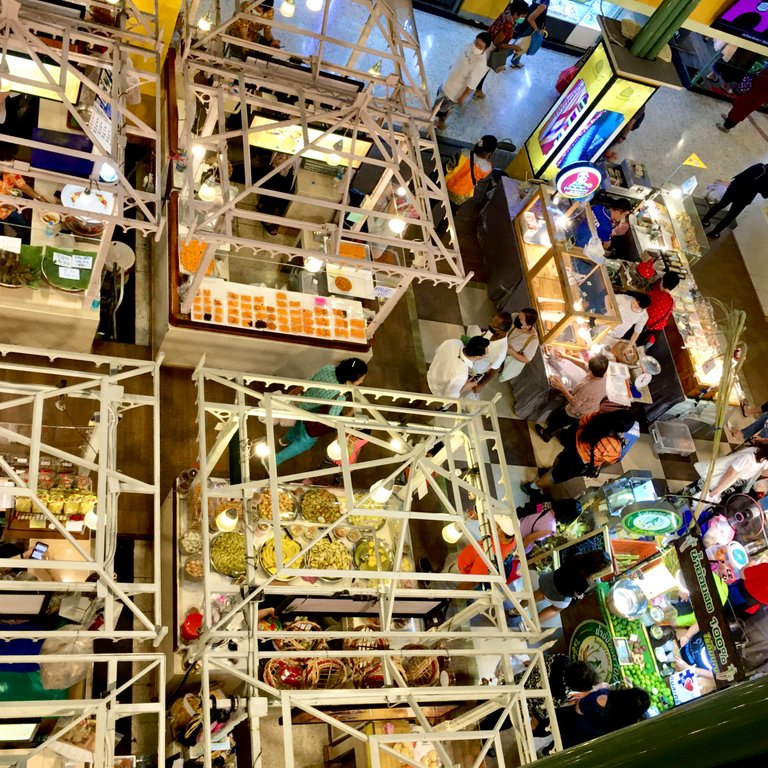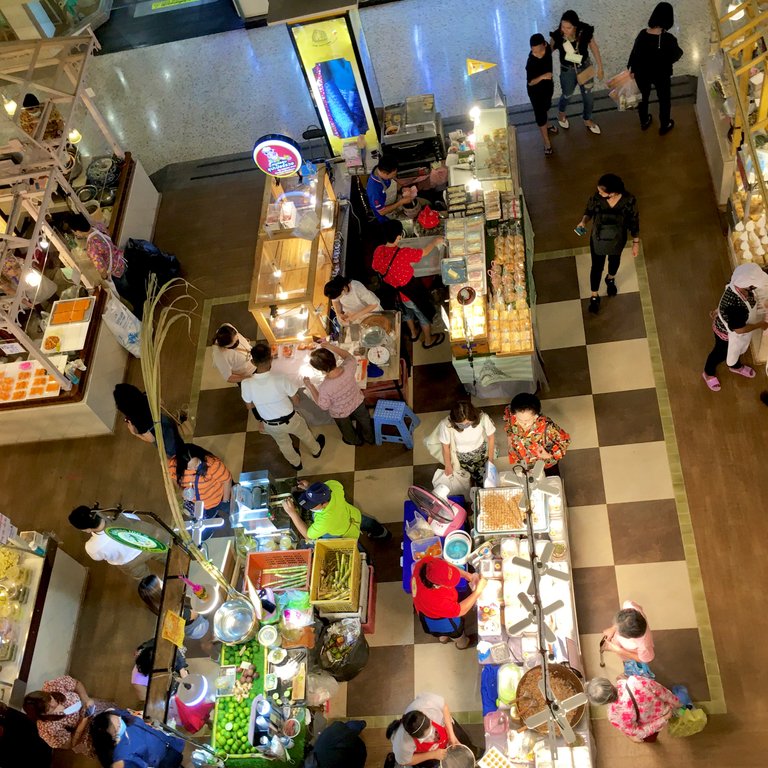 Suddenly I forgot about my dead flashlight and hurried down to the sweets shops. Why didn't I visit this plaza years ago?! This turned out to be the best place to discover and taste old style and traditional Thai sweets which are freshly made everyday. It's a heaven of best Thai sweets. Many of these vendors have been selling Thai sweets for two generations. The atmosphere was like that of a small village where vendors have known each other for twenty years; these shops have been here almost thirty years. They are well known among the local Thais who live in the old city area. This old city area used to be where old courtiers and royal staff's families lived as a community in the old days. That's probably why there are so many traditional Thai sweets vendors in this place. I just could not believe my eyes; all of my childhood Thai sweets could be bought there. I just did not know where to start.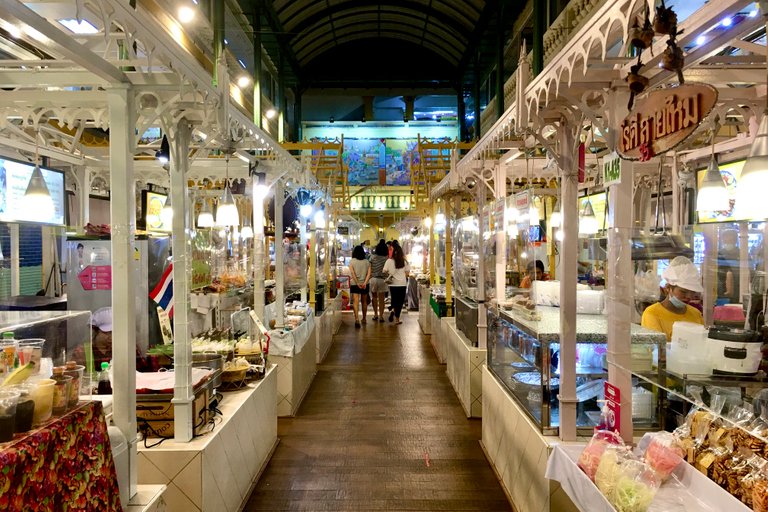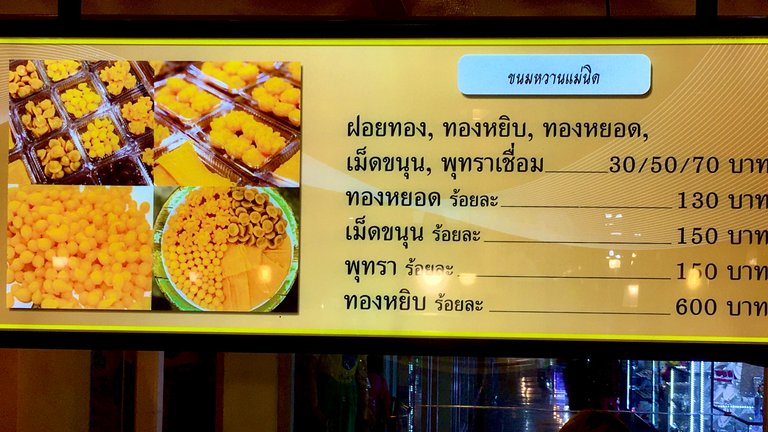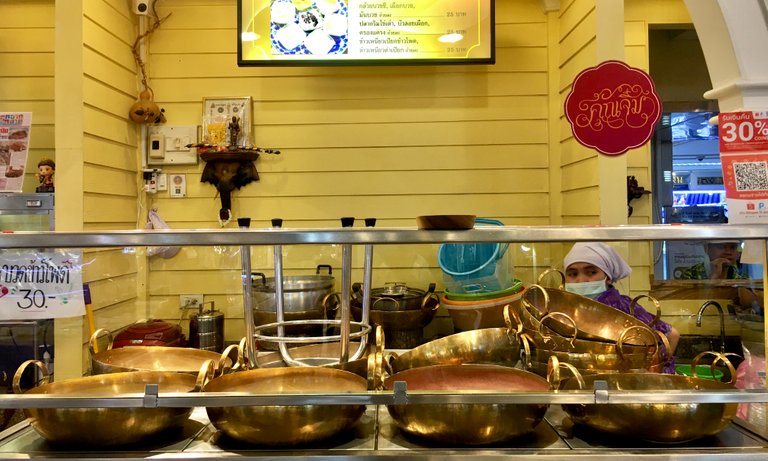 This shop has sold out all their sweets; all the brass pans were empty.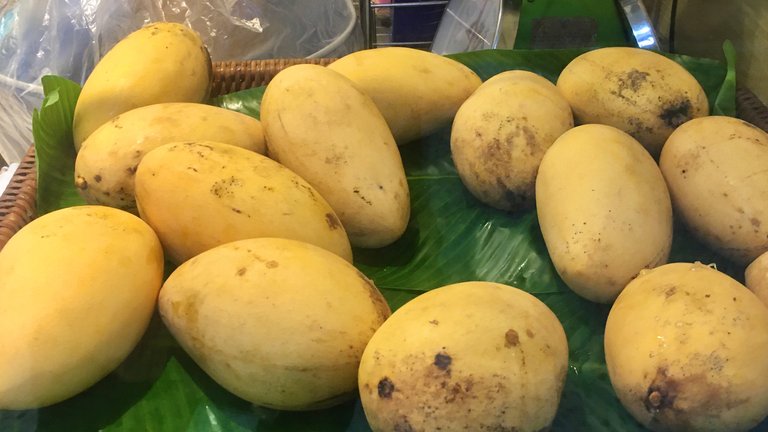 All the sticky rice was gone; only some ripe mangoes were available. A few egg custard sweets were waiting for customers, including a few take-home portions in plastic bags.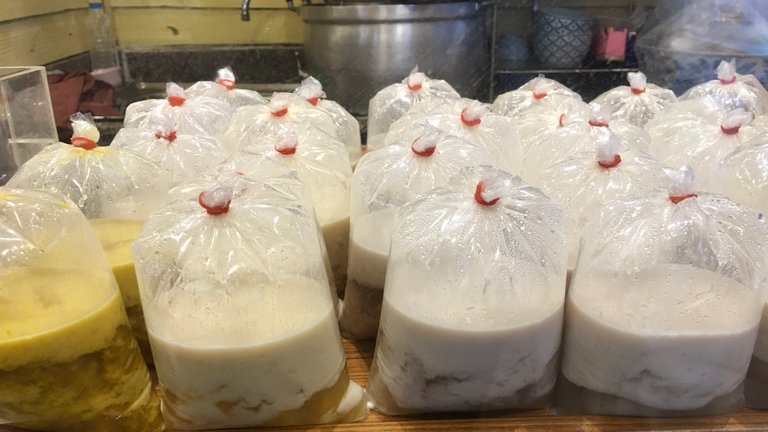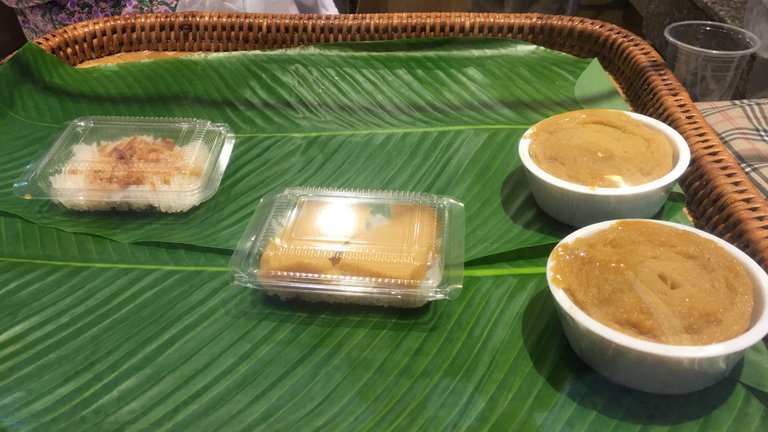 These vendors were very kind and friendly as I could ask for a bowl and spoon to eat the take-home portion there. Some gave me special price reduction as they wanted to clear their stalls early. I did not buy extra sweets as I still had to search for repair shop for my flashlight. I just had a good survey of all the snacks and sweets so I could make a plan for my next visit.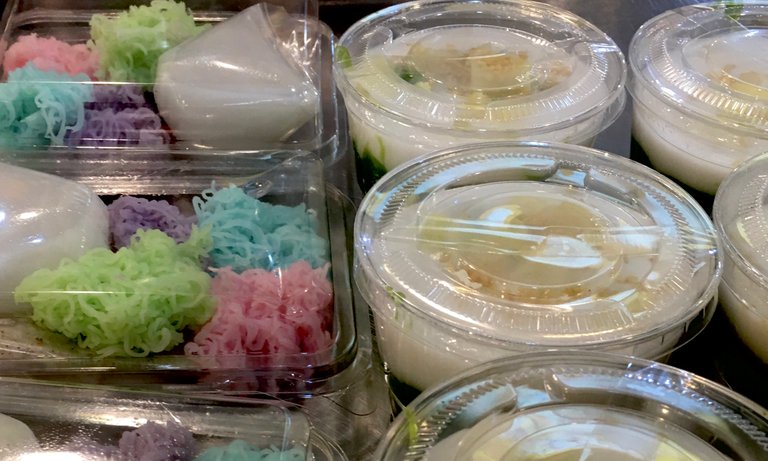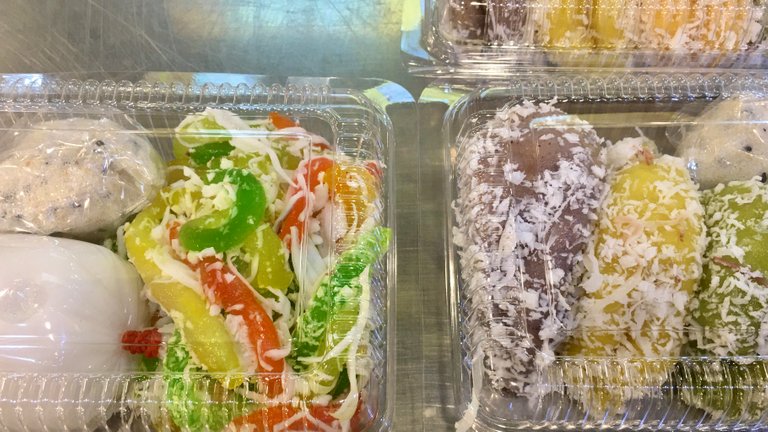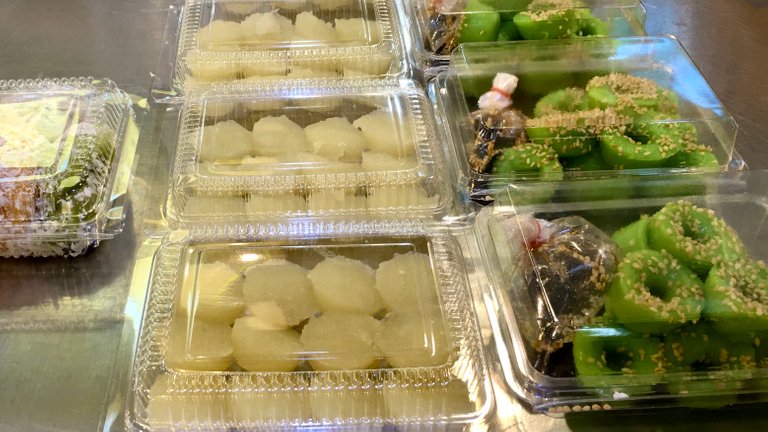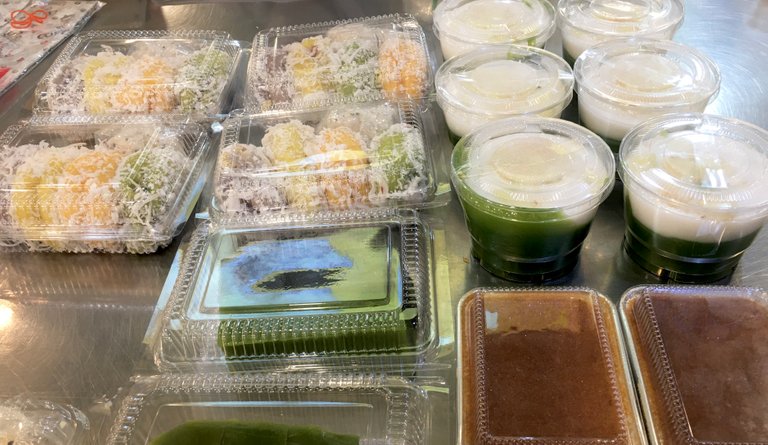 Most of these sweets are made from rice flour, coconut sugar, eggs, coconut milk and shredded coconut. The extra ingredient is the sweet fragrance of Thai incense. The water used for cooking the sweets would have jasmine flowers floated and left over the night. Some steamed sweets have to be placed in big glass jars with burning Thai incense several hours before packaging them. So, to enjoy traditional Thai sweets, you would experience the jasmine fragrance as well as the taste of coconut sugar. The high quality of these Thai sweets at very reasonable prices made me promise myself to go back with very hungry feeling next time.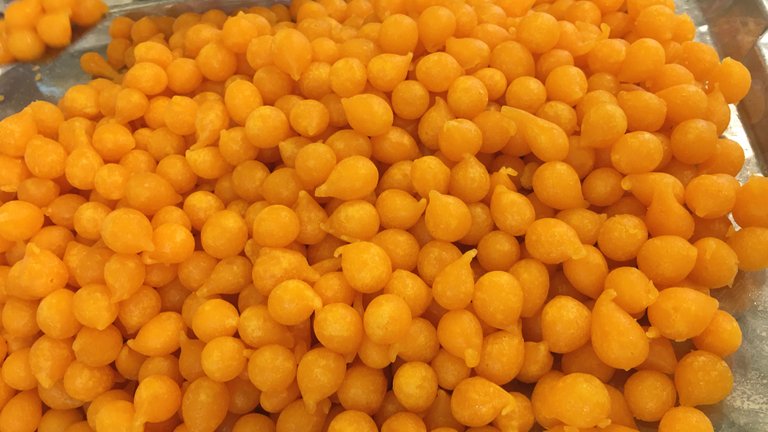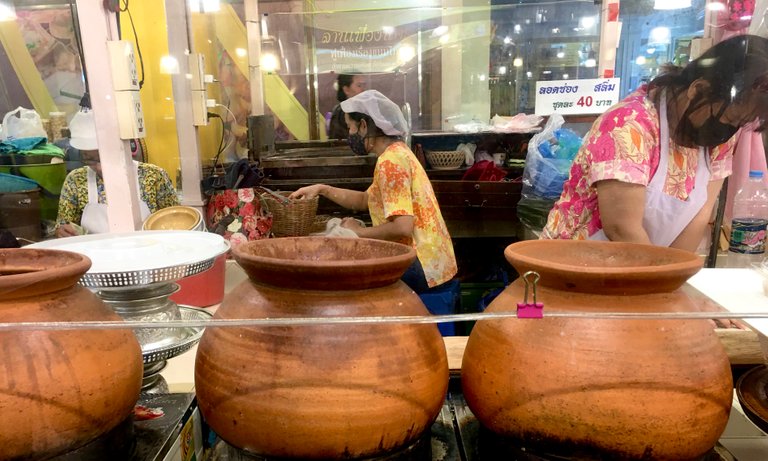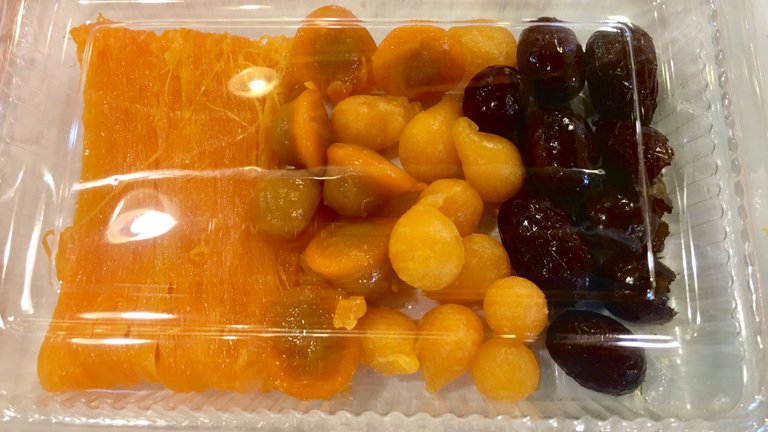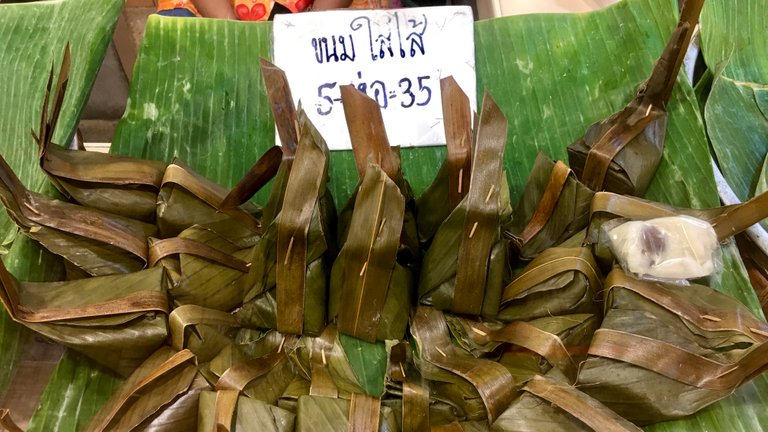 เราพึ่งจะได้ฤกษ์เขียนโพสต์ที่ไปเดินเที่ยวที่ดิโอลด์สยามมา เราไม่ได้ไปที่นั่นมาสิบปีได้ เรารู้จักที่นั่นเพราะเพื่อนๆตอนนั้นกำลังอยากเล่นปืน เราก็เลยได้ไปดูร้านขายปืนที่นั่นหลายร้าน เพื่อนไปซื้อปืนกับกระสุนปืนเพื่อไปฝึกยิงปืนกัน เราก็พลอยได้ฝึกยิงปืนไปกับเขาด้วย ตอนนั้นเราไม่รู้ว่าที่นั่นีร้านอาหารไทยและร้านขนมไทยมีชื่อเสียงหลายเจ้า เราคิดว่าที่นั่นเป็นห้างที่ขายของโบราณ สำหรับคนรุ่นเก่าและพวกผู้ใหญ่ที่ต้องการชุดหรูหราไปงานแต่งงานพวกไฮโซ เราก็เลยไม่สนใจที่นั่นเท่าไร แต่พอเราต้องการหาร้านซ่อมไฟฉายที่ราคาแพงของเรา ทุกคนบอกให้ไปที่นั่นเพราะมีศูนย์ซ่อมเครื่องใช้ไฟฟ้าที่ใหญ่ที่สุดในกรุงเทพ เราก็ต้องเดินทางไปจนได้ แม้ว่าจะไปยากและออกนอกเส้นทางปกติ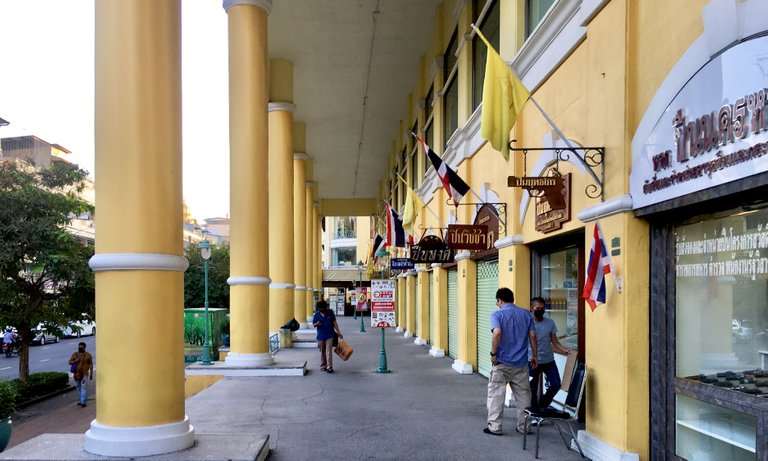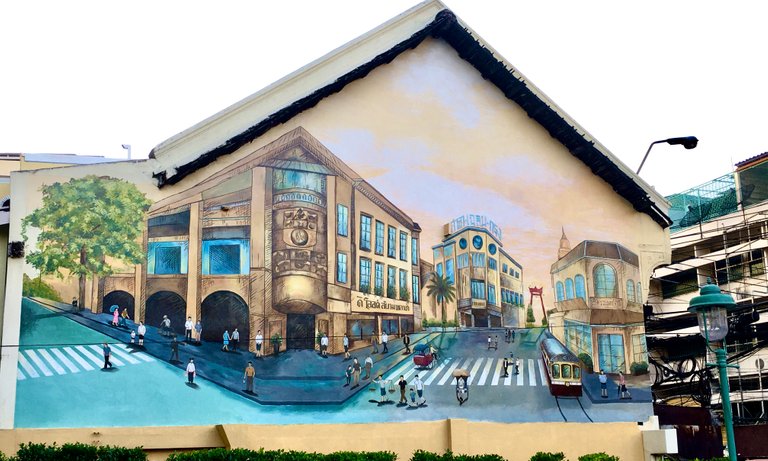 เราขึ้นไปที่ชั้นสามเพื่อไปที่ห้างอมร ห้างนี้ใหญ่มากมีคนเอาเครื่องใช้ไฟฟ้ามาซ่อมมากมาย เราเห็นเครื่องใช้ไฟฟ้าทุกชนิดวางกองเต็มไปหมด มีโต๊ะให้ช่างซ่อมนั่งทำงานหลายแถว เราดูแล้วมีมากประมาณห้าสิบโต๊ะ ของที่กองไว้ก็หลายพันชิ้น เราถามช่างหลายคนแต่ไม่มีใครรับซ่อมไฟฉายเลย เราก็เดินคอตกและเศร้ามากออกมาตามระเบียง เสียงคนตุยกันดังมาจากข้างล่าง เราก็มองลงไปเห็นร้านขายขนมไทยหลายสิบร้าน เราดีใจมากจึงรีบลงไปสำรวจตลาดขนมทันที เราลืมเรื่องเศร้าของเราและไปเดินส่องขนม เพื่อเลือกว่าจะกินอะไรก่อนดี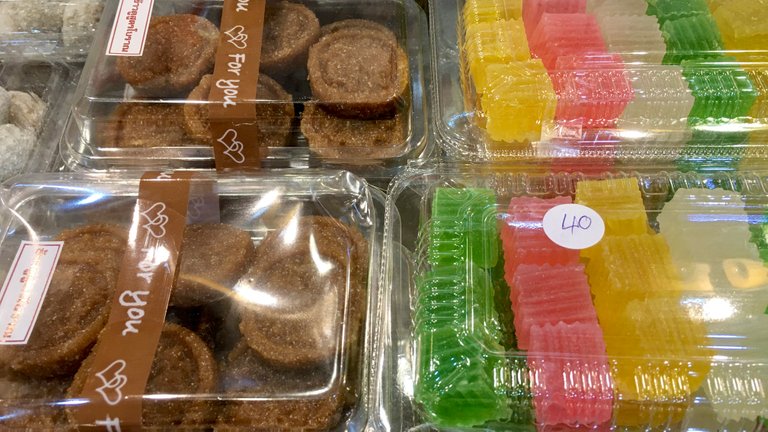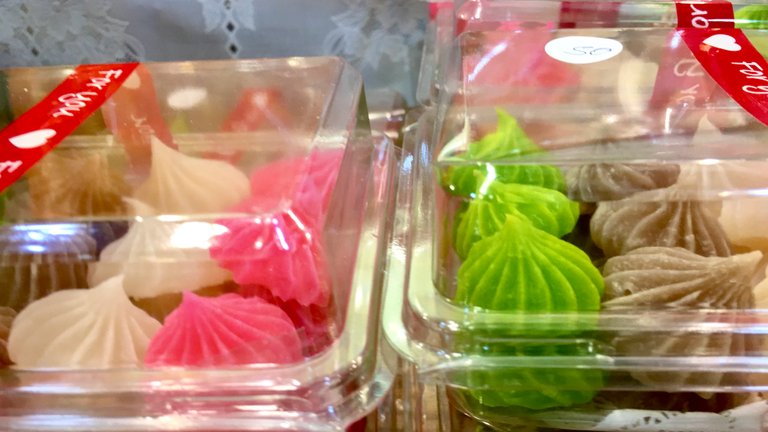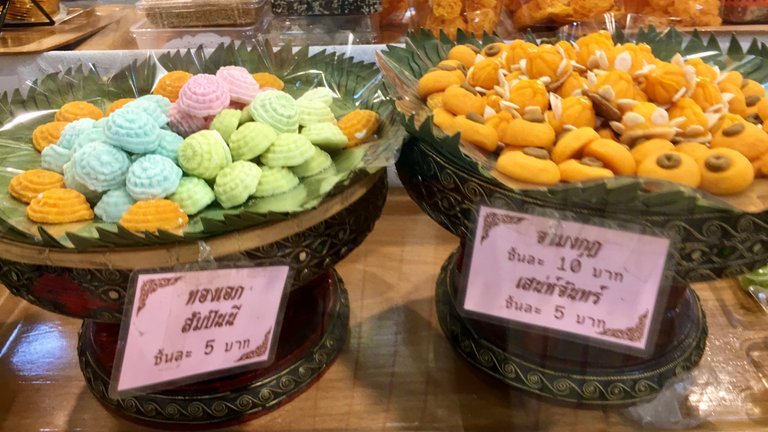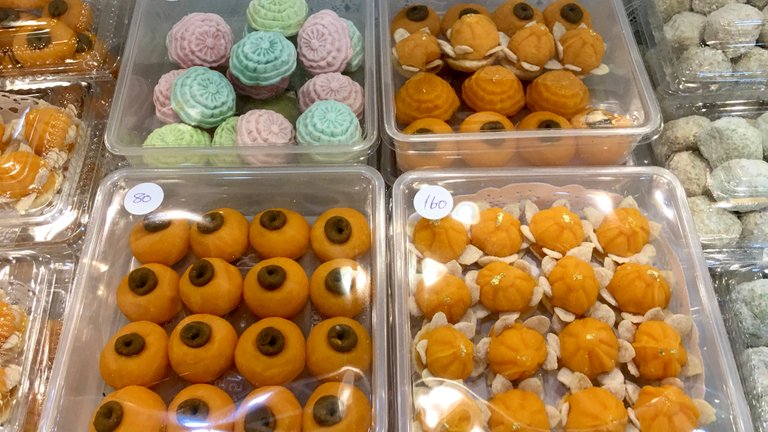 เราได้ความรู้หลายเรื่องในวันนั้น ร้านขายขนมหลายร้านมีชื่อเสียงมาตั้งแต่ยี่สิบปีที่แล้ว ที่พลาซ่านี้เปิดมาเกือบสามสิบปีแล้ว สมัยก่อนเป็นที่นิยมของบรรดาวันรุ่นมาก เพราะมีโรงหนังศาลาเฉลิมกรุงตั้งอยู่ก่อน ศูนย์การค้านี้สร้างภายหลัง ยุคสมัยเปลี่ยนไปคนสมัยใหม่พากันไปกินอาหารเกาหลีและอาหารญี่ปุ่นกันตามห้างสรรพสินค้าหรูๆ ที่นี่ก็เลยเงียบเหงาไปมาก มีแต่คนโบราณรุ่นก่อนที่ยังชอบมาหากินอาหารและซื้อขนมไทยที่นี่ ชั้นสองของที่นี่มีร้านขายผ้าไหมสวยๆหลายร้าน เราได้พูดคุยกับคนขายขนมหลายร้าน และซื้อขนมมานั่งกินที่นั่น บางร้านใจดีลดราคาให้ด้วย ขนมที่นั่นมีขื่อเสียงทุกร้าน เราเดินสำรวจเพื่อวางแผนกบัยไปที่นั่นอีกครั้งเพื่อกินอาหารและขนมไทยเต็มที่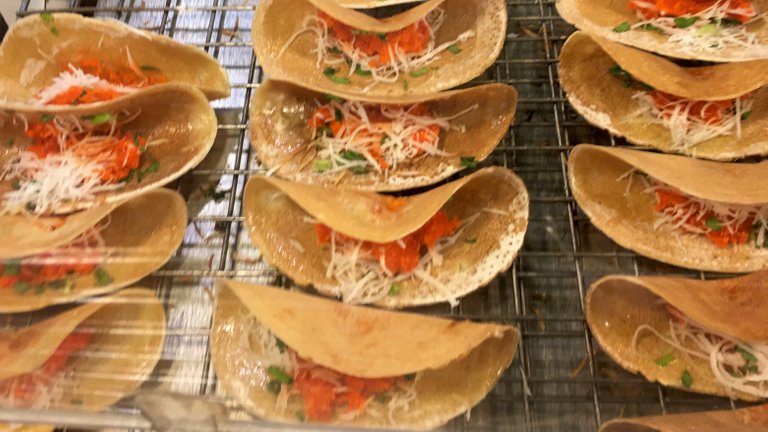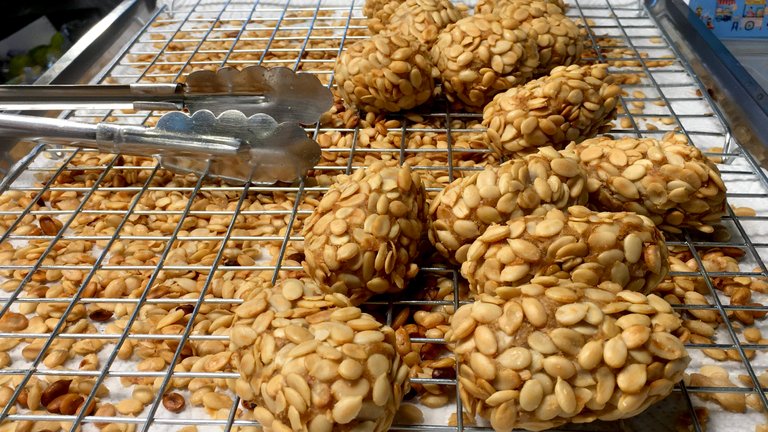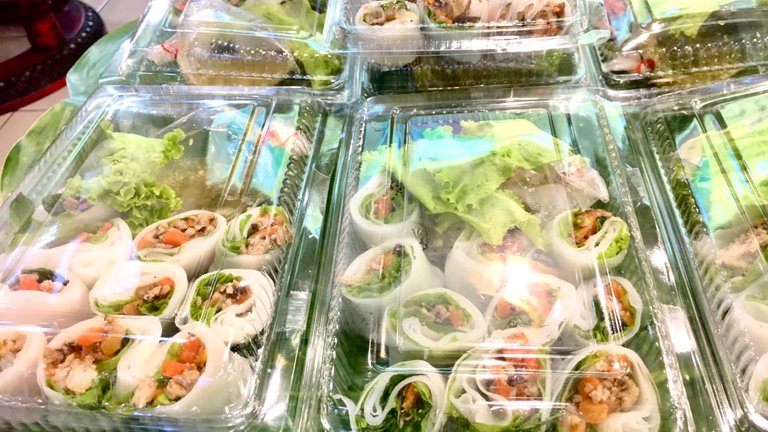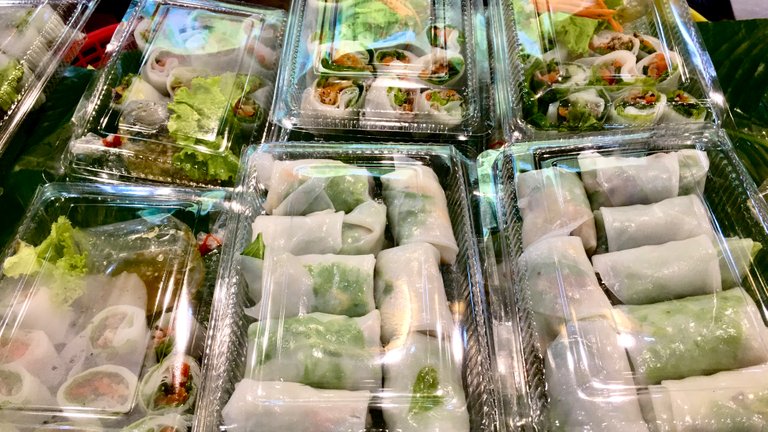 The Old Siam Plaza is opened everyday from 10am to 7pm. This is a great place to have Thai food and delicious Thai sweet. I just found out that the second floor is the largest market for Thai woven clothes in Bangkok; the best collection of Thai silks from various provinces in Thailand could be found here at reasonable prices. I think I shall have to make another post on Thai silk next! But the glorious Thai sweets with unique perfume are very addictive to me; once bitten I could never stop dreaming about my next visit there.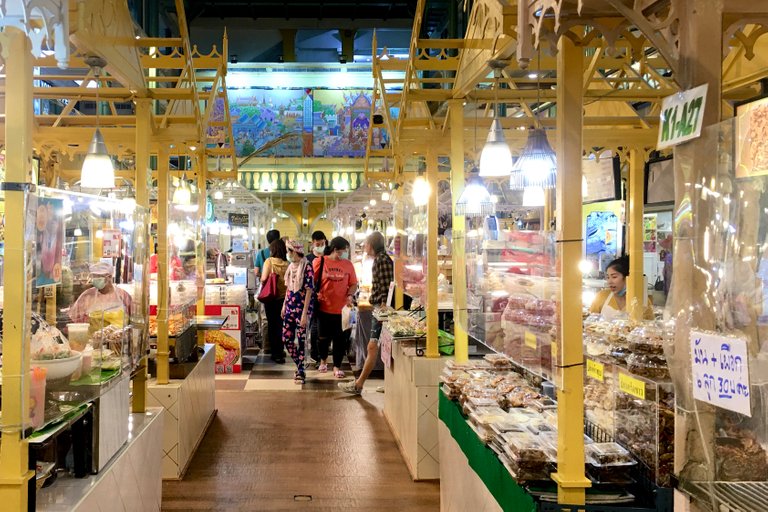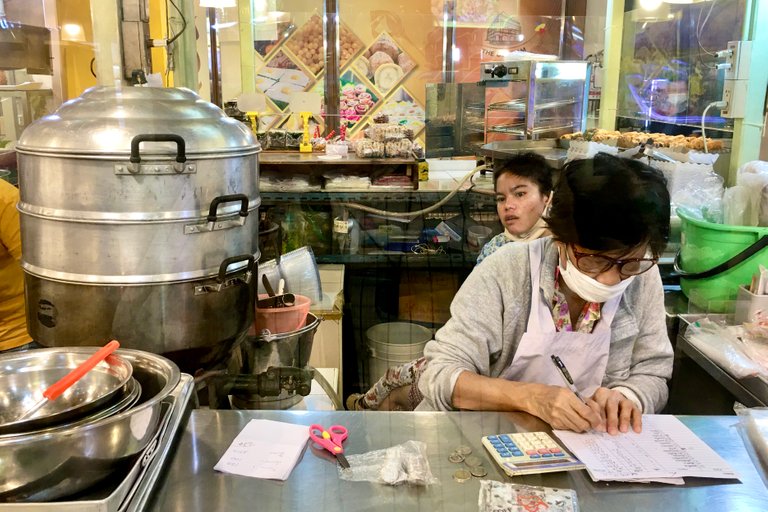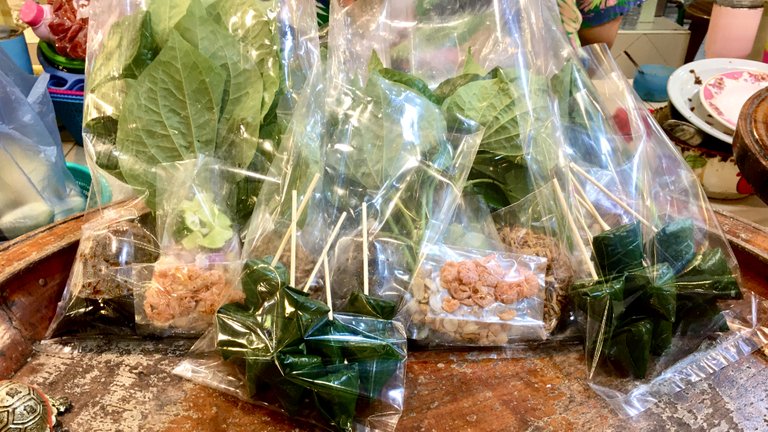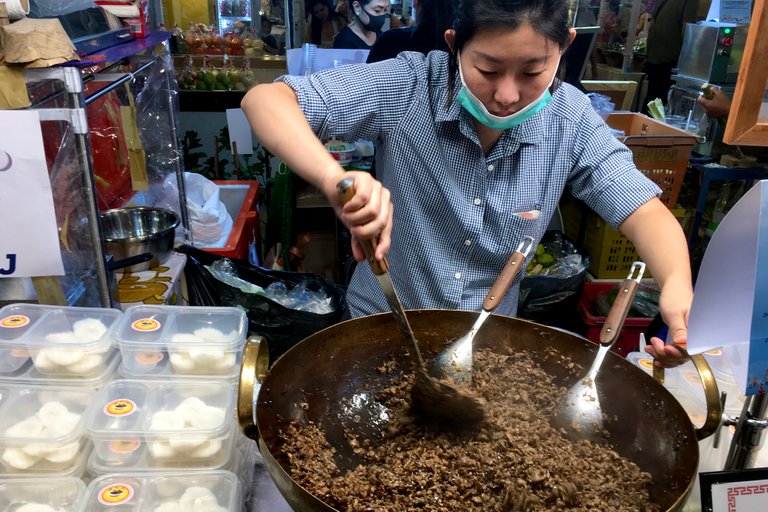 By the time I came outside the plaza, the sky was dark. I had to walk a long way back to Chinatown but I stumbled on a walking street party which delayed me another hour before I got on my bus.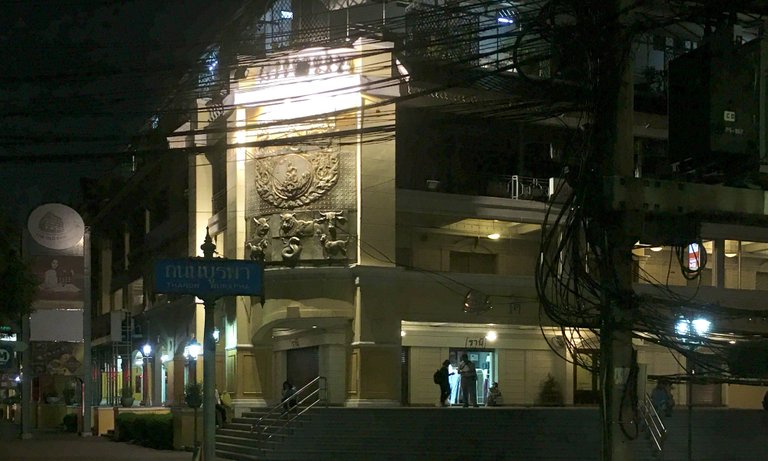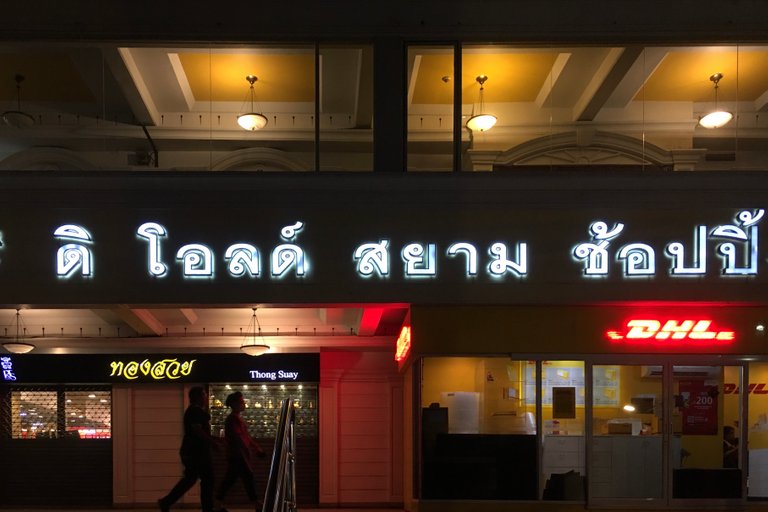 Wishing you peace, good health and prosperity.