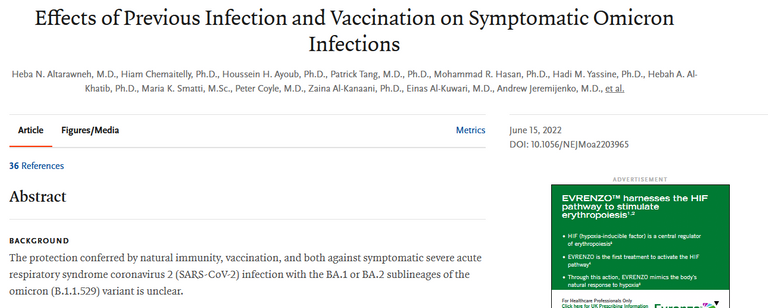 Several recent studies have indicated that Covid-19 vaccines actually increase the risk of getting the disease over time, but these studies have been ignored or even rejected by the mainstream media for months.
Now they will have to contend with a new study published in the influential New England Journal of Medicine, a highly respected academic journal.
This is a massive study that looked at data collected from over 100,000 people infected with the Omicron variant. This lends credibility to the statistical significance of the results, which are absolutely amazing. Here are the key points:
Those who have been fully vaccinated with two Moderna or Pfizer vaccines are more likely to contract Covid-19 than those who have not been vaccinated.

The boosters offer protection approximately equal to that of natural immunity, but the benefits wear off after 2-5 months.

Natural immunity lasts at least 300 days, or the duration of the study; it probably lasts a lot longer.
The study, published in the New England Journal of Medicine on June 15th, looked at the Omicron surge in Qatar that occurred from about December 2021 to February 2022, comparing vaccination rates and immunity among more than 100,000 infected individuals and not infected with Omicron.
The study authors found that those who had had a previous infection but were not vaccinated had an immunity of 46.1% and 50% against the two sub-variants of the Omicron variant, even at a range of over 300 days from the previous infection.
However, individuals who received two doses of Pfizer and Moderna vaccine, but who had not had a previous infection, were found to have negative immunity against both the BA.1 and BA.2 Omicron subvariants, indicating an increased risk of contract COVID-19 than the average person.
Six months after administering two doses of Pfizer vaccine, immunity against any Omicron infection dropped to -3.4%. But for two doses of the Moderna vaccine, immunity against any Omicron infection dropped to -10.3% more than six months after the last injection, although the authors reported that three doses of Pfizer vaccine increased immunity at over 50%, this was measured just over 40 days after the third vaccination, a very short interval. In comparison, natural immunity persisted around 50% if measured over 300 days after the previous infection, while immunity levels dropped to negative values ​​270 days after the second vaccine dose.
These data indicate a risk of decreased immunity with the third dose of the vaccine over time.
This is coupled with the current narrative from the media that vaccines should mitigate the effects. But even that claim has been questioned, as recent studies indicate vaccinated people may be much more likely to die than unvaccinated. According to The Exposé:
The Canadian government has confirmed that the vaccinated population is responsible for 4 out of 5 deaths from Covid-19 that have occurred in the country since mid-February 2022, and that 70% of these deaths occurred in the triple vaccinated population.
References:
https://www.nejm.org/doi/full/10.1056/NEJMoa2203965
https://expose-news.com/2022/06/15/vaccinated-4-in-5-covid-deaths-canada-since-feb/


BLOGGING
GEOPOLITICS | ENVIRONMENT | WAR | ECONOMICS | SOCIETY | GAMING

CURRENTLY PLAYING



IF YOU SIGN UP ON THIS GAMES WITH MY REF LINK CONTACT ME FOR HELP