Who's been watching the Australian Open? I know @erikah has. After an interrupted build up to the open we're in full swing now.
It's great that we're getting crowds back at sports events but the crowds at Melbourne Park have drawn criticism for their "Siiiiiuuu" chants which has been adopted over from football. "Si" (also spelled "SIU") means "yes" in Spanish and when Cristiano Ronaldo scores, he yells it upon landing his trademark celebration in which the crowd yells it with thunderous effect.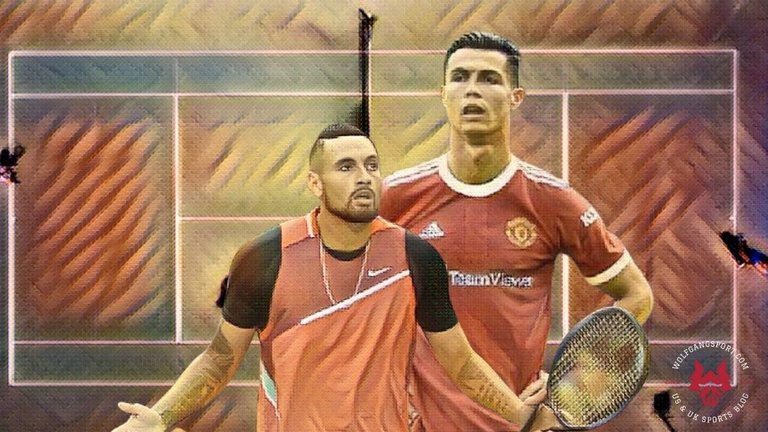 The local Melbourne crowd have adopted it especially toward local fan favourite Nick Kyrgios but is it inappropriate and un-tennis like? Is it something more akin to Pamplona's Running of the Bulls?
Melbourne's tennis crowd ain't exactly going to give Raider Nation or the Dawg Pound a run for their money but when it comes to what you'd consider what is appropriate tennis etiquette, then they're a bunch of rebellious "idiots".
Kyrgios loves a raucous atmosphere. He thrives off it and is one of the best in the world at amping up a crowd. Even he of all people thought the "SIU" was a bit much after his round one win over Liam Broady.
Yeah, it's just stupid. F***, I can't believe they did it so much...They did it for two-and-a-half hours, like every point. I don't know why, but I don't know. It was a zoo out there."
Most players are finding the atmosphere awful and find it a difficult crowd to navigate. Not to come to their defense, but Melbournians have endured one of the worst lockdowns in the entire world over the last two years.
I won't defend the crowd and their disrespect when Russian world #2 Daniil Medvedev was conducting a post match interview following his second round win over crowd favourite Nick Kyrgios.
"Sorry I can't hear you," a somewhat frustrated Medvedev said to the crowd.
"Guys, I can't hear him (Jim Courier). Show some respect for Jim Courier. Thank you.
How did the crowd react?
The "Siiiiiuuu" chant ...
On Kyrgios, he has fast become my favourite tennis player. I enjoy his antics and I respect that he brings himself onto the tennis court despite what others think or how they think he should act. I remember when he was younger I believe the Australian and tennis media shone him in hyperbolic negative light because of an expectation on how he should act within the traditional restraints of a tennis 'professional'.
But he keeps things real. To me that draws comparisons to the Melbourne Park crowd. He keeps things unpredictable, interesting and entertaining. I mean look at this behaviour!
As a casual tennis fan, it's Krygios and the Melbourne Park crowd that attracts me to watching more and more tennis. I'm not the only one too. More younger fans are feeling the passion, getting hooked and are getting into the sport. I'm sure that if there weren't any lingering restrictions we'd see some bumper and perhaps record crowds. That's good for the sport isn't it? For the long term survival of tennis in such a saturated sports market? The fans are chanting, screaming, and you can feel the passion.
So what do I say to those players and traditionalists who can't stand these antics? Those same people that criticise the "siiiiiuuu"; the same fans that can't stand Krygios because he hits a tweener to stay in the point and finishes it off with a blistering winner?
Suck it up!
Or so I thought. Hear me out.
The more I reflected on this, I actually started to understand the view of purists and traditionalists who might find it all infuriating. In fact, when I was writing this I had a light bulb moment that I'm actually struggling with my own love loss with the English Premier League for similar reasons which I wrote about only a couple days ago. You can check it out here. I've grown disorientated at football because of how much it's changed from when I was younger.
The changing landscape of football has resulted in a diminishing passion for a game that I had an unwavering passion for at one stage. I can now see how these antics in tennis - which has attracted me to the game - may have that exact same negative impact on those used to how they grew up watching tennis.
In going full circle, I suppose that is life. We evolve in life, and sports isn't immune to evolution either. In such a competitive sports market it needs to be entertaining to engage new fans, stay financially strong, grow grassroots and in popularity. Every sport is chasing that.
But as I reflect further, evolution is the same reason I've become disillusioned with football. For that reason, I totally retract my initial stance on tennis fans who don't like this new brand when I initially thought that they should "suck it up".
I personally love the new brand and hope it stays and evolves. But I say that while sympathising with traditional fans who don't like it. We as humans are wired to resist change. We see change as a threat and we either fear, fight or flight. So with that said, I now have a better understanding on why people may resist!
Now lets enjoy the tennis for what it is. Come on Aussie!
---
THANK YOU FOR YOUR SUPPORT!
Wolfgang Sport started in 2017 as a way to connect my passion for American and British sports. Today it's evolved into a blockchain sports blog pushing the boundaries into the crypto world and embracing Web3 technologies.