G'day Hive. A couple of days ago I I wrote about some of the greatest one club players in Premier League history. You can see the post here. Today are the final four best one-club players in history. Just remember, I didn't include Steven Gerrard and Matt Le Tissier as they aren't technically one-club players.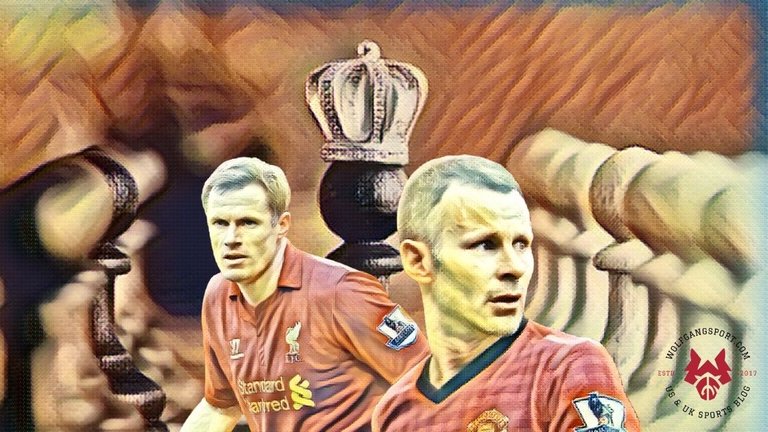 4. Ryan Giggs (Man United)
Ryan Giggs was initially a part of the Manchester City School of Excellence before Ferguson turned up at his house with a scout offering him a youth contract before his first professional deal in 1990. He'd end up playing an incredible 672 games of top flight football and 963 in total for United across 24 years.
Naturally a winger, Giggs was so versatile he could play anywhere in attack and toward the latter end of his career, as a central or defensive midfielder, and even as a fullback. Giggs is one of the most decorated players of all-time, winning the Premier League thirteen times, two Champions League twice, four FA Cups and three League Cups.
3. Jamie Carragher (Liverpool)
Jamie Carragher may have been overshadowed by Liverpool legend Steven Gerrard during his career, but Carragher can at least lay claim to being a true one club player. A traditional central defender, he was vice-captain of Liverpool for ten years and is the second longest sever player ever for the club.
Carragher played 508 Premier League games for Liverpool, and 737 in all competitions. He won the FA Cup, League Cup, a UEFA Cup, Champions League and UEFA Super Cup, with only the Premier League alluding him. Carragher is considered a Liverpool legend and was also awarded the Freedom of the Borough of Sefton in 2008.
2. Tony Adams (Arsenal)
Mr Arsenal is considered one of the greatest ever players for Arsenal. A true one club legend, he spent three years of his youth career, and 19 years of his senior career at Arsenal in a career spanning from 1983 to 2002. Adams was such an influence that he was given the captaincy at the age of 21, a title he'd hold for 14 years until retiring.
Adams would win four league titles and three FA Cups with Arsenal, no doubt thanks to his strength, aerial ability and his perfectly timed tackles. He's also the only player in English football history to captain a title winning team in three different decades. Even more phenomenal is the fact he was able to do it all while battling with alcoholism.
1. Paul Scholes (Man United)
Considered one of the greatest Premier League midfielders of all-time and a Man United legend, Paul Scholes is the definition of a one club legend. Born in Greater Manchester, Scholes began training with United as a 14 year old and would finish with 499 Premier League appearances, playing in over 700 total games and scoring more than 150 goals.
Scholes signed his first professional contract in 1993 and would retire in 2011. He continued training with the United reserve team and had approached the club about coming out of retirement or potentially playing for a new team. Fortunately, United had a midfield injury crisis and he'd return midway through the season. A goal in a 4-0 win against Wigan Athletic meant he had achieved a record of scoring in 19 consecutive Premier League seasons.
---
THANK YOU FOR YOUR SUPPORT!
Wolfgang Sport started in 2017 as a way to connect my passion for American and British sports. Today it's evolved into a blockchain sports blog pushing the boundaries into the crypto world and embracing Web3 technologies.