I was inspired to write about the worst refereeing decisions in football by a couple of events. Firstly, the comical performance of the referee in the recent AFCON meeting between Tunisia and Mali (more on that one in a minute) and secondly by one of @cryptoandcoffee 's recent posts on the subject of refereeing which ended in a conversation about how crap the standard of officiating in football has become.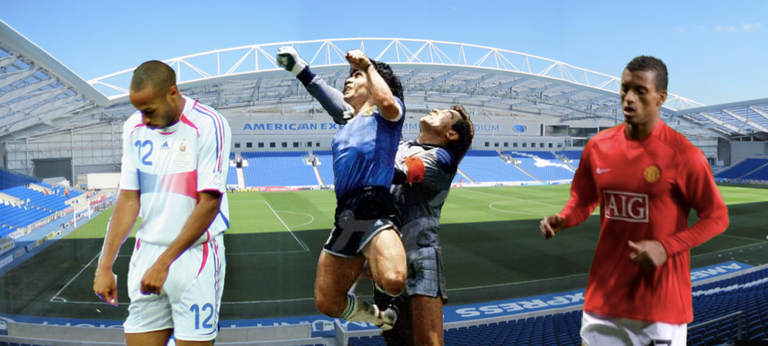 image sources 1 2 3 4 all shared under creative commons license
For those of you who missed the news about the recent AFCON match between Mali and Tunisia, Janny Sikazwe, the ref for that game had a bit of a mare. Here's the sequence of events
Inexplicably blows for full-time after 85mins
Players go off and fans start to leave the stadium
Gets players to agree to come back out (Tunisian players allegedly already in the showers by this time)
Finishes game again after 89mins with no added time
At the very minimum, you'd expect a referee to know how long a game of football should last and/or how to tell time!
What's next?
Referees who can't put one foot in front of the other? Oh no, wait we already have them
Referees who turn up without the proper equipment? Nope, that's fairly common place too
But surely all referees are house trained, right? Doesn't appear to be the case
Let's be honest, I could probably write this blog on a weekly basis and with the terrible standard of refereeing in the world of football never be short of new material.
Here however, are a few of my most memorable examples of bad refereeing in football.
Over the line!
Certainly in this country there are few, if any, bigger sporting occasions than an England vs Germany football match.
I remember watching the 2010 World Cup match between the 2 sides at my local cricket club who had cleverly organised a club day on the date of this fixture, anticipating in advance that if England were to come through their group that a knock-out match against Germany would on one hand make if very difficult to get any players for a league game and on the other was a great opportunity to get bar sales up.
So we played a day of 10 over, 6-a-side cricket matches where there was as much drinking done as cricket being played and then paused in the afternoon to watch the big game.
Worth remembering that England were dreadful for much of the match and Germany deservedly went 2-0 up. However, there is something about the English psyche that makes us more dangerous when all hope seems to be lost and helped by some poor German defending from a corner we got the game back to 2-1 and then began to begin to play with a real sense of purpose.
It was during that good spell that this happened
I remember all of us at the cricket club shouting "over the line" in a manner reminiscent of Walter Sobchak in the movie The Big Lebowski
There is a lot of play acting in the game of football these days but you only need to look at the reaction of the players on both sides not to mention the benches to see that they knew it was in.
Also, as hinted at in the commentary was the controversial decision by FIFA not to use goal line technology in the tournament. In cricket, run out and stumping decisions had been referred to the 3rd umpire since 1992. Even tennis had been using the significantly more complex Hawkeye system to make decisions for the best part of 5 years prior to this but FIFA, in their infinite wisdom, decided not to use even the most basic forms of technology to assist in decision making.
Of course, as far as the Germans are concerned they might argue this was some form of cosmic karma after the similarly controversial decision to award England a goal in the 1966 final!
However as far as the worst refereeing decisions in football go, you'd have to go a long way to top this beauty as Roy Carrol literally throws the ball into his own net only for the officials to decide to play on and rob Spurs of victory against Manchester United.
To put this decision and the pain it caused me into context, you've got to remember how good a side United were for the first 2 decades of the Premier League and how rare a win for any team against them particularly at home was. It took me quite a long time to get over this particularly bad refereeing decision!
As far as refereeing decisions at Old Trafford go, I think Paulo Di Canio summed it up best in his autobiography when he said
To get a penalty at Old Trafford, Jaap Stam needs to take out a machine gun and riddle you with bullets and even then there will be much debate over whether you were shot in the penalty box or just outside
But of course for every goal that isn't given due to poor officiating there are always the one's that go the other way!
The best example of this came in a match between Watford and Reading and is memorable to me on 2 accounts. Firstly because having lived in the Reading area for a while, I had a few mates who were Reading supporters (someone has to be) who had travelled to the game and said it was the most bizarre decision they've ever witnessed and secondly, because the man covering it for Sky Sports was none other than the hapless Chris Kamara. If you've not come across Kammy before then you can watch a highlights reel of his best moments here
"There's a goal but it's not a goal but is a goal because the referee has given it as a goal."
If that's not a clear enough explanation for you then you'd better watch the actual highlights
From the hand of God to the hand of Frog
So far it appears that the average referee struggles to comprehend even the most simplistic of football's rules but this one really shouldn't be that difficult! After all the clue that football is a game played with primarily the feet is in the name.
Of course for English fans the most notorious incident was Maradona's Hand of God goal in the 1986 World Cup.
I mean how the officials believed that Diego Maradona out jumped a goal keeper who is 6 inches taller than him is difficult to believe. It seems when you watch the full footage that the officials are more concerned with whether Maradona is offside or not and in that regard come to the correct decision because while he is in an offside position, the ball clearly comes of the defender last.
The back drop to this goal is the political tension between the 2 countries as a result of the Falkland's War so for Argentina this was a big deal and very much like the Lampard goal that wasn't given, can be seen as divine retribution.
Of course Maradona's hand of god was followed up by what is arguably the greatest World Cup goal in history and therefore probably didn't have as big an impact on the final result as others have.
Take for example the famous "Hand of Frog" by Thierry Henry that cost Ireland a place in the 2010 World Cup. This one should have been disallowed firstly on account of offside and then for the blatant hand ball that followed
Would love to know how @ablaze feels about this one being an Arsenal supporter and an Irishman. Does time really heal all wounds?
Finally let's go back to Spurs and yet another bad refereeing decision vs Manchester United at Old Trafford. Starting to look like Paulo Di Canio wasn't quite as mad as he seemed!
Here Nani bursts into the box, falls over like Bambi on ice, grabs the ball with his hand and flaps around like a fish on the deck of a boat while everyone else gets back up and runs back into position expecting Spurs to clear the resulting free kick.
However, legend in his own lunch time, Mark Clattenburg, one of the worst referees that the league has ever seen, decides to play on presumably remembering where he is and that he'll have to face Alex Ferguson's wrath after the game if he doesn't award at least one cheap goal to his team.
On the basis of the number of bad decisions that go against teams when they are playing United, I can only hypothesise that the referee's manual is written in true Orwellian style to include as it's first rule that "all teams are equal but some teams are more equal than others!"
Cards, kicks and collisions
Of course some refereeing decisions particularly when contact between players is involved are more subjective than some of our previous examples of bad refereeing decisions in football.
That being said, I think that with these last few examples of poor officiating there can be very little doubt that the ref had a stinker!
First off here's German goalkeeper Harald Schumacher committing what can only be described as grievous bodily harm against French defender Patrick Battiston in the 1982 World Cup semi-final.
The challenge knocked out 2 of Battiston's teeth, broke 3 of his ribs and damaged his spine. The referee's response? No foul!
To add insult to serious injury, Schumacher would go onto save 2 penalties in the shout out that would settle the match in his side's favour.
While we're on the subject of assaults that took place on the pitch, how about this one from Ben Thatcher on the luckless Pedro Mendes who features for a second time as being on the receiving end on our list of the worst refereeing decisions in football.
In this example, the referee does at least acknowledge it as a foul by Thatcher on his former Spurs teammate Mendes but most would consider a forearm smash to the face as a red card offence.
Mendes was left unconscious and could later be seen convulsing on the floor following this awful challenge. In the aftermath, Manchester Police even launched a criminal investigation into the matter which ultimately prompted Man City to suspend Thatcher and fine him 2 weeks wages before the FA stepped in with an 8 match ban - justice ultimately done despite the refs lack of action at the time!
But of course even when the ref does decide to take disciplinary action on the pitch they regularly can't even get that right!
Here I leave you with Graham Poll, England's top referee and our representative at the 2006 World Cup, booking Croatia's Josip Šimunić not once, not twice but three times in the same game! Good job Graham!
What are some of the worst refereeing decisions in football that you can remember?