Anyone who remotely follows football won't need me to tell them why I as a Spurs fan I am writing a blog about memorable last minute winners.
Spurs dominated their match against Leicester City on Wednesday evening, creating 27 shots at goal, hitting the woodwork on multiple occasions, having 2 shots cleared off the line and wasting a host of other chances to once again give the Foxes a whipping in the Premier League.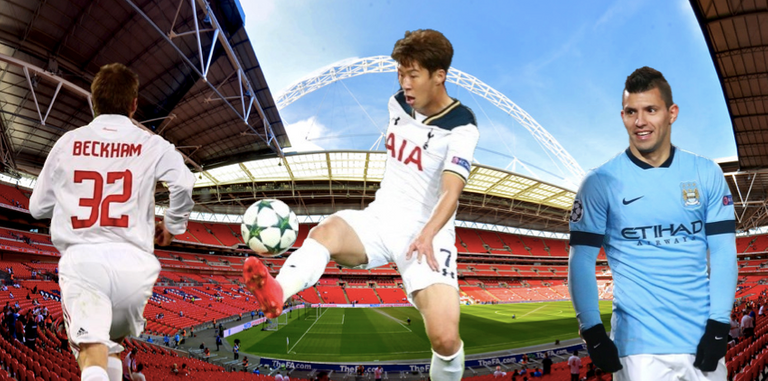 Image sources 1 2 3 4 All sourced under CC license
However, at 2-1 down deep into the 5 mins of added time being afforded to the match, it looked certain that Antonio Conte would taste defeat in the league for the first time since becoming Spurs boss and that we would miss the opportunity to go above Arsenal in the league with a game in hand, until ...
A last minute goal to get an equaliser is always satisfying enough even in a game that we should have killed off in the first half but to then go on and win it, wow!
The shout that I let out when Bergwijn's first went in was enough to startle my wife who up until that point had been relaxing on the sofa with no interest whatsoever in the evening's sporting events. When his second went in and I went on a mad celebration through the house, swinging my jumper above my head, knee sliding on the kitchen floor and swan diving on the sofa, she politely suggested that maybe it was time we started seeing other people - I didn't care!
Moments like this are why we all love sport. They don't come along very often and God knows if you're a Spurs fan and an English cricket supporter then there will have been times over the past 12 months where for the good of your sanity you thought maybe it would be better to take up knitting rather than holding out hope of that this could be the match where something dramatic happens in favour of the side you support!
Here then are a list of other memorable last minute winners that spring to mind as moments of pure sporting drama.
Swansea vs Spurs 2017
The game that instantly comes to mind as quite similar to that of the Leicester victory was Spurs win at Swansea in 2017 which saw us score 3 times in 6 mins including twice in injury time to seal victory. You can watch the full match highlights here but below are the scenes from the stands when Son wins it in added time
From memory, this is a match where once again we dominated possession but unlike the game against Leicester we didn't create quite as many clear cut chances and without Kane in the starting XI lacked a cutting edge up front - at least we've solved that problem half a decade later 🤦‍♂
Worth remembering the context of this match as Spurs were hunting down Chelsea at the top of the table. We didn't quite manage it but the 2016/17 Spurs side is undoubtedly the best team we've had in the Premier League era and was arguably the best side in the league that year.
Remember when we had midfielders of the class of Dembele and Eriksen? Remember when Dele Alli wasn't shit? Remember when we had Vincent Jansen to come off the bench? OK probably best not to remember that last one and in fact I've spent quite a lot of money on therapy to have his image permanently removed from my mind!
Unfortunately, since that high point, a failure to properly invest in the footballing side of things has left Spurs falling behind many of their rivals and we're left as the perennial nearly club when it comes to silverware. Instead Spurs supporters are left clinging to moments just like that against Leicester rather than being able to revel in getting our name on a pot somewhere.
Ajax vs Spurs 2019
Let's do one more for Spurs then as it is one of the most memorable last minute winners not to mention comebacks in the history of the Champions League.
A goal down from the first leg, Spurs go 2-0 down (3-0 on aggregate) at half-time in Amsterdam. They look daunted by the incredible atmosphere in the stadium and generally well short of the level of the opposition. In fact, up in the VIP seating some of the former Ajax legends from the 1995 side that won this competition are so confident that their team are on their way to the final with Liverpool that they are celebrating and popping bottles of champagne, but then...
I think in many ways the emotion that you saw from the team and the manager and the fact that there was then such a long gap between that game and the final really hurt our chances of winning it. Comparatively speaking everything afterwards felt like a bit of a come down!
Again, too happy to celebrate moments, as great as they may be, without that steely mentality that is needed to get across the line.
Manchester United vs Bayern Munich 1999
Speaking of Champions League comebacks and last minute winners, who can forget United's stoppage time double in the 1999 final?
I remember watching this game while oiling and knocking in a new cricket bat which given that it took place at the end of May is no surprise! You shouldn't be watching football in May...
While I hold no affection for Manchester United, this win was a watershed moment for Premier League clubs in Europe following a barren spell of 15 years since an English top flight team had even made the final.
In fact, the 1990s was a decade where English football was generally looked down upon by our European neighbours and for good reason with our long-ball tactics looking like something from the stone age next to the technical and tactic brilliance of teams from across the continent.
This victory and indeed the manner of it particularly against German opposition was almost universally celebrated by all English football at least in the sense that it allowed us to thumb our noses at old rivals across The Channel.
In fact, the win itself came so late that it has been reported that UEFA President Lennart Johansson had already left his seat to make his way down for the presentation ceremony and as such missed both goals only to find that the cup which was already decorated with Bayern's ribbons needed some new colours fitted! At least they hadn't engraved it yet...
Manchester City vs QPR 2012
Of course, Manchester United would suffer their own last minute heartbreak this time at the hands of their noisy neighbours Manchester City in 2012 in what has been described by some as the greatest moment of the Premier League.
Certainly, no one will ever be able to forget Martin Tyler's classic commentary reduced simply to the name of the goal scorer "Aguerooooo"
United were already on the pitch at the Stadium of Light shaking hands and smiling as though they had won the league yet again following their win against Sunderland before Edin Dzeko pulled one back in injury time and the little Argentine did the rest.
Much like United's last minute win in 1999, City's victory would help pave the way for them to dominate the league for the next decade and as things stand it's difficult to see an immediate future where they won't be the most successful club in the land for many years to come.
Liverpool vs Arsenal 1989
Remember when Arsenal used to turn up for football matches? Yes, I'm still bitter and yes, I'm a Spurs fan so I'm begrudgingly adding this one to the list of most memorable last minute winners.
Of course, you can watch the highlights of Michael Thomas an unlikely hero if ever there was one, winning Arsenal the league with almost the last kick of the season or instead you can read Nick Hornby's classic novel 'Fever Pitch' which beautifully captures the high and lows of a football fan's life and was later made into a movie starring Colin Firth as Paul Ashworth (the character based on Hornby himself).
The movie culminates in the moment that Arsenal go to top placed Liverpool on the final day of the season knowing that they must win my a margin of 2 goals to steal the league from the all conquering scousers.
England vs Greece 2001
I have to admit that like Colin Firth's character in the clip above, I'm more of a glass half empty kind of supporter but then again it's probably not surprising given that I primarily follow Tottenham Hotspur football club and the England cricket team.
I vividly remember feeling pretty sure we would mess up this game in which we needed just a point against the mighty Greece to qualify for the World Cup.
It was one of those painful matches where your team just can't click into gear and even the basic skills seem to dessert them. By the time Beckham stepped up to take this last minute free-kick, I seem to recall that he'd already had plenty of dead-ball situations in which to demonstrate one of his primary skills and had wasted every single one.
Therefore, in true pessimist fashion my answer was to turn off the TV to see if not watching it would have any impact. Lone behold, 2 minutes later I switch back on to find everyone hugging and celebrating.I've been trying the same tactic for the past 2 decades but to no avail...
---
There must be many more memorable last minute winners that people can think of. Let me know in the comments which ones are your favourite?