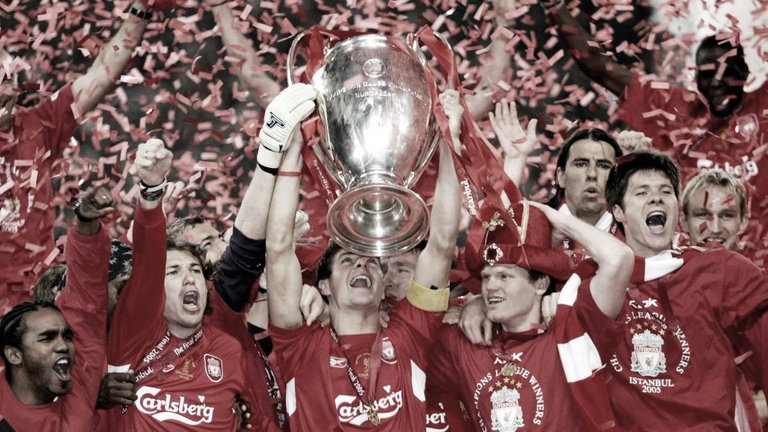 ---
"Is the Cup heavy? You don't even notice it. Even if it weighed a hundred kilos, you would take it anyway. Once you reach that euphoria, that satisfaction and happiness, you enjoy the moment and you see everything around you, all the red colour with so many people with so much passion. They throw the confetti and it becomes a party." - Rafa Benitez on the trophy and the UEFA Champions League celebration on that magical night.
"¿Pesa la Copa? Ni siquiera te das cuenta. Aunque pesara cien kilos, la cogerías de todas formas. Una vez que alcanzas esa euforia, esa satisfacción y felicidad, disfrutas del momento y ves todo lo que te rodea, todo el color rojo con tanta gente con tanta pasión. Disparan el confeti y se convierte en una fiesta." – Rafa Benitez sobre el trofeo y la celebración de la UEFA Champions League en aquella mágica noche.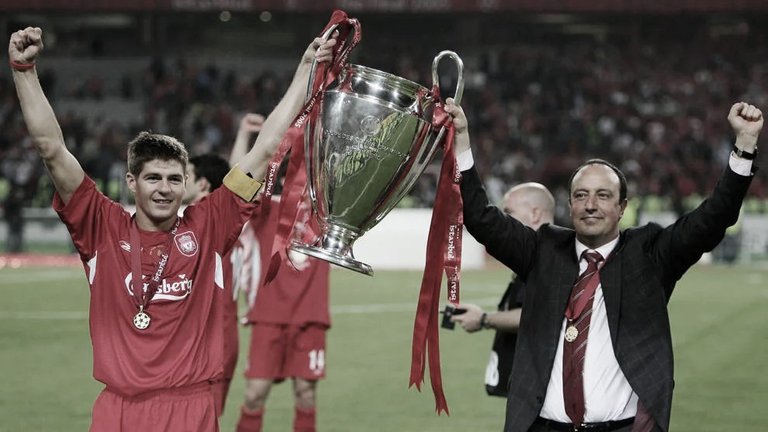 ---
25 May 2005, a memorable day for all of us who love football and the epic that runs behind the ball. At the Atatürk Olimpiyat Stadyumu in Istanbul, AC Milan and Liverpool would clash in one of the most thrilling finals in the history of the UEFA Champions League.
25 de mayo de 2005 un día memorable para todos aquellos quienes amamos el futbol y la épica que corre tras la pelota. En el Atatürk Olimpiyat Stadyumu de Estambul, AC Milán y Liverpool chocarían en una de las finales más vibrantes de la historia de la UEFA Champions League.
Liverpool returned to a European Cup final under Rafa Benítez after a 20-year absence, and in front of them was another European classic, a team of memorable feats and enormous pedigree, Calo Ancelotti's AC Milan, the table was set and the spectacle was cooking almost to boiling point.
El Liverpool volvía a una final de Copa de Europa de la mano de Rafa Benítez tras 20 años de ausencia, y enfrente tenía a otro clásico europeo, un equipo de memorables gestas y enorme palmarés, el AC Milán de Calo Ancelotti, la mesa estaba puesta y el espectáculo se cocinaba casi a punto de ebullición.
---
---
---
Ancelotti's side went into the final as overwhelming favourites over a Liverpool side who were proving their quality in Europe; Milan showed their firepower with absolute alacrity, the game dawned and within the first minute of the contest, Andrea Pirlo took a free-kick that Paolo Maldini slammed into the box to send the tifosi into raptures.
Los de Ancelotti llegaban a la final como amplios favoritos sobre un Liverpool que estaba probando su calidad en Europa; el Milán mostró sus armas con absoluta celeridad, amanecía el partido y al primer minuto del encuentro, Andrea Pirlo botó una falta que Paolo Maldini empaló en el área para desatar la algarabía de los tifosi.
Liverpool were knocked out by this early and profound blow to their aspirations, Milan were in control of the game and in control of the chances. In the 39th minute, the legendary Andriy Shevchenko set up Hernan Crespo who finished neatly to score the second.
El Liverpool estaba noqueado por ese tempranero y profundo golpe a sus aspiraciones, el Milán tenía el control del partido y de las acciones de peligro. Al minuto 39', el mítico Andriy Shevchenko asistía a Hernan Crespo que cerraba la pinza a la perfección para marcar el segundo.
---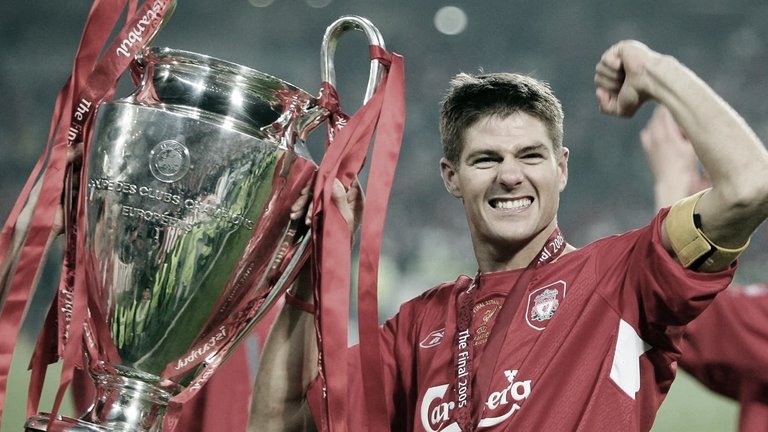 ---
And as if such punishment was not enough, on 44' Kaka rubbed the lamp, brought out the genius in him and with surgical precision released a long filtered pass for the run of Crespo, who finished his brace with his characteristic brimming quality, slotting the ball past Jerzy Dudek and Ancelotti's Milan seemed to be on their way to winning another European title. 3-0 at the break.
Y por si tal castigo era poco, al 44' Kaká frotó la lampara, sacó al genio que llevaba dentro y con precisión quirúrgica soltó un pase filtrado en largo para la carrera de Crespo que definió su doblete con la rebosante calidad que le caracteriza, picó la pelota sobre Jerzy Dudek y el Milán de Ancelotti parecía encaminarse a conquistar un nuevo titulo europeo. 3-0 al descanso.
For the second half, Benítez adjusted, taking off Finnan to bring on Hamann and stirring up his side, who in the 54th minute began one of the most epic comebacks in football history, the first time any team had ever risen from 3-0 down in a UEFA Champions League final. Captain Steven Gerrard's perfect header gave his side hope and left Dida with no chance of a reaction. 3-1 and the Red fans believed. Just two minutes later, Smicer invented a shot that surprised everyone, and unleashed a storm of red adrenaline in Istanbul that the Rossoneri were not going to be able to contain.
Para el segundo tiempo, Benítez ajustó, sacó a Finnan para dar entrada a Hamann y agitó a sus huestes que al minuto 54' comenzaron una de las remontadas más épicas en la historia del futbol, la primera ocasión en que cualquier equipo se levantara de un 3-0 en contra en una final de la UEFA Champions League. El capitán Steven Gerrard conectaba un cabezazo perfecto que insuflaba ilusión a los suyos y dejaba a Dida sin posibilidad de reacción. 3-1 y la hinchada Red creía. Solo dos minutos después, Smicer inventó un zapatazo que sorprendió a todo el mundo, y desató una tormenta de adrenalina roja en Estambul que los rossoneri no iban a poder contener.
---
El milagro de Estambul... 😍⚽ pic.twitter.com/wec9JVyIs0

— 🌎 PenaltiWorld ⚽ (@penaltiworld) March 21, 2018
---
A goal was needed to complete a stoic reaction, an unprecedented milestone, and for that the most stoic of the Donostiarras was to appear; Gattuso brought down Gerrard in the area and the penalty was to be taken by Xabi Alonso, Dida denied him the first attempt, but Alonso scored the equaliser on the rebound from the save. Pure stoicism, a dramatic goal that bordered on a miracle. Six minutes of drive, personality and football brought Liverpool back to level a final that seemed lost.
Faltaba un gol para completar una reacción estoica, un hito sin precedentes y para ello habría de aparecer la figura del más estoico de los Donostiarras; Gattuso derribó a Gerrard en el área y el penalti lo habría de cobrar Xabi Alonso, Dida le negó el primer intento, pero Alonso endosó el empate en el rebote de la atajada. Estoicismo puro, un gol dramático que rozaba los tintes de milagro. 6 minutos de empuje, personalidad y futbol llevaron al Liverpool a emparejar una final que parecía perdida.
Extra time was long, dramatic and full of tension, Milan kept pushing for the goal that would give them the championship, but Benítez's side held on in the form of an immeasurable Jerzy Dudek to reach the penalty shoot-out, where the Polish goalkeeper would become the figurehead of a wonderful footballing epic, an unforgettable feat. Liverpool came from behind against favourites Milan to touch glory in Istanbul.
La prórroga fue sufrida, dramática y cargada de tensión, el Milán no dejó de bregar por el gol que les diera el campeonato, pero los de Benítez supieron resistir en la figura de un inconmensurable Jerzy Dudek para llegar a la tanda de penaltis, donde el guardameta polaco se convertiría en la figura de una maravillosa epopeya futbolística, una hazaña inolvidable. El Liverpool vino de atrás ante el favorito Milán para tocar la gloria en Estambul.
---
The actions of that miraculous night in Istanbul!:
Las acciones de aquella milagrosa noche en Estambul:
✍🏼: Paco Andújar ⚽