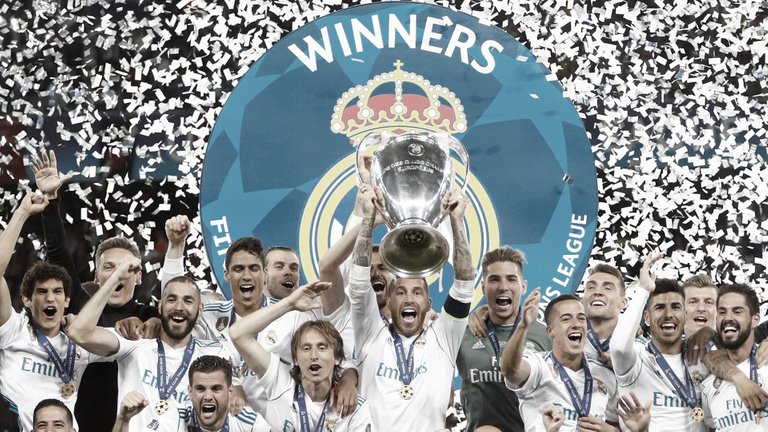 ---
"A lot of things happened that night. I don't believe in revenge, I don't know if revenge is a good idea, I understand that, but I don't like it. If we win we will have written a great story, but I don't think about 2018 because that's already happened." - Jürgen Klopp on the 2018 final.
"Muchas cosas pasaron aquella noche. No creo en venganzas, no sé si una venganza es una buena idea, lo entiendo, pero no me gusta. Si ganamos habremos escrito una gran historia, pero no pienso en 2018 porque eso ya pasó". – Jürgen Klopp sobre la final del 2018.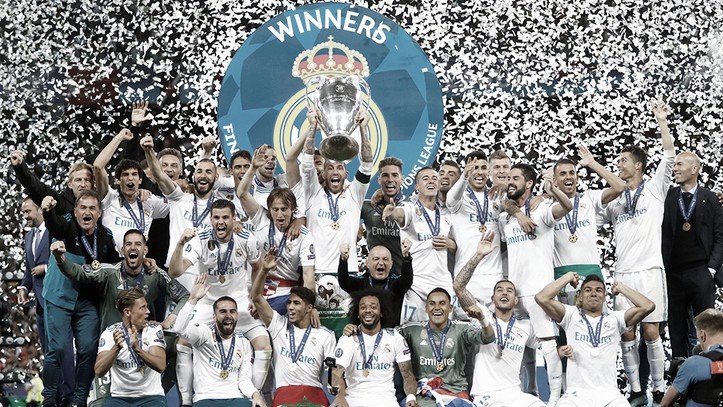 ---
It was a time when the only battle that could be glimpsed on Ukrainian soil was the one that was to take place on the pitch of the Olympic Stadium in Kiev, far, far away from the desolation caused by a war that would ravage the Ukrainian capital years later. It was a full-blown party, as two European classics were to square off for the glory of a new UEFA Champions League for their trophy cabinets.
Eran momentos donde la única batalla que se vislumbraba en suelo ucraniano era la que iba a acontecer en la grama del Estadio Olímpico de Kiev, lejos, muy lejos de desolación causada por un conflicto bélico que azotaría a la capital de ucrania años después. Era una fiesta en toda regla, dos clásicos europeos habrían de medir fuerzas para buscar la gloria de un nueva UEFA Champions League para sus vitrinas.
Real Madrid with Zinedine Zidane at the helm took on Jürgen Klopp's Liverpool in his third season; the best for the Reds so far with the German at the helm. Los Blancos were two-time reigning European champions and were looking to extend their reign for another year, an unprecedented milestone since the Champions League format replaced the old European Champions Cup.
El Real Madrid con Zinedine Zidane al frente del banquillo se media el Liverpool de Jürgen Klopp en su tercera temporada; la mejor para ellos hasta ese momento con el alemán en los mandos. Los blancos eran bicampeones reinantes de Europa y buscaban alargar su reinado un año más, un hito sin precedentes desde que inicio el formato Champions League que sustituyó a la antigua Copa de Campeones de Europa.
---
Gareth Bale's unforgettable bicycle kick. 😍✂️⚽️
La inolvidable chilena de Gareth Bale. 😍✂️⚽️
---
Los Blancos were contesting their 16th UEFA Champions League final against Liverpool, more than any other team in the competition. By that May the 26th 2018, Real Madrid had won 12 of the 15 finals they had played in, having only lost on three occasions: against Benfica in 1962, against Inter Milan two years later and against their opponents in Kiev, Liverpool had been the last team to snatch glory away from them, in the distant 1981. The Reds were contesting their eighth UEFA Champions League final, no English team had ever played in so many (they will play in their tenth in their history tomorrow).
Los blancos disputaban ante el Liverpool su decimosexta final de la UEFA Champions League, más que ningún otro equipo en la competición, par aquel 26 de mayo de 2018, el Real Madrid había conquistado 12 de las 15 finales que había jugado, habiendo caído solo en tres ocasiones: ante el Benfica en 1962, contra el Inter de Milán dos años más tarde y contra el rival en turno en Kiev, el Liverpool había sido el último equipo en arrebatarle la gloria, en el lejano 1981. Los Reds disputaban su octava final de UEFA Champions League, ningún equipo inglés había jugado tantas (mañana habrán de disputar la décima en su historia).
---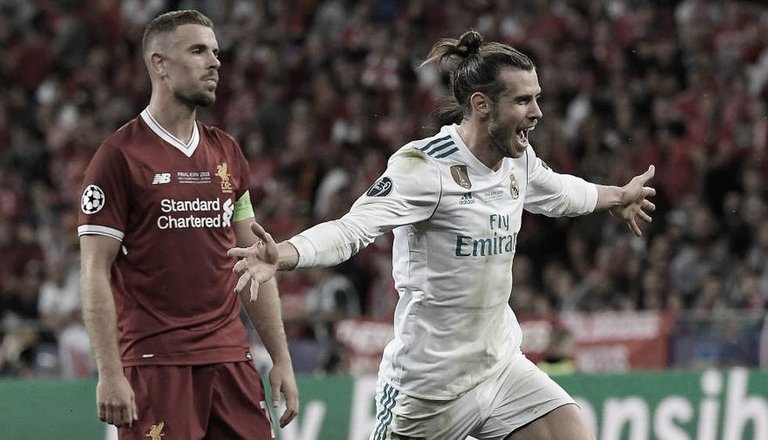 ---
So, after the opening whistle, two teams who were contesting their second European final against each other clashed, the Reds had the upper hand at that stage, but the Merengues were in command in Europe and wanted to make that clear. The highlight of the first half was the two changes forced by injury, one on each side; on the half hour mark Salah had to be replaced by Adam Lallana while on the 37th minute Nacho had to come on for Dani Carvajal.
Chocaban pues, tras el silbatazo inicial dos equipos que disputaban su segunda final europea entre sí, el saldo favorable en esa instancia era de los Reds, pero los merengues mandaban en el feudo europeo y querían dejarlo claro. Lo más destacado del primer tiempo fueron los los dos cambios obligados por lesión, uno por bando; a la media hora de juego Salah hubo de ser sustituido por Adam Lallana mientras que al minuto 37' Nacho hubo de entrar para suplir a Dani Carvajal.
In the second half, Los Merengues imposed themselves on the development of the game, Isco hit the crossbar in the 47th minute, Madrid's clearest chance so far; but in the 51st minute an inexplicable mistake by Karius combined with an act of trickery by Karim Benzema opened the door for Real Madrid, who took the lead on the scoreboard. 1-0.
Para la segunda mitad, los merengues se impusieron en el desarrollo del encuentro, Isco estrelló un disparo al travesaño sobre el minuto 47', la chance más clara del Madrid hasta el momento; pero al minuto 51' un inexplicable error de Karius combinado con un acto de pillería de Karim Benzema abrían la puerta para el Real Madrid, que tomaba ventaja en el marcador. 1-0.
A lead that would be short-lived for los Blancos, 4 minutes later Sadio Mané appeared like an exhalation inside the box to push in a corner kick from Milner that Lovren won with a header, the Senegalese anticipated Keylor's reaction and levelled the score for the English.
Una ventaja que poco iba a durar a las huestes blancas, 4 minutos más tarde Sadio Mané apareció como una exhalación dentro del área para empujar un córner que botó Milner y que Lovren ganó de cabeza, el senegalés anticipó la reacción de Keylor y emparejaba el marcador para los ingleses.
---
---
But the white magician, Zinedine Zidane, would shake the tree from the bench, choosing Gareth Bale to change the destiny of the game in Kiev, taking off Isco to bring on the Welsh 11 in the 61st minute and with just three minutes on the pitch, the Cardiff native came up with one of the most beautiful goals in the history of the UEFA Champions League finals. Bale invented a magnificent bicycle kick that would have been the signature of Hugo Sánchez himself, a magnificent goal that rocked the world and gave Real Madrid the lead.
Pero el mago blanco, Zinedine Zidane, sacudiría el árbol desde el banquillo, eligió a Gareth Bale para cambiar los destinos del juego en Kiev, quitó a Isco para dar entrada al 11 galés al minuto 61' y con tan solo 3 minutos en el terreno de juego, el nativo de Cardiff inventó uno de los goles más bellos en la historia de las finales de la UEFA Champions League. Bale inventó una descomunal chilena que habría firmado hasta el mismísimo Hugo Sánchez, un gol magnifico que estremecía al mundo entero y daba la ventaja al Real Madrid.
Gareth Bale himself was to extend the lead in the 83rd minute of hostilities; a long-range shot by the Welshman nestled in the Liverpool net with the approval and collaboration of Karius, who attacked the ball in the most unlikely of ways. The goddess of fortune smiled on Real Madrid with the final score at 3-1.
Ventaja que el mismo Gareth Bale habría de ampliar al minuto 83 de las hostilidades; un disparo de larga distancia ensayado por el galés se anidó en las redes del Liverpool con el beneplácito y colaboración de Karius que atacó la pelota de manera inverosímil. La diosa fortuna sonreía al Real Madrid con el 3-1 definitivo.
Real Madrid were crowned European champions for the 13th time in their history. Zinedine Zidane, meanwhile, equalled Bob Paisley and Carlo Ancelotti as the only coaches to win the UEFA Champions League on three occasions, but the Frenchman was the first to do so in three consecutive seasons.
El Real Madrid se proclamaba campeón de Europa por decimotercera ocasión en su historia. Zinedine Zidane, por su parte, igualaba a Bob Paisley y Carlo Ancelotti como los únicos entrenadores en ganar la UEFA Champions League en tres ocasiones, pero siendo el francés el primero en hacerlo en tres temporadas consecutivas.
---
The actions of the battle at the Olympic Stadium in Kiev:
Las acciones de la batalla en el Olímpico de Kiev:
✍🏼: Paco Andújar ⚽