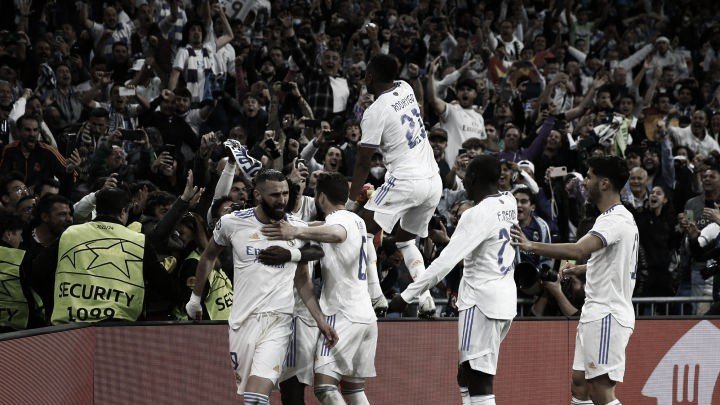 ---
"I don't think I can explain it, I don't have the words to describe what happened today. I'm very happy to have scored two goals, a Champions League semi-final and to be able to take Madrid to their place, which is a Champions League final. The truth is that my teammates were telling me, I couldn't believe what was happening. My first goal was in the 90', we were dead, I wasn't even listening.... I'm very happy. - Rodrygo after being the star of a tremendous comeback.
"Creo que no lo puedo explicar, no tengo palabras para explicar lo que pasó hoy. Estoy muy feliz por poder marcar dos goles, una semifinal de Champions y poder llevar al Madrid a su sitio que es una final de Champions. La verdad es que mis compañeros me decían, yo no me creía lo que estaba pasando. Mi primer gol fue en el 90', estábamos muertos, no estaba ni escuchando... Estoy muy feliz". – Rodrygo tras haber sido la figura de una apoteósica remontada.
---
Miracles cannot be explained, they are far from all logic, the RAE defines them as: "Extraordinary and marvellous events that cannot be explained by the regular laws of nature and that are attributed to the intervention of God or a supernatural being" and Real Madrid is not God, but it is, without a doubt, a supernatural entity that rests on a throne on the Olympus of football.
Los milagros no pueden ser explicados, se alejan de toda lógica, la RAE los define como: "Suceso extraordinario y maravilloso que no puede explicarse por las leyes regulares de la naturaleza y que se atribuye a la intervención de Dios o de un ser sobrenatural." y el Real Madrid no es Dios, pero es, sin dudas un ente sobrenatural que descansa sobre un trono en el Olimpo del futbol.
Real Madrid feels immortal when they play the Champions League, it is their fetish, their competition par excellence; Madrid is their city and they have set up their kingdom throughout Europe, a kingdom in which they know how to overcome even the greatest of adversity. The match was dying and with it Ancelotti's team was dying too, but if you give Los Blancos a glimmer of hope they will annihilate you, however improbable it may seem, however impossible it may appear.
El Real Madrid se siente inmortal cuando juega la Champions, es su fetiche, su competición por excelencia; Madrid es su ciudad y tiene instalado en toda Europa su reino, un reino en el que sabe superarse hasta en la más mayúscula de las adversidades. El partido se moría y con él moría también el conjunto de Ancelotti, pero si a los blancos les regalas un resquicio para creer te aniquilan, por muy improbable que parezca, por muy imposible que se antoje.
---
Real Madrid will be in Paris, where they have already won the Champions League. 🗼
El Real Madrid estará en Paris, y ahí ya ganó una Champions League 🗼
---
---
The attacking extravaganza of the first leg found an antagonistic script in the second leg, with the Eitihad game and its seven goals having nothing to do with what we found at the Santiago Bernabéu, a tense and tight match in which Los Blancos knew how to suffer - as they did against Paris Saint Germain and Chelsea - to orchestrate the third of the comebacks in a Champions League of absolute epic proportions.
El espectáculo ofensivo de la ida encontró un guion antagónico en la vuelta, nada tuvo que ver el partido del Eitihad y sus siete goles con lo que encontramos en el Santiago Bernabéu, un partido tenso y cerrado en el que los Blancos supieron sufrir -como lo hicieron ante el Paris Saint Germain y el Chelsea- para orquestar la tercera de las remontadas en la Champions de la épica absoluta.
---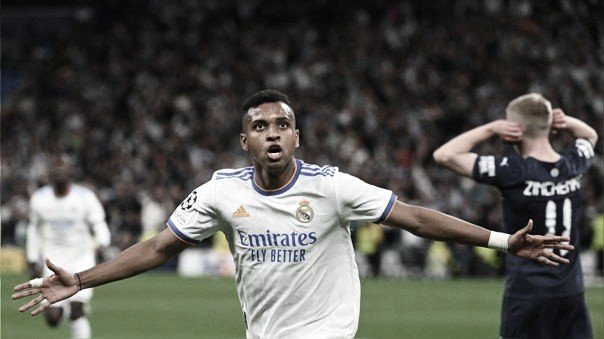 ---
The game was City's and with it, so was the ticket to Paris; Pep Guardiola was on the cusp of reaching his second consecutive UEFA Champions League final. In the 73rd minute, substitute Ilkay Gundogan orchestrated a surgical City attack that culminated in a great pass from Bernadro Silva to Riyad Mahrez who shot past Courtois at the near post. It was 5-3 on aggregate as Manchester City seemed to bury Los Blancos.
El partido era del City y con ello, lo era también el boleto a Paris; Pep Guardiola estaba en la antesala de llegar a su segunda final de UEFA Champions League consecutiva. Al minuto 73', el recién ingresado, Ilkay Gundogan orquestó un ataque quirurgico del City que culminaría con un gran pase de Bernadro Silva a Riyad Mahrez que fusiló a Courtois en el palo corto. Era el 5-3 global con el que el Manchester City parecía sepultar a los blancos.
---
The Bernabéu on a Champions League night is the place where the magic happens.
El Bernabéu en una noche de Champions es el sitio donde la magia ocurre.
💜 Sin vosotros imposible, #RMFans...
👏 ¡ G R A C I A S !#APorLa14 pic.twitter.com/5DNQxvNiaH

— Real Madrid C.F. (@realmadrid) May 4, 2022
---
But Madrid never die until the whistle blows; never in the history of football has a slogan been so energetically precise: "Hasta el final, vamos Real! A couple of chances created by Grealish could have killed the game for City, in the first one Courtois managed to deflect the ball with his foot, and in the second, Mendy appeared almost miraculously to prevent the goal on the line; Madrid clung on to stay alive and the definitive breath of life came in the 90th minute, in a cross from Camavinga that Benzema put down for Rodrygo and the Santiago Bernabeu believed again.
Pero el Madrid nunca muere hasta que el silbato suena; nunca en la historia del futbol un lema ha sido tan enérgicamente preciso "¡Hasta el final, vamos Real!". En un par de ocasiones creadas por Grealish pudo matar el City, en la primera Courtois alcanzó a desviar la pelota con el pie, y en la segunda, Mendy apareció de forma casi milagrosa para evitar el gol sobre la línea; el Madrid se aferraba a seguir viviendo y el soplo definitivo de vida llegó al minuto 90, en un centro pasado de Camavinga que Benzema bajó para Rodrygo y el Santiago Bernabéu volvía a creer.
Just a minute later, it was again Rodrygo "the Chosen One" Goes who was to appear to bring Madrid back into the contest; Dani Carvajal sent in a cross and he put his whole soul into it for Rodrygo to head in a strike that was more typical of a striker than a player of his characteristics. 5-5 on aggregate in the added time, two goals in a minute and at that moment the whole football world knew that this game would be Real Madrid's to win.
Tan solo un minuto más tarde, sería nuevamente Rodrygo "el Elegido" Goes quien iba a aparecer para devolver al Madrid a la contienda; Dani Carvajal envió un centro y en el puso su alma entera para que Rodrygo firmara un cabezazo más propio de un nueve que de un jugador de sus características. 5-5 el global en el añadido, dos goles en un minuto y en ese momento el mundo del futbol al completo sabía que ese partido habría de ganarlo el Real Madrid.
The final touch to the umpteenth Merengue miracle was to be provided by this season's best player, the French genius who has guided Real Madrid to a 35th league title and a 17th European Cup final in their quest for their 14th UEFA Champions League title. From the penalty spot, Benzema's masterful finish inside the right-hand post in the 94th minute was unbeatable to send Madrid through to the final against Liverpool.
El punto final al enésimo milagro merengue habría de ponerlo el mejor jugador de esta temporada, el genio francés que ha guiado a su Real Madrid a la consecución de la trigésimo quinta liga y la decimoséptima final de la Copa de Europa para buscar su decimocuarto titulo de la UEFA Champions League. Desde el manchón, Benzema cobró con maestría ajustando al palo derecho, al 94', un cobro inmejorable para llevar al Madrid a la final ante el Liverpool.
---
The actions of the miracle at the Bernabéu:
Las acciones del milagro en el Bernabéu:
✍🏼: Paco Andújar ⚽