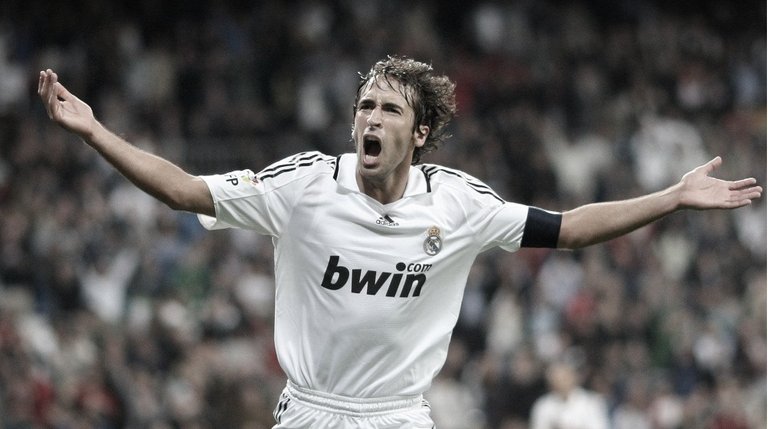 ---
"I would give the golden ball to Raúl with all the goals he has scored... He is incredible. I like him because he is generous, he always plays for the team, never for himself. He scores a lot of goals, he has them scored and he runs for everyone." - Pavel Nedved for Gazzetta dello Sport in 2003.
"El balón de oro lo daria a Raúl con todos los goles que ha marcado...Es increíble. Me gusta porque es generoso, juega siempre para el equipo, nunca para él mismo. Marca muchos tantos, los hace marcar y corre por todos." – Pavel Nedved para la Gazzetta dello Sport en 2003.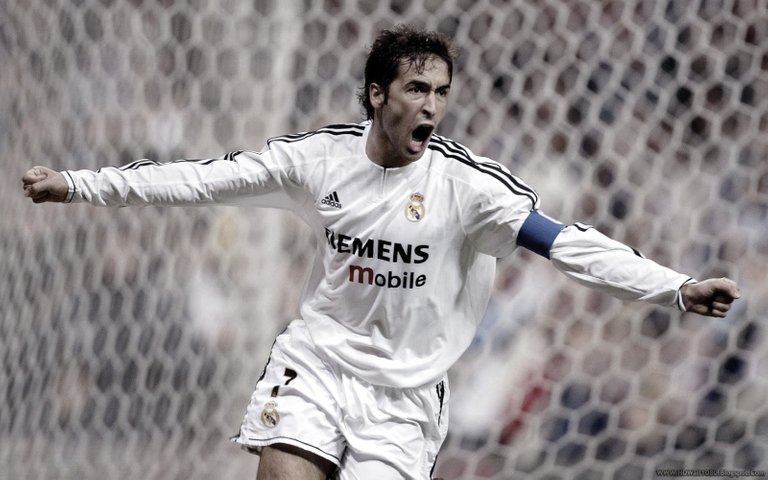 ---
Unforgettable legend, a Real Madrid symbol, the eternal captain Raúl González Blanco, simply Raúl for the football world. In the run-up to another UEFA Champions League final and at a time when Karim Benzema has equalled him as the second highest goalscorer in the history of the Merengues (323 goals), it is a good time to commemorate him.
Leyenda inolvidable, un símbolo del Real Madrid, el eterno capitán Raúl González Blanco, simplemente Raúl a secas para el mundo del futbol. La antesala de una nueva final de UEFA Champions League y el momento en que Karim Benzema lo ha igualado como el segundo máximo goleador histórico del conjunto merengue es un buen momento para recordarle.
Many nicknamed him "The Angel of Madrid", and perhaps he played like one; dressed in the immaculate and almost divine white shirt of Real Madrid, Raúl ran relentlessly after the ball and the opponents, an irrepressible fighter who only stopped after the final whistle. A kid from a Madrid neighbourhood, from the city Madrid for Madridismo; the white angel of victory.
"El ángel de Madrid" le apodaban muchos, y es que quizá jugaba como uno; enfundado en la inmaculada y casi divina camiseta blanca del Real Madrid iba Raúl corriendo sin descanso tras la pelota y los rivales, luchador irrefrenable que solamente paraba tras el pitido final. Un chaval de barrio madrileño, de Madrid para el Madridismo; el ángel blanco de la victoria.
---
What a photo! What players! 📸⚽️
¡Qué foto! ¡Qué jugadores!. 📸⚽️
---
---
The eternal captain, an exceptional player whose mobility and eye for goal made him a tireless predator in the penalty area, a centre-forward who thrived in the face of adversity, the perfect striker for Real Madrid; when things got complicated, he was always there.
El eterno Capitán, un fuera de serie cuya movilidad y olfato goleador le convertían en un incansable depredador del área, un centro delantero que se crecía ante la adversidad, el ariete perfecto para el Real Madrid; cuando la cosa se complicaba siempre aparecía él.
Raúl shared a season with those who would later equal and surpass his goalscoring legacy at Chamartín (Ronaldo and Benzema), he was generous with them, tucked them in, instilled Madridismo in them and handed over the baton to them. Today, their names rest in the White Olympus with the task accomplished: they are the top scorers in the history of Real Madrid!
Raúl compartió una temporada con quienes, a posteriori, igualarían y superarían su legado goleador en el conjunto de Chamartín (Ronaldo y Benzema), fue generoso con ellos, les arropó, les inculcó el Madridismo y les cedió el testigo. Hoy, sus nombres descansan en el Olimpo Blanco con la tarea cumplida. ¡Son los máximos goleadores en la historia del Real Madrid!
---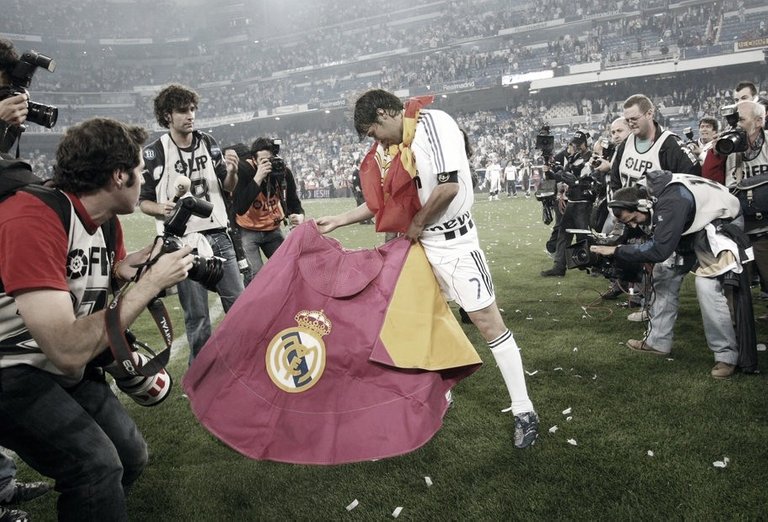 ---
The striker with a killer instinct who moved like a stealthy angel holds the record for the most games played in the white shirt he wore. 741 games played in the Merengue jersey put him ahead of absolutely mythical names such as Iker Casillas (725) and Manolo Sanchís (687). He gave his all for his shirt and nobody did it more times than him.
El delantero de instinto asesino que se movía como un sigiloso ángel ostenta el récord de más partidos disputados con la camiseta blanca que llevaba por bandera. 741 partidos jugados bajo la elástica merengue lo colocan por delante de nombres absolutamente míticos como el de Iker Casillas (725) y Manolo Sanchís (687). Se dejaba el alma por su camiseta y nadie lo hizo más veces que él.
---
Madrid's legendary goalscorers Raúl and Benzema pose in the centre presenting the 120th anniversary kit.
Los legendarios goleadores del Madrid, Raúl y Benzema posan al centro presentando la equipación del 120 aniversario.
⚪🟣 Historia, tradición y momentos inolvidables: todo está en los detalles.
👕 ¡Descubre nuestra 1ª camiseta de @adidasfootball 2022/23, disponible ya!
🛒 https://t.co/8RjEoFigkg pic.twitter.com/etiggzpxxw

— Real Madrid C.F. (@realmadrid) May 16, 2022
---
He was born to be a Madridista in the Madrid neighbourhood of San Cristóbal de los Ángeles and although he played in the youth ranks of arch-rivals Atlético de Madrid, he arrived at the Merengue youth academy in 1992-93 for Jorge Valdano to make him debut in the first team the following season and score his first goal in only his second game - in a Derby against Atleti - the rest is a prolific history and an impressive list of achievements. Raúl won 3 UEFA Champions League titles, 2 Intercontinental Cups, 6 La Liga titles, 1 European Super Cup and 4 Spanish Super Cups. He also gave Real Madrid a UEFA Youth League as a coach.
Nació para ser Madridista en el barrio madrileño de San Cristóbal de los Ángeles y aunque jugó en las categorías infantiles del eterno rival, el Atlético de Madrid, llegó a la cantera merengue en 1992-93 para que Jorge Valdano lo hiciera debutar en el primer equipo la siguiente temporada y anotar su primer tanto en apenas su segundo partido -en un Derbi ante el Atleti- el resto es una prolífica historia y un palmarés imponente. Raúl conquistó 3 UEFA Champions League, 2 Copas Intercontinentales, 6 Ligas, 1 Supercopa de Europa y 4 Supercopas de España. Además de haber dado al Real Madrid una UEFA Youth League como entrenador.
Raúl González Blanco is a Madrid legend, his goals and achievements are indelible and his place in the institution irreplaceable. The Angel of Madrid.
Raúl González Blanco es una leyenda del Madridismo, sus goles y palmarés son imborrables y su sitio en la institución, irremplazable. El Ángel de Madrid.
---
Ladies and gentlemen, Raul... Enjoy!:
Damas y caballeros, Raúl... ¡Disfruten!:
✍🏼: Paco Andújar ⚽