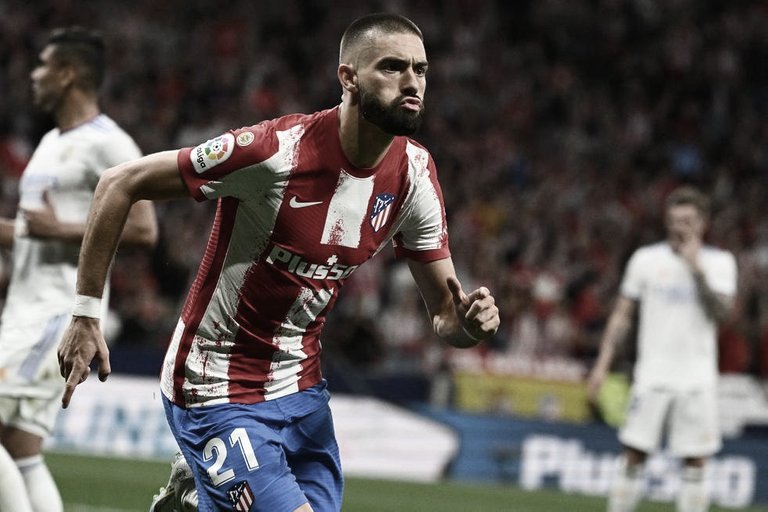 ---
"It was a good match, competitive, evenly matched... we played much better in the second half, we couldn't ask for much more from this match, which comes after a very exciting week. I really didn't expect more. Yes, on Thursday I think those who have played less today will play, against Cádiz the same and against Betis more or less the team that will play in the final". - Carlo Ancelotti in total calm after the defeat in the Madrid Derby.
"Ha sido un buen partido, competido, igualado... hemos jugado mucho mejor la segunda parte, no podíamos pedir mucho más de este partido, que llega después de una semana muy excitante. No esperaba más, de verdad. Sí, el jueves creo que van a jugar los que han jugado menos hoy, contra Cádiz lo mismo y contra el Betis más o menos el equipo que va a jugar la final". – Carlo Ancelotti en calma total tras la derrota en el Derbi Madrileño.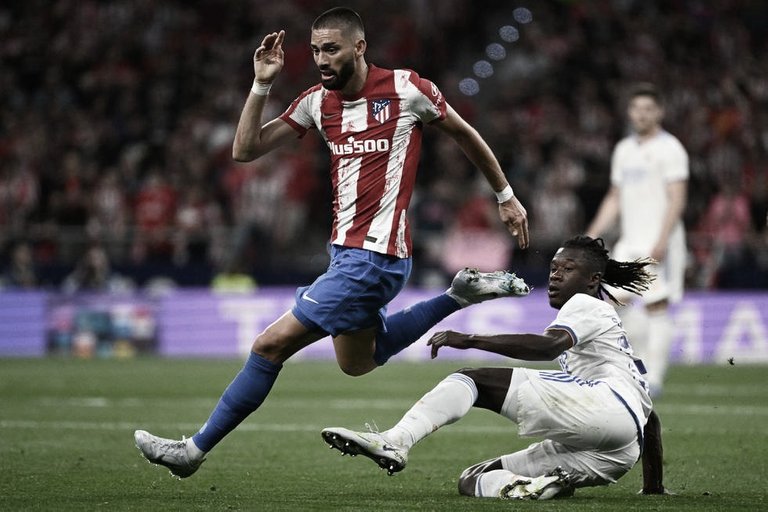 ---
It was a decaffeinated Derby, Real Madrid arrived at the Metropolitano after a frenetic week in which they were proclaimed champions of LaLiga and achieved their umpteenth stroke of magical authority in Europe; Carletto opted to rotate and that was evident in the way the game unfolded - especially in the first half - against an Atlético de Madrid side in full competitive tension looking to secure their ticket to the UEFA Champions League for the following campaign.
Era un Derbi descafeinado, el Real Madrid llegó al Metropolitano tras una frenética semana en la que se proclamó campeón de LaLiga y gestó su enésimo golpe de mágica autoridad en Europa; Carletto optó por rotar y eso quedó de manifiesto en el desarrollo del encuentro -sobre todo en la primera parte- ante un Atlético de Madrid en plena tensión competitiva buscando asegurarse el boleto a la UEFA Champions League de la campaña siguiente.
Atleti came out to play with all their might, looking to give their fans the enjoyment of a win against their arch rivals, and they did just that; after 8 games without a win, Simeone's colchoneros were able to impose themselves on a Real Madrid side that was disconnected in the first 45 minutes.
El Atleti salió a jugar con todo, buscando regalar a su afición el disfrute de un triunfo ante el acérrimo rival, y lo consiguió; tras 8 juegos de no poder vencer, los colchoneros de Simeone supieron imponerse a un Real Madrid que salió desconectado los primeros 45 minutos.
---
A vital victory for the rojiblancos.
Una victoria vital para los rojiblancos.
---
---
And in football -not always, but almost- it is usually the team that wants to win the most, the team that looks for it the most, the team that offends the most the one that wins; that was Atleti who found their reward against a champion that from the initial approach "gave away" the Derby. Three and a half starters (Asensio and Rodrygo have alternated that half start), was what Carletto put on the pitch at the Metropolitano where Atleti refused to make a "pasillo" that no one in the merengue entity asked for; the sportsmanship of the colchonero team is forgotten when it comes to Real Madrid.
Y en el futbol -no siempre, pero casi- suele ganar aquel que más ganas tiene de hacerlo, la oncena que más lo busca, el equipo que más ofende; ese fue el Atleti que encontró su premio ante un campeón que desde el planteamiento inicial "entregó" el Derbi. Tres titulares y medio (Asensio y Rodrygo han alternado esa media titularidad), fue lo que puso Carletto en la cancha del Metropolitano donde el Atleti se negó a hacer un pasillo que nadie en la entidad merengue pidió; lo del señorío deportivo se le olvida a conjunto colchonero cuando del Real Madrid se trata.
---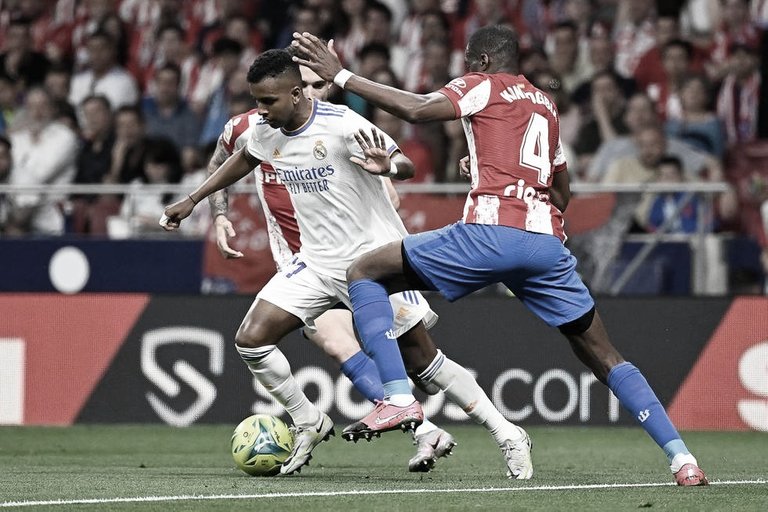 ---
Atleti started brightly and could have taken the lead against Real Madrid, who seemed to have their minds elsewhere -perhaps on that magical, impossible comeback against City that took them to the final in Paris-. Cholo's men found little reward for their first-half superiority, but after a push from Vallejo on Matheus Cunha, Carrasco, who was undoubtedly the best of the Colchoneros, soberly beat Lunin from the spot to score the only goal of a game in which there was no shortage of chances.
Arrancó punzante el Atleti y pudo haberse llevado por delante al Real Madrid que daba la impresión de tener la mente en otro sitio -quizá en aquella mágica remontada imposible ante el City que los ha llevado a la final de Paris-. Los del Cholo encontraron poco premio a su amplia superioridad en la primera parte, pero tras un empujón de Vallejo sobre Matheus Cunha, Carrasco, que fue sin duda el mejor de los colchoneros, batió sobriamente a Lunin desde los once pasos y metió el único gol de un encuentro en el que ocasiones no faltaron.
---
Carrasco clinical from the spot.
Carrasco clínico desde el manchón.
¡A la jaula! 💥 pic.twitter.com/q8YO6sgo1R

— Atlético de Madrid (@Atleti) May 8, 2022
---
For the second half, Ancelotti brought in more experienced players and that ended up changing the face of Real Madrid; they would compete against an Atleti side that left them alive, but there would be no epic at the Metropolitano.
Para el segundo tiempo, Ancelotti fue metiendo a jugadores de mayor peso en la plantilla y eso terminó por cambiar un poco el rostro del conjunto merengue; el Real Madrid competiría ante un Atleti que lo dejó vivo, pero no habría épica en el Metropolitano.
Atelti had a couple more chances to kill the game off through Griezmann and another clear chance that Carrasco crashed against the post, Madrid were alive at the end of the 90 minutes at the Metropolitano, but lacked the necessary sharpness and that magical spark that makes them lift adverse results in unthinkable conditions. It's a vital three points for Simeone's side and Real Madrid will have to complete the rest of their league fixtures with their sights set on the 28th May.
El Atelti tuvo un par de ocasiones más para matar en los pies de Griezmann y una clarísima que Carrasco estrelló en el poste, el Madrid llegó vivo al final de los 90 minutos en el Metropolitano, pero adoleció de la claridad necesaria y de esa mágica chispa que le hace levantar los resultados adversos en condiciones impensables. Son 3 puntos vitales para los de Simeone y el Real Madrid habrá de cumplir con el resto de sus compromisos ligueros con la mira puesta en el 28 de mayo.
---
The actions of the Derby at Metropolitano:
Las acciones del Derbi en el Metropolitano:
✍🏼: Paco Andújar ⚽