A couple weeks ago Germany resumed their football Leagues by introducing Behind closed doors games and safety guidelines to follow.
Now in Spain they are looking to resume their season on June 8th. The news comes after the coronavirus has decreased in Spain and Spain have lifted lot's of lockdown rules.
it is assumed that these matches will be played behind closed doors with strict safety requirements to keep all safe.

---
Read more: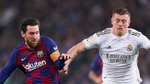 La Liga cleared to restart from June 8, says Spain's Prime Minister Pedro Sanchez
La Liga has been given the green light to restart from June 8, following guidelines from Spain's Ministry of Health.
Source:
https://www.skysports.com
---
Share this post:







---