As I may have mentioned in previous posts, Richard Laymon is my favorite horror writer. Fortunate for me, since the guy published a slew of titles over the course of the thirty or so years he was active prior to his death in 2001. Unfortunate for me, since unlike, say, Stephen King who routinely has print runs in the millions, Laymon's books were only moderately successful here in the US prior to the late 90's when Leisure Publishing finally got him the attention he deserved, which makes collecting his stuff problematic and, occasionally, expensive.
Part of Laymon's problem with finding and maintaining an audience here in the US was that no publisher seemed to want to work with him long-term. Warner shot him down after two books. Every so often, a publisher like Pinnacle or Mark V. Ziesing would throw him a bone and put out one or two of his books, but until Leisure finally started giving him attention in the late 90's, Laymon may as well have been stuck on a never-ending manuscript trampoline.
Onyx, the paperback horror imprint for publisher New American Library, was one such house who kept Laymon on shelves here in the US in the late 80's and early 90's, so today's post is all about Laymon's Onyx editions.
As always, images shown are scanned directly from my own collection.
Resurrection Dreams
---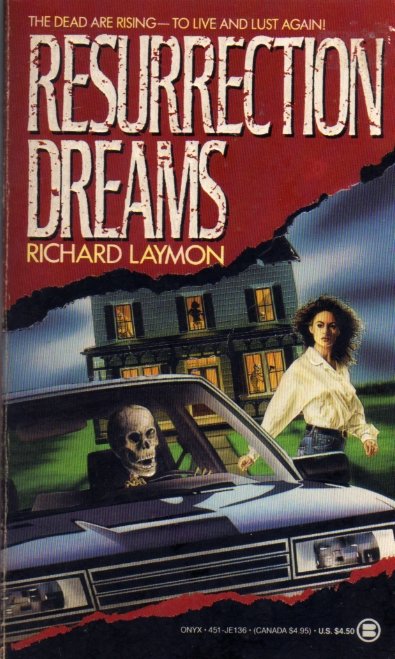 If you aren't a Laymon fan but this artwork seems familiar, you probably own a copy of Grady Hendrix's Paperbacks From Hell, which pokes fun at this cover as the only coverage of Laymon you'll find inside it. But one thing's for certain: this is either one of the worst, or one of the best, horror covers you've ever laid eyes on.
Onyx, like many paperback houses of the period, never credited their cover artists, so the person responsible for this beauty remains unknown (at least to me). But just look at the awesomeness that is this cover, which brims with more 80s 'tude than anything else you'll see today. Everything from the heroine's bouffant hairdo to the design of the automobile, complete with obligatory skeleton behind the wheel, betrays this as a 1989 publication.
Resurrection Dreams was Richard Laymon's take on the zombie genre, with town misfit Melvin re-animating the corpse of a dead cheerleader as part of his science fair project, then going on to do far worse than that as an adult. It's not terribly surprising Laymon gives the finger to a number of zombie tropes in his story, since he loved breaking the "rules" surrounding various supernatural creatures. Read as a horror comedy, in the same vein as Shaun of the Dead, Resurrection Dreams is a black comic hoot and a half.
Unfortunately, while Onyx was willing to pay Laymon for his manuscript, then pay to have it printed, bound, and shipped to stores, they were apparently unwilling to do anything beyond that to ensure anybody bought it. This version of Resurrection Dreams sold a mere 18,000 copies, making it one of the least-common editions of a US Laymon release in the mass-market category. If you want your own copy, it'll set you back around $25 on the second-hand market.
Funland
---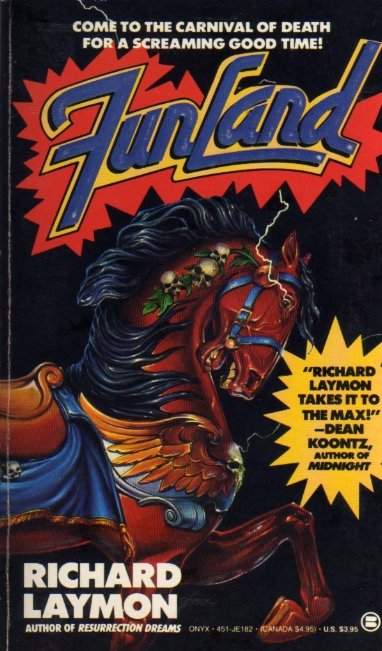 Funland is the story of the titular fictional amusement park located in the equally-fictional California seaside town of Boleta Bay. Boleta Bay suffers from a large population of drifters, drop-outs, and wanderers who make their living begging off the tourists and stealing from the locals, who have taken to calling them "Trolls" due to their propensity to pop up from under the boardwalk and accost people. One group isn't taking the Trolls behavior lying down: the beautiful, spirited Tanya has enlisted several of her teenage classmates as part of a troll-hunting group, who prowl the Midway after dark, beating up Trolls and running them out of town as revenge for what a group of them did to her. It doesn't take long for Jeremy, the new kid in town, to join with the group. But there's one place in Funland no one but the Trolls is willing to go after dark: the Funland funhouse, which is home to a host of nightmares all its own. When Tanya and her group decide to break in and confront the Trolls on their home turf, they unleash a freakshow nightmare of traps and retribution. The kids will be lucky to survive until morning, assuming they survive at all.
One year after Onyx completely failed to care about Resurrection Dreams, they decided they gave a shit after all, and published Funland in 1990. This time, they used the cover blurb Dean Koontz gave them, but that they failed to use on the previous novel.
Surprise, surprise -- Funland sold far better than Resurrection Dreams did, and was better-received as well, getting nominated for a Stoker award (though it lost to Robert R. McCammon's Mine).
This edition of the book, despite selling more copies than Resurrection Dreams, seems to come up for sale less often: expect to pay $30 or more for a copy.