Zur Abwechslung gibt es heute mal etwas das nichts mit Reisen in ein anderes Land zu tun hat, sondern eher mit der Lebensreise selbst ;)
Wie vielleicht ein paar von euch schon gehört haben, hat mich meine Freundin letzte Woche gebeten, sie zu heiraten!!
Sie hat es geschafft, um mich herum zu planen und mich zu überraschen und das ist echt eine Leistung! - Weil ich ein sehr neugieriger Mensch und auch ein Profiler bin... daher ist es eigentlich nicht sooo einfach, länger als 1 Stunde Geheimnisse vor mir zu haben :D
For a change, there is something today that has nothing to do with traveling to another country, but instead with the journey of life itself;)
As maybe a few of you already heard, my girlfriend asked me to marry her last week!!
She managed to plan around me and surprise me and that is a big deal! - Because I am a very curious person and also a profiler... so it's not sooo easy to have secrets from me over more than 1 hr :D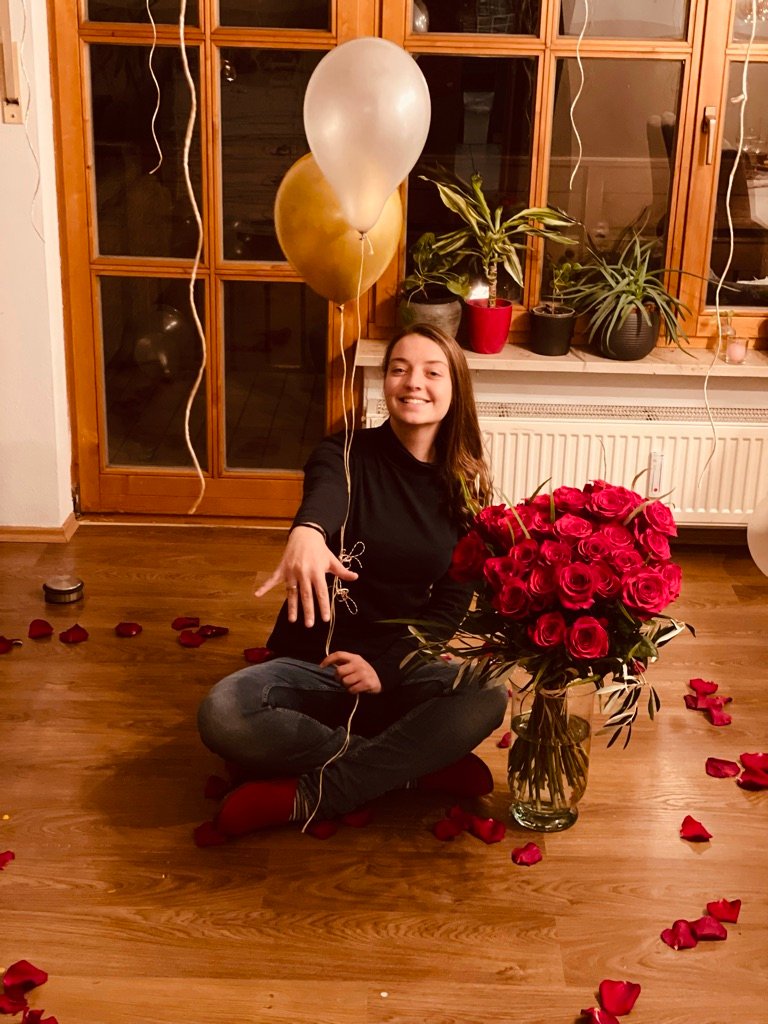 Und so lief alles ab:
Ein paar Wochen zuvor hat sie mit ihren 2 besten Freundinnen eine Whatsapp-Gruppe gegründet, um über die Veranstaltung nachzudenken und Ideen zu sammeln.
Gleichzeitig stahl sie einen meiner Ringe, um die Größe herauszufinden. Sie bestellte einen personalisierten Ring mit Lieferung an unsere Nachbarn, die natürlich auch eingeweiht wurden.
Sie kaufte Kerzen, Luftballons und andere Dekoration und schaffte es, sie vor mir in der Wohnung zu verstecken.
Einen Tag zuvor kochte sie Antipasti und bereitete die Mädls auf den Plan vor. - Und am 19.11. war der Tag dann gekommen. Vormittags hatte ich einen Termin beim Zahnarzt, nachmittags war ich im Büro für ein 2-Stunden-Meeting. Und dann hatten wir geplant, zur Thai-Massage zu gehen, also machte ich mich fertig und wir fuhren los.
Was ich nicht wusste war, dass, als wir die Wohnung verließen, ihre 2 besten Freundinnen auf dem Weg zu uns waren. Die eine holte unterwegs ein paar Blumen und die andere kümmerte sich währenddessen um den Hund (gab ihm Futter, ging spazieren und brachte ihn zu den Nachbarn).
And this is how it all went down:
A few weeks earlier she started a Whatsapp group with her 2 best friends to brainstorm about the event itself.
At the same time, she stole one of my rings to get the size and ordered a personalized one with delivery to our neighbors, who of course also were instructed.
She bought candles, balloons, and other things for decoration and managed to hide them from me in the apartment.
One day before she cooked some Antipasti and had the girls ready for the plan. - And on the 19.11. the day had arrived. In the morning I had a meeting at the dentist's, in the afternoon I was at the office for a 2 hr meeting at work. And then we had planned to go to the Thai Massage, so I got ready and we started driving.
What I didn't know was that once we left the apartment, her 2 best friends were on the way to us. One got some flowers on the way and the other one took care of the dog meanwhile (gave him food, went for a walk, and left him at the neighbors).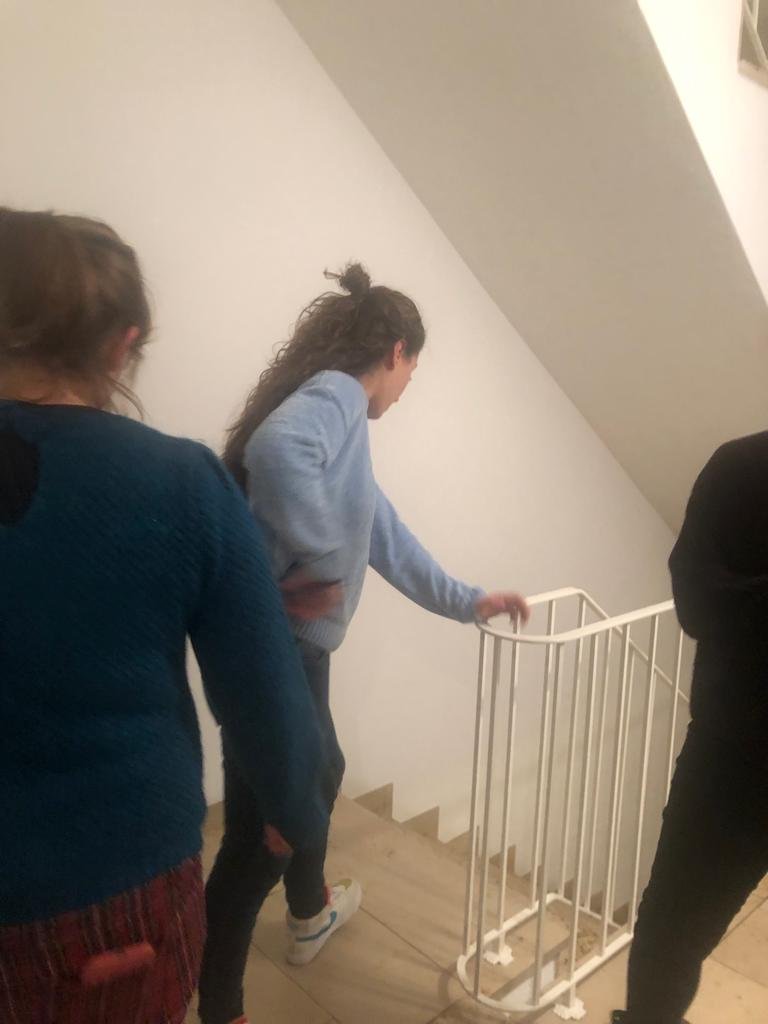 Danach begannen sie, die Wohnung mit Luftballons, Kerzen und Rosenblättern zu dekorieren.
After that, they started to decorate the apartment with balloons, candles, and roses.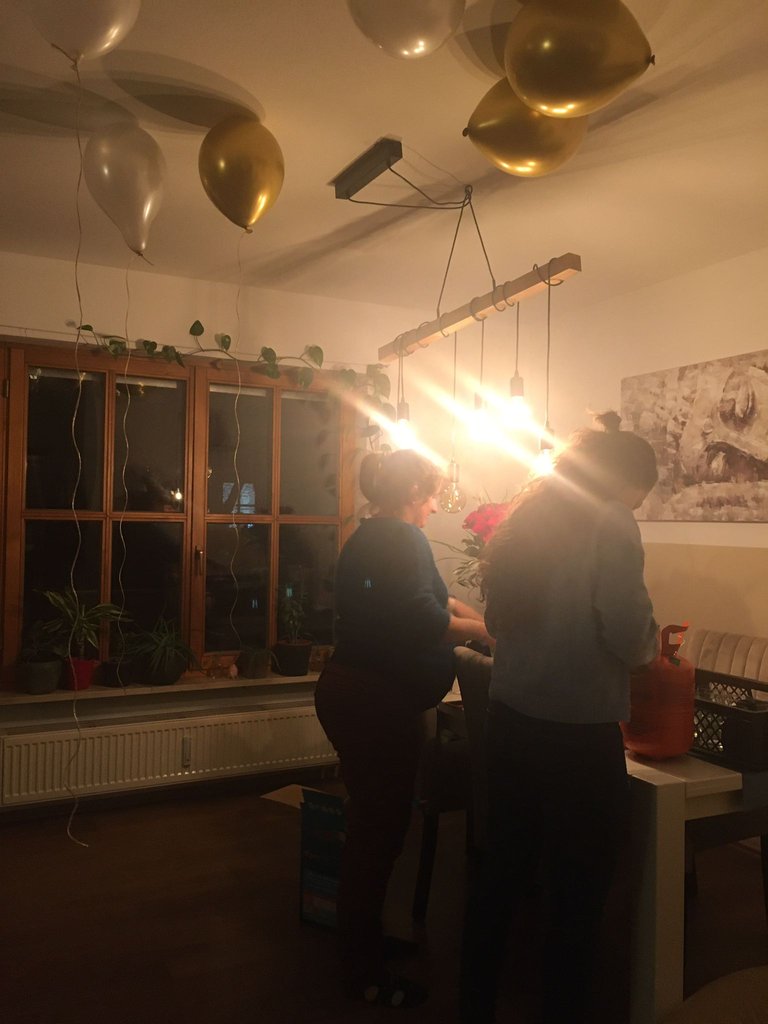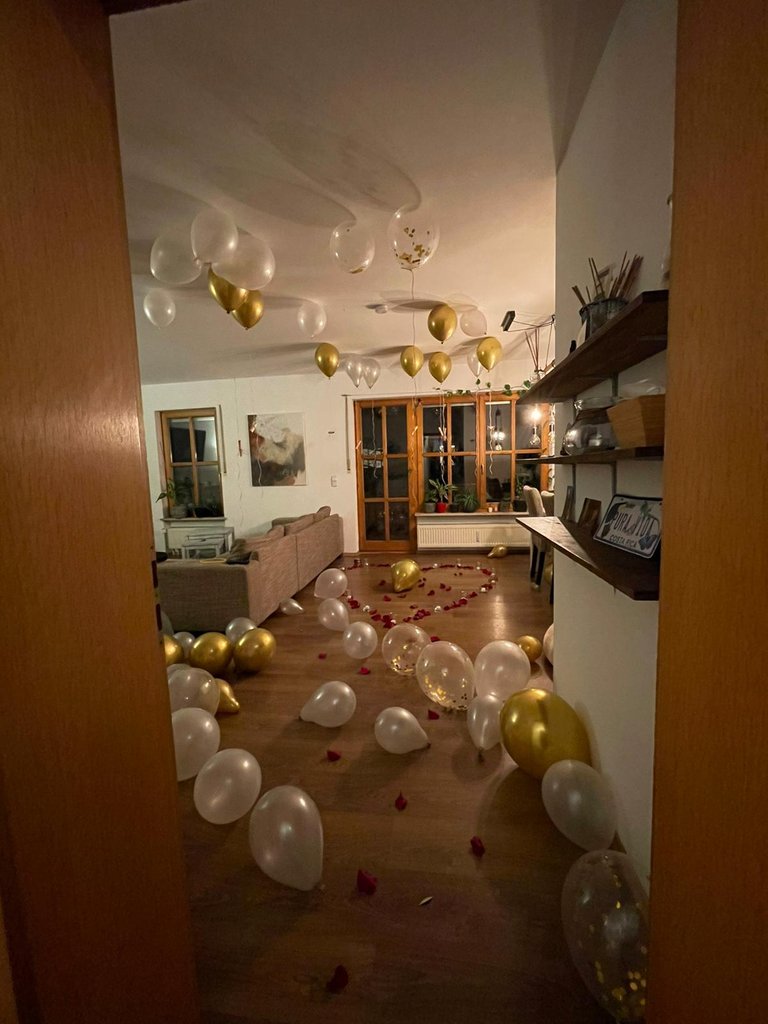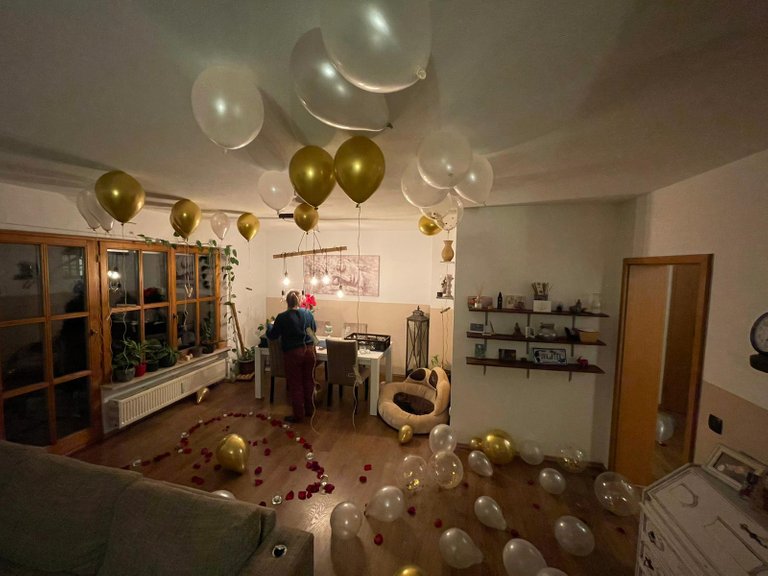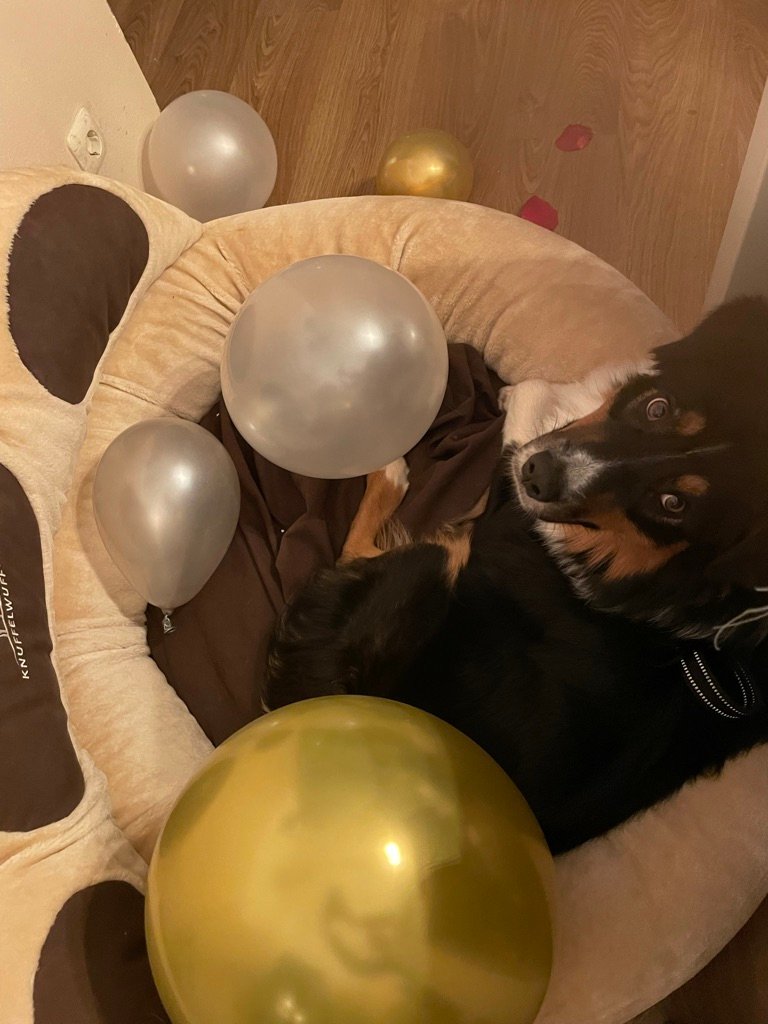 Währenddessen gingen Elena und ich nach der Massage noch etwas trinken und fuhren dann wieder nach Hause. Sie sagte, dass sie pinkeln müsse und dass sie schnell hochlaufen werde, während ich das Auto in der Garage parken sollte. - Natürlich wollte sie damit nur etwas Zeit kaufen ;)
Meanwhile, Elena and I went for a drink after the massage and then started to drive back home. She said that she had to pee and that she will go up fast while I should go and park the car in the garage. - She only wanted to buy some time ;)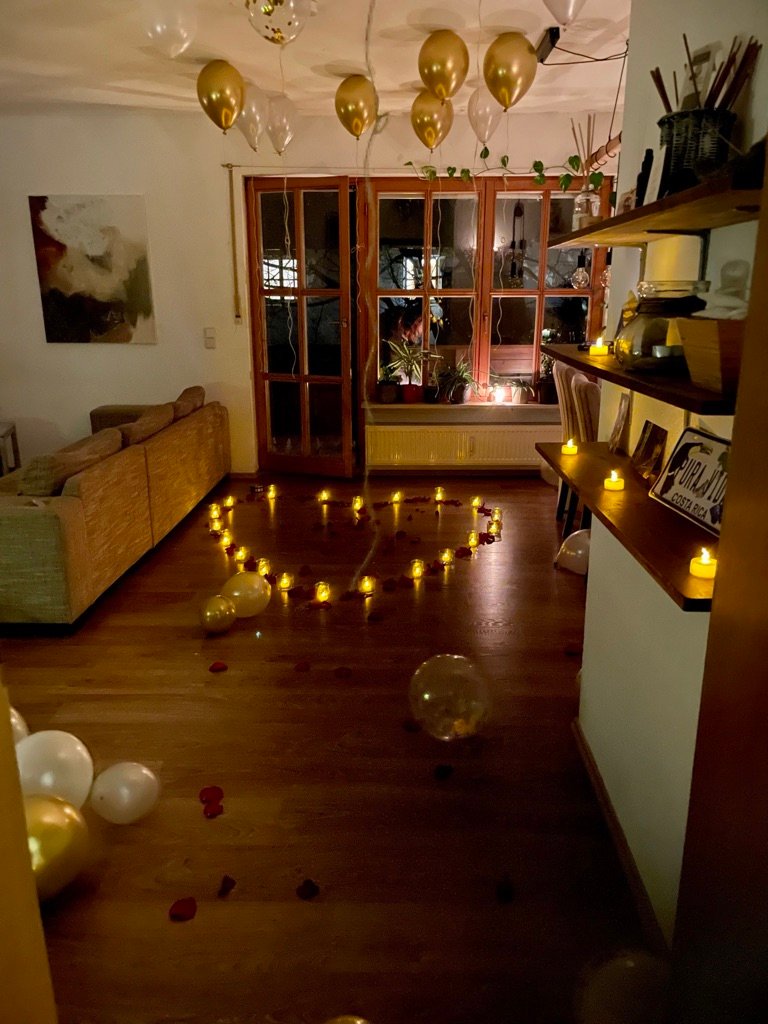 Von dort ging ich in die Wohnung, wo sie mit Musik im dekorierten Zimmer auf mich wartete. Es gab 9 Nachrichten, die an den Ballons festgemacht waren - Ich laß sie und dann aßen wir zu Abend und tranken Wein. Danach saßen wir auf dem Balkon mit Feuer und bequemen Kissen.
Nach einer Weile gingen wir wieder rein und sie hatte noch eine Überraschung für mich – ein Video über uns – das ich mir unbedingt ansehen musste. Am Ende des Videos kniete sie sich hin und bat mich, sie zu heiraten ;) - Und dann habe ich sie spontan auch gefragt haha.
From there I went to the apartment where she was waiting for me with music and else in the decorated room. There were 9 messages on the balloons for me to read and then we had dinner and wine. After that, we sat on the balcony with fire and comfortable pillows.
After a while, we went back inside and she had another surprise for me - a Video about us - that I had to watch. At the end of the video, she kneed down and asked me to marry her ;) - And then I also asked her spontaneously haha.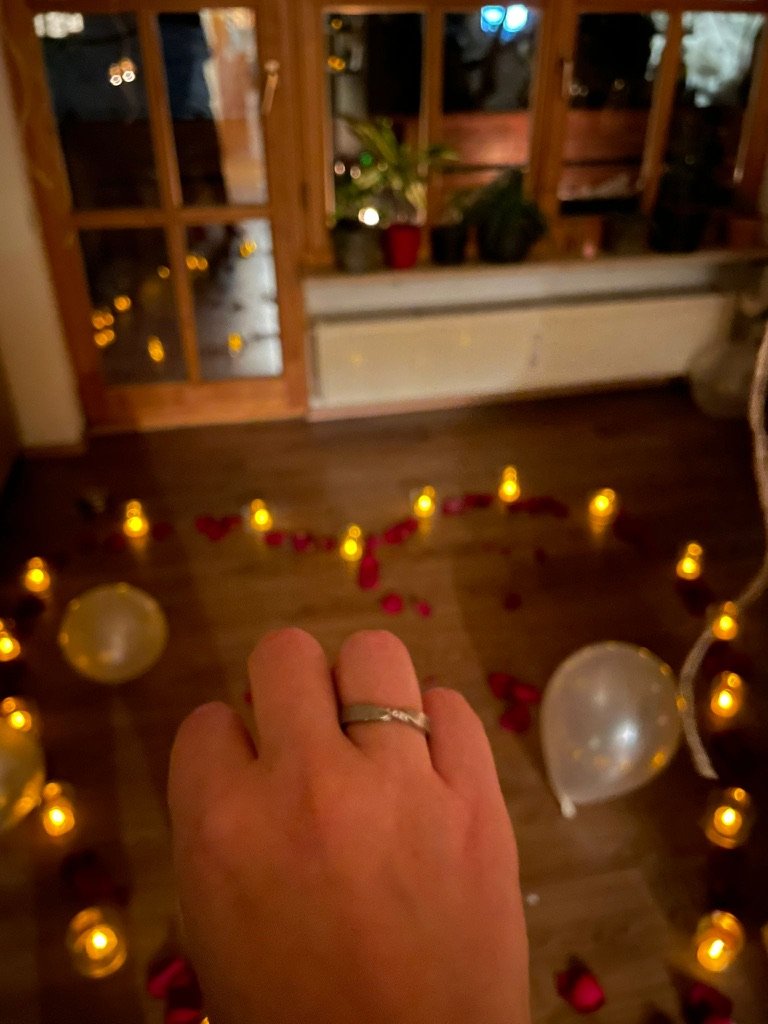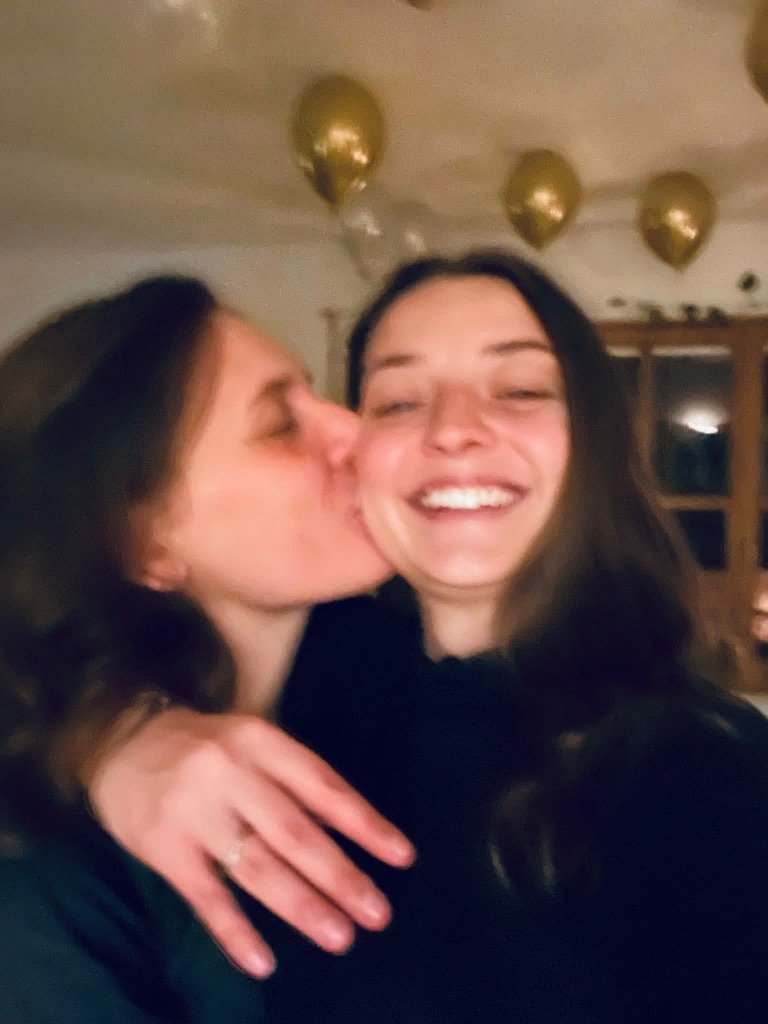 Und dann erzählte sie mir alles über den Plan und die Vorbereitung: Wer beteiligt war, wie sie es durchgezogen haben usw. Sehr lustig!
Natürlich wurde das auch alles dokumentiert! Bitte schön:
And then she told me all about the plan and the preparation: Who was involved, how they did it etc. A lot of fun to watch!
Of course, it was also documented! Here you go:
Und wieder ein perfekter Abschluss eines perfekten Tages :)
And again a perfect end to a perfect day :)
Servus & Cheers,
Liz