Los árabes empezaron con la invasión de la península Ibérica por el Sur. Cruzaron el Estrecho de Gibraltar conquistando ciudades como Algeciras. Por entonces no tenían defensas importantes, así que los musulmanes temiendo una reacción de tropas cristianas para recuperar la ciudad, construyeron densas murallas alrededor de la medina.
The Arabs began their invasion of the Iberian Peninsula from the south. They crossed the Strait of Gibraltar and conquered cities such as Algeciras. At that time they had no significant defences, so the Muslims, fearing a reaction by Christian troops to recapture the city, built dense walls around the medina.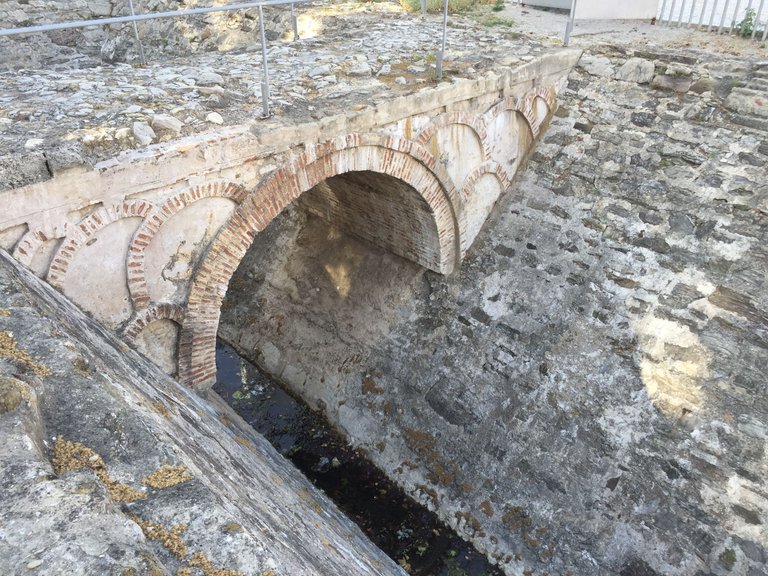 La entrada a la ciudad se hacía a través de un puente que salvaba el foso defensivo justo delante de las murallas. Por el foso pasaba uno de los arroyos que venía de la sierra y a él se unían las aguas sucias canalizadas de la ciudad.
The entrance to the city was via a bridge that spanned the defensive moat just in front of the walls. The moat was crossed by one of the streams that came from the mountains and was joined by the city's channelled sewage.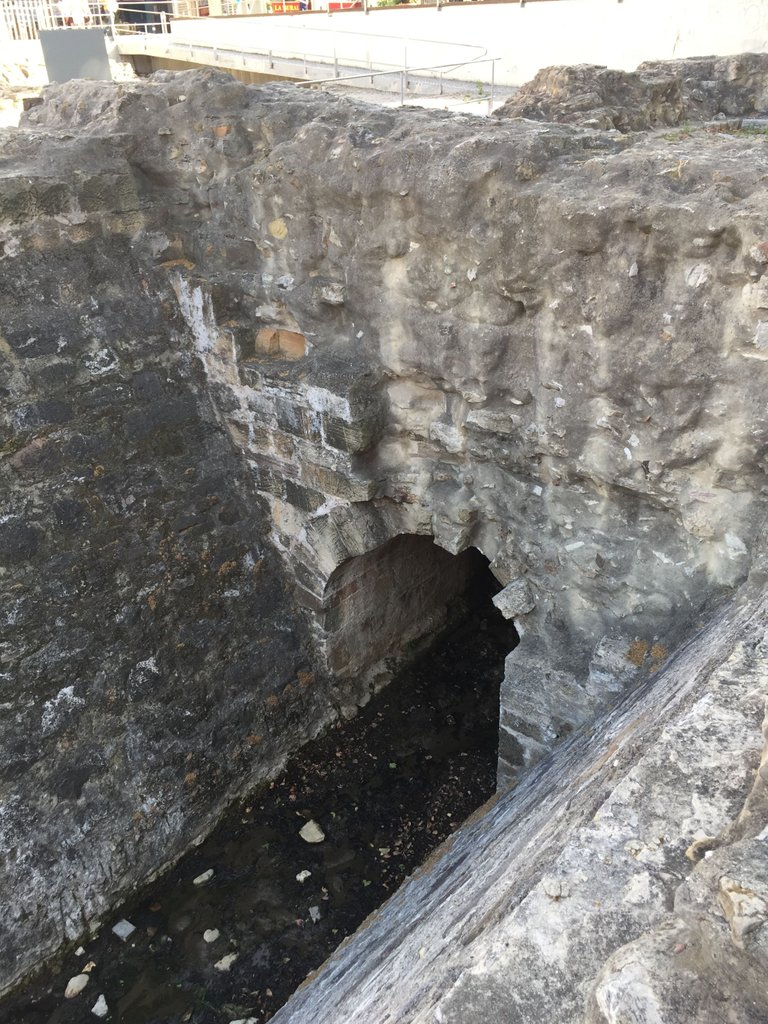 El foso de varios metros de profundidad llegaba hasta el mar. En esta fotografía podemos ver el tramo más largo que se mantiene actualmente. En la parte derecha se encuentran los cimientos de las murallas y de las barbacanas que protegían la defensa principal.
The moat was several metres deep and reached as far as the sea. In this photograph we can see the longest section that remains today. On the right are the foundations of the walls and barbicans that protected the main defence.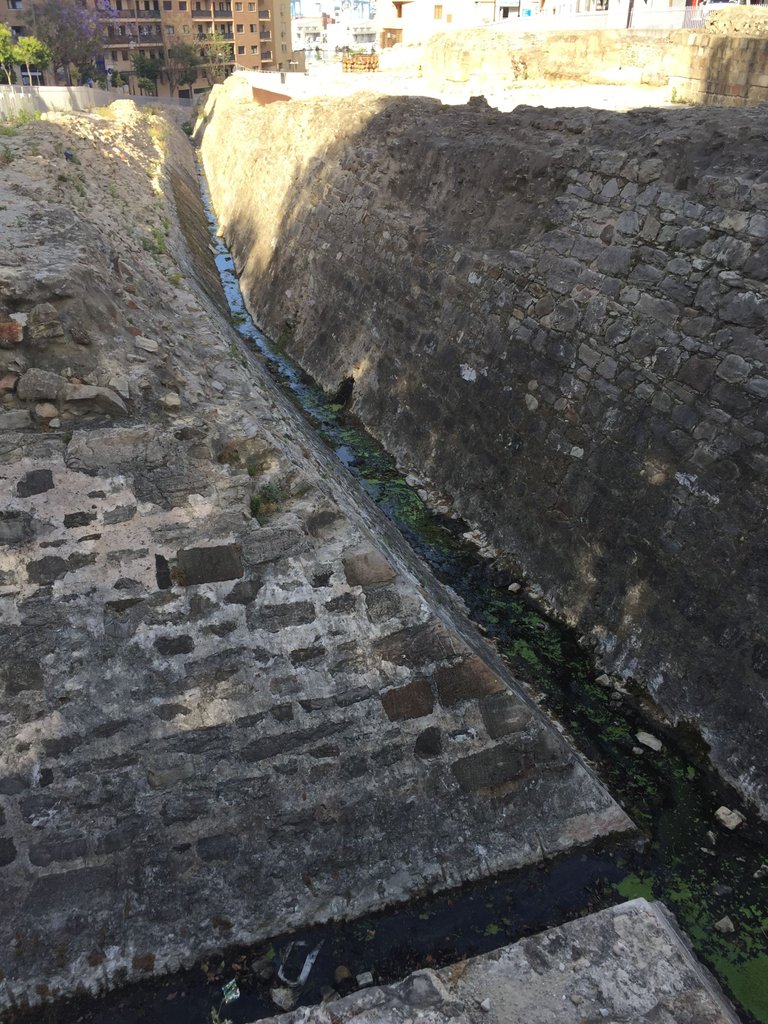 Con la reconquista cristiana todo el sistema defensivo quedó en desuso al crecer la ciudad mas allá de las murallas. La roca de ellas fue utilizado para la construcción de viviendas y el foso quedó enterrado por siglos.
With the Christian reconquest, the whole defensive system fell into disuse as the city grew beyond the walls. The rock was used for the construction of houses and the moat was buried for centuries.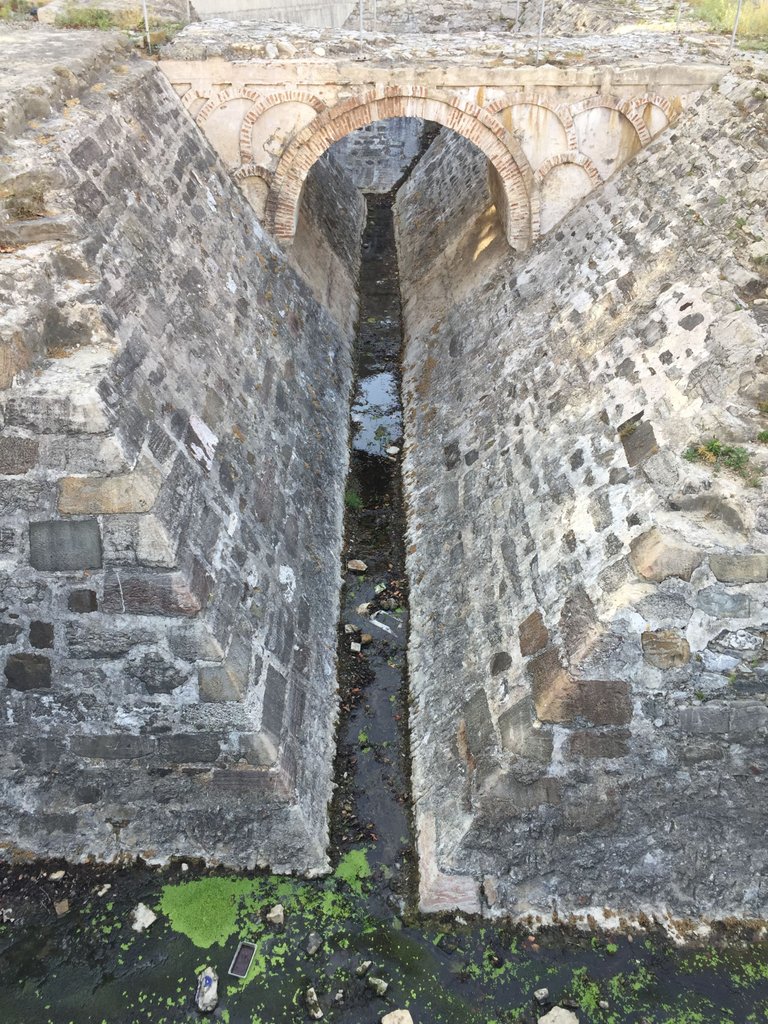 No hace muchos años, por unas obras se encontró el puente de entrada y el foso intacto. También aparecieron los cimientos de las murallas y proyectiles de piedras para catapultas.
Not many years ago, the entrance bridge and the moat were found intact during construction work. The foundations of the ramparts and stone projectiles for catapults were also found.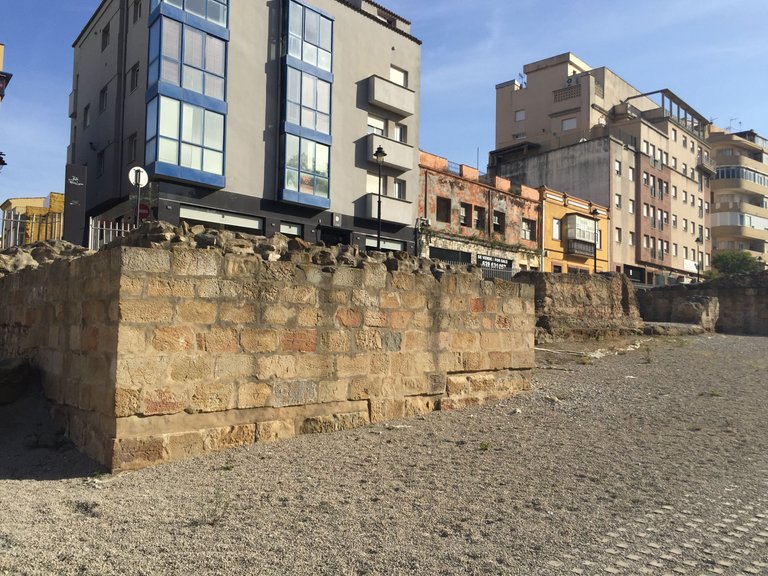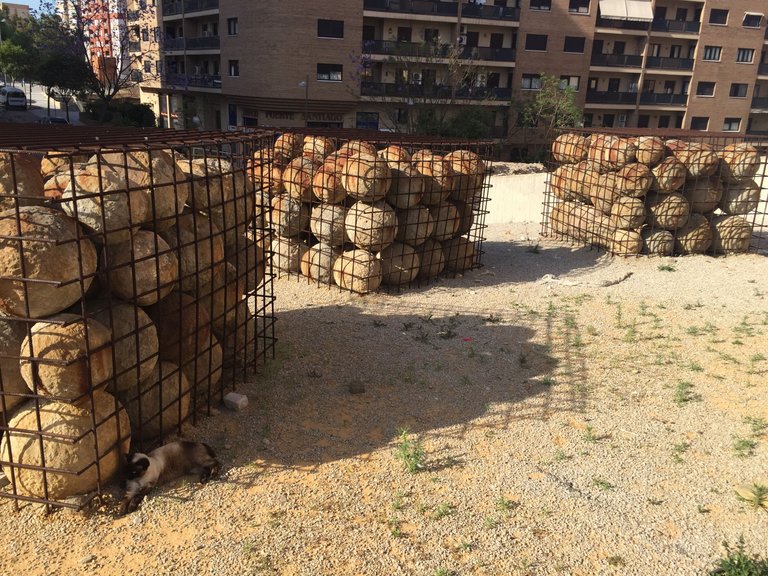 En un principio se dejó como fueron encontrados y las piedras de las catapultas cerradas para que no sean esparcidas.
At first they were left as they were found and the catapult stones were closed so that they would not be scattered.
Hace poco ha salido una noticia que se van a recrecer las murallas para que tengan el tamaño que tenían originariamente. Así que las he fotografiado para que quede constancia del estado original y poder comparar después.
Recently it has been reported that the ramparts are to be rebuilt to their original size. So I have photographed them to show the original state and to be able to compare them later.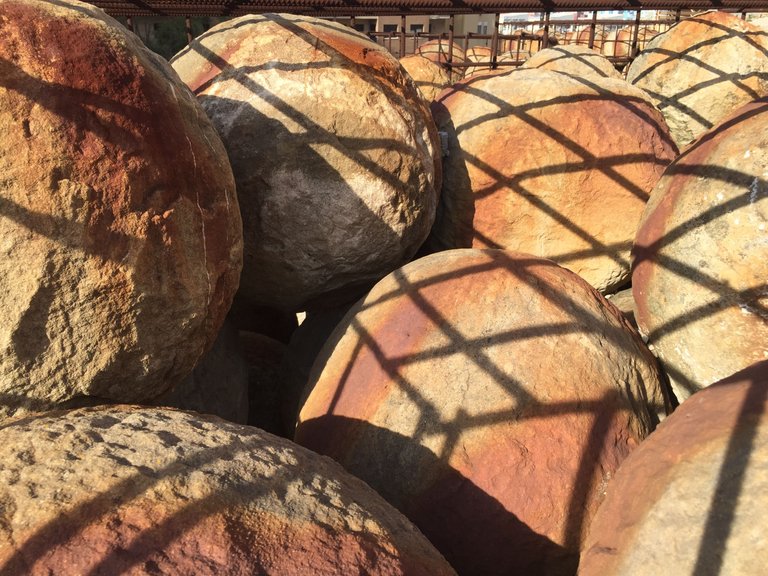 Es increíble que se haya conservado la calzada de entrada por el puente como si no hubieran pasado tantos siglos. Partes importantes de las murallas están debajo de edificios que quedarán ahí hasta que alguna vez puedan salir a la luz de nuevo.
It is incredible that the entrance road over the bridge has been preserved as if so many centuries had not passed. Important parts of the walls are underneath buildings that will remain there until they can be brought to light again.
I used a web translator for english text (DeepL)
Photos by @cuvi taken with an Iphone 6
2021 All rights reserved
Fotografías de @cuvi hechas con un Iphone 6. 2021 Reservado todos los derechos.
By @cuvi,
Creador de contenido desde 2016
Content creator since 2016