I mean, at some point this is ridiculous.
Thousands of years we have been ruled by the most violent amongst us.
To the point that most of us have come to accept the inevitability of having a bully tell us how things are gonna be.
You, dear supporter, are likely one of them.
Have you embraced the keep working, stop paying paradigm?
Stop telling yourself that change can't happen.
Can't never could.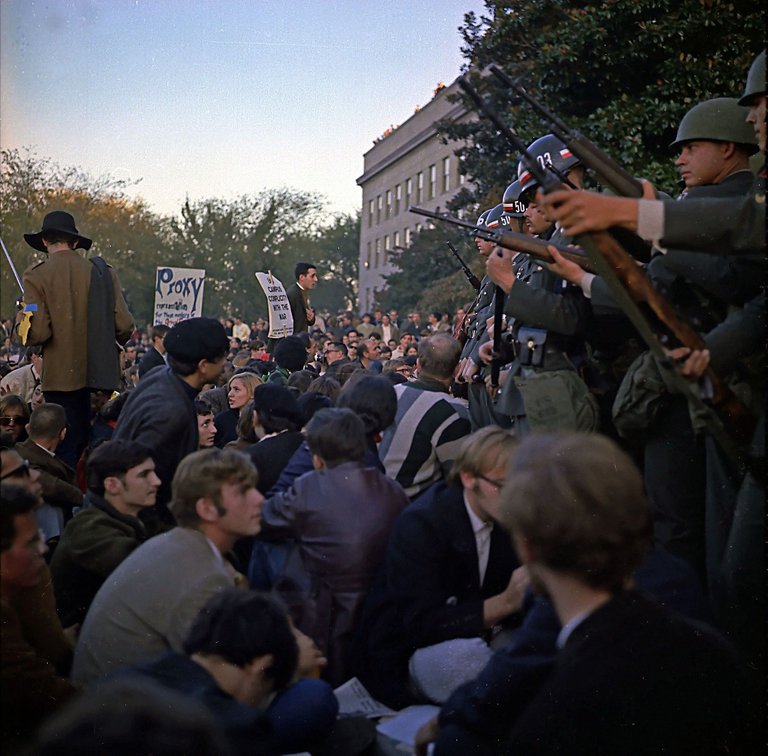 Photograph Source: US Army – NARA – Public Domain
The Biggest Bust Ever: Direct Action Lessons From Three Days in May of 1971

BY STEVE EARLY
Fifty years ago this May, when the U.S. Capitol police were better at arresting large numbers of white trespassers, I watched 1,200 of my fellow anti-war demonstrators carted off to jail for just sitting on the back steps of the Capitol and listening to speeches from two House members.
That bust was the last gasp of three days of mass protest activity, in Washington, D.C. over the Vietnam War.
It resulted in the largest number of civil disobedience-related detentions in U.S. history—12,000 in all, including a record-breaking single-day total of 7,000 people arrested on May 3, 1971.
To conduct this unprecedented round-up—later found to be unlawful—President Richard Nixon deployed far more law enforcement and military personnel than the Trump Administration used, in the same city, last year.
Organizers of the May, 1971 anti-war actions had publicly announced their intention to shut-down the nation's capital–by blocking its streets, bridges, and buildings.
But that plan was thwarted by nearly 20,000 local, state, and federal police officers, National Guard members, U.S. Marines, paratroopers from the Army's 82nd Airborne Division, and the Sixth Armored Cavalry from Fort Meade in Maryland.
Last June, President Trump's threatened response to Black Lives Matter protests in triggered a major debate about the appropriateness of deploying such active duty military personnel against civilians, in DC or anywhere else.
Push back from the military itself—and members of Congress– helped stay the hand of the Nixon fan then occupying the White House.
Meanwhile, intentional law-breaking— by police brutality protestors in some cities last summer and Trump supporters on January 6—was much condemned in the mainstream media.
That problematic equivalency aside, the question of how and when to organize mass protests, that are militant and disruptive, while remaining as peaceful as possible, remains a challenge the left should not ignore—if only to avoid alienating potential supporters or community members adversely impacted.
Several excellent studies of the Mayday protests, including L.A. Kauffman's Direct Action (Verso, 2017) and Lawrence Roberts' MayDay, 1971
(Houghton Mifflin Harcourt, 2020), are worth consulting about these questions, on the fiftieth anniversary of the biggest bust ever. As Kauffman argues, Mayday "influenced grassroots activism for decades to come, laying the groundwork for a new kind of radicalism: decentralized, ideologically diverse, and propelled by direct action."
According to Roberts, the Nixon Administration's response led to "consequential changes to American law and politics, including the rules governing protests in the nation's capital, which remain in force today."
I don't see anybody pointing and yelling 'insurrectionists' at these people, and they actually bombed the capitol.
Can you imagine how many poofty pants got filled when that thing went off in the building?
I mean, we are soft balling it by those standards.
Violence is a tool, without a strategic plan to use any tool its efficacy is diminished.
If you feel you need to use violence, please limit your aggression to the already aggressive, eh?
Too many forget that we can't win peace by warring.
We win peace by making the old obsolete.
Stop the war, grow a garden.